Abstract
Objectives
Kenya has a significant refugee population, including large numbers of Somali migrants. This study examines the vaccination status of Kenyan children and sociodemographic predictors of vaccination, including Somali ethnicity.
Methods
Using the 2014 Kenyan Demographic and Health Survey, we calculated the proportion of non-vaccinated, under-vaccinated, and fully vaccinated children, defining full vaccination as one dose Bacille Calmette-Guerin, three doses polio, three doses pentavalent, and one dose measles. We assessed associations among various factors and vaccination status using multinomial logistic regression and explored the effect of Somali ethnicity through interaction analysis.
Results
The study sample comprised 4052 children aged 12–23 months, with 79.4% fully, 19.0% under-, and 1.6% non-vaccinated. Among Somalis, 61.9% were fully, 28.7% under-, and 9.4% non-vaccinated. Somalis had significantly greater odds of under- and non-vaccination than the Kikuyu ethnic group. Wealth and birth setting were associated with immunization status for Somalis and non-Somalis.
Conclusions
Disparities persist in pediatric vaccinations in Kenya, with Somali children more likely than non-Somalis to be under-vaccinated. Health inequalities among migrants and ethnic communities in Kenya should be addressed.
Access options
Buy single article
Instant access to the full article PDF.
USD 39.95
Price includes VAT (USA)
Tax calculation will be finalised during checkout.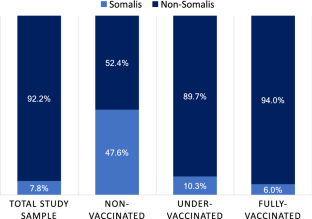 References
Alkema L, Chou D, Hogan D, Zhang S, Moller AB, Gemmill A et al (2016) Global, regional, and national levels and trends in maternal mortality between 1990 and 2015, with scenario-based projections to 2030: a systematic analysis by the un Maternal Mortality Estimation Inter-Agency Group. Lancet 387(10017):462–474. https://doi.org/10.1016/S0140-6736(15)00838-7

Antai D (2009) Faith and child survival: the role of religion in childhood immunization in Nigeria. J Biosoc Sci 41(1):57. https://doi.org/10.1017/S0021932008002861

Bucher S, Konana O, Liechty E et al (2016) Self-reported practices among traditional birth attendants surveyed in western Kenya: a descriptive study. BMC Pregnancy Childbirth 16(219):1–7. https://doi.org/10.1186/s12884-016-1007-8

Byrne A, Caulfield T, Onyo P, Nyagero J, Morgan A, Nduba J, Kermode M (2016) Community and provider perceptions of traditional and skilled birth attendants providing maternal health care for pastoralist communities in Kenya: a qualitative study. BMC Pregnancy Childbirth 16:1–12. https://doi.org/10.1186/s12884-016-0828-9

Canavan ME, Sipsma HL, Kassie GM, Bradley EH (2014) Correlates of complete childhood vaccination in East African countries. PLoS ONE 9(4):1–7. https://doi.org/10.1371/journal.pone.0095709

Delrieu I, Gessner BD, Baril L, Roset E (2015) From current vaccine recommendations to everyday practices: an analysis in five sub-Saharan African countries. Vaccine 33(51):7290–7298. https://doi.org/10.1016/j.vaccine.2015.10.107

Gibson DG, Ochieng B, Kagucia EW, Obor D, Odhiambo F, O'Brien KL, Feikin DR (2015) Individual level determinants for not receiving immunization, receiving immunization with delay, and being severely underimmunized among rural western Kenyan children. Vaccine 33(48):6778–6785. https://doi.org/10.1016/j.vaccine.2015.10.021

Haji A, Lowther Ngan'ga Z, Gura Z, Tabu C, Sandhu H, Arvelo W (2016) Reducing routine vaccination dropout rates: evaluating two interventions in three Kenyan districts, 2014. BMC Public Health 16:152. https://doi.org/10.1186/s12889-016-2823-5

Kawakatsu Y, Tanaka J, Ogawa K, Ogendo K, Honda S (2015) Effects of three interventions and determinants of full vaccination among children aged 12–59 months in Nyanza province, Kenya. Public Health 129(11):1530–1538. https://doi.org/10.1016/j.puhe.2015.07.008

Kenya National Bureau of Statistics, Ministry of Health, National AIDS Control Council, Kenya Medical Research Institute, National Council for Population and Development, ICF International (2015) Kenya demographic and health survey 2014. http://doi.org/10.3109/03014460.2013.775344

Lakew Y, Bekele A, Biadgilign S (2015) Factors influencing full immunization coverage among 12–23 months of age children in Ethiopia: evidence from the national demographic and health survey in 2011. BMC Public Health 15(1):728. https://doi.org/10.1186/s12889-015-2078-6

Macharia K, Donoghue D, General Assemby of the United Nations (2015) 2030 Sustainable development agenda. http://doi.org/10.1017/CBO9781107415324.004

Mason L, Dellicour S, Ter Kuile F, Ouma P et al (2015) Barriers and facilitators to antenatal and delivery care in western Kenya: a qualitative study. BMC Pregnancy Childbirth 15(1):26. https://doi.org/10.1186/s12884-015-0453-z

Masresh BG, Dixon MG, Kriss JL et al (2017) Morbidity and mortality weekly report. Morb Mortal Wkl Rep 66(17):436–443

Masters NB, Wagner AL, Carlson BF, Boulton ML (2018) Vaccination timeliness and co-administration among Kenyan children. Vaccine 36(11):1353–1360. https://doi.org/10.1016/j.vaccine.2018.02.001

Ministry of Public Health, Kenya (2013) Kenya DVI comprehensive multi-year plan 2011–2015

Mohamud AN, Feleke A, Worku W, Kifle M, Sharma HR (2014) Immunization coverage of 12–23 months old children and associated factors in Jigjiga District, Somali National Regional State, Ethiopia. BMC Public Health 14(865):1–9

Navarro-Colorado C, Mahamud A, Burton A et al (2011) Measles outbreak response among adolescent and adult Somali refugees displaced by famine in Kenya and Ethiopia. J Infect Dis 210(12):1863–1870. https://doi.org/10.1093/infdis/jiu395

Onsomu EO, Abuya BA, Okech IN, Moore D, Collins-McNeil J (2015) Maternal education and immunization status among children in Kenya. Matern Child Health J 19(8):1724–1733. https://doi.org/10.1007/s10995-015-1686-1

Polonsky JA, Ronsse A, Ciglenecki I, Rull M, Porten K (2013) High levels of mortality, malnutrition, and measles, among recently-displaced Somali refugees in Dagahaley camp, Dadaab refugee camp complex, Kenya, 2011. Confl Health 7:1. https://doi.org/10.1186/1752-1505-7-1

Pullum T, Staveteig S (2017) An assessment of the quality and consistency of age and date reporting in DHS surveys, 2000–2015: DHS methodological reports 19

Ray AM, Salihu H (2004) The impact of maternal mortality interventions using traditional birth attendants and village midwives. J Obstet Gynaecol 24(1):5–11. https://doi.org/10.1080/01443610310001620206

Rossi R (2015) Do maternal living arrangements influence the vaccination status of children age 12–23 months? A data analysis of demographic health surveys 2010–11 from Zimbabwe. PLoS ONE 10(7):1–19. https://doi.org/10.1371/journal.pone.0132357

Soura AB, Mberu B, Elungata P, Lankoande B, Millogo R, Beguy D, Compaore Y (2015) Understanding inequities in child vaccination rates among the urban poor: evidence from Nairobi and Ouagadougou health and demographic surveillance systems. J Urban Health 92(1):39–54. https://doi.org/10.1007/s11524-014-9908-1

Tao W, Petzold M, Forsberg BC (2013) Routine vaccination coverage in low-and middle-income countries: further arguments for accelerating support to child vaccination services. Glob Health Act 6(1):20343. https://doi.org/10.3402/gha.v6i0.20343

Temesgen TM, Umer JY, Buda DS, Haregu TN (2012) Contribution of traditional birth attendants to the formal health system in Ethiopia: the case of Afar region. Pan Afr Med J 13(Suppl 1):15

UN (2017) The sustainable development goals report, United Nations. http://doi.org/10.18356/3405d09f-en

UNHCR (2016) Global trends. Forced displacement in 2016. Retrieved from http://www.unhcr.org/5943e8a34.pdf. Accessed 5 Jan 2018

UNICEF (2012) Sustainable development goals monitoring framework: "vaccines for all" by 2030. Retrieved from https://www.unicef.org/publications/files/APR_2015_9_Sep_15.pdf. Accessed 5 Jan 2018

UNICEF (2013) The state of the world's children 2013: children with disabilities: statistics. http://doi.org/10.2307/2332743

UNICEF (2015a) Humanitarian situation report: horn of Africa measles outbreak response

UNICEF (2015b) Levels and trends in child mortality. UNICEF, New York, pp 1–30. Retrieved from http://www.who.int/maternal_child_adolescent/documents/levels_trends_child_mortality_2013/en/. Accessed 5 Jan 2018

Valadez JJ, Weld LH (1992) Maternal recall error of child vaccination status in a developing nation. Am J Public Health 82(1):120–122

WHO (2006) Opportunities for Africa's newborns: practical data, policy and programmatic support for newborn care in Africa. The partnership: for maternal, newborn and child health. http://doi.org/10.1016/S0140-6736(86)91254-7
Acknowledgements
We are grateful to the data collectors who diligently worked in the DHS program.
Funding
This work was supported by the Pharmaceutical Research and Manufacturers of America Foundation (PhRMA) Foundation (Health Outcomes Post Doctoral Fellowship [ALW]). The PhRMA Foundation did not have any role in the study design; the collection, analysis, and interpretation of data; the writing of the report; or the decision to submit the paper for publication. We report no other external funding for this manuscript.
Ethics declarations
Conflict of interest
The authors have no potential, perceived, or real conflicts of interest relevant to this article to disclose. NBM wrote the first draft of the article.
Ethical approval
This study was exempt from ethical approval because it was limited to the publicly available Demographic and Health Surveys (DHS) dataset which contained no personally identifiable information beyond birthdates.
Informed consent
All participants provided informed consent before being enrolled in the DHS.
Additional information
Publisher's Note
Springer Nature remains neutral with regard to jurisdictional claims in published maps and institutional affiliations.
About this article
Cite this article
Masters, N.B., Wagner, A.L., Carlson, B.F. et al. Childhood vaccination in Kenya: socioeconomic determinants and disparities among the Somali ethnic community. Int J Public Health 64, 313–322 (2019). https://doi.org/10.1007/s00038-018-1187-2
Received:

Revised:

Accepted:

Published:

Issue Date:
Keywords
Pediatric vaccination

Vaccination coverage

Somali

Kenya

Health disparities

Migrant health