Abstract
Objectives
To investigate the associations between household wealth, household consumption, and chronic disease risk behaviors among older adults in rural South Africa.
Methods
Data were from baseline assessments of 5059 adults aged ≥ 40 in the population-based "Health and Aging in Africa: A Longitudinal Study of an INDEPTH Community in South Africa" in 2015. Confounder-adjusted prevalence ratios were estimated for the associations between each of household wealth and household consumption quintiles with low moderate-to-vigorous physical activity (MVPA), current smoking, frequent alcohol intake, and overweight/obese body mass index (BMI).
Results
Low MVPA and overweight/obese BMI were common (57% and 58%, respectively), and linearly increased in prevalence across household wealth quintiles. Low MVPA decreased and overweight/obese BMI increased in prevalence across household consumption quintiles. Smoking and frequent alcohol intake were rare (9% and 6%, respectively); they decreased in prevalence across wealth quintiles, but did not vary by consumption quintile.
Conclusions
Chronic disease risk behaviors are socioeconomically graded among older, rural South African adults. The high prevalence of overweight and obesity in rural South Africa is a public health concern requiring urgent attention.
This is a preview of subscription content, log in to check access.
Access options
Buy single article
Instant access to the full article PDF.
US$ 39.95
Price includes VAT for USA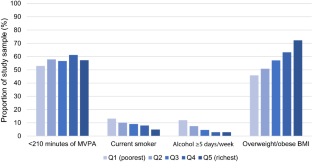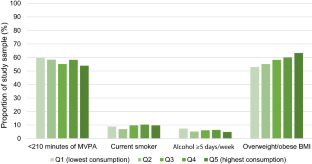 References
Akinyemiju T, Ogunsina K, Okwali M, Sakhuja S, Braithwaite D (2017) Lifecourse socioeconomic status and cancer-related risk factors: analysis of the WHO study on global ageing and adult health (SAGE). Int J Cancer 140:777–787

Allen L, Williams J, Townsend N, Mikkelsen B, Roberts N, Foster C, Wickramasinghe K (2017) Socioeconomic status and non-communicable disease behavioural risk factors in low-income and lower-middle-income countries: a systematic review. Lancet Glob Health 5:e277–e289. https://doi.org/10.1016/S2214-109X(17)30058-X

American Cancer Society (2017) Alcohol use and cancer. https://www.cancer.org/cancer/cancer-causes/diet-physical-activity/alcohol-use-and-cancer.html. Accessed 24 Mar 2018

Arokiasamy P, Bloom D, Lee J, Feeney K, Ozolins M (2012) Longitudinal aging study in india: vision, design, implementation, and preliminary findings. In: Smith JP, Majmundar M (eds) Aging in Asia: findings from new and emerging data initiatives. National Academies Press, Washington, pp 36–76

Bull FC, Maslin TS, Armstrong T (2009) Global physical activity questionnaire (GPAQ): nine country reliability and validity study. J Phys Act Health 6:790–804

Caldwell TM, Rodgers B, Clark C, Jefferis BJ, Stansfeld SA, Power C (2008) Lifecourse socioeconomic predictors of midlife drinking patterns, problems and abstention: findings from the 1958 British Birth Cohort Study. Drug Alcohol Depend 95:269–278

Christie P, Collins C (1982) Bantu education: apartheid ideology or labour reproduction? Comp Educ 18:59–75

Deaton A, Grosh M (2000) Consumption. In: Grosh M, Glewwe P (eds) Designing household survey questionnaires for developing countries: lessons from 15 years of the living standards measurement study. The World Bank, Washington, pp 91–134

Ford ES, Zhao G, Tsai J, Li C (2011) Low-risk lifestyle behaviors and all-cause mortality: findings from the National Health and Nutrition Examination Survey III Mortality Study. Am J Public Health 101:1922–1929

Gómez-Olivé FX, Montana L, Wagner RG, Kabdula CW, Rohr JK, Kahn K, Barnighausen T, Canning D, Gaziano T, Salomon JA, Payne CF, Wade A, Tollman SM, Berkman L (2018) Cohort profile: health and ageing in africa: a longitudinal study of an INDEPTH community in South Africa (HAALSI). Int J Epidemiol. https://doi.org/10.1093/ije/dyx247

Grundy E, Holt G (2011) The socioeconomic status of older adults: how should we measure it in studies of health inequalities? J Epidemiol Community Health 55:895–904. https://doi.org/10.1136/jech.55.12.895

Grundy E, Sloggett A (2003) Health inequalities in the older population: the role of personal capital, social resources and socio-economic circumstances. Soc Sci Med 56:935–937. https://doi.org/10.1016/S0277-9536(02)00093-X

Headey B (2008) Poverty is low consumption and low wealth, not just low income. Soc Indic Res 89:23–39. https://doi.org/10.1007/s11205-007-9231-2

Hentschel J, Lanjouw P (1996) Constructing an indicator of consumption for the analysis of poverty: principles and illustrations with reference to Ecuador. World Bank, Washington, LSMS Working Paper Number 124

Howe LD, Galobardes B, Maijasevic A, Gordon D, Johnson D, Onwujekwe O, Patel R, Webb EA, Lawlor DA, Hargreaves JR (2012) Measuring socio-economic position for epidemiological studies in low-and middle-income countries: a methods of measurement in epidemiology paper. Int J Epidemiol 41:871–886. https://doi.org/10.1093/ije/dys037

Jin M, Cai S, Guo J, Zhu Y, Li M, Yu Y, Zhang S, Chen K (2013) Alcohol drinking and all cancer mortality: a meta-analysis. Ann Oncol 24:807–816. https://doi.org/10.1093/annonc/mds508

Kabudula CW, Houle B, Collinson MA, Kahn K, Gómez-Olivé FX, Clark SJ, Tollman S (2017) Progression of the epidemiological transition in a rural South African setting: findings from population surveillance in Agincourt, 1993–2013. BMC Public Health 17:424. https://doi.org/10.1186/s12889-017-4312-x

Katzmarzyk PT, Mason CJ (2009) The physical activity transition. Phys Act Health 6:269–280

Khaw KT, Wareham N, Bingham S, Welch A, Luben R, Day N (2008) Combined impact of health behaviours and mortality in men and women: the EPIC-Norfolk prospective population study. PLOS Med 5:e12. https://doi.org/10.1371/journal.pmed.0050012

Kobayashi LC, Glymour MM, Kahn K, Payne CF, Wagner RG, Montana L, Mateen FJ, Tollman SM, Berkman LF (2017) Childhood deprivation and later-life cognitive function in a population-based study of older, rural South Africans. Soc Sci Med 190:20–28. https://doi.org/10.1016/j.socscimed.2017.08.009

Kvaavik E, Batty D, Ursin G, Huxley R, Gale C (2011) Influence of individual and combined health behaviors on total and cause-specific mortality in men and women: the United Kingdom Health and Lifestyle Survey. Arch Intern Med 170:711–719

McCullough ML, Patel AV, Kushi LH, Patel R, Willett WC, Doyle C, Thun MJ, Gapstur SM (2011) Following cancer prevention guidelines reduces risk of cancer, cardiovascular disease, and all-cause mortality. Cancer Epidemiol Biomark Prev 20:1089–1097

National Department of Health (2017) South African demographic and health survey 2016: key indicators report. https://www.statssa.gov.za/publications/Report%2003-00-09/Report%2003-00-092016.pdf. Accessed 5 May 2018

Pampel F (2008) Tobacco use in sub-Sahara Africa: estimates from the demographic health surveys. Soc Sci Med 66:1772–1783

Popkin BM, Adair LS, Ng SW (2012) NOW AND THEN: the global nutrition transition: the pandemic of obesity in developing countries. Nutr Rev 70:3–21. https://doi.org/10.1111/j.1753-4887.2011.00456.x

Prince M, Wimo A, Guerchet M, Ali G-C, Wu Y-T, Prina M, Alzheimer's Disease International (2015) World alzheimer report 2015: the global impact of dementia: an analysis of prevalence, incidence, cost, and trends. https://www.alz.co.uk/research/WorldAlzheimerReport2015.pdf. Accessed 5 May 2018

Riumallo-Herl C, Canning D, Wagner R, Kabudula C, Collinson M (2017) Health gradients in South Africa: inequalities in the measure of the beholder. PGDA Working Paper 139. https://cdn1.sph.harvard.edu/wp-content/uploads/sites/1288/2012/11/Health-Gradients-in-South-Africa-Inequalities-in-the-Measure-of-the-Beholder-May_3_2017.pdf. Accessed 5 May 2018

Roerecke M, Rehm J (2010) Irregular heavy drinking occasions and risk of ischemic heart disease: a systematic review and meta-analysis. Am J Epidemiol 171:633–644. https://doi.org/10.1093/aje/kwp4515

Rutstein SO, Johnson K (2004) DHS comparative reports no 6: the DHS wealth index. https://dhsprogram.com/pubs/pdf/cr6/cr6.pdf. Accessed 7 May 2018

Sartorius K, Sartorius B, Tollman S, Schatz E, Kirsten J, Collinson M (2013) Rural poverty dynamics and refugee communities in south africa: a spatial-temporal model. Popul Space Place 19:103–123. https://doi.org/10.1002/psp.697

Shisana O et al (2013) South African national health and nutrition examination survey (SANHANES-1). HSRC Press, Cape Town. http://www.hsrc.ac.za/uploads/pageNews/72/SANHANES-launch%20edition%20(online%20version).pdf. Accessed 7 May 2018

Statistics South Africa (2014) Census 2011: Profile of older persons in South Africa (Report no. 03-01-60). https://www.statssa.gov.za/publications/Report-03-01-60/Report-03-01-602011.pdf. Accessed 7 May 2018

Tehranifar P, Liao Y, Ferris JS, Terry MB (2009) Life course socioeconomic conditions, passive tobacco exposures and cigarette smoking in a multiethnic birth cohort of U.S. women. Cancer Causes Control 20:867–876

Tucker JS (2002) Health-related social control within older adults' relationships. J Gerontol B Psychol Sci Soc Sci 57:3873995

United Nations (1963) Apartheid in South Africa: summary of the report of the special committee on the policies of apartheid of the government of South Africa. United Nations, Geneva

Wiseman M (2008) The second World Cancer Research Fund/American Institute for Cancer Research expert report. Food, nutrition, physical activity, and the prevention of cancer: a global perspective. Proc Nutr Soc 67:253–256

World Health Organization (2010) Global recommendations on physical activity for health. http://www.who.int/dietphysicalactivity/global-PA-recs-2010.pdf. Accessed 7 May 2018

World Health Organization (2017a) Countries: South Africa. http://www.afro.who.int/countries/south-africa. Accessed 7 May 2018

World Health Organization (2017b) Obesity and Overweight Fact Sheet. http://www.who.int/mediacentre/factsheets/fs311/en/. Accessed 7 May 2018

World Health Organization (2018) Tobacco fact sheet. http://www.who.int/mediacentre/factsheets/fs339/en/. Accessed 7 May 2018

Zou G (2004) A modified poisson regression approach to prospective studies with binary data. Am J Epidemiol 159:702–7066
Funding
This work was funded by a Grant from the National Institute on Aging of the National Institutes of Health (P01 AG041710). The funder had no role in the study design; in the collection, analysis, and interpretation of data; in the writing of the article; or in the decision to submit it for publication.
Ethics declarations
Conflict of interest
The authors have no conflicts of interest to declare.
Ethical approval
Ethical approval was granted by the University of Witwatersrand Human Research Ethics Committee (M141159), the Harvard T. H. Chan Harvard School of Public Health, Office of Human Research Administration (C13-1608-02), and the Mpumalanga Provincial Research and Ethics Committee. Informed consent was obtained from all individual participants included in the study. All procedures involving human participants were in accordance with the ethical standards of the institutional and/or national research committee and with the 1964 Helsinki Declaration and its later amendments or comparable ethical standards. This article does not contain any studies with animals performed by any of the authors.
Electronic supplementary material
Below is the link to the electronic supplementary material.
About this article
Cite this article
Kobayashi, L.C., Frank, S., Riumallo-Herl, C. et al. Socioeconomic gradients in chronic disease risk behaviors in a population-based study of older adults in rural South Africa. Int J Public Health 64, 135–145 (2019). https://doi.org/10.1007/s00038-018-1173-8
Received:

Revised:

Accepted:

Published:

Issue Date:
Keywords
South Africa

Aging

Rural

Physical activity

Smoking

Alcohol

Body mass index

Socioeconomic inequalities