Abstract
Objectives
Romania has Europe's highest incidence and mortality rates of cervical cancer. Participation in the national cervical cancer-screening programme is low, especially among minority Roma women.
Methods
We conducted a cross-sectional study, using a structured questionnaire aiming to quantify reasons for screening attendance among women in North-Western region of Romania.
Results
980 women were enrolled in this study. Data were analysed using logistic regression, estimating odds ratios (OR) and 95% confidence intervals (CI). This study revealed that Roma women (46%) attended screening less frequently that non-Roma women (63%),; however, ethnicity in itself was not associated with screening attendance. Instead we found that attendance to the cervical cancer screening programme was determined by having ever heard about a screening opportunity (OR 5.90, 95% CI 3.76−9.27) and having three or more sex partners (OR 5.99, 95% CI 1.71–21.04).
Conclusions
We concluded that information about the screening programme's existence and its rationale does not reach the women targeted for screening sufficiently and argue that a process of user involvement aiming to build contact, interaction and cooperation between the programme and its potential participants is warranted.
Access options
Buy single article
Instant access to the full article PDF.
USD 39.95
Price includes VAT (USA)
Tax calculation will be finalised during checkout.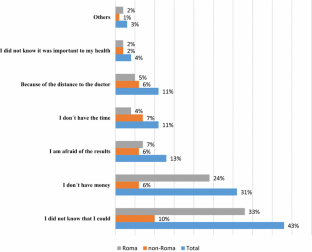 References
Andreassen T, Weiderpass E, Nicula F, Suteu O, Itu A, Bumbu M, Tincu A, Ursin G, Moen K (2017) Controversies about cervical cancer screening: a qualitative study of Roma women's (Non) participation in cervical cancer screening in Romania. Soc Sci Med 183:48–55. https://doi.org/10.1016/J.Socscimed.2017.04.040

Baban Balazsi, Bradley Rusu, Szentagotai Tataru (2006) Psychosicial And Health System Dimensions Of Cervical Screening In Romania. Engenderhealth, New York

Bayu H, Berhe Y, Mulat A, Alemu A (2016) Cervical cancer screening service uptake and associated factors among age eligible women in Mekelle Zone, Northern Ethiopia, 2015: a community based study using health belief model. PLoS One 11:E0149908. https://doi.org/10.1371/Journal.Pone.0149908

Behbakht K, Lynch A, Teal S, Degeest K, Massad S (2004) Social and cultural barriers to papanicolaou test screening in an Urban population. Obstet Gynecol 104:1355–1361. https://doi.org/10.1097/01.Aog.0000143881.53058.81

Byrd TL, Chavez R, Wilson KM (2007) Barriers and facilitators of cervical cancer screening among hispanic women. Ethn Dis 17:129–134

Chorley AJ, Hirst Y, Vrinten C, Von Wagner C, Wardle J, Waller J (2017) Public understanding of the purpose of cancer screening: a population-based survey. J Med Screen. https://doi.org/10.1177/0969141317699440

Cummings P (2013) Missing data and multiple imputation. JAMA, 167, pp 656–661

De Freitas C, Martin G (2015) Inclusive public participation in health: policy practice and theoretical contributions to promote the involvement of marginalised groups in healthcare. Soc Sci Med 135:31–39. https://doi.org/10.1016/J.Socscimed.2015.04.019

Eardley A, Elkind AK, Spencer B, Hobbs P, Pendleton LL, Haran D (1985) Attendance For Cervical Screening—Whose Problem? Soc Sci Med 20:955–962

Ekechi C, Olaitan A, Ellis R, Koris J, Amajuoyi A, Marlow La (2014) Knowledge of cervical cancer and attendance at cervical cancer screening: a survey of black women. In: London BMC Public Health 14:1096 https://doi.org/10.1186/1471-2458-14-1096

Engebrigtsen A (2007) Exploring gypsiness: power, exchange and interdependence in a Transylvanian Village. Oxford, United Kingdom

Escriba-Aguir V, Rodriguez-Gomez M, Ruiz-Perez I (2016) Effectiveness of patient-targeted interventions to promote cancer screening among ethnic minorities: a systematic review. Cancer Epidemiol 44:22–39. https://doi.org/10.1016/J.Canep.2016.07.009

European Commission (2014) Report on the health status of the Roma population in the Eu and monitoring data collection in the area of Roma health in the member states

Ferlay J, Soerjomataram I, Dikshit R, Eser S, Mathers C, Rebelo M, Parkin DM, Forman D, Bray F (2015) Cancer incidence and mortality worldwide: sources, methods and major patterns in globocan. Int J Cancer 136:E359–386. https://doi.org/10.1002/Ijc.29210

Gimeno Garcia AZ (2012) Factors influencing colorectal cancer screening participation. Gastroenterol Res Prac 2012:1–8. https://doi.org/10.1155/2012/483417

Government Of Romania (2016–2017) Hotarare De Guvern. Hg Nr. 161/2016 Pentru Aprobarea Pachetelor De Servicii Şi A Contractului-Cadru 2016-2017 [Decision 161 Of 16.03.2016 Concerning The Endorsement Of The Combined Services And The Framework Agreement That Regulates The Conditions Of The Granting Of Medical Assistance, Medicine And Medical Devices Under The Social Health Insurance System 2016–2017]

Hajioff S, Mckee M (2000) The health of the Roma people: a review of the published literature. J Epidemiol Community Health 54:864–869

Hickey G, Kipping C (1998) Exploring the concept of user involvement in mental health through a participation continuum. J Clin Nurs 7:83–88

Hosmer L (2000) Applied Logistic Regression. Wiley, New York

Iocn (2017) North-Western Cancer Registry. Cancer In North-Western Region Of Romania. Www.Iocn.Ro. Accessed 08.08.2017 2017

Jepson RG, Hewison J, Thompson A, Weller D (2007) Patient perspectives on information and choice in cancer screening: a qualitative study in the UK. Soc Sci Med 65:890–899. https://doi.org/10.1016/J.Socscimed.2007.04.009

Kuhlbrandt C, Footman K, Rechel B, Mckee M (2014) An examination of Roma health insurance status in central and Eastern Europe. Eur J Pub Health 24:707–712. https://doi.org/10.1093/Eurpub/Cku004

Li KK, Abelson J, Giacomini M, Contandriopoulos D (2015a) Conceptualizing the use of public involvement in health policy decision-making. Soc Sci Med 138:14–21. https://doi.org/10.1016/J.Socscimed.2015.05.023

Li P, Stuart E, Allison D (2015b) Multiple imputation: a flexible tool for handling missing data. JAMA 10(318):314. https://doi.org/10.1001/jama.2015.15281

Lim AW, Sasieni P (2015) Consultation rates in cervical screening non-attenders: opportunities to increase screening uptake in Gp primary care. J Med Screen 22:93–99. https://doi.org/10.1177/0969141315573345

Marlow LA, Waller J, Wardle J (2015) J barriers to cervical cancer screening among ethnic minority women: a qualitative study. J Fam Plann Reprod Health Care 41:248–254. https://doi.org/10.1136/Jfprhc-2014-101082

Masseria C, Mladovsky P, Hernandez-Quevedo C (2010) The socio-economic determinants of the health status of roma in comparison with non-roma in bulgaria. Hung Roman Eur J Public Health 20:549–554. https://doi.org/10.1093/Eurpub/Ckq102

Ministry Of Health (2015) Ministerul Sănătăţii. Normă Tehnică Din 31/03/2015. Versiune Actualizata La Data De 08/03/2016. Normele Tehnice De Realizare A Programelor Naţionale De Publică Pentru Anii 2015 Şi 2016, Din 31.03.2015. [Technical Standard Of 03/13/2015. Version Updated On 03/08/2016. Rules For Carrying Out The National Public Health Programs For 2015 And 2016, 31.03.2015]

Moser K, Patnick J, Beral V (2009) Inequalities in reported use of breast and cervical screening In Great Britain: analysis of cross sectional survey data. BMJ 338:B2025. https://doi.org/10.1136/Bmj.B2025

Mutyaba Faxelid, Mirembe Weiderpass (2007) Influences on uptake of reproductive health services in Nsangi Community Of Uganda and their implications for cercvical cancer screening biomed central. Reprod Health 4:1–9

National Instistue Of Statistics (2011) Recensamantul Populatiei Si Locuintelor 2011 [The Reference For Population And Household Census From 2011] Institutul National De Statistice [National Instistue Of Statistics]. Accessed 11.08.2017

Ogunwale AN, Sangi-Haghpeykar H, Montealegre J (2016) Non-utilization of the pap test among women with frequent health system contact. J Immigr Minor Health 18:1404–1412

Rutter D, Manley C, Weaver T, Mj Crawford, Fulop N (2004) Patients or partners? Case studies of user involvement in the planning and delivery of adult mental health services in London. Soc Sci Med 58:1973–1984. https://doi.org/10.1016/S0277-9536(03)00401-5

Smith AM, Heywood W, Ryall R, Shelley JM, Pitts MK, Richters J, Simpson JM, Patrick K (2011) Association between sexual behavior and cervical cancer screening. J Women's Health 20:1091–1096. https://doi.org/10.1089/Jwh.2010.2585

Socolov D, Socolov R, Lupascu IA, Rugina V, Gabia O, Garauleanu DM, Carauleanu A (2016) Immunohistochemistry in endometrial hyperplasia and endometrial adenocarcinoma. Rev Med Chir Soc Med Nat Iasi 120:355–362

The World Bank Group (2014) Achiving Roma inclusion In Romania-what does it take?

Todorova I, Baban A, Alexandrova-Karamanova A, Bradley J (2009) Inequalities in cervical cancer screening in Eastern Europe: perspectives from Bulgaria And Romania. Int J Public Health 54:222–232. https://doi.org/10.1007/S00038-009-8040-6

Vladescu C, Sg Scintee, Olsavszky V, Hernandez-Quevedo C, Sagan A (2016) Romania: health system review. Health Syst Trans 18:1–170

Wamsiedel M, Vincze E, Ionescu I (2012) Roma health. Perspective of the actors involved in the health system—doctors, health mediators and patients. Romani Criss—Roma Center For Social Intervention and studies
Acknowledgements
This study was conducted as part of CerCcRom project (Cervical Cancer among Roma and other disadvantage groups of women in Romania) with funding from the European Economic Area (EEA) Financial Mechanism 2009–2014 under Project Contract no 6SEE/30.06.2014. We thank the Romanian Cancer Society, the Oncology Institute "Prof. Dr. Ion Chiricuta" of Cluj-Napoca, Romania and the Cancer Registry of Norway, for making this study possible. We also thank all the data collectors for their contribution with and in the questionnaire meetings. Most of all we thank all the women who took part in the study.
Funding
This study was conducted as part of CerCcRom project (Cervical Cancer among Roma and other disadvantage groups of women in Romania) with funding from the European Economic Area (EEA) Financial Mechanism 2009–2014 under Project Contract no 6SEE/30.06.2014.
Ethics declarations
This study was funded by the European Economic Area (EEA) Financial Mechanism 2009–2014 under Project Contract no 6SEE/30.06.2014. All authors declare that they have no conflict of interest. All procedures performed in this study involving human participants were in accordance with the ethical standards of the institutional and national research committee and with the 1964 Helsinki declaration and its later amendments or comparable ethical standards. Informed consent was obtained from all individual participants included in the study.
Conflict of Interest
The authors declare that they have no conflict of interest.
Electronic supplementary material
Below is the link to the electronic supplementary material.
About this article
Cite this article
Andreassen, T., Melnic, A., Figueiredo, R. et al. Attendance to cervical cancer screening among Roma and non-Roma women living in North-Western region of Romania. Int J Public Health 63, 609–619 (2018). https://doi.org/10.1007/s00038-018-1107-5
Received:

Revised:

Accepted:

Published:

Issue Date:
Keywords
Cervical cancer screening attendance

Minority Roma women

Discrimination

Access to health

Health insurance

Odds ratio