Abstract
Objectives
Assess the effect of selected low-cost eHealth tools on diabetes/hypertension detection and referrals rates in rural settings and refugee camps in Lebanon and explore the barriers to showing-up to scheduled appointments at Primary Healthcare Centers (PHC).
Methods
Community-based screening for diabetes and hypertension was conducted in five rural and three refugee camp PHCs using an eHealth netbook application. Remote referrals were generated based on pre-set criteria. A phone survey was subsequently conducted to assess the rate and causes of no-shows to scheduled appointments. Associations between the independent variables and the outcome of referrals were then tested.
Results
Among 3481 screened individuals, diabetes, hypertension, and comorbidity were detected in 184,356 and 113 per 1000 individuals, respectively. 37.1% of referred individuals reported not showing-up to scheduled appointments, owing to feeling better/symptoms resolved (36.9%) and having another obligation (26.1%). The knowledge of referral reasons and the employment status were significantly associated with appointment show-ups.
Conclusions
Low-cost eHealth netbook application was deemed effective in identifying new cases of NCDs and establishing appropriate referrals in underserved communities.
Access options
Buy single article
Instant access to the full article PDF.
USD 39.95
Price includes VAT (USA)
Tax calculation will be finalised during checkout.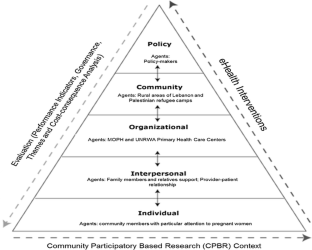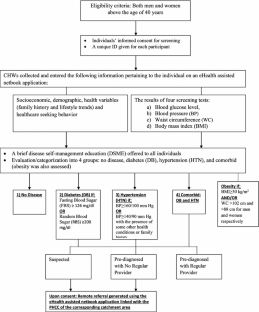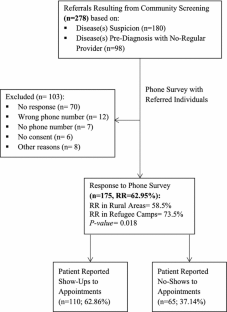 Abbreviations
NCDs:

Non-communicable diseases

PHC:

Primary healthcare

LMICs:

Low- and middle-income countries

SMS:

Short message service

CHWs:

Community health workers

PHCCs:

Primary healthcare centers

WHO:

World Health Organization

CLI:

Collaborative for Leadership and Innovations in Health Systems

AUB:

American University of Beirut

MOPH:

Ministry of Public Health

UNRWA:

United Nations Relief and Works Agency

IDRC:

International Development Research Center

BMI:

Body mass index

DB:

Diabetes

FBS:

Fasting Blood Sugar

SBP:

Systolic Blood Pressure

DBP:

Diastolic Blood Pressure

HTN:

Hypertension

WC:

Waist circumference

DSME:

Disease self-management education

OR:

Odds ratio

RR:

Response rate

US:

United States

UK:

United Kingdom
References
Amara AH, Aljunid SM (2014) Noncommunicable diseases among urban refugees and asylum-seekers in developing countries: a neglected health care need. Global Health 10:1–15. https://doi.org/10.1186/1744-8603-10-24

Ammar W (2009) Health reform in Lebanon key achievements at a glance. Ministry of Public Health

Anderson RM, Funnell MM (2010) Patient empowerment: myths and misconceptions. Patient Educ Couns 79:277–282

Balcázar H, Wise S, Rosenthal EL, Ochoa C, Duarte-Gardea M, Rodriguez J, Hastings D, Flores L, Hernandez L (2012) An ecological model using promotores de salud to prevent cardiovascular disease on the US-Mexico border: the HEART project. Prev chRonic Dis 9:110100. https://doi.org/10.5888/pcd9.110100

Beaglehole R, Epping-Jordan J, Patel V, Chopra M, Ebrahim S, Kidd M, Haines A (2008) Improving the prevention and management of chronic disease in low-income and middle-income countries: a priority for primary health care. Lancet 372:940–949. https://doi.org/10.1016/S0140-6736(08)61404-X

Chen B, Cammett M (2012) Informal politics and inequity of access to health care in Lebanon. Int J Equity health 11:1

Gamm L, Castillo G, Pittman S (2010) Access to quality health services in rural areas—primary care. Nation 2:3

George A, Rubin G (2003) Non-attendance in general practice: a systematic review and its implications for access to primary health care. Fam Pract 20:178–184

Gray CS, Miller D, Kuluski K, Cott C (2014) Tying eHealth tools to patient needs: exploring the use of ehealth for community-dwelling patients with complex chronic disease and disability. JMIR Res Protoc 3:e67

Hogan TP, Wakefield B, Nazi KM, Houston TK, Weaver FM (2011) Promoting access through complementary eHealth technologies: recommendations for VA's Home Telehealth and personal health record programs. J Gen Intern Med 26:628–635

International Diabetes Federation (2015) IDF Diabetes Atlas. IDF Diabetes Atlas—7th edn. http://www.diabetesatlas.org/. Accessed 20 May 2016

International Diabetes Federation (2017) Middle East and North Africa. http://www.idf-mena.org/about/diabetes-in-the-region. Accessed 20 May 2016

International Society of Hypertension (2015) World Hypertension Day 2015—17 May. http://ish-world.com/new-investigators-news/a/World-Hypertension-Day-2015/. Accessed 20 May 2016

Islam SMS, Tabassum R (2015) Implementation of information and communication technologies for health in Bangladesh. Bull World Health Organ 93:806–809

Islam SMS, Lechner A, Ferrari U, Froeschl G, Alam DS, Holle R, Seissler J, Niessen LW (2014) Mobile phone intervention for increasing adherence to treatment for type 2 diabetes in an urban area of Bangladesh: protocol for a randomized controlled trial. BMC Health Serv Res 14:1

Katz SJ, Moyer CA (2004) The emerging role of online communication between patients and their providers. J Gen Intern Med 19:978–983

Khader A, Ballout G, Shahin Y, Hababeh M, Farajallah L, Zeidan W, Abu-Zayed I, Kochi A, Harries AD, Zachariah R (2014) Treatment outcomes in a cohort of Palestine refugees with diabetes mellitus followed through use of E-Health over 3 years in Jordan. Tropical Med Int Health 19:219–223

Lacy NL, Paulman A, Reuter MD, Lovejoy B (2004) Why we don't come: patient perceptions on no-shows. Ann Fam Med 2:541–545

Maher D, Harries AD, Zachariah R, Enarson D (2009) A global framework for action to improve the primary care response to chronic non-communicable diseases: a solution to a neglected problem. BMC Public Health 9:1

Maher D, Ford N, Unwin N (2012) Priorities for developing countries in the global response to non-communicable diseases. Global Health 8:1

Ministry of Public Health (2016) Non communicable diseases prevention and control plan (NCD-PCP) Lebanon 2016. Republic of Lebanon-Ministry of Public Health

Mousa H, Yousef S, Riccardo F, Zeidan W, Sabatinelli G (2010) Hyperglycaemia, hypertension and their risk factors among Palestine refugees served by UNRWA

Neal RD, Hussain-Gambles M, Allgar VL, Lawlor DA, Dempsey O (2005) Reasons for and consequences of missed appointments in general practice in the UK: questionnaire survey and prospective review of medical records. BMC Fam Prac 6:1

Norris SL, Chowdhury FM, Van Le K, Horsley T, Brownstein JN, Zhang X, Jack L, Satterfield DW (2006) Effectiveness of community health workers in the care of persons with diabetes. Diab Med 23:544–556

Ouma S, Herselman M (2008) E-health in rural areas: case of developing countries. Int J Biol Life Sci 4:194–200

Oyebode O, Pape UJ, Laverty AA, Lee JT, Bhan N, Millett C (2015) Rural, urban and migrant differences in non-communicable disease risk-factors in middle income countries: a cross-sectional study of WHO-SAGE data. PLoS One 10:e0122747

Paré G, Jaana M, Sicotte C (2007) Systematic review of home telemonitoring for chronic diseases: the evidence base. J Am Med Inform Assoc 14:269–277

Sabatinelli G, Pace-Shanklin S, Riccardo F, Shahin Y (2009) Palestinian refugees outside the occupied Palestinian territory. Lancet 373:1063–1065

Samb B, Desai N, Nishtar S, Mendis S, Bekedam H, Wright A, Hsu J, Martiniuk A, Celletti F, Patel K, Adshead F, McKee M, Evans T, Alwan A, Etienne C (2010) Prevention and management of chronic disease: a litmus test for health-systems strengthening in low-income and middle-income countries. Lancet 376:1785–1797. https://doi.org/10.1016/S0140-6736(10)61353-0

Serocca AB (2008) Personal health record use by patients as perceived by ambulatory care physicians in Nebraska and South Dakota: a cross-sectional study. Perspect Health Inform Manag 5:1

Sharp DJ (2001) Non-attendance at general practices and outpatient clinics: local systems are needed to address local problems. BMJ 323:1081–1083

Starfield B, Shi L, Macinko J (2005) Contribution of primary care to health systems and health. Milbank Q 83:457–502

United Nations Relief and Works Agency (2011) Palestine refugees: a special case. UNRWA Lebanon

Wakerman J, Humphreys JS (2011) Sustainable primary health care services in rural and remote areas: innovation and evidence. Aust J Rural Health 19:118–124

Wilson N, Couper I, De Vries E, Reid S, Fish T, Marais B (2009) inequitable distribution of healthcare professionals to rural and remote areas. Rural Remote Health 9:1060

World Health Organization (2005) Preventing chronic diseases: a vital investment, World Health Organization

World Health Organization (2015) Lebanon: WHO statistical profile, 2015. World Health Organization

Yamout R, Adib SM, Hamadeh R, Freidi A, Ammar W (2014) Peer reviewed: screening for cardiovascular risk in asymptomatic users of the primary health care network in Lebanon, 2012–2013. Prev Chronic Dis 11:E120

Youssef A (2014) Use of short message service reminders to improve attendance at an internal medicine outpatient clinic in Saudi Arabia: a randomized controlled trial/Utilisation de rappels par minimessages afin d'améliorer l'assiduité des patients dans un service de consultations externes en médecine interne en Arabie saoudite: essai contrôlé randomisé. East Mediterr Health J 20:317
Acknowledgements
Technical support was provided by the Ministry of Public Health (MOPH) and the United Nations Relief and Works Agency (UNRWA) to ensure the commitment of participating centers. The study authors would like to acknowledge all the CHWs and all data collectors for their efforts.
Funding
The study was funded by the International Development Research Center (IDRC), Canada. The contributions of IDRC staff and the material resources were very supportive to the conduct of this study
Ethics declarations
Ethics approval and consent to participate
Prior to commencing the study, ethical approval was obtained from the Institutional Review Board of AUB. Written informed consent was used at all stages; participation was completely voluntarily and the data collected was completely confidential.
Availability of data and materials
The data sets used and/or analyzed during the current study available from the corresponding author on reasonable request.
Conflict of interest
The authors declare that they have no competing interests.
About this article
Cite this article
Saleh, S., Alameddine, M., Farah, A. et al. eHealth as a facilitator of equitable access to primary healthcare: the case of caring for non-communicable diseases in rural and refugee settings in Lebanon. Int J Public Health 63, 577–588 (2018). https://doi.org/10.1007/s00038-018-1092-8
Received:

Revised:

Accepted:

Published:

Issue Date:
Keywords
Primary healthcare

eHealth

Diabetes

Hypertension

Referrals

Appointment no-show