Abstract
Objectives
To analyse the association between patients' socioeconomic position (SEP) and the use of emergency departments (EDs).
Methods
This population-based study included all visits to ED in 2012 by inhabitants of the French Midi-Pyrénées region, recorded by the Regional Emergency Departments Observatory. We compared ED visit rates and the proportion of non-severe visits according to the patients' SEP as assessed by the European Deprivation Index.
Results
We analysed 496,388 visits. The annual ED visit rate increased with deprivation level: 165.9 [95% CI (164.8–166.9)] visits per 1000 inhabitants among the most advantaged group, compared to 321.9 [95% CI (320.3–323.5)] per 1000 among the most disadvantaged. However, the proportion of non-severe visits was about 14% of the visits, and this proportion did not differ according to SEP.
Conclusions
Although the study shows a difference of ED visit rates, the probability of a visit being non-severe is not meaningfully different according to SEP. This supports the assumption that ED visit rate variations according to SEP are mainly explained by SEP-related differences in health states rather than SEP-related differences in health behaviours.
Access options
Buy single article
Instant access to the full article PDF.
US$ 39.95
Tax calculation will be finalised during checkout.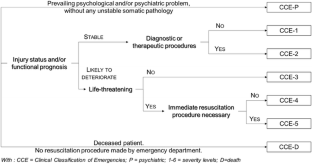 References
Ahmad O, Boshi-Pinto C, Lopez A et al (2001) Age standardization of rates: a new WHO standard. GPE discussion paper series 31. EIP/GPE/EBD World Health Organisation, Geneva

Berchet C (2015) Emergency care services: trends, drivers and interventions to manage the demand, OECD Health Working Papers, No. 83. OECD Publishing, Paris

Carret ML, Fassa AG, Kawachi I (2007) Demand for emergency health service: factors associated with inappropriate use. BMC Health Serv Res 7(1):131. https://doi.org/10.1186/1472-6963-7-131

Cour des Comptes (2007) Annual public report—medical emergencies: findings and recent developments rapport public annuel. Première partie—les observations des juridictions financières. Les urgences médicales: constats et évolution récente

Delpierre C, Fantin R, Chehoud H et al (2016) Social inequalities in access to care and prevention in Midi-Pyrenees, France, 2012. Inégalités sociales d'accès aux soins et à la prévention en Midi-Pyrénées, France, 2012. Bull Epidémiol Hebd 1:2–8

Department for Communities and Local Government (2011) The English indices of deprivation 2010. Department for Communities and Local Government, London

Devaux M, De Looper M (2012) Income-related inequalities in health service utilisation in 19 OECD countries, 2008–2009. OECD health working papers. Organisation for Economic Co-operation and Development, Paris. http://www.oecd-ilibrary.org/content/workingpaper/5k95xd6stnxt-en. Accessed 10 May 2016

Durand A-C, Gentile S, Devictor B et al (2011) ED patients: how nonurgent are they? Systematic review of the emergency medicine literature. Am J Emerg Med 29(3):333–345. https://doi.org/10.1016/j.ajem.2010.01.003

Fourestié V, Roussignol E, Delkharrat D et al (1994) Clinical classification of emergency patients (CCMU). Definition and reproducibility. Classification clinique des malades des urgences. définition et reproductibilité. Réanim Urgences 3:573–578

Gentile S, Vignally P, Durand A-C et al (2010) Nonurgent patients in the emergency department? A French formula to prevent misuse. BMC Health Serv Res 10(March):66. https://doi.org/10.1186/1472-6963-10-66

Guillaume E, Pornet C, Dejardin O et al (2015) Development of a cross-cultural deprivation index in five European countries. J Epidemiol Community Health. https://doi.org/10.1136/jech-2015-205729

Harris MJ, Patel B, Bowen S (2011) Primary care access and its relationship with emergency department utilisation: an observational, cross-sectional ecological study. Br J Gen Pract 61(593):e787–e793. https://doi.org/10.3399/bjgp11X613124

Honigman LS, Wiler JL, Rooks S, Ginde AA (2013) National study of non-urgent emergency department visits and associated resource utilization. West J Emerg Med 14(6):609–616. https://doi.org/10.5811/westjem.2013.5.16112

Jayaprakash N, O'Sullivan R, Bey T et al (2009) Crowding and delivery of healthcare in emergency departments: the European perspective. West J Emerg Med 10(4):233–239

Lang T, Davido A, Diakité B et al (1996) Non-urgent care in the hospital medical emergency department in France: how much and which health needs does it reflect? J Epidemiol Community Health 50(4):456–462

Lee A, Lau FL, Hazlett CB et al (1999) Measuring the inappropriate utilization of accident and emergency services? Int J Health Care Qual Assur 12(6–7):287–292

Little RJ, D'Agostino R, Cohen ML et al (2012) The prevention and treatment of missing data in clinical trials. N Engl J Med 367(14):1355–1360. https://doi.org/10.1056/NEJMsr1203730

Mackenbach JP, Stirbu I, Roskam A-JR et al (2008) Socioeconomic inequalities in health in 22 European countries. N Engl J Med 358(23):2468–2481. https://doi.org/10.1056/NEJMsa0707519

Marchenko Y (2011) Chained equations and more in multiple imputation in stata 12. United Kingdom Stata Users' Group Meetings 2011. Stata Users Group. http://econpapers.repec.org/paper/bocusug11/14.htm. Accessed 3 June 2016

McHale P, Wood S, Hughes K et al (2013) Who uses emergency departments inappropriately and when—a national cross-sectional study using a monitoring data system. BMC Med 11:258. https://doi.org/10.1186/1741-7015-11-258

Padgett DK, Brodsky B (1992) Psychosocial factors influencing non-urgent use of the emergency room: a review of the literature and recommendations for research and improved service delivery. Soc Sci Med 35(9):1189–1197

Pines JM, Hilton JA, Weber EJ et al (2011) International perspectives on emergency department crowding. Acad Emerg Med 18(12):1358–1370. https://doi.org/10.1111/j.1553-2712.2011.01235.x

Pornet C, Delpierre C, Dejardin O et al (2012) Construction of an adaptable European transnational ecological deprivation index: the French version. J Epidemiol Community Health 66(11):982–989. https://doi.org/10.1136/jech-2011-200311

Rey G, Rican S, Joula E (2013) Measuring social inequalities in mortality by cause of death. Ecological approach based on social a deprivation index. Bull Epidémiol Hebd 8–9:87–90

Rudge GM, Mohammed MA, Fillingham SC et al (2013) The combined influence of distance and neighbourhood deprivation on emergency department attendance in a large English population: a retrospective database study. PLoS One 8(7):e67943. https://doi.org/10.1371/journal.pone.0067943

Scantlebury R, Rowlands G, Durbaba S et al (2015) Socioeconomic deprivation and accident and emergency attendances: cross-sectional analysis of general practices in England. Br J Gen Pract 65(639):e649–e654. https://doi.org/10.3399/bjgp15X686893

Townsend P (1987) Deprivation. J Soc Policy 16(2):125–146. https://doi.org/10.1017/S0047279400020341

Tozer AP, Belanger P, Moore K, Caudle J (2014) Socioeconomic status of emergency department users in Ontario, 2003–2009. CJEM 16(3):220–225

VanStone NA, Belanger P, Moore K, Caudle JM (2014) Socioeconomic composition of low-acuity emergency department users in Ontario. Can Fam Physician 60(4):355–362
Ethics declarations
Ethical approval
All procedures performed were in accordance with the ethical standards of the institutional and national research committee and with the 1964 Helsinki declaration and its later amendments or comparable ethical standards.
Formal consent was not required for this study. The Midi-Pyrénées ED observatory database was declared to the French National Commission for Data Protection and Liberties (CNIL): declaration n°761 633 (31/08/2001). For analysis and cross-referencing data between databases, permission was obtained from the Committee on the Treatment of Research Information in the Field of Health (CCTIRS) and from the French National Commission for Data Protection and Liberties (DR-2013-579 N°913509 Decision). In France, the CCTIRS and CNIL assessed the ethical and juridical aspect of the protocol.
Conflict of interest
All authors declare no support from any organisation for the submitted work; no financial relationships with any organisations that might have an interest in the submitted work; no other relationships or activities that could appear to have influenced the submitted work. The authors declare that they have no conflict of interest.
Electronic supplementary material
Below is the link to the electronic supplementary material.
About this article
Cite this article
Colineaux, H., Le Querrec, F., Pourcel, L. et al. Is the use of emergency departments socially patterned?. Int J Public Health 63, 397–407 (2018). https://doi.org/10.1007/s00038-017-1073-3
Received:

Revised:

Accepted:

Published:

Issue Date:
Keywords
Primary access to care

Social inequalities in health

Emergency department

Administrative database