Abstract
Objectives
To assess the relationship between general literacy proficiency and self-rated poor health by analyzing data from the Programme for the International Assessment of Adult Competencies, an international survey conducted from 2011 to 2015 in 33 high- and upper middle-income countries and national sub-regions.
Methods
Logistic regression was used to model general literacy proficiency as a predictor of self-rated poor health.
Results
Data from 167,062 adults aged 25–65 years were analyzed. The mean overall prevalence of self-rated poor health was 24%. The odds ratio of self-rated poor health for those in the lowest level of general literacy proficiency compared to those in the highest level was 2.5 (95% CI 2.2–3.0) in the unadjusted model, and 1.9 (95% CI 1.6–2.2) in the adjusted model. This association was robust over time and across countries. General literacy proficiency attenuated 22% of the effect of self-education on self-rated poor health, in addition to a substantial independent effect of its own.
Conclusions
Our study provides robust and generalizable evidence that general literacy proficiency is independently associated with self-rated poor health. These results offer a potential modifiable target for policy interventions to reduce educational inequities in health.
This is a preview of subscription content, log in to check access.
Access options
Buy single article
Instant access to the full article PDF.
US$ 39.95
Price includes VAT for USA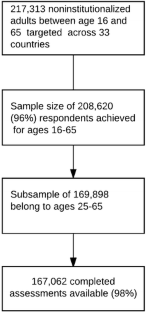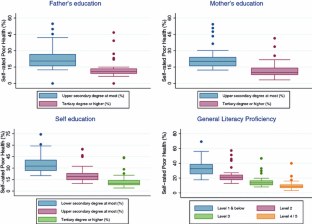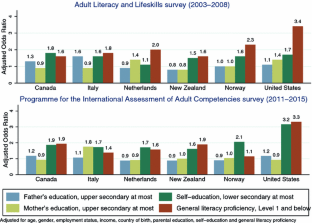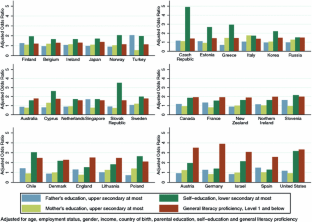 References
Bauer UE, Briss PA, Goodman RA, Bowman BA (2014) Prevention of chronic disease in the 21st century: elimination of the leading preventable causes of premature death and disability in the USA. Lancet 384(9937):45–52. doi:10.1016/S0140-6736(14)60648-6

Berkman ND, Sheridan SL, Donahue KE, Halpern DJ, Crotty K (2011) Low health literacy and health outcomes: an updated systematic review. Ann Intern Med 155(2):97–107. doi:10.7326/0003-4819-155-2-201107190-00005

Chatterji P (2014) Education and health: disentangling causal relationships from associations. In: Culyer AJ (ed) Encyclopedia of health economics. Elsevier, Amsterdam, pp 250–258

Conti G, Heckman J, Urzua S (2010) The education-health gradient. Am Econ Rev 100(2):234–238. doi:10.1257/aer.100.2.234

Cutler DM, Lleras-Muney A (2006) Education and health: evaluating theories and evidence (No. w12352). National Bureau of Economic Research. http://www.nber.org/papers/w12352. Accessed 25 Feb 2017

DeWalt DA, Berkman ND, Sheridan S, Lohr KN, Pignone MP (2004) Literacy and health outcomes: a systematic review of the literature. J Gen Intern Med 19(12):1228–1239. doi:10.1111/j.1525-1497.2004.40153.x

Farmer MM, Ferraro KF (1997) Distress and perceived health: mechanisms of health decline. J Health Soc Behav 38(3):298–311. doi:10.2307/2955372

Franks P, Gold MR, Fiscella K (2003) Sociodemographics, self-rated poor health, and mortality in the US. Soc Sci Med 56(12):2505–2514. doi:10.1016/s0277-9536(02)00281-2

Idler EL, Benyamini Y (1997) Self-rated poor health and mortality: a review of twenty-seven community studies. J Health Soc Behav 38(1):21–37. doi:10.2307/2955359

Organisation for Economic Co-operation and Development (OECD) (2013) Technical report of the survey of adult skills (PIAAC). OECD. http://hdl.voced.edu.au/10707/407549. Accessed 25 Feb 2017

Reder S (2011) Some thoughts on IALS measurement validity, program impact, and logic models for policy development. http://www.centreforliteracy.qc.ca/sites/default/files/Rederthinkpiece.pdf. The Centre for Literacy, Canada. Accessed 25 Feb 2017

Satherley P, Lawes E, Sok S (2008) The Adult Literacy and Life Skills (ALL) Survey: overview and international comparisons. http://ala.asn.au/public/docs/report/ALL_Overview_V2.pdf. Comparative Education Research Unit, Research Division, Ministry of Education, New Zealand. Accessed 25 Feb 2017

Schleicher A (2008) PIAAC: a new strategy for assessing adult competencies. Int Rev Educ 54(5–6):627–650. doi:10.1007/s11159-008-9105-0

UNESCO Institute for Statistics (2013) International standard classification of education 2011. UNESCO-UIS, Montreal

Van Doorslaer E, Gerdtham UG (2003) Does inequality in self-assessed health predict inequality in survival by income? Evidence from Swedish data. Soc Sci Med 57(9):1621–1629. doi:10.1016/S0277-9536(02)00559-2

Wolf MS, Feinglass J, Thompson J, Baker DW (2010) In search of 'low health literacy': threshold vs. gradient effect of literacy on health status and mortality. Soc Sci Med 70(9):1335–1341. doi:10.1016/j.socscimed.2009.12.013
Acknowledgements
We would like to acknowledge the contributions of all participants of the Adult Literacy and Lifeskills (ALL) and Programme for the International Assessment of Adult Competencies (PIAAC) surveys, as well as researchers from the Organisation for Economic Cooperation and Development involved in the planning, design and implementation of the surveys and field staff in participant countries without whom this study would not have been possible.
Ethics declarations
Conflict of interest
The authors declare that they have no conflict of interest.
Ethical approval
The study was approved by the Institutional Review Board of the Harvard T.H. Chan School of Public Health.
Informed consent
Informed consent was obtained from all survey participants.
Electronic supplementary material
Below is the link to the electronic supplementary material.
About this article
Cite this article
Kakarmath, S., Denis, V., Encinas-Martin, M. et al. Association between literacy and self-rated poor health in 33 high- and upper middle-income countries. Int J Public Health 63, 213–222 (2018). https://doi.org/10.1007/s00038-017-1037-7
Received:

Revised:

Accepted:

Published:

Issue Date:
Keywords
Literacy

Educational attainment

Self-rated poor health

Socioeconomic status

OECD

Programme for the International Assessment of Adult Competencies