Abstract
Objectives
To provide a fundament for practical guidance on implementation of HiAP to Danish Municipalities HiAP.
Methods
This study is based on a descriptive case study design where a mixed method is used. A questionnaire survey with 64 respondents was conducted in the five political sectors of Esbjerg municipality and it was followed up by four semi-structured interviews with key respondents based on a Dutch prototype model from 2014; The Capability Maturity Model for HiAP.
Results
The Maturity Model was applied in Esbjerg Municipality and proved practical for the assessment of the growth process of HiAP. Esbjerg municipality is assessed to be at maturity level 2 in the implementation process of HiAP, where the approach is recognized and considered to tackle health inequalities.
Conclusion
The Maturity Model for HiAP has proved suitable for assessing the implementation process of HiAP on a municipality level and establishes a fundament for practical guidance in the area.
This is a preview of subscription content, log in to check access.
Access options
Buy single article
Instant access to the full article PDF.
US$ 39.95
Price includes VAT for USA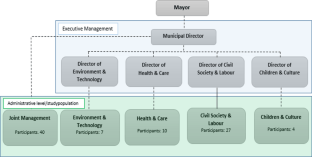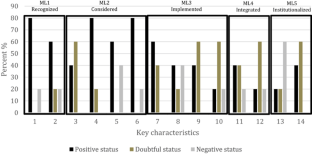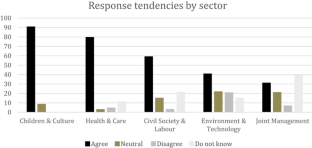 References
Abramson JH, Abramson ZH (1999) Survey methods in community medicine, 5th edn. Churchill Livingstone, Edinburgh

Fredsgaard MW (2010) Sundhedskonsekvensvurdering i danske kommuner og regioner—anvendt og planlagt praksis for sundhedskonsekvensvurdering, Copenhagen

Kamper-Jørgensen F, Bistrup ML (2005) Sundhedskonsekvensvurderinger—Koncept. Perspektiver. Anvendelse i stat, amter og kommuner, Copenhagen

Kang E (2016) Intersectoral collaboration for physical activity in Korean Healthy Cities. Health Promot Int 31:551–561

Khayatzadeh-Mahani A, Sedoghi Z, Mehrolhassani MH, Yazdi-Feyzabadi V (2016) How Health in All Policies are developed and implemented in a developing country? A case study of a HiAP initiative in Iran. Healt Promot Int 31:769–781

Kommune (2015) Sundhedspolitik Esbjerg Kommune 2015–2020 Et sammendrag Indhold

Kraemer SRJ, Nikolajsen LT, Gulis G (2014) Implementation of health impact assessment in Danish municipal context. Cent Eur J Public Health 22(4):211–214

Larsen M (2014) Intersectoral action for health: the experience of a Danish municipality. Scand J Public Health 42(7):649–657

Leppo K et al (2013) Health in All Policies—Seizing opportunities, implementing policies, 1st ed., Ministry of Social Affairs and Health of Finland, Finland

Paulk MC (2009) A history of the capability maturity model for software. Softw Qual Profile 12(1):15

Puska P, Stahl T (2010) Health in All Policies—the Finnish initiative: background, principles, and current issues. Annu Rev Public Health 31:315–328

Rantala R, Bortz M, Armada F (2014) Intersectoral action: local governments promoting health. Health Promot Int 29(suppl 1):i92–i102

Regeringen (2002) Sund hele livet - – de nationale mål og strategier for folkesundheden 2002–10, Copenhagen. http://forskningsbasen.deff.dk/Share.external?sp=S13c27ce0-ac5d-11da-bee9-02004c4f4f50&sp=Sau. Accessed 17 Jan 2017

Steenbakkers M, Jansen MJW, Maarse H, Vries de N (2012) Challenging Health in All Policies, an action research study in Dutch municipalities. Health Policy 105(2–3):288–295

Storm I et al (2014) Measuring stages of Health in All Policies on a local level: the applicability of a maturity model. Health Policy 114(2–3):183–191

Sundhedsstyrelsen (2012) Sundere liv for alle—Nationale mål for danskernes sundhed de næste ti år, Copenhagen

WHO (1978) Declaration of Alma-Ata. Lancet 2(8103):1308

WHO (1986) Ottawa Charter for Health Promotion. http://www.who.int/healthpromotion/conferences/previous/ottawa/en/. Accessed 16 Feb 2017

WHO (2014) The Helsinki Statement on Health in All Policies. Health Promot Int 29(suppl 1): i17–i18. http://www.heapro.oxfordjournals.org/cgi/doi/10.1093/heapro/dau036. Accessed 17 Jan 2017
Ethics declarations
Conflict of interest
Author Jonas Bech Andersen declares that he has no conflict of interest. Author Gabriel Gulis declares that he has no conflict of interest.
Funding
No specific funding provided for the work as all is based on a master thesis of the first author of manuscript.
Ethical approval
All procedures performed in studies involving human participants were in accordance with the ethical standards of the institutional and/or national research committee and with the 1964 Helsinki declaration and its later amendments or comparable ethical standards.
Informed consent
Informed consent was not considered relevant for this study as it does not contain individual information.
About this article
Cite this article
Andersen, J.B., Gulis, G. Community maturity to implement Health in All Policies. Int J Public Health 62, 605–612 (2017). https://doi.org/10.1007/s00038-017-0951-z
Received:

Revised:

Accepted:

Published:

Issue Date:
Keywords
Health in All Policies

Implementation

Local government

Municipality

Intersectoral action