Abstract
Objectives
The marketing of energy-dense foods is recognised as a probable causal factor in children's overweight and obesity. To stimulate policymakers to start using nutrient profiling to restrict food marketing, a harmonised model was recently proposed by the WHO. Our objective is to evaluate the television advertising of foods in Slovenia using the above-mentioned model.
Methods
An analysis is performed using a representative dataset of 93,902 food-related advertisements broadcast in Slovenia in year 2013. The advertisements are linked to specific foods, which are then subject to categorisation according to the WHO and UK nutrient profile model.
Results
Advertising of chocolate and confectionery represented 37 % of food-related advertising in all viewing times, and 77 % in children's (4–9 years) viewing hours. During these hours, 96 % of the food advertisements did not pass the criteria for permitted advertising according to the WHO profile model.
Conclusions
Evidence from Slovenia shows that, in the absence of efficient regulatory marketing restrictions, television advertising of food to children is almost exclusively linked to energy-dense foods. Minor modifications of the proposed WHO nutrient profile model are suggested.
Access options
Buy single article
Instant access to the full article PDF.
USD 39.95
Price includes VAT (USA)
Tax calculation will be finalised during checkout.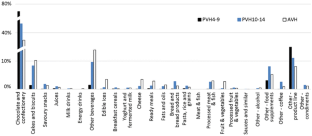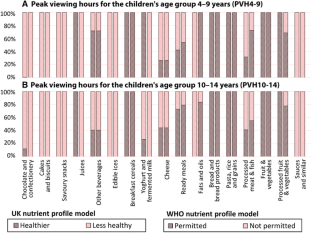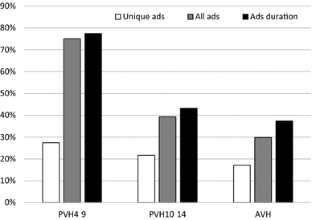 References
Adams J, Tyrrell R, Adamson AJ, White M (2012) Effect of restrictions on television food advertising to children on exposure to advertisements for 'less healthy' foods: repeat cross-sectional study. PLoS One 7(2):e31578. doi:10.1371/journal.pone.0031578

Birkimer JC, Brown JH (1979) Back to basics: percentage agreement measures are adequate, but there are easier ways. J Appl Behav Anal 12(4):535–543

Boing A, Subramanian SV (2015) The influence of area-level education on body mass index, waist circumference and obesity according to gender. Int J Public Health 60(6):727–736. doi:10.1007/s00038-015-0721-8

Boyland EJ, Halford JCG (2013) Television advertising and branding. Effects on eating behaviour and food preferences in children. Appetite 62:236–241. doi:10.1016/j.appet.2012.01.032

Boyland EJ, Harrold JA, Kirkham TC, Halford JCG (2011) The extent of food advertising to children on UK television in 2008. Int J Pediatr Obes 6(5–6):455–461. doi:10.3109/17477166.2011.608801

Boyland EJ, Kavanagh-Safran M, Halford JC (2015) Exposure to 'healthy' fast food meal bundles in television advertisements promotes liking for fast food but not healthier choices in children. Br J Nutr 113(6):1012–1018. doi:10.1017/s0007114515000082

Cairns G, Angus K, Hastings G, Caraher M (2013) Systematic reviews of the evidence on the nature, extent and effects of food marketing to children. A retrospective summary. Appetite 62:209–215. doi:10.1016/j.appet.2012.04.017

Caroli M, Argentieri L, Cardone M, Masi A (2004) Role of television in childhood obesity prevention. Int J Obes Relat Metab Disord 28(Suppl 3):S104–S108. doi:10.1038/sj.ijo.0802802

Carson V, Faulkner G, Sabiston CM, Tremblay MS, Leatherdale ST (2015) Patterns of movement behaviors and their association with overweight and obesity in youth. Int J Public Health 60(5):551–559. doi:10.1007/s00038-015-0685-8

Ciccone MM, Scicchitano P, Cortese F et al (2014) Endothelial function in obese and overweight patients: the role of olive oil, fish and nuts. Int J Diabetes Clin Res 1(1). http://clinmedjournals.org/articles/ijdcr/ijdcr-1-004.pdf. Accessed 12 Sept 2016

Crespo CJ, Smit E, Troiano RP, Bartlett SJ, Macera CA, Andersen RE (2001) Television watching, energy intake, and obesity in US children: results from the third National Health and Nutrition Examination Survey, 1988–1994. Arch Pediatr Adolesc Med 155(3):360–365

DH (2011) Nutrient profiling technical guidance. In: Department of health. https://www.gov.uk/government/uploads/system/uploads/attachment_data/file/216094/dh_123492.pdf. Accessed 12 Sept 2016

Elsey JW, Harris JL (2016) Trends in food and beverage television brand appearances viewed by children and adolescents from 2009 to 2014 in the USA. Public Health Nutr 19(11):1928–1933. doi:10.1017/S1368980015003274

Erzen N, Rayner M, Pravst I (2015) A comparative evaluation of the use of a food composition database and nutrition declarations for nutrient profiling. J Food Nutr Res 54(2):93–100

FRFMC (2010) Code of responsible food marketing communication to children In: Forum of responsible food marketing communication. http://kodeksforfoedevarereklamer.di.dk/SiteCollectionDocuments/Code%20with%20guide%20english%20aug%202010.pdf. Accessed 12 Sept 2016

Gabrijelčič Blenkuš M (2005) Nutritional guidelines for preparing meals in kindergartens and schools. (In Slovenian: Smernice zdravega prehranjevanja v vzgojno – izobraževalnih ustanovah). Ministrstvo zazdravje. http://www.mz.gov.si/fileadmin/mz.gov.si/pageuploads/javno_zdravje09/Smernice_zdravega_prehranjevanja.pdf. Accessed 12 Sept 2016

Galcheva SV, Iotova VM, Stratev VK (2008) Television food advertising directed towards Bulgarian children. Arch Dis Child 93(10):857–861. doi:10.1136/adc.2007.134437

Gortmaker SL, Must A, Sobol AM, Peterson K, Colditz GA, Dietz WH (1996) Television viewing as a cause of increasing obesity among children in the United States, 1986–1990. Arch Pediatr Adolesc Med 150(4):356–362

Haley SM, Osberg JS (1989) Kappa coefficient calculation using multiple ratings per subject: a special communication. Phys Ther 69(11):970–974

Helsedirektoratet (2013) Appendix 1 to draft regulations. Foods and beverages that are considered unhealthy under these Regulations In. http://www.eftasurv.int/media/notification-of-dtr/Appendix-to-Regulations.-Unhealthy-foods—9005.pdf

IJS (2010) OPKP—odprta platforma za klinično prehrano. In www.opkp.si. Accessed 12 Sept 2016

Jenkin G, Wilson N, Hermanson N (2009) Identifying 'unhealthy' food advertising on television: a case study applying the UK Nutrient Profile model. Public Health Nutr 12(05):614–623. doi:10.1017/S1368980008003029

Keller SK, Schulz PJ (2011) Distorted food pyramid in kids programmes: a content analysis of television advertising watched in Switzerland. Eur J Public Health 21(3):300–305. doi:10.1093/eurpub/ckq065

Keller KL et al (2012) The impact of food branding on children's eating behavior and obesity. Physiol Behav 106(3):379–386. doi:10.1016/j.physbeh.2012.03.011

Kelly B, Chapman K (2007) Food references and marketing to children in Australian magazines: a content analysis. Health Promot Int 22(4):284–291. doi:10.1093/heapro/dam026

Kelly B, Smith B, King L, Flood V, Bauman A (2007) Television food advertising to children: the extent and nature of exposure. Public Health Nutr 10(11):1234–1240. doi:10.1017/S1368980007687126

Kelly B et al (2010) Television food advertising to children: a global perspective. Am J Public Health 100(9):1730–1736. doi:10.2105/ajph.2009.179267

Korosec Z, Pravst I (2014) Assessing the average sodium content of prepacked foods with nutrition declarations: the importance of sales data. Nutrients 6(9):3501–3515. doi:10.3390/nu6093501

Landis JR, Koch GG (1977) The measurement of observer agreement for categorical data. Biometrics 33(1):159–174

Machado-Rodrigues AM et al (2015) Metabolic risk and television time in adolescent females. Int J Public Health 60(2):157–165. doi:10.1007/s00038-014-0625-z

Mardon J, Thiel E, Laniau M, Sijtsema S, Zimmermann K, Barjolle D (2015) Motives underlying food consumption in the Western Balkans: consumers' profiles and public health strategies. Int J Public Health 60(5):517–526. doi:10.1007/s00038-015-0684-9

McAllister EJ et al (2009) Ten putative contributors to the obesity epidemic. Crit Rev Food Sci Nutr 49(10):868–913. doi:10.1080/10408390903372599

McHiza ZJ, Temple NJ, Steyn NP, Abrahams Z, Clayford M (2013) Content analysis of television food advertisements aimed at adults and children in South Africa. Public Health Nutr 16(12):2213–2220. doi:10.1017/s136898001300205x

Neville L, Thomas M, Bauman A (2005) Food advertising on Australian television: the extent of children's exposure. Health Promot Int 20(2):105–112. doi:10.1093/heapro/dah601

Olafsdottir S et al (2014) Young children's screen habits are associated with consumption of sweetened beverages independently of parental norms. Int J Public Health 59(1):67–75. doi:10.1007/s00038-013-0473-2

Powell LM, Szczypka G, Chaloupka FJ (2007) Exposure to food advertising on television among US children. Arch Pediatr Adolesc Med 161(6):553–560. doi:10.1001/archpedi.161.6.553

Powell LM, Schermbeck RM, Szczypka G, Chaloupka FJ, Braunschweig CL (2011) Trends in the nutritional content of television food advertisements seen by children in the United States: analyses by age, food categories, and companies. Arch Pediatr Adolesc Med 165(12):1078–1086. doi:10.1001/archpediatrics.2011.131

Powell LM, Schermbeck RM, Chaloupka FJ (2013) Nutritional content of food and beverage products in television advertisements seen on children's programming. Childhood obesity 9(6):524–531. doi:10.1089/chi.2013.0072 (Print)

Pravst I, Kusar A (2015) Consumers' exposure to nutrition and health claims on pre-packed foods: use of sales weighting for assessing the food supply in Slovenia. Nutrients 7(11):9353–9368. doi:10.3390/nu7115474

Rayner M, Scarborough P, Lobstein T (2009) The UK Ofcom Nutrient Profiling Model. In. http://www.dph.ox.ac.uk/bhfhprg/publicationsandreports/acad-publications/bhfhprgpublished/nutrientprofilemodel. Accessed 12 Sept 2016

Rayner M, Mizdrak A, Logstrup S, Kestens M (2013) Reducing children's exposure to marketing of foods and drinks that are high in fat, salt or sugar: what would be the best nutrient profile model? In: European Heart Network. http://www.ehnheart.org/component/downloads/downloads/1481.html. Accessed 12 Sept 2016

Robinson TN et al (1993) Does television viewing increase obesity and reduce physical activity? Cross-sectional and longitudinal analyses among adolescent girls. Pediatrics 91(2):273–280

RS (2015) Resolution on national programme on nutrition and physical activity 2015–2025 (In Slovenian: Resolucija o nacionalnem programu o prehrani in telesni dejavnosti za zdravje 2015–2025). In. http://www.mz.gov.si/fileadmin/mz.gov.si/pageuploads/javna_razprava_2015/Resolucija_o_nac_programu_prehrane_in_in_tel_dejavnosti_jan_2015.pdf. Accessed 12 Sept 2016

RS (2016) Prehranske smernice za oblikovanje pravil ravnanja za zaščito otrok pred neprimernimi komercialnimi sporočili (In Slovenian). http://www.nutris.org/images/datoteke/prehranske_smerniceoglasevanje_072016.pdf. Accessed 12 Sept 2016

Scarborough P et al (2013) How important is the choice of the nutrient profile model used to regulate broadcast advertising of foods to children [quest] a comparison using a targeted data set. Eur J Clin Nutr 67(8):815–820. doi:10.1038/ejcn.2013.112

Scicchitano P, Cameli M, Maiello M et al (2014) Nutraceuticals and dyslipidaemia: beyond the common therapeutics. J Funct Foods 6:11–32

Scully P, Macken A, Leddin D, Cullen W, Dunne C, Gorman CO (2014) Food and beverage advertising during children's television programming. Ir J Med Sci. doi:10.1007/s11845-014-1088-1

Sedej K, Kotnik P, Avbelj S et al (2014) Decreased prevalence of hypercholesterolaemia and stabilisation of obesity trends in 5-year-old children: possible effects of changed public health policies. Eur J Endocrinol 170(2):293–300. doi:10.1530/eje-13-0566

Sim J, Wright CC (2005) The kappa statistic in reliability studies: use, interpretation, and sample size requirements. Phys Ther 85(3):257–268

Tomori M, Rus-Makovec M (2000) Eating behavior, depression, and self-esteem in high school students. J Adolesc Health 26(5):361–367

TPH (2016) Peer nutrition program. In: Toronto public health. https://www1.toronto.ca/wps/portal/contentonly?vgnextoid=c6b9ce7e2b322410VgnVCM10000071d60f89RCRD Accessed 5.5.2016

UNICEF (2013) Child well-being in rich countries: A comparative overview. In: UNICEF Office of Research. https://www.unicef-irc.org/publications/pdf/rc11_eng.pdf. Accessed 12 Sept 2016

Watson WL, Johnston A, Hughes C, Chapman K (2014) Determining the 'healthiness' of foods marketed to children on television using the Food Standards Australia New Zealand nutrient profiling criteria. Nutr Diet 71(3):178–183. doi:10.1111/1747-0080.12127

WHO (2013a) Global Strategy on Diet, Physical Activity and Health: Childhood overweight and obesity. In. http://www.who.int/dietphysicalactivity/childhood/en/. Accessed 12 Sept 2016

WHO (2013b) Nutrition, physical activity and obesity: Slovenia. In: WHO. http://www.euro.who.int/__data/assets/pdf_file/0019/243325/Slovenia-WHO-Country-Profile.pdf?ua=1 Accessed 5 May, 2016

WHO (2013c) Slovenia physical activity factsheet. In: http://www.euro.who.int/__data/assets/pdf_file/0007/288124/SLOVENIA-Physical-Activity-Factsheet.pdf Accessed 5 May, 2016

WHO (2015a) Guideline: Sugars intake for adults and children. In: http://apps.who.int/iris/bitstream/10665/149782/1/9789241549028_eng.pdf?ua=1. Accessed 12 Sept 2016

WHO (2015b) WHO Regional Office for Europe nutrient profile model. In: http://www.euro.who.int/__data/assets/pdf_file/0005/270716/Nutrient-Profile-Model.pdf?ua=1. Accessed 12 Sept 2016

WHO/FAO (2003) Diet, nutrition and prevention of chronic diseases: Report of a joint WHO/FAO expert consultation. In: http://www.who.int/dietphysicalactivity/publications/trs916/download/en/. Accessed 12 Sept 2016
Acknowledgements
The authors would like to thank AGB Nielsen (Slovenia) and Mr Boštjan Kušnjerek for support in access to and analyses of the advertising data. We also acknowledge the help of food science and technology students (University of Ljubljana, Slovenia) in the data collection, and Murray Bales for providing assistance with the language. The authors would also like to acknowledge that Igor Pravst has led/participated in various other research projects in the area of nutrition/public health/food technology, which were (co)funded by the Slovenian Research Agency, Ministry of Health of the Republic of Slovenia, the Ministry of Agriculture, Forestry and Food of the Republic of Slovenia, and in case of specific applied research projects also by food businesses.
Ethics declarations
Funding
This study was funded by the Slovenian Research Agency (Research programme P3-0395: Nutrition and Public Health). The funding organisation had no role in the design, analysis or writing of this article.
Conflict of interest
The authors declare that they have no other potential conflicts of interest.
Ethical approval
This article does not contain any studies with human participants performed by any of the authors.
Electronic supplementary material
Below is the link to the electronic supplementary material.
About this article
Cite this article
Korošec, Ž., Pravst, I. Television food advertising to children in Slovenia: analyses using a large 12-month advertising dataset. Int J Public Health 61, 1049–1057 (2016). https://doi.org/10.1007/s00038-016-0896-7
Received:

Revised:

Accepted:

Published:

Issue Date:
Keywords
Food advertising

Nutrient profile

Regulation

Children

Television

Marketing