Abstract
Objectives
In resource-constrained settings, the recovery of nutrients and the production of energy from liquid and solid waste are important. We determined the range and magnitude of potential community health impacts of six solid and liquid waste recovery and reuse business models in Hanoi, Vietnam.
Methods
We employed a health impact assessment (HIA) approach using secondary data obtained from various sources supplemented with primary data collection. For determining the direction (positive or negative) and magnitude of potential health impacts in the population, a semiquantitative impact assessment was pursued.
Results
From a public health perspective, wastewater reuse for inland fish farming, coupled with on-site water treatment has considerable potential for individual and community-level health benefits. One of the business models investigated (i.e. dry fuel manufacturing with agro-waste) resulted in net negative health impacts.
Conclusions
In Hanoi, the reuse of liquid and solid waste—as a mean to recover water and nutrients and to produce energy—has considerable potential for health benefits if appropriately managed and tailored to local contexts. Our HIA methodology provides an evidence-based decision-support tool for identification and promotion of business models for implementation in Hanoi.
Access options
Buy single article
Instant access to the full article PDF.
USD 39.95
Price excludes VAT (USA)
Tax calculation will be finalised during checkout.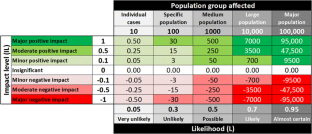 References
Ackah M, Anim AK, Gyamfi ET, Zakaria N, Hanson J, Tulasi D, Enti-Brown S, Saah-Nyarko E, Bentil NO, Osei J (2014) Uptake of heavy metals by some edible vegetables irrigated using wastewater: a preliminary study in Accra, Ghana. Environ Monit Assess 186:621–634

Anh NV (2011) Landscape analysis and business model assessment in fecal sludge management: extraction and transportation models in Vietnam. Bill & Melinda Gates Foundation, Seattle

Bartram J, Cairncross S (2010) Hygiene, sanitation, and water: forgotten foundations of health. PLoS Med 7:e1000365

Cox LA (2008) What's wrong with risk matrices? Risk Anal 28:497–512

Cui L, Yan G, Sattabongkot J, Cao Y, Chen B, Chen X, Fan Q, Fang Q, Jongwutiwes S, Parker D, Sirichaisinthop J, Kyaw MP, Su XZ, Yang H, Yang Z, Wang B, Xu J, Zheng B, Zhong D, Zhou G (2012) Malaria in the greater Mekong subregion: heterogeneity and complexity. Acta Trop 121:227–239

Cuong HQ, Hien NT, Duong TN, Phong TV, Cam NN, Farrar J, Nam VS, Thai KT, Horby P (2011) Quantifying the emergence of dengue in Hanoi, Vietnam: 1998–2009. PLoS Negl Trop Dis 5:e1322

Drechsel P, Qadir M, Wichelns D (2015) Business models and economic approaches supporting water reuse. Springer, Berlin, Heidelberg

Duijm NJ (2015) Recommendations on the use and design of risk matrices. Saf Sci 76:21–31

Dung DT, Van De N, Waikagul J, Dalsgaard A, Chai JL, Sohn WM, Murrell KD (2007) Fishborne zoonotic intestinal trematodes, Vietnam. Emerg Infect Dis 13:1828–1833

Fuhrimann S, Winkler MS, Schneeberger PHH, Niwagaba CB, Buwule J, Babu M, Medlicott K, Utzinger J, Cissé G (2014) Health risk assessment along the wastewater and faecal sludge management and reuse chain of Kampala, Uganda: a visualization. Geospat Health 9:241–245

Fuhrimann S, Stalder M, Winkler MS, Niwagaba CB, Babu M, Masaba G, Kabatereine NB, Halage AA, Schneeberger PHH, Utzinger J, Cissé G (2015) Microbial and chemical contamination of water, sediment and soil in the Nakivubo wetland area in Kampala, Uganda. Environ Monit Assess 187:475

Fuhrimann S, Pham-Duc P, Cissé G, Tram NT, Thu Ha H, Dung Do T, Ngoc P, Nguyen-Viet H, Anh Vuong T, Utzinger J, Schindler C, Winkler MS (2016a) Microbial contamination along the main open wastewater and storm water channel of Hanoi, Vietnam, and potential health risks for urban farmers. Sci Total Environ 566–567:1014–1022

Fuhrimann S, Winkler MS, Kabatereine NB, Tukahebwa EM, Halage AA, Rutebemberwa E, Medlicott K, Schindler C, Utzinger J, Cissé G (2016b) Risk of intestinal parasitic infections in people with different exposures to wastewater and fecal sludge in Kampala, Uganda: a cross-sectional study. PLoS Negl Trop Dis 10:e0004469

Fuhrimann S, Winkler MS, Pham-Duc P, Do-Trung D, Schindler C, Utzinger J, Cissé G (2016c) Intestinal parasite infections and associated risk factors in communities exposed to wastewater in urban and peri-urban transition zones in Hanoi, Vietnam. Parasit Vectors 9:537

Fullerton DG, Bruce N, Gordon SB (2008) Indoor air pollution from biomass fuel smoke is a major health concern in the developing world. Trans R Soc Trop Med Hyg 102:843–851

Fürst T, Keiser J, Utzinger J (2012) Global burden of human food-borne trematodiasis: a systematic review and meta-analysis. Lancet Infect Dis 12:210–221

General Statistics Office of Vietnam (2010) The 2009 Vietnam population and housing census: major findings. General statistics office of Vietnam. Documentation centre, Hanoi

Hanh TTT, Huong LTT, Long TK, Linh TNQ (2012) A review on biomass fuel smoke and public health risks. Vietnam Public Health J 24:39–48

Hartinger SM, Commodore AA, Hattendorf J, Lanata CF, Gil AI, Verastegui H, Aguilar-Villalobos M, Mäusezahl D, Naeher LP (2013) Chimney stoves modestly improved indoor air quality measurements compared with traditional open fire stoves: results from a small-scale intervention study in rural Peru. Indoor Air 23:342–352

Ingvertsen ST, Marcussen H, Holm PE (2013) Pollution and potential mobility of Cd, Ni and Pb in the sediments of a wastewater-receiving river in Hanoi, Vietnam. Environ Monit Assess 185:9531–9548

IWMI (2016) Resource recovery & reuse. In: International Water Management Institute. http://www.iwmi.cgiar.org/issues/resource-recovery-and-reuse/ Accessed 8 Aug 2016

Jackson D, Winkler MS, Stenström T, Medlicott K (2015) Sanitation safety planning: manual for safe use and disposal of wastewater, greywater and excreta. World Health Organization, Geneva

Lehmann S (2011) Optimizing urban material flows and waste streams in urban development through principles of zero waste and sustainable consumption. Sustainability 3:155–183

Marcussen H, Dalsgaard A, Holm PE (2008) Content, distribution and fate of 33 elements in sediments of rivers receiving wastewater in Hanoi, Vietnam. Environ Pollut 155:41–51

Nga DT, Morel A, Hung NV, Phuc PD, Nishida K, Kootattep T (2011) Assessing nutrient fluxes in a Vietnamese rural area despite limited and highly uncertain data. Resour Conserv Recy 55:849–856

Nguyen TLH, Masami O, Lib L, Higashia T, Kanayamaa M (2010) Heavy metal contamination of soil and vegetables in wastewater irrigated agricultural soil in a suburban area of Hanoi, Vietnam. Commun Soil Sci Plan 41:390–407

Nguyen-Viet H, Pham-Duc P, Nguyen V, Tanner M, Odermatt P, Vu-Van T, Hoang MV, Zurbrügg C, Schelling E, Zinsstag J (2015) A one health perspective for integrated human and animal sanitation and nutrient recycling. In: Zinsstag J, Schelling E, Waltner-Toews D, Whittaker M, Tanner M (eds) One Health: The Theory and Practice of Integrated Health Approaches. CAB International, Wallingford

Perez L, Künzli N (2009) From measures of effects to measures of potential impact. Int J Public Health 54:45–48

Pham-Duc P, Nguyen-Viet H, Hattendorf J, Zinsstag J, Phung-Dac C, Zurbrügg C, Odermatt P (2013) Ascaris lumbricoides and Trichuris trichiura infections associated with wastewater and human excreta use in agriculture in Vietnam. Parasitol Int 62:172–180

Pham-Duc P, Nguyen-Viet H, Hattendorf J, Cam PD, Zurbrügg C, Zinsstag J, Odermatt P (2014) Diarrhoeal diseases among adult population in an agricultural community Hanam province, Vietnam, with high wastewater and excreta re-use. BMC Public Health 14:978

Pleissner D (2016) Decentralized utilization of wasted organic material in urban areas: a case study in Hong Kong. Ecol Eng 86:120–689

Qian MB, Utzinger J, Keiser J, Zhou YN (2016) Clonorchiasis. Lancet 387:800–810

Quigley RL, den Broeder P, Furu P, Bond B, Cave B, Bos R (2006) Health impact assessment international best practice principles. Special Publication Series No. 5. International Association for Impact Assessment, Fargo, USA

Rydin Y, Bleahu A, Davies M, Davila JD, Friel S, De Grandis G, Groce N, Hallal PC, Hamilton I, Howden-Chapman P, Lai KM, Lim CJ, Martins J, Osrin D, Ridley I, Scott I, Taylor M, Wilkinson P, Wilson J (2012) Shaping cities for health: complexity and the planning of urban environments in the 21st century. Lancet 379:2079–2108

Shaheen SM, Eissa FI, Ghanem KM, El-Din HMG, Al Anany FS (2013) Heavy metals removal from aqueous solutions and wastewaters by using various byproducts. J Environ Manage 128:514–521

Spangberg J, Tidaker P, Jonsson H (2014) Environmental impact of recycling nutrients in human excreta to agriculture compared with enhanced wastewater treatment. Sci Total Environ 493:209–219

Utzinger J, Keiser J (2006) Urbanization and tropical health—then and now. Ann Trop Med Parasitol 100:517–533

Vatanpour S, Hrudey SE, Dinu I (2015) Can public health risk assessment using risk matrices be misleading? Int J Environ Res Public Health 12:9575–9588

Verma A, Torun P, Harris E, Edwards R, Gemmell I, Harrison RA, Buchan IE, Davies L, Patterson L, Heller RF (2012) Population impact analysis: a framework for assessing the population impact of a risk or intervention. J Public Health 34:83–89

WHO (2006) Guidelines for the safe use of wastewater, excreta and greywater, 3rd edn. World Health Organization, Geneva

WHO (2014) Non-communicable diseases country profiles 2014: Vietnam. World Health Organization, Geneva

Winkler MS, Divall MJ, Krieger GR, Balge MZ, Singer BH, Utzinger J (2010) Assessing health impacts in complex eco-epidemiological settings in the humid tropics: advancing tools and methods. Environ Impact Assess Rev 30:52–61

Winkler MS, Divall MJ, Krieger GR, Balge MZ, Singer BH, Utzinger J (2011) Assessing health impacts in complex eco-epidemiological settings in the humid tropics: the centrality of scoping. Environ Impact Assess Rev 31:310–319

Winkler MS, Krieger GR, Divall MJ, Cissé G, Wielga M, Singer BH, Tanner M, Utzinger J (2013) Untapped potential of health impact assessment. Bull World Health Organ 91:298–305
Acknowledgements
We thank the workers and staff of the Hanoi Urban Environment One Member Limited Company (URENCO) and Hanoi Sewerage and Drainage Limited Company (HSDC) for their kind cooperation and participation in the study. We appreciate the institutional involvement of the Center for Public Health and Ecosystem Research (CENPHER), Hanoi School of Public Health. We are grateful to project partners from the resource recovery and reuse project; namely, the World Health Organization (Geneva, Switzerland), the Department of Water and Sanitation in Developing Countries, Swiss Federal Institute of Aquatic Science and Technology (Dübendorf, Switzerland), the International Water Management Institute (Colombo, Sri Lanka) and the International Centre for Water Management Services (Willisau, Switzerland). This study received financial support from the Swiss Agency for Development and Cooperation (SDC; Bern, Switzerland). Hung Nguyen-Viet has been supported by the CGIAR Research Program (CRP) on Agriculture for Nutrition and Health (A4NH) led by the International Food Policy Research Institute (IFPRI).
Ethics declarations
Conflict of interest
Mirko S. Winkler declares that he has no conflict of interest. Samuel Fuhrimann declares that he has no conflict of interest. Phuc Pham-Duc declares that he has no conflict of interest. Guéladio Cissé declares that he has no conflict of interest. Jürg Utzinger declares that he has no conflict of interest. Hung Nguyen-Viet declares that he has no conflict of interest.
Funding
This study was funded by the Swiss Agency for Development and Cooperation (SDC; Bern, Switzerland).
Ethical approval
All procedures performed in studies involving human participants were in accordance with the ethical standards of the institutional and/or national research committee and with the 1964 Helsinki declaration and its later amendments or comparable ethical standards. Ethical approval for the research was obtained from the Hanoi School of Public Health (Hanoi, Vietnam; reference no. 010/2014/YTCC-HD3) and the ethics committee of the cantons of Basel-Stadt and Basel-Landschaft (EKBB; reference no. 137/13). Informed consent was obtained from all individual participants included in the study.
Additional information
This article is part of the supplement: "Health and social determinants of health in Vietnam: Local evidence and international implications".
About this article
Cite this article
Winkler, M.S., Fuhrimann, S., Pham-Duc, P. et al. Assessing potential health impacts of waste recovery and reuse business models in Hanoi, Vietnam. Int J Public Health 62 (Suppl 1), 7–16 (2017). https://doi.org/10.1007/s00038-016-0877-x
Received:

Revised:

Accepted:

Published:

Issue Date:

DOI: https://doi.org/10.1007/s00038-016-0877-x
Keywords
Business models

Health impact assessment

Resource recovery and reuse

Sanitation safety planning

Vietnam