Abstract
Objectives
We explore demographic, temporal and geographic patterns of 256,588 road traffic fatalities from 1998 to 2013 in Mexico, in context of UN´s decade of action for road safety 2010–2020 (DARS).
Methods
Combined traffic mortality data and population counts were analyzed using mixed-effects logistic regression, distinguishing sex–age groups, vulnerable and protected road users, and municipal size.
Results
Rapid growth from 1998 to 2008 in traffic mortality rates has been reversed since 2009. Most deaths averted are among young male protected road users (reduction of 0.95 fatalities per 100,000 per year in males 12–49). In spite of a steady decrease over the full study period, mortality rates remain high in vulnerable road users over 50, with a high mortality rate of 26 per 100,000 males over 75 years in 2013.
Conclusions
Progress on the reduction of deaths advances in Mexico, in line with DARS targets. National road safety efforts require strengthening. Initiatives should target vulnerable road users, specifically adults >50 years in urban areas. Strengthening of drink driving programs aimed at young drivers/occupants is promising.
Access options
Buy single article
Instant access to the full article PDF.
US$ 39.95
Tax calculation will be finalised during checkout.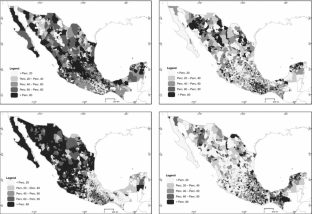 References
Bhalla K (2013) The costs of road injuries in Latin America 2013 (IDB Technical Note 597). Inter-American Development Bank, New York

Cervantes-Trejo A, Frausto-Bermúdez I (2011) Esto no es un accidente: La memoria de la Iniciativa Mexicana de Seguridad Vial. Secretaría de Salud, Mexico

Cervantes-Trejo A, Leenen I (2014a) Helmet use by motorcyclists in four metropolitan areas of Mexico. Gac Med Mex 150(S1):11–20

Cervantes-Trejo A, Leenen I (2014b) If you drink, don't drive: drunk drivers in Guadalajara and León, Mexico. Gac Med Mex 150:552–562

Cervantes-Trejo A, Leenen I (2015) The use of seatbelts and child seats in drivers and passengers of motor vehicles in four metropolitan areas in Mexico. Gac Med Mex 151:54–65

Cervantes-Trejo A, Camarota-Costas F, Rojas-Vargas R, López-Hernández P (2011a) IMESEVI Manual de orientaciones básicas. Secretaría de Salud, Mexico

Cervantes-Trejo A, Rojas-Vargas R, Rosas-Osuna R, Barrera-Muciño H, Ruelas-Valdés DA, Davidson K, Pérez-Barba JU (2011b) Programa nacional de alcoholometría: manual para la implementación de operativos. Secretaría de Salud, Mexico

Elvik R, Høye A, Vaa AT, Sørensen M (2009) The handbook of road safety measures, 2nd edn. Emerald, Bingley

Global Road Safety Facility, World Bank; Institute for Health Metrics and Evaluation (2014) Transport and health: the global burden of disease for motorized road transport. IHME Washington DC, The World Bank, Seattle

Hyder AA, Bishai D (2012) Road safety in 10 countries: a global opportunity. Traffic Inj Prev 13(S1):1–2

Instituto Nacional de Estadística y Geografía (2015) Interactive data query. http://www.inegi.org.mx/est/contenidos/proyectos/cubos. Accessed 4 Dec 2015

Leenen I, Cervantes-Trejo A (2014) Temporal and geographic trends in homicide and suicide rates in Mexico, from 1998 through 2012. Agress Violent Behav 19:699–707. doi:10.1016/j.avb.2014.09.004

Pan American Health Organization (2013) Datos sobre la seguridad vial en la Región de las Américas. Washington (Author)

Peden M, Scurfield R, Sleet D, Mohan D, Hyder AA, Jarawan E, Mathers C (2004) World report on road traffic injury prevention. World Health Organization, Geneva

SAS Institute (2013) SAS/STAT® 13.1 user's guide. Cary (Author)

Schwarz G (1978) Estimating the dimension of a model. Ann Stat 6(2):461–464

Secretaría de Comunicaciones y Transporte (2011) Acuerdo por el que se da a conocer la Estrategia Nacional de Seguridad Vial 2011–2020. Diario Oficial, México. http://dof.gob.mx/nota_detalle.php?codigo=5193284&fecha=06/06/2011. Accessed Dec 2015

Secretaría de Salud (2008) Programa de acción específico 2007–2012: Seguridad vial. México (Author)

Snijders TAB, Bosker RJ (2012) Multilevel analysis: an introduction to basic and advanced multilevel modeling, 2nd edn. Sage, London

STCONAPRA (2014) Informe sobre la situación de la seguridad vial, México 2014. Secretaría de Salud, México

United Nations (2004) Resolution adopted by the General Assembly, A/RES/58/289, http://www.who.int/violence_injury_prevention/media/news/en/unga_58_289_en.pdf. Accessed Dec 2015

Wong GY, Mason WM (1985) The hierarchical logistic regression model for multilevel analysis. J Am Stat Assoc 80:513–524

World Health Organization (2009) Global status report on road safety: time for action. Geneva. http://www.un.org/ar/roadsafety/pdf/roadsafetyreport.pdf. Accessed 4 Dec 2015 (Author)

World Health Organization (2011) International statistical classification of diseases and related health problems (10th revision). Geneva (Author)

World Health Organization (2015) Global status report on road safety 2015. Geneva www.who.int/violence_injury_prevention/road_safety_status/2015. Accessed 4 Dec 2015 (Author)

Zucchini W (2000) An introduction to model selection. J Math Psychol 44:41–61. doi:10.1006/jmps.1999.1276
Acknowledgments
We would like to acknowledge Alberto de la Rosa, Liliana Camarillo, and Maria Elizabeth Rivera for their help with the preparation of the datasets; Lourdes Hermosillo and Patricia Ezeta for constructing the maps in Fig. 3; Hugo Barrera for his aid with the literature review and background research; Cecilia Galas for a revision of language issues.
Ethics declarations
Funding
This study received a research grant from Toyota Motor Engineering & Manufacturing North America, Inc. (TEMA), through their Collaborative Safety Research Center (CSRC) which supports collaborative research focused on promoting road safety globally. TEMA is interested in the in-depth collection, integration and analysis of road safety data to enhance efforts to promote road safety.
Additional information
This article is part of the special issue "Violence and Health: Implications of the 2030 Agenda for South-North Collaboration.
About this article
Cite this article
Cervantes-Trejo, A., Leenen, I., Fabila-Carrasco, J.S. et al. Trends in traffic fatalities in Mexico: examining progress on the decade of action for road safety 2011–2020. Int J Public Health 61, 903–913 (2016). https://doi.org/10.1007/s00038-016-0867-z
Received:

Revised:

Accepted:

Published:

Issue Date:
Keywords
Mortality

Road safety

Traffic accidents

Policy programs

Mexico

Generalized linear mixed models