Abstract
Objectives
To assess the contribution of chronic conditions to the disability burden in the older men and women in Brazil.
Methods
Data from 10,290 participants of the Brazilian National Health Survey in 2013 aged 60 years or older were used. Disability was defined based on limitations in activities of daily living (ADL) and instrumental activities of daily living (IADL). Binomial additive hazards models were fitted to assess the contribution of chronic conditions to the disability prevalence.
Results
Back pain was the most common condition, followed by diabetes and heart diseases in men and arthritis and diabetes in women. Stroke and mental disorders were by far the most disabling conditions in men and women. A higher disability prevalence was observed in women (34.4 %, CI 32.4; 36.2 %) compared to men (28.4 %; CI 25.9; 30.8 %). The most important contributors to the disability prevalence were stroke, back pain, and arthritis among men, and diabetes, heart diseases, and arthritis in women.
Conclusions
Interventions to reduce disability in the older population in Brazil should take into account the gender gap in the occurrence of chronic conditions, focusing on the main contributors to the disability burden.
Access options
Buy single article
Instant access to the full article PDF.
USD 39.95
Price excludes VAT (USA)
Tax calculation will be finalised during checkout.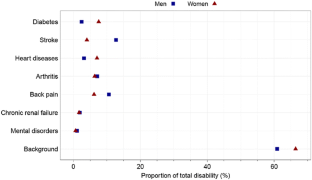 References
Alexandre TS, Corona LP, Nunes DP et al (2012) Gender differences in incidence and determinants of disability in activities of daily living among elderly individuals: SABE study. Arch Gerontol Geriatr 55:431–437. doi:10.1016/j.archger.2012.04.001

Alexandre TS, Corona LP, Nunes DP et al (2014) Disability in instrumental activities of daily living among older adults: gender differences. Rev Saude Publica 48:379–389

Belon AP, Lima MG, Barros MBA (2014) Gender differences in healthy life expectancy among Brazilian elderly. Health Qual Life Outcomes 12:88. doi:10.1186/1477-7525-12-88

Bensenor IM, Goulart AC, Szwarcwald CL et al (2015) Prevalence of stroke and associated disability in Brazil: National Health Survey—2013. Arq Neuropsiquiatr 73:746–750. doi:10.1590/0004-282X20150115

Campolina AG, Adami F, Santos JLF, Lebrão ML (2014) Effect of the elimination of chronic diseases on disability-free life expectancy among elderly individuals in São Paulo, Brazil, 2010. Cien Saude Colet 19:3327–3334. doi:10.1590/1413-81232014198.06952013

Campos MF, Souza LAP, Mendes VLF (2015) A rede de cuidados do Sistema Único de Saúde à saúde das pessoas com deficiência. Interface Comun Saúde Educ 19:207–210. doi:10.1590/1807-57622014.0078

Chatterji S, Byles J, Cutler D et al (2014) Health, functioning, and disability in older adults-present status and future implications. Lancet 385:563–575. doi:10.1016/S0140-6736(14)61462-8

Chen H, Wang H, Crimmins EM et al (2014) The contributions of diseases to disability burden among the elderly population in China. J Aging Health 26:261–282. doi:10.1177/0898264313514442

Dhamoon MS, Moon YP, Paik MC et al (2014) Diabetes predicts long-term disability in an elderly urban cohort: the Northern Manhattan Study. Ann Epidemiol 24(362–368):e1. doi:10.1016/j.annepidem.2013.12.013

Efron B, Tibshirani RJ (1994) An introduction to the bootstrap. CRC Press, Boca Raton

Giacomin KC, Peixoto SV, Uchoa E, Lima-Costa MF (2008) Estudo de base populacional dos fatores associados à incapacidade funcional entre idosos na Região Metropolitana de Belo Horizonte, Minas Gerais, Brasil. Cad Saude Publica 24:1260–1270. doi:10.1590/S0102-311X2008000600007

Gragnolati M, Jorgensen OH, Rocha R, Fruttero A (2011) Growing old in an older Brazil. The World Bank, Washington, DC

Hoy D, Geere J-A, Davatchi F et al (2014) A time for action: opportunities for preventing the growing burden and disability from musculoskeletal conditions in low- and middle-income countries. Best Pract Res Clin Rheumatol 28:377–393. doi:10.1016/j.berh.2014.07.006

Institute for Health Metrics and Evaluation (2013) Brazil. http://www.healthdata.org/brazil. Accessed 10 Dec 2015

Instituto Brasileiro de Geografia e Estatística (IBGE) (2014) Pesquisa nacional de saúde: 2013: percepção do estado de saúde, estilos de vida e doenças crônicas. Brasil, grandes regiões e unidades da federação. Rio de Janeiro

Katz S, Ford AB, Moskowitz RW, Jackson BA, Jaffe MW (1963) Studies of illness in the aged. The index of ADL: a standardized measure of biological and psychosocial function. JAMA 185:914. doi:10.1001/jama.1963.03060120024016

Kempen GI, Steverink N, Ormel J, Deeg DJ (1996) The assessment of ADL among frail elderly in an interview survey: self-report versus performance-based tests and determinants of discrepancies. J Gerontol B Psychol Sci Soc Sci 51:P254–P260

Klijs B, Nusselder WJ, Looman CW, Mackenbach JP (2011) Contribution of chronic disease to the burden of disability. PLoS One 6:e25325. doi:10.1371/journal.pone.0025325

Lawton MP, Brody EM (1969) Assessment of older people: self-maintaining and instrumental activities of daily living. Gerontologist 9:179–186. doi:10.1093/geront/9.3_Part_1.179

Leikauf J, Federman AD (2009) Comparisons of self-reported and chart-identified chronic diseases in inner-city seniors. J Am Geriatr Soc 57:1219–1225. doi:10.1111/j.1532-5415.2009.02313.x

Mack S, Jacobi F, Beesdo-Baum K et al (2015) Functional disability and quality of life decrements in mental disorders: results from the Mental Health Module of the German Health Interview and Examination Survey for Adults (DEGS1-MH). Eur Psychiatry 30:793–800. doi:10.1016/j.eurpsy.2015.06.003

Molenberghs G, Fitzmaurice G, Kenward MG et al (2015) Handbook of missing data methodology. CRC Press, Boca Raton

Nigri PZ, Peccin MS, Almeida GJM, Cohen M (2007) Tradução, validação e adaptação cultural da escala de atividade de vida diária. Acta Ortopédica Bras 15:101–104. doi:10.1590/S1413-78522007000200009

Nusselder WJ, Looman CW (2004) Decomposition of differences in health expectancy by cause. Demography 41:315–334

Nusselder WJ, Looman CW (2010) WP7: Decomposition tools: technical report on attribution tool, European Health Expectancy Monitoring Unit (EHEMU). http://www.eurohex.eu/pdf/Reports_2010/2010TR7.2_TR%20on%20attribution%20tool.pdf

Nusselder WJ, Looman CWN, Mackenbach JP et al (2005) The contribution of specific diseases to educational disparities in disability-free life expectancy. Am J Public Health 95:2035–2041. doi:10.2105/AJPH.2004.054700

Park J-H, Ovbiagele B (2015) Relationship of functional disability after a recent stroke with recurrent stroke risk. Eur J Neurol. doi:10.1111/ene.12837

R Core Team (2015). R: a language and environment for statistical computing. R Foundation for Statistical Computing, Vienna, Austria. https://www.R-project.org/

Romero DE, Leite IC, Szwarcwald CL (2005) Healthy life expectancy in Brazil: applying the Sullivan method. Cad Saude Publica 21:S7–S18. doi:10.1590/S0102-311X2005000700002

Rosa TEC, Benício MHD, Latorre MRD, Ramos LR (2003) Fatores determinantes da capacidade funcional entre idosos. Rev Saude Publica 37:40–48. doi:10.1590/S0034-89102003000100008

Santos RL, Júnior JSV (2012) Confiabilidade da versão brasileira da escala de atividades instrumentais da vida diária. Rev Bras em Promoção da Saúde 21:290–296. doi:10.5020/18061230.2008.p290

Schmidt MI, Duncan BB, Azevedo e Silva G et al (2011) Chronic non-communicable diseases in Brazil: burden and current challenges. Lancet 377:1949–1961. doi:10.1016/S0140-6736(11)60135-9

Soerjomataram I, Lortet-Tieulent J, Parkin DM et al (2012) Global burden of cancer in 2008: a systematic analysis of disability-adjusted life-years in 12 world regions. Lancet 380:1840–1850. doi:10.1016/S0140-6736(12)60919-2

Souza-Júnior PRB, Freitas MPS, Antonaci GA, Szwarcwald CL (2015) Desenho da amostra da Pesquisa Nacional de Saúde 2013. Epidemiol e Serviços Saúde 24:207–216. doi:10.5123/S1679-49742015000200003

Spector WD, Fleishman JA (1998) Combining activities of daily living with instrumental activities of daily living to measure functional disability. J Gerontol B Psychol Sci Soc Sci 53:S46–S57

Strobl R, Müller M, Emeny R et al (2013) Distribution and determinants of functioning and disability in aged adults–results from the German KORA-Age study. BMC Public Health 13:137. doi:10.1186/1471-2458-13-137

Szwarcwald CL, Malta DC, Pereira CA et al (2014) Pesquisa Nacional de Saúde no Brasil: concepção e metodologia de aplicação. Cien Saude Colet 19:333–342. doi:10.1590/1413-81232014192.14072012

Van Oyen H, Nusselder W, Jagger C et al (2013) Gender differences in healthy life years within the EU: an exploration of the "health-survival" paradox. Int J Public Health 58:143–155. doi:10.1007/s00038-012-0361-1

Verbrugge LM, Jette AM (1994) The disablement process. Soc Sci Med 38:1–14

Virtuoso Júnior JS, Martins CA, Roza LB et al (2015) Prevalence of disability and associated factors in the elderly. Text Context Nursing 24:521–529. doi:10.1590/0104-07072015001652014

Weiner DE, Seliger SL (2014) Cognitive and physical function in chronic kidney disease. Curr Opin Nephrol Hypertens 23:291–297. doi:10.1097/01.mnh.0000444821.87873.7b

World Health Organization (2001) International classification of functioning, disability and health: ICF. World Health Organization, Geneva

Yokota RTC, Berger N, Nusselder WJ et al (2015a) Contribution of chronic diseases to the disability burden in a population 15 years and older, Belgium, 1997–2008. BMC Public Health 15:229. doi:10.1186/s12889-015-1574-z

Yokota RTC, Van der Heyden J, Demarest S et al (2015b) Contribution of chronic diseases to the mild and severe disability burden in Belgium. Arch Public Health 73:37. doi:10.1186/s13690-015-0083-y

Yokota RTC, Looman CWN, Nusselder WJ et al (2016) addhaz: binomial and multinomial additive hazards models. R package version 0.4

Zunzunegui MV, Alvarado BE, Guerra R et al (2015) The mobility gap between older men and women: the embodiment of gender. Arch Gerontol Geriatr 61:140–148. doi:10.1016/j.archger.2015.06.005
Ethics declarations
Conflict of interest
The authors declare no conflict of interest.
Ethical approval
The survey was approved by the National Commission on Ethics in Research and the National Health Council in Brazil.
Informed consent
Participation to the survey was voluntary and informed consent was obtained from all survey participants.
Electronic supplementary material
Below is the link to the electronic supplementary material.
About this article
Cite this article
Yokota, R.T., de Moura, L., Andrade, S.S.C. et al. Contribution of chronic conditions to gender disparities in disability in the older population in Brazil, 2013. Int J Public Health 61, 1003–1012 (2016). https://doi.org/10.1007/s00038-016-0843-7
Received:

Revised:

Accepted:

Published:

Issue Date:

DOI: https://doi.org/10.1007/s00038-016-0843-7
Keywords