Abstract
Objectives
Researchers need specific tools to engage community members in health intervention development to ensure that efforts are contextually appropriate for immigrant populations. The purpose of the study was to generate and prioritize strategies to address obesity, stress and coping, and healthcare navigation that are contextually appropriate and applicable to the Latino immigrant community in Cincinnati, Ohio, and then use the results to develop specific interventions to improve Latino health in our area.
Methods
A community-academic research team used concept mapping methodology with over 200 Latino immigrants and Latino-serving providers. A community intervention planning session was held to share the final concept maps and vote on strategies.
Results
The concept maps and results from the intervention planning session emphasized a community lay health worker model to connect the Latino immigrant community with resources to address obesity, stress and coping, and healthcare navigation.
Conclusions
Concept maps allowed for the visualization of health intervention strategies prioritized by the larger Latino immigrant community. Concept maps revealed the appropriate content for health interventions as well as the process community members preferred for intervention delivery.
Access options
Buy single article
Instant access to the full article PDF.
USD 39.95
Price includes VAT (USA)
Tax calculation will be finalised during checkout.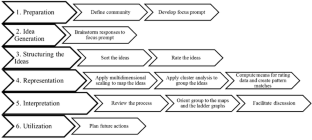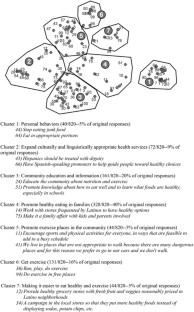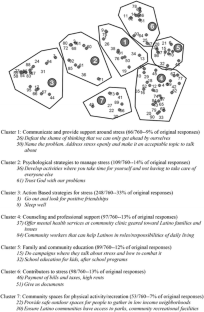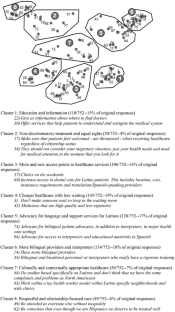 References
Abdul-Quader AS, Collins C (2011) Identification of structural interventions for HIV/AIDS prevention: the concept mapping exercise. Public Health Rep 1:777–788

Ahmad F, Mahmood S, Pietkiewicz I, McDonald L, Ginsburg O (2012) Concept mapping with South Asian immigrant women: barriers to mammography and solutions. J Immigr Minor Health 14:242–250

Ayón C, Marsiglia FF, Bermudez-Parsai M (2010) Latino family mental health: exploring the role of discrimination and familismo. J Community Psychol 38:742–756. doi:10.1002/jcop.20392

Boudreau ADA, Kurowski DS, Gonzalez WI, Dimond MA, Oreskovic NM (2013) Latino families, primary care, and childhood obesity: a randomized controlled trial. Am J Prev Med 44:S247–S257

Burke JG, O'Campo P, Peak GL, Gielen AC, McDonnell KA, Trochim WM (2005) An introduction to concept mapping as a participatory public health research method. Qual Health Res 15:1392–1410

Clinical and Translational Science Awards Consortium (CTSA), Comunity Engagement Key Function Committee Task Force on the Principles of Community Engagement (2011) Principals of community engagement. NIH Publicaton No. 11-7782, 2nd edn. National Institute of Health, Bethesda, Maryland

Cupertino AP, Saint-Elin M, de los Rios JB, Engelman KK, Greiner KA, Ellerbeck EF, Nápoles AM (2015) Empowering promotores de salud as partners in cancer education and research in rural Southwest Kansas. Oncol Nurs Forum 42:15–22. doi:10.1188/15.ONF.15-22

de Casanova EM (2010) New allies for immigration reform: a Cincinnati story. Lat Stud 8:121–125

De Leeuw J, Mair P (2011) Multidimensional scaling using majorization: SMACOF in R, Department of Statistics, UCLA

Everitt B (1980) Cluster analysis, 2nd edn. Halsted Press, A Division of John Wiley and Sons, New York

Farnsworth SK et al (2014) Community engagement to enhance child survival and early development in low-and middle-income countries: an evidence review. J Health Comm 19:67–88

Green AE, Fettes DL, Aarons GA (2012) A concept mapping approach to guide and understand dissemination and implementation. J Behav Health Ser R 39:362–373

Gryboski K, Yinger NV, Dios RH, Worley H, Fikree FF (2015) Working with the community for improved health. Health Bulletin 3

Hoerster KD, Beddawi S, Peddecord KM, Ayala GX (2010) Healthcare use among California farm workers: predisposing and enabling factors. J Immigr Minor Health 12:506–512

Israel BA et al (2010) Community-based participatory research: a capacity-building approach for policy advocacy aimed at eliminating health disparities. Am J Public Health 100:2094–2102

Jackson KM, Trochim WM (2002) Concept mapping as an alternative approach for the analysis of open-ended survey responses. Organ Res Meth 5:307–336

Jacquez F, Vaughn LM, Pelley T, Topmiller M (2015) Healthcare experiences of Latinos in a nontraditional destination area. J Community Prac 23:76–101

Jacquez F, Vaughn L, Zhen-Duan J, Graham C (2016) Healthcare utilization and barriers to care among Latino immigrants in a new migration area. J Healthc Poor Underserved. (In Press)

Kane M, Trochim WMK (2007) Concept mapping for planning and evaluation. Applied social research methods series. Sage Publications, Thousand Oaks

Kelly CM, Baker EA, Brownson RC, Schootman M (2007) Translating research into practice: using concept mapping to determine locally relevant intervention strategies to increase physical activity. Eval Program Plan 30:282–293

Leclere OA, López RA (2012) The jornalero: perceptions of health care resources of immigrant day laborers. J Immigr Minor Health 14:691–697

Lewin S et al. (2007) Lay health workers in primary and community health care. Cochrane Database Syst Rev 1

Martinez CR, McClure HH, Eddy JM, Wilson DM (2011) Time in US residency and the social, behavioral, and emotional adjustment of Latino immigrant families. Hisp J Behav Sci:0739986311411281

McLaren L, Hawe P (2005) Ecological perspectives in health research. J Epidemiol Commun H 59:6–14

Ogden CL, Carroll MD, Kit BK, Flegal KM (2014) Prevalence of childhood and adult obesity in the United States, 2011–2012. JAMA 311:806–814

Pew Research Center (2013) Pew Research Hispanic Trends Project: US Hispanic Population by County, 1980–2011. Pew Research Center. http://www.pewhispanic.org/2013/08/29/u-s-hispanic-population-by-county-1980-2011/. Accessed 30 Oct 2014

Riffe HA, Turner S, Rojas-Guyler L (2008) The diverse faces of Latinos in the Midwest: planning for service delivery and building community. Health Soc Work 33:101–110

Risisky D, Hogan VK, Kane M, Burt B, Dove C, Payton M (2008) Concept mapping as a tool to engage a community in health disparity identification. Ethn Dis 18:77

Rosas SR, Kane M (2012) Quality and rigor of the concept mapping methodology: a pooled study analysis. Eval Program Plann 35:236–245

Rusch D, Frazier SL, Atkins M (2015) Building capacity within community-based organizations: new directions for mental health promotion for Latino immigrant families in urban poverty. Adm Policy Ment Health 42:1–5

Sallis JF, Owen N, Fisher EB (2008) Ecological models of health behavior. Health Behav Health Educ Theo Res Pract 4:465–486

Sturrock K, Rocha J (2000) A multidimensional scaling stress evaluation table. Field Methods 12:49–60

Szaflarski M, Vaughn LM, McLinden D, Wess Y, Ruffner A (2015) Using concept mapping to mobilize a black faith community to address HIV. Int Public Health J Suppl. Contributions of Inter-professional Collaborations 7:117

The Health Foundation of Greater Cincinnati (2006) 2005 Greater Cincinnati Hispanic/Latino Health Survey. Cincinnati OH, Author

Timberlake JM, Williams RH (2012) Stereotypes of US immigrants from four global regions. Soc Sci Quart 93:867–890

Torres L (2010) Predicting levels of Latino depression: acculturation, acculturative stress, and coping. Cult Div Ethn Min 16:256

Torres L, Driscoll MW, Voell M (2012) Discrimination, acculturation, acculturative stress, and Latino psychological distress: a moderated mediational model. Cult Div Eth Min 18:17

Tran AN, Ornelas IJ, Perez G, Green MA, Lyn M, Corbie-Smith G (2014) Evaluation of Amigas Latinas Motivando el Alma (ALMA): a pilot promotora intervention focused on stress and coping among immigrant Latinas. J Immigr Minor Health 16:280–289

Trochim WM (1989) An introduction to concept mapping for planning and evaluation. Eval Program Plan 12:1–16

Valdez CR, Lewis Valentine J, Padilla B (2013) "Why we stay": immigrants' motivations for remaining in communities impacted by anti-immigration policy. Cult Divers Ethn Min 19:279

Vaughn L, McLinden D (2016) Concept mapping: visualizing what the community thinks. In: Jason L, Glenwick DS (eds) Handbook of methodological approaches to community-based research: qualitative, quantitative, and mixed methods, Chapter 30. Oxford University Press, New York (In press)

Vaughn LM, Jacquez F, McLinden D (2013) The use of concept mapping to identify community-driven intervention strategies for physical and mental health. Health Promot Pract 24:1524839912462871

Vaughn L, Jones JR, Booth E, Burke JG (2016) Concept mapping methodology and community-engaged research: a perfect pairing. Eval Progr Plan (In Press)

Walker RE, Jones JR, Burke JG (2014) Concept mapping for community perceptions. In: Burke J, Albert SM (eds) Methods for community public health research: Integrated and engaged approaches. Springer, New York, pp 171–194

Wallerstein NB, Yen IH, Syme SL (2011) Integration of social epidemiology and community-engaged interventions to improve health equity. Am J Pub Health 101:822

Waters MC, Jiménez TR (2005) Assessing immigrant assimilation: new empirical and theoretical challenges. Annu Rev Sociol 31:105–125

Winer M, Ray K (2000) Collaboration handbook: creating, sustaining, and enjoying the journey. Amherst Wilder Foundation, St. Paul

Zandvakili S, Passty B, von Hofe R, Mueller A (2010) Economic impact of Hispanic community in the Cincinnati msa. University of Cincinnati, Cincinnati

Zúñiga V, Hernández-León R (2005) New destinations : Mexican immigration in the United States. Russell Sage Foundation, New York
Acknowledgments
Special thanks to Mahima Venkatesh for help with Spanish translations and to Robin Lindquist-Grantz for assistance with eliminating redundancies in the original concept mapping responses. The project was made possible by a seed grant given by UC LEAF (University of Cincinnati Leadership Empowerment Advancement for Women STEM Faculty), a National Science Foundation ADVANCE grant-funded organization.
Ethics declarations
Funding
This study was funded by a seed grant given by UC LEAF (University of Cincinnati Leadership Empowerment Advancement for Women STEM Faculty), a National Science Foundation ADVANCE grant-funded organization.
Conflict of interest
Authors A, B, C, D all declare that they have no conflict of interest.
Ethical approval and consent
Because data was anonymous and intended to address health concerns for Cincinnati Latino immigrants, the institutional review board issued a non-human subjects' determination which meant that the study team rather than the institutional review board was responsible for ethical oversight. All study procedures followed ethical standards, and participants consented to respond to the survey.
About this article
Cite this article
Vaughn, L.M., Jacquez, F., Marschner, D. et al. See what we say: using concept mapping to visualize Latino immigrant's strategies for health interventions. Int J Public Health 61, 837–845 (2016). https://doi.org/10.1007/s00038-016-0838-4
Received:

Revised:

Accepted:

Published:

Issue Date:
Keywords
Latino/Hispanic

Concept mapping

Cincinnati

Community-based participatory research

Community health intervention