Abstract
Objectives
To analyze the impact of the Tunisian Revolution on suicide and homicide patterns in Tunisia.
Methods
It is a retrospective, cross-sectional study, including all the cases of homicides and suicides that occurred during an 8-year period (2007–2014) in Northern Tunisia. We compared data before and after the revolution.
Results
After the revolution, the number of suicides rose 1.7 times, with a prevalence rising from 1.8 to 3.12 suicides per 100,000 persons per year. Homicides rose 1.3 times after the revolution. For both manner of death, victims were mostly males, aged between 20 and 39 years, living in urban areas. Hanging and self-immolation rose, respectively, 1.8 and 3 times after 2011. We observed suicide cases most frequently occurred in public places and in front of public administration after 2011. Homicide victims' profile and circumstances showed a single variation which is an increase in number of cases happening in rural areas.
Conclusions
Our results proved a short-term impact of the transition period on homicides and suicides. Urgent preventive measures are needed especially to decrease the suicide rates.
Access options
Buy single article
Instant access to the full article PDF.
USD 39.95
Price includes VAT (USA)
Tax calculation will be finalised during checkout.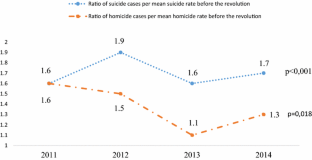 References
Afroz B, Moniruzzaman S, Stark Ekman D, Andersson R (2012) The impact of economic crisis on injury mortality: the case of the "Asian crisis". Public Health 126:836–838. doi:10.1016/j.puhe.2012.06.015

Barr B, Taylor-Robinson D, Scott-Samuel A et al (2012) Suicides associated with the 2008-10 economic recession in England: time trend analysis. BMJ 345:e5142–e5142. doi:10.1136/bmj.e5142

Branas CC, Kastanaki AE, Michalodimitrakis M et al (2015) The impact of economic austerity and prosperity events on suicide in Greece: a 30-year interrupted time-series analysis. BMJ Opej 5:1–11. doi:10.1136/bmjopen-2014-005619

Bushman BJ, Geen RG (1990) Role of cognitive-emotional mediators and individual differences in the effects of media violence on aggression. J Pers Soc Psychol 58:156–163. doi:10.1037//0022-3514.58.1.156

Chan CH, Caine ED, You S et al (2014) Suicide rates among working-age adults in South Korea before and after the 2008 economic crisis. J Epidemiol Community Health 68:246–252. doi:10.1136/jech-2013-202759

Chang S-SS-S, Stuckler D, Yip P, Gunnell D (2013) Impact of 2008 global economic crisis on suicide: time trend study in 54 countries. BMJ 347:f5239–f5239. doi:10.1136/bmj.f5239

Cheng ATA, Hawton K, Chen THH et al (2007) The influence of media coverage of a celebrity suicide on subsequent suicide attempts. J Clin Psychiatry 68:862–866. doi:10.4088/JCP.v68n0606

Coope C, Gunnell D, Hollingworth W et al (2014) Suicide and the 2008 economic recession: who is most at risk? Trends in suicide rates in England and Wales 2001-2011. Soc Sci Med 117:76–85. doi:10.1016/j.socscimed.2014.07.024

Falagas ME, Vouloumanou EK, Mavros MN, Karageorgopoulos DE (2009) Economic crises and mortality: a review of the literature. Int J Clin Pract 63:1128–1135. doi:10.1111/j.1742-1241.2009.02124.x

Fountoulakis KN, Savopoulos C, Apostolopoulou M et al (2015) Rate of suicide and suicide attempts and their relationship to unemployment in Thessaloniki Greece (2000–2012). J Affect Disord 174:131–136. doi:10.1016/j.jad.2014.11.047

Fu KW, Chan CH (2013) A study of the impact of thirteen celebrity suicides on subsequent suicide rates in south korea from 2005 to 2009. PLoS One. doi:10.1371/journal.pone.0053870

Gavrilova NS, Semyonova VG, Evdokushkina GN, Gavrilov LA (2000) The response of violent mortality to economic crisis in Russia. Popul Res Policy Rev 19:397–419. doi:10.1023/A:1010621601409

Gould MS (2001) Suicide and the Media. Ann N Y Acad Sci 932:200–224. doi:10.1111/j.1749-6632.2001.tb05807.x

Gould MS, Greenberg T, Velting DM, Shaffer D (2003) Youth suicide risk and preventive interventions: a review of the past 10 years. J Am Acad Child Adolesc Psychiatry 42:386–405. doi:10.1097/01.CHI.0000046821.95464.CF

Horváth B, Ivanov A, Peleah M (2012) The GLOBAL crisis and human development: a study on central and eastern Europe and the cis region. J Hum Dev Capab 13:197–225. doi:10.1080/19452829.2011.645531

Kim H, Young JS, Jee JY et al (2004) Changes in mortality after the recent economic crisis in South Korea. Ann Epidemiol 14:442–446. doi:10.1016/j.annepidem.2003.09.018

Lee BX, Marotta PL, Blay-Tofey M et al (2014a) Economic correlates of violent death rates in forty countries, 1962–2008: a cross-typological analysis. Aggress Violent Behav 19:729–737. doi:10.1016/j.avb.2014.09.016

Lee BX, Wexler BE, Gilligan J (2014b) Political correlates of violent death rates in the U.S., 1900–2010: longitudinal and cross-sectional analyses. Aggress Violent Behav 19:721–728. doi:10.1016/j.avb.2014.09.017

Leon DA, Chenet L, Shkolnikov VM et al (1997) Huge variation in Russian mortality rates 1984–94: artefact, alcohol, or what? Lancet 350:383–388. doi:10.1016/S0140-6736(97)03360-6

Lim M (2013) Framing Bouazizi: "White lies", hybrid network, and collective/connective action in the 2010–11 Tunisian uprising. Journalism 14:1–21. doi:10.1177/1464884913478359

McCall PL, Brauer JR (2014) Social welfare support and homicide: longitudinal analyses of European countries from 1994 to 2010. Soc Sci Res 48:90–107. doi:10.1016/j.ssresearch.2014.05.009

Men T, Brennan P, Boffetta P, Zaridze D (2003) Russian mortality trends for 1991–2001: analysis by cause and region. BMJ 327:964. doi:10.1136/bmj.327.7421.964

Mesoudi A (2009) The cultural dynamics of copycat suicide. PLoS One. doi:10.1371/journal.pone.0007252

Messner SF, Richard R (1997) Political restraint of the market and levels of criminal homicide: a cross-national application of institutional-anomie theory. Soc Forces 75:1393–1416

Messner SF, Raffalovich LE, Sutton GM (2010) Poverty, infant mortality, and homicide rates in cross-national perspective: assessments of criterion and construct validity. Criminology 48:509–537. doi:10.1111/j.1745-9125.2010.00194.x

Michas G, Varytimiadi A, Micha R (2013) The Greek financial crisis and homicide rates: another reason to worry. J Epidemiol Community Heal 67(12):1073. doi:10.1136/jech-2013-203123

National Institute of Statistics T (2015) Institut National de la Statistique—Tunisie. http://www.ins.nat.tn

Niederkrotenthaler T, Voracek M, Herberth A et al (2010) Role of media reports in completed and prevented suicide: werther v. Papageno effects. Br J Psychiatry 197:234–243. doi:10.1192/bjp.bp.109.074633

Nordt C, Warnke I, Seifritz E, Kawohl W (2015) Modelling suicide and unemployment: a longitudinal analysis covering 63 countries, 2000–11. Lancet Psychiatry 2:239–245. doi:10.1016/S2215-0366(14)00118-7

Phillips JA, Nugent CN (2014) Suicide and the Great Recession of 2007–2009: the role of economic factors in the 50 U.S. states. Soc Sci Med 116:22–31. doi:10.1016/j.socscimed.2014.06.015

Pridemore WA (2006) Change and Stability in the characteristics of homicide victims, offenders and incidents during rapid social change. Br J Criminol 47:331–345. doi:10.1093/bjc/azl029

Pridemore WA, Kim S (2007) Socioeconomic change and homicide in a transitional society. Sociol Q 48:229–251. doi:10.1111/j.1533-8525.2007.00077.x

Rachiotis G, Stuckler D, McKee M, Hadjichristodoulou C (2015) What has happened to suicides during the Greek economic crisis? Findings from an ecological study of suicides and their determinants (2003–2012). BMJ Open 5:e007295–e007295. doi:10.1136/bmjopen-2014-007295

Stack S (2000) Media impacts on suicide-stack. Pdf Soc Sci Q 81:957–971

Stack S (2003) Media coverage as a risk factor in suicide. J Epidemiol Community Health 57:238–240. doi:10.1136/ip.8.suppl_4.iv30

Stack S (2005) Suicide in the media: a quantitative review of studies based on non-fictional stories. Suicide Life Threat Behav 35:121–133. doi:10.1521/suli.35.2.121.62877

Sverke M, Hellgren J, Näswall K (2002) No security: a meta-analysis and review of job insecurity and its consequences. J Occup Health Psychol 7:242–264

Tousignant M, Mishara BL, Caillaud A et al (2005) The impact of media coverage of the suicide of a well-known Quebec reporter: the case of Ga??tan Girouard. Soc Sci Med 60:1919–1926. doi:10.1016/j.socscimed.2004.08.054

World Health Organization (2008) Preventing suicide: a resource for media professionals. World Health Organization, Geneva

Zarghami M (2012) Selection of person of the year from public health perspective: promotion of mass clusters of copycat self-immolation. Iran J Psychiatry Behav Sci 6:1–11
Acknowledgments
The authors would like to thank Mrs. Jihene Gharbaoui and Mr Slim Guizani for their valuable help in the manuscript English editing.
Ethics declarations
Conflict of interest
None.
About this article
Cite this article
Ben Khelil, M., Gharbaoui, M., Farhani, F. et al. Impact of the Tunisian Revolution on homicide and suicide rates in Tunisia. Int J Public Health 61, 995–1002 (2016). https://doi.org/10.1007/s00038-016-0834-8
Received:

Revised:

Accepted:

Published:

Issue Date:
Keywords
Suicide

Homicide

Tunisian revolution

Media

Unemployment