Abstract
Objectives
We sought to investigate whether exposing scientific papers to social media (SM) has an effect on article downloads and citations.
Methods
We randomized all International Journal of Public Health (IJPH) original articles published between December 2012 and December 2014 to SM exposure (blog post, Twitter and Facebook) or no exposure at three different time points after first online publication.
Results
130 papers (SM exposure = 65, control = 65) were randomized. The number of downloads did not differ significantly between groups (p = 0.60) nor did the number of citations (p = 0.88). Adjusting for length of observation and paper's geographical origin did not change these results. There was no difference in the number of downloads and citations between the SM exposure and control group when we stratified for open access status. The number of downloads and number of citations were significantly correlated in both groups.
Conclusions
SM exposure did not have a significant effect on traditional impact metrics, such as downloads and citations. However, other metrics may measure the added value that social media might offer to a scientific journal, such as wider dissemination.
Access options
Buy single article
Instant access to the full article PDF.
USD 39.95
Price excludes VAT (USA)
Tax calculation will be finalised during checkout.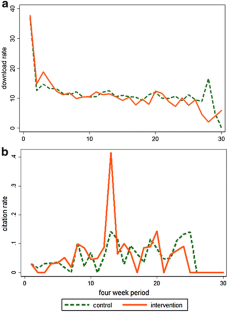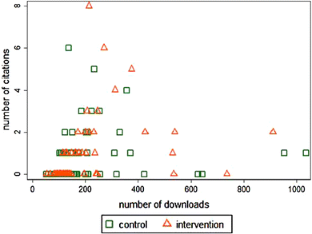 References
Allen HG, Stanton TR, Di Pietro F, Moseley GL (2013) Social media release increases dissemination of original articles in the clinical pain sciences. PLoS One 8:e68914

Bik H, Goldstein M (2013) An introduction to social media for scientists. PLoS Biol 11:e1001535

Brody T, Harnad S (2005) Earlier web usage statistics as predictors of later citation impact. arXiv:cs/0503020 [cs.IR]. Ref Type: Online Source

Colman R, Anand A (2015) Twitter discussions from a respirology journal club. Lancet Respir Med 3:e10

Cosco TD (2015) Medical journals, impact and social media: an ecological study of the Twittersphere. Can Med Assoc J 187:1353–1357

Costas R, Zahedi Z, Wouters PF (2014) Do 'altmetrics' correlate with citations? Extensive comparison of altmetric indicators with citations from a multidisciplinary perspective. Centre for Social Science and Technology Studies, The Netherlands, p 30

Davis PM, Lewenstein BV, Simon DH, Booth JG, Connolly MJL (2008) Open access publishing, article downloads, and citations: randomised controlled trial. BMJ 337:a568

Evans P, Krauthammer M (2011) Exploring the use of social media to measure journal article impact. AMIA Annu Symp Proc 2011:374–381

Eysenbach G (2011) Can tweets predict citations? Metrics of social impact based on twitter and correlation with traditional metrics of scientific impact. J Med Internet Res 13:e123

Fox CS, Bonaca MP, Ryan JJ, Massaro JM, Barry K, Loscalzo J (2015) A randomized trial of social media from circulation. Circulation 131:28–33

Goff DA, Kullar R, Newland JG (2015) Review of twitter for infectious diseases clinicians: useful or a waste of time? Clin Infect Dis 60:1533–1540

Haustein S, Peters I, Sugimoto C, Thelwall M, Lariviere V (2014) Tweeting biomedicine: an analysis of tweets and citations in the biomedical literature. J Assoc Inform Sci Technol 65:656–659

Haustein S, Costas R, Larivière V (2015) Characterizing social media metrics of scholarly papers: the effect of document properties and collaboration patterns. PLoS One 10:e0120495

Künzli N, Crivelli L, Spurmont D, Nocera S (2015) Does the Swiss School of Public Health exist? Int J Public Health 60:873–875

Li X, Thelwall M, Giustini D (2012) Validating online reference managers for scholarly impact measurement. Scientometrics 91:461–471

Liu C, Xu Y, Wu H, Chen S, Guo J (2013) Correlation and Interaction visualization of altmetric indicators extracted from scholarly social network activities: dimensions and structure. J Med Internet Res 15:e259

Mehta N, Flickinger T (2014) The times they are A-Changin': academia, social media and the JGIM Twitter Journal Club. J Gen Intern Med 29:1317–1318

Moorhead S, Hazlett D, Harrison L, Carroll J, Irwin A, Hoving C (2013) A new dimension of health care: systematic review of the uses, benefits and limitations of social media for health communication. J Med Internet Res 15:e85

Perneger TV (2004) Relation between online "hit counts" and subsequent citations: prospective study of research papers in the BMJ. BMJ 329:546–547

Ringelhan S, Wollersheim J, Welpe IM (2015) I like, I cite? Do Facebook likes predict the impact of scientific work? PLoS One 10:e0134389

Shuai X, Pepe A, Bollen J (2012) How the scientific community reacts to newly submitted preprints: article downloads, Twitter mentions, and citations. PLoS One 7:e47523

Smith C (2014) How many people use 600+ of the top social media, apps and digital services? http://expandedramblings.com/index.php/resource-how-many-people-use-the-top-social-media/. Accessed May 2014

Sorenson M (2014) Neurology and the social media experiment: "Likes" but not loves. Sci Editor 37:77–78

Terras M (2012) Is blogging and tweeting about research papers worth it? The verdict. http://melissaterras.blogspot.ch/2012/04/is-blogging-and-tweeting-about-research.html. Accessed November 2015

Thelwall M, Haustein S, Larivière V, Sugimoto CR (2013) Do altmetrics work? Twitter and ten other social web services. PLoS One 8:e64841

Thornley C, Wotkinson A, Nicholas D (2015) The role of trust and authority in the citation behaviour of researchers. Inform Res 20(3). Ref Type: Journal (Full)

Tonia T (2014) Social media in public health: is it used and is it useful? Int J Public Health 59:889–891

Yan KK, Gerstein M (2011) The spread of scientific information: insights from the web usage statistics in PLoS article-level metrics. PLoS One 6:e19917
Acknowledgments
We would like to thank Uta Hauptfleisch (Springer Heidelberg, Germany) for providing us with the data on downloads. We also thank Kali Tal for her editorial suggestions.
Ethics declarations
Conflict of interest
All authors declare that they have no conflict of interest.
Funding
This study received no funding.
Ethical approval
This article does not contain any studies with human participants or animals performed by any of the authors.
Electronic supplementary material
Below is the link to the electronic supplementary material.
About this article
Cite this article
Tonia, T., Van Oyen, H., Berger, A. et al. If I tweet will you cite? The effect of social media exposure of articles on downloads and citations. Int J Public Health 61, 513–520 (2016). https://doi.org/10.1007/s00038-016-0831-y
Received:

Revised:

Accepted:

Published:

Issue Date:

DOI: https://doi.org/10.1007/s00038-016-0831-y
Keywords
Social media

Citations

Downloads

Bibliometrics

Twitter

Facebook