Abstract
Objectives
The aim of this study was to evaluate occurrences and patterns of multimorbidity in adults from a southern Brazilian city.
Methods
A population-based cross-sectional study was carried out in 2012 through face-to-face interviews with adults (20 or more years) living in Pelotas, southern Brazil. Multimorbidity was evaluated by a list of 11 morbidities (based on medical diagnosis; Patient Health Questionnaire 9 for depression; and Anatomical Therapeutic Chemical index) and operationalized according to two cutoff points: ≥2 and ≥3 morbidities. Descriptive analysis and factor analysis (FA) were performed.
Results
The sample was made up of 2927 adults. Multimorbidity reached 29.1 % (95 % CI: 27.1; 31.1) for ≥2, and 14.3 % (95 % CI: 12.8; 15.8) for ≥3 morbidities and was greater in females, older people, those with less schooling and those from lower economic classes. Four pairs (frequency ≥5 %) and four triplets (frequency ≥2 %) were observed. Two patterns of morbidities (cardiometabolic and joint problems; and respiratory diseases) explained 93 % of total variance.
Conclusions
Multimorbidity was common in the studied population. The observed patterns may be used to generate and improve Brazilian diseases guidelines.
Access options
Buy single article
Instant access to the full article PDF.
US$ 39.95
Tax calculation will be finalised during checkout.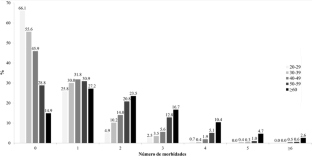 References
Agborsangaya CB, Lau D, Lahtinen M, Cooke T, Johnson JA (2012) Multimorbidity prevalence and patterns across socioeconomic determinants: a cross-sectional survey. BMC Public Health 12:201. doi:10.1186/1471-2458-12-201

Agborsangaya CB, Ngwakongnwi E, Lahtinen M, Cooke T, Johnson JA (2013) Multimorbidity prevalence in the general population: the role of obesity in chronic disease clustering. BMC Public Health 13:1161. doi:10.1186/1471-2458-13-1161

Associação Brasileira de Empresas de Pesquisa (2010) Critério de Classificação Econômica Brasil. Associação Brasileira de Empresas de Pesquisa, São Paulo

Barnett K, Mercer SW, Norbury M, Watt G, Wyke S, Guthrie B (2012) Epidemiology of multimorbidity and implications for health care, research, and medical education: a cross-sectional study. Lancet 380(9836):37–43. doi:10.1016/s0140-6736(12)60240-2

Barros AJD et al (2008) UFPel's epidemiology MSc program based on research consortium: an innovative experience. Rev Bras Epidemiol 11:133–144

CSDH (2008) Closing the gap in a generation: health equity through action on the social determinants of health. final report of the commission on social determinants of health. World Health Organization, Geneva

Dias da Costa JS, Victora CG (2006) What's "a public health problem"? Rev Bras Epidemiol 9:144–146. doi:10.1590/S1415-790X2006000100018

DiMatteo M, Lepper HS, Croghan TW (2000) Depression is a risk factor for noncompliance with medical treatment: meta-analysis of the effects of anxiety and depression on patient adherence. Arch Intern Med 160(14):2101–2107. doi:10.1001/archinte.160.14.2101

Fiore V et al (2015) The association between diabetes and depression: a very disabling condition. Endocrine 48(1):14–24. doi:10.1007/s12020-014-0323-x

Fortin M, Stewart M, Poitras ME, Almirall J, Maddocks H (2012) A systematic review of prevalence studies on multimorbidity: toward a more uniform methodology. Ann Fam Med 10(2):142–151. doi:10.1370/afm.1337

Galenkamp H, Huisman M, Braam AW, Schellevis FG, Deeg DJH (2014) Disease prevalence based on older people's self-reports increased, but patient–general practitioner agreement remained stable, 1992–2009. J Clin Epidemiol 67(7):773–780. doi:10.1016/j.jclinepi.2014.02.002

Garin N et al (2014) Multimorbidity patterns in a national representative sample of the Spanish adult population. PLoS One 9(1):e84794. doi:10.1371/journal.pone.0084794

Gijsen R, Hoeymans N, Schellevis FG, Ruwaard D, Satariano WA, van den Bos GA (2001) Causes and consequences of comorbidity: a review. J Clin Epidemiol 54(7):661–674. doi:10.1016/S0895-4356(00)00363-2

Gonzalez JS et al (2008) Depression and diabetes treatment nonadherence: a meta-analysis. Diabetes Care 31(12):2398–2403. doi:10.2337/dc08-1341

Guthrie B, Payne K, Alderson P, McMurdo MET, Mercer SW (2012) Adapting clinical guidelines to take account of multimorbidity. BMJ. doi:10.1136/bmj.e6341

Harrison C, Britt H, Miller G, Henderson J (2014) Examining different measures of multimorbidity, using a large prospective cross-sectional study in Australian general practice. BMJ Open. doi:10.1136/bmjopen-2013-004694

Huntley AL, Johnson R, Purdy S, Valderas JM, Salisbury C (2012) Measures of multimorbidity and morbidity burden for use in primary care and community settings: a systematic review and guide. Ann Fam Med 10(2):134–141. doi:10.1370/afm.1363

Islam MM, Valderas JM, Yen L, Dawda P, Jowsey T, McRae IS (2014) Multimorbidity and comorbidity of chronic diseases among the senior australians: prevalence and patterns. PLoS One 9(1):e83783. doi:10.1371/journal.pone.0083783

Jerliu N, Toci E, Burazeri G, Ramadani N, Brand H (2013) Prevalence and socioeconomic correlates of chronic morbidity among elderly people in Kosovo: a population-based survey. BMC Geriatr 13:22. doi:10.1186/1471-2318-13-22

Kriegsman DMW, Penninx BWJH, Van Eijk JTM, Boeke AJP, Deeg DJH (2006) Self-reports and general practitioner information on the presence of chronic diseases in community dwelling elderly. J Clin Epidemiol 49(12):1407–1417. doi:10.1016/S0895-4356(96)00274-0

Kubinger K (2003) On artificial results due to using factor analysis for dichotomous variables. Psycol Sci 45:106–110

Le Reste JY et al (2013) The European general practice research network presents a comprehensive definition of multimorbidity in family medicine and long term care, following a systematic review of relevant literature. J Am Med Dir Assoc 14(5):319–325. doi:10.1016/j.jamda.2013.01.001

Mendoza-Sassi R, Béria JU (2001) Health services utilization: a systematic review of related factors. Cad Saude Publica 17:819–832. doi:10.1590/S0102-311X2001000400016

Moraes EN (2012) Health care for the elderly: conceptual aspects. Pan American Health Organization, Brasília, p 98

Norman G, Streiner D (2008) Principal components and factor analysis. Fooling around with factors biostatistics: the bare essentials, 3rd edn. Bc Decker, Hamilton

Oliveira PD, Menezes AMB, Bertoldi AD, Wehrmeister FC (2013) Inhaler use in adolescents and adults with self-reported physician-diagnosed asthma, bronchitis, or emphysema in the city of Pelotas, Brazil. J bras pneumol 39:287–295

Prados-Torres A, Calderón-Larrañaga A, Hancco-Saavedra J, Poblador-Plou B, van den Akker M (2014) Multimorbidity patterns: a systematic review. J Clin Epidemiol 67(3):254–266. doi:10.1016/j.jclinepi.2013.09.021

Salisbury C (2012) Multimorbidity: redesigning health care for people who use it. Lancet 380(9836):7–9. doi:10.1016/S0140-6736(12)60482-6

Salive ME (2013) Multimorbidity in older adults. Epidemiol Rev. doi:10.1093/epirev/mxs009

Santos IS et al (2013) Sensibilidade e especificidade do Patient Health Questionnaire-9 (PHQ-9) entre adultos da população geral. Cad Saude Publica 29:1533–1543

Schafer I, Kaduszkiewicz H, Wagner H-O, Schon G, Scherer M, van den Bussche H (2014) Reducing complexity: a visualisation of multimorbidity by combining disease clusters and triads. BMC Public Health 14(1):1285

Schäfer I et al (2010) Multimorbidity patterns in the elderly: a new approach of disease clustering identifies complex interrelations between chronic conditions. PLoS One 5(12):e15941. doi:10.1371/journal.pone.0015941

Schmidt MI et al (2011) Chronic non-communicable diseases in Brazil: burden and current challenges. Lancet 377(9781):1949–1961. doi:10.1016/s0140-6736(11)60135-9

Talbot F, Nouwen A (2000) A review of the relationship between depression and diabetes in adults: is there a link? Diabetes Care 23(10):1556–1562. doi:10.2337/diacare.23.10.1556

Vellakkal S et al (2014) Are estimates of socioeconomic inequalities in chronic disease artefactually narrowed by self-reported measures of prevalence in low-income and middle-income countries? Findings from the WHO-SAGE survey. J Epidemiol Community Health. doi:10.1136/jech-2014-204621

Violan C et al (2013) Comparison of the information provided by electronic health records data and a population health survey to estimate prevalence of selected health conditions and multimorbidity. BMC Public Health 13(1):251

Violan C et al (2014) Prevalence, determinants and patterns of multimorbidity in primary care: a systematic review of observational studies. PLoS One 9(7):e102149. doi:10.1371/journal.pone.0102149

WHO (2013) Collaborating centre for drug statistics methodology. Guidelines for ATC classification and DDD assignment 2014, Oslo
Electronic supplementary material
Below is the link to the electronic supplementary material.
About this article
Cite this article
Nunes, B.P., Camargo-Figuera, F.A., Guttier, M. et al. Multimorbidity in adults from a southern Brazilian city: occurrence and patterns. Int J Public Health 61, 1013–1020 (2016). https://doi.org/10.1007/s00038-016-0819-7
Received:

Revised:

Accepted:

Published:

Issue Date:
Keywords
Comorbidity

Multimorbidity

Chronic diseases

Statistical disease clustering

Elderly

Brazil