Abstract
Objectives
This study was designed to explore the determinants of physical fitness in European children aged 6–11 years, cross-sectionally and longitudinally.
Methods
There were sufficient data on 4903 children (50.6 % girls) on measured physical fitness (cardio-respiratory, muscular strength, flexibility, balance, and speed) and possible determinants related to child characteristics, child lifestyle and parental factors. Multivariate and mixed linear regression models were conducted.
Results
Age, sex, children's BMI and physical activity were independent and strong determinants of children's fitness. Significant but small effects were found for low maternal BMI, high psychosocial well-being and fruit and vegetable intake as protective determinants. Sleep duration, breakfast intake, parental age and education and paternal BMI did not have a consistently significant effect on physical fitness. The role of determinants depended on children's sex and the specific PF component. Longitudinal analyses especially highlighted the importance of child's BMI as physical fitness determinant, independent of physical activity.
Conclusions
BMI together with physical activity, diet and psychosocial factors are modifiable targets to enhance physical fitness. This calls for policy approaches that combine these factors in a systematic way.
This is a preview of subscription content, log in to check access.
Access options
Buy single article
Instant access to the full article PDF.
US$ 39.95
Price includes VAT for USA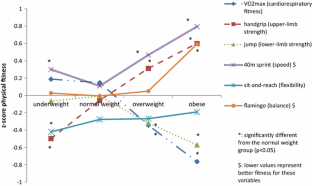 References
Ahrens W, Bammann K, Siani A et al (2011) The IDEFICS cohort: design, characteristics and participation in the baseline survey. Int J Obes 35:S3–S15

Ball K, Cleland VJ, Timperio AF et al (2009) Socioeconomic position and children's physical activity and sedentary behaviors: longitudinal findings from the CLAN study. J Phys Act Health 6(3):289–298

Bel-Serrat S, Mouratidou T, Pala V et al (2014) Relative validity of the children's eating habits questionnaire-food frequency section among young European children: the IDEFICS Study. Public Health Nutr 17(2):266–276

Blair SN, Kohl HW, Paffenbarger RSJR et al (1989) Physical fitness and all-cause mortality. A prospective study of healthy men and women. JAMA 262:2395–2401

Caspersen CJ, Powell KE, Christenson GM (1985) Physical activity, exercise, and physical fitness: definitions and distinctions for health-related research. Public Health Rep 100(2):126–131

Castro-Pinero J, Ortega FB, Artero EG et al (2010) Assessing muscular strength in youth: usefulness of standing long jump as a general index of muscular fitness. J Strength Cond Res 24:1810–1817

Ciliska D, Miles E, O'Brien M et al (2000) Effectiveness of community-based interventions to increase fruit and vegetable consumption. J Nutr Educ 32:341–352

Cohen J, Cohen P, West SG et al (2003) Applied multiple regression/correlation analysis for the behavioral sciences, 3rd edn. Routledge, New York

Cole TJ, Lobstein T (2012) Extended international (IOTF) body mass index cut-offs for thinness, overweight and obesity. Pediatr Obes 7(4):284–294

Corder K, van Sluijs EM, Steele RM et al (2011) Breakfast consumption and physical activity in British adolescents. Br J Nutr 105(2):316–321

Council of Europe Committee for the Development of Sport. Eurofit (1988) Handbook for the EUROFIT tests of physical fitness. Edigrafeditorialegrafica, Rome

Craggs C, Corder K, van Sluijs EM et al (2011) Determinants of change in physical activity in children and adolescents: a systematic review. Am J Prev Med 40(6):645–658

Cuenca-García M, Ruiz JR, Ortega FB, Labayen I et al (2013) Association of breakfast consumption with objectively measured and self-reported physical activity, sedentary time and physical fitness in European adolescents: the HELENA Study. Public Health Nutr 11:1–11

De Miguel-Etayo P, Gracia-Marco L, Ortega FB et al (2014) Physical fitness reference standards in European children: the IDEFICS study. Int J Obes 38(Suppl 2):S57–S66

Deforche B, Lefevre J, De Bourdeaudhuij I et al (2003) Physical fitness and physical activity in obese and nonobese Flemish youth. Obes Res 11:434–441

Dumith SC, Ramires VV, Souza MA et al (2010) Overweight/obesity and physical fitness among children and adolescents. J Phys Activity Health 7(5):641–648

España-Romero V, Artero EG, Santaliestra-Pasias AM et al (2008) Hand span influences optimal grip span in boys and girls aged 6 to 12 years. J Hand Surg Am 33(3):378–384

Evenson KR, Catellier DJ, Gill K et al (2008) Calibration of two objective measures of physical activity for children. J Sports Sci 26:1557–1565

Fogelholm M, Stigman S, Huisman T et al (2008) Physical fitness in adolescents with normal weight and overweight. Scand J Med Sci Sports 18(2):162–170

Jiménez Pavón D, Ortega FP, Ruiz JR et al (2010) Socioeconomic status influences physical fitness in European adolescents independently of body fat and physical activity: the HELENA study. Nutr Hosp 25(2):311–316

Kimm SY, Glynn NW, Kriska AM et al (2002) Decline in physical activity in black girls and white girls during adolescence. N Engl J Med 347(10):709–715

Kohatsu ND, Tsai R, Young T et al (2006) Sleep duration and body mass index in a rural population. Arch Intern Med 166(16):1701–1705

Lampe JW (1999) Health effects of vegetables and fruit: assessing mechanisms of action in human experimental studies. Am J Clin Nutr 70(3 Suppl):475S–490S

Laurson KR, Lee JA, Gentile DA et al (2014) Concurrent associations between physical activity, screen time, and sleep duration with childhood obesity. Obesity 9(2014):204540

Leger LA, Mercier D, Gadoury C et al (1988) The multistage 20 meter shuttle run test for aerobic fitness. J Sports Sci 6:93–101

Macintyre S, Mutrie N (2004) Socio-economic differences in cardiovascular disease and physical activity: stereotypes and reality. J R Soc Health 124(2):66–69

Meredith M, Welk G (2007) Fitness gram-activity gram test administration manual. Human Kinetics, Champaign, IL, USA

National Sleep Foundation (2011) Children and sleep—information on sleep health and safety. https://sleepfoundation.org/media-center/press-release/national-sleep-foundationrecommends-new-sleep-times. Accessed 2 Feb 2015

Ojiambo R, Cuthill R, Budd H et al (2011) Impact of methodological decisions on accelerometer outcome variables in young children. Int J Obes 35:S98–S103

Ortega FB, Ruiz JR, Castillo MJ et al (2008) Physical fitness in childhood and adolescence: a powerful marker of health. Int J Obes 32:1–11

Ortega FB, Ruiz JR, Labayen I et al (2011) Sleep duration and activity levels in Estonian and Swedish children and adolescents. Eur J Appl Physiol 111(10):2615–2623

Papoutsou S, Briassoulis G, Wolters M et al (2014) No breakfast at home: association with cardiovascular disease risk factors in childhood. Eur J Clin Nutr 68(7):829–834

Rauner A, Mess F, Woll A (2013) The relationship between physical activity, physical fitness and overweight in adolescents: a systematic review of studies published in or after 2000. BMC Pediatr 1(13):19

Ruiz JR, Castro-Pinero J, Espana-Romero V et al (2011) Field-based fitness assessment in young people: the ALPHA health-related fitness test battery for children and adolescents. Br J Sports Med 45:518–524

Sallis JF, Prochaska JJ, Taylor WC (2000) A review of correlates of physical activity of children and adolescents. Med Sci Sports Exerc 32:963–975

Stomfai S, Ahrens W, Bammann K et al (2011) Intra and inter observer reliability in anthropometric measurements in children. Int J Obes 35:S45–S51

Suling M, Hebestreit A, Peplies J et al (2011) Design and results of the pretest of the IDEFICS study. Int J Obes 35:S30–S44

United Nations Educational Scientific and Cultural Organization International Standard Classification of Education (ISCED) (2006). http://www.uis.unesco.org/Education/Pages/international-standard-classification-of-education.aspx. Accessed 2 Feb 2012

Van Der Horst K, Paw MJ, Twisk JW et al (2007) A brief review on correlates of physical activity and sedentariness in youth. Med Sci Sports Exerc 39(8):1241–1250
Acknowledgments
This work was done as part of the IDEFICS Study (http://www.idefics.eu). We gratefully acknowledge the financial support of the European Community within the Sixth RTD Framework Programme Contract No. 016181 (FOOD). Mahmoud Zaqout was financially supported by the Flemish University Council-University Development Cooperation (VLIR-UOS). The information in this document reflects the author's view and is provided as such. The authors want to thank the participating children and their parents for their voluntary participation.
Additional information
On behalf of the IDEFICS consortium.
Electronic supplementary material
Below is the link to the electronic supplementary material.
About this article
Cite this article
Zaqout, M., Vyncke, K., Moreno, L.A. et al. Determinant factors of physical fitness in European children. Int J Public Health 61, 573–582 (2016). https://doi.org/10.1007/s00038-016-0811-2
Received:

Revised:

Accepted:

Published:

Issue Date:
Keywords
Physical fitness

Children

Lifestyle

Parental determinants

Body mass index

IDEFICS