Abstract
Objectives
By 2050, over 250 million people will be displaced from their homes by climate change. This exploratory case study examines how climate-driven migration impacts the health perceptions and help-seeking behaviors of Maasai in Tanzania. Increasing frequency and intensity of drought is killing livestock, forcing Maasai to migrate from their rural homelands to urban centers in search of ways to support their families. Little existing research investigates how this migration changes the way migrants think about health and make healthcare decisions.
Methods
This study used semi-structured qualitative interviews to explore migrant and non-migrant beliefs surrounding health and healthcare. Migrant and non-migrant participants were matched on demographic characteristics and location.
Results
Migrants emphasized the importance of mental health in their overall health perceptions, whereas non-migrants emphasized physical health. Although non-migrants perceived more barriers to accessing healthcare, migrant and non-migrant help-seeking behaviors were similar in that they only sought help for physical health problems, and utilized hospitals as a last option.
Conclusions
These findings have implications for improving Maasai healthcare utilization, and for future research targeting other climate-driven migrant populations in the world.
Access options
Buy single article
Instant access to the full article PDF.
USD 39.95
Price includes VAT (USA)
Tax calculation will be finalised during checkout.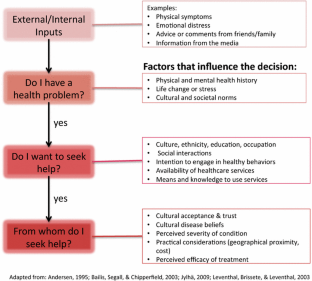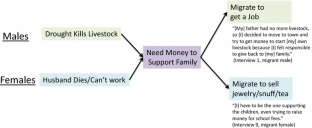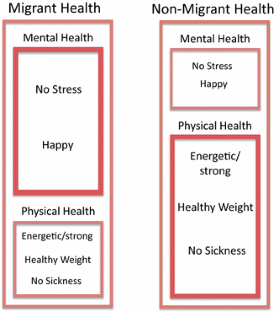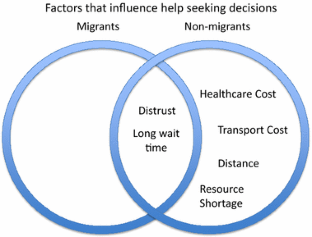 References
Andersen R (1995) Revisiting the behavioral model and access to medical care: does it matter? J Health Soc Behav 36:1–10

Bailis DS, Segall A, Chipperfield JG (2003) Two views of self-rated general health status. Soc Sci 56:203–217

Bernard H, Ryan G (1998) Text analysis: qualitative and quantitative methods. In: Handbook of methods in cultural anthropology. Rowman & Littlefield, London

Bhugra D (2004) Migration and mental health. Acta Psychiatr Scand 109:243–258

Biermann F, Boas I (2010) Preparing for a warmer world: towards a global governance system to protect climate refugees. Glob Environ Polit 10:60–88

Biswas-Diener R, Vittersø J, Diener E (2005) Most people are pretty happy, but there is cultural variation: the Inughuit, the Amish, and the Maasai. J Happiness Stud 6:205–226

Christakis N, Ware N, Kleinman A (1994) Illness behavior and the health transition in the developing world. In: Chan LC, Kleinman A, Ware N (eds) Health and social change in international perspective. Harvard University Press, Cambridge, pp 275–302

Coast E (2002) Maasai socioeconomic conditions: a cross-border comparison. Hum Ecol 30:79–105

Confalonieri U, Menne B, Akhtar R et al (2007) Human health. In: Contribution of Working Group II to the Fourth Assessment Report of the Intergovernmental Panel on Climate Change, Cambridge. Cambridge, UK, pp 391–431

Cornally N, McCarthy G (2011) Help-seeking behaviour: a concept analysis. Int J Nurs Pract 17:280–288. doi:10.1111/j.1440-172X.2011.01936.x

Corrigan P (2004) How stigma interferes with mental health care. Am Psychol 59:614–625

Friel S, Hancock T, Kjellstrom T, McGranahan G, Monge P, Roy J (2011) Urban health inequities and the added pressure of climate change: an action-oriented research agenda. J Urban Health 88(5):886–895. doi:10.1007/s11524-011-9607-0

Gary F (2005) Stigma: barrier to mental health care among ethnic minorities. Issues Ment Health Nurs 26:979–999

Glaser B (1965) The constant comparative method of qualitative analysis. Soc Probl 12:436–445

Gollwitzer PM, Oettingen G (1998) The emergence and implementation of health goals. Psychol Health 13:687–715. doi:10.1080/08870449808407424

Jeacocke P (2010) Environmental refugees: a new concept for the current day?

Jylhä M (2009) What is self-rated health and why does it predict mortality? Towards a unified conceptual model. Soc Sci Med 69:307–316. doi:10.1016/j.socscimed.2009.05.013

Kapborg I, Berterö C (2002) Using an interpreter in qualitative interviews: does it threaten validity? Nurs Inq 9:52–56

Kroeger A (1983) Anthropological and socio-medical health care research in developing countries. Soc Sci Med 17:147–161. doi:10.1016/0277-9536(83)90248-4

Leventhal H, Brissete I, Leventhal E (2003) The common sense model of self-regulation of health and illness. The self-regulation of health and illness behavior. Taylor & Francis Group, New York, pp 42–66

McKay L, Macintyre S, Ellaway A (2003) Migration and health: a review of the international literature. Medical Research Council Social and Public Health Sciences Unit, University of Glasgow, Glasgow

McLeman R, Hunter L (2010) Migration in the context of vulnerability and adaptation to climate change: insights from analogues. Wiley Interdiscip Rev Clim Change 1:450–461

McMichael C, Barnett J, McMichael AJ (2012) An ill wind? Climate change, migration and health. Environ Health Perspect 120:646–654

Miles M, Huberman A, Saldaña J (2013) Qualitative data analysis: a methods sourcebook

National Bureau of Statistics (2012) Statistics for development. In: 2012 Census Publ. http://www.nbs.go.tz. Accessed 19 Mar 2015

Papadopoulos I, Lay M (2003) The impact of migration on health beliefs and behaviours: the case of Ethiopian refugees in the UK. Contemp Nurs 15:210–221

Riley E, Olengurumwa O, Olesangale T (2012) Urban pastoralists; a report on the demographics, standards of living, and employment conditions of migrant Maasai living in Dar es Salaam

Sirri L, Fava GA, Sonino N (2013) The unifying concept of illness behavior. Psychother Psychosom 82:74–81. doi:10.1159/000343508

Tsai J (2007) Ideal affect: cultural causes and behavioral consequences. Perspect Psychol Sci 2:242–259

World Health Organization, World Meteorological Organization (2012) Health and climate
Ethics declarations
Ethics approval
The Stanford Institutional Review Board gave human subjects approval for this research in April, 2013 and informed oral consent was obtained from every participant.
Electronic supplementary material
Below is the link to the electronic supplementary material.
About this article
Cite this article
Heaney, A.K., Winter, S.J. Climate-driven migration: an exploratory case study of Maasai health perceptions and help-seeking behaviors. Int J Public Health 61, 641–649 (2016). https://doi.org/10.1007/s00038-015-0759-7
Received:

Revised:

Accepted:

Published:

Issue Date:
Keywords
Climate change

Mental health

Rural-to-urban migration

Tanzania

Healthcare

Maasai