Abstract
Objective
To report the prevalence and trends of the BMI of Portuguese adolescents in 2002, 2006 and 2010.
Methods
4138 boys and 4472 girls self-reported weight, height, physical activity, perception of health and life satisfaction.
Results
For adolescents aged 11–13 years, the prevalence of overweight/obesity decreased from 23.5 % in 2002 to 20.7 % in 2010, using IOTF cutoff points, and decreased from 32.4 to 28.4 % between 2002 and 2010 using WHO cutoff points. For adolescents aged 15–17 years, the prevalence increased from 13.9 to 16.8 % between 2002 and 2010 using IOTF cutoff, and increased from 14.8 % in 2002 to 18.2 % in 2010 when using WHO cutoff points. Although the prevalence decreased among younger adolescents and increased among older ones, the differences were not significant. Physical activity in the last 7 days (p < 0.05), better life satisfaction (p < 0.05) and perception of health (p < 0.001) predicted lower body mass index z score.
Conclusions
Overall, there have been no significant changes in overweight and obesity prevalence in Portuguese adolescents from 2002 to 2010. However, the prevalence remains high and therefore it is important to continue surveillance.
Access options
Buy single article
Instant access to the full article PDF.
USD 39.95
Price includes VAT (USA)
Tax calculation will be finalised during checkout.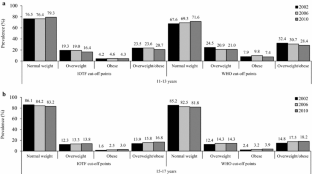 References
Bobakova D, Hamrik Z, Badura P, Sigmundova D, Nalecz H, Kalman M (2015) Test–retest reliability of selected physical activity and sedentary behaviour HBSC items in the Czech Republic, Slovakia and Poland. Int J Public Health 60(1):59–67. doi:10.1007/s00038-014-0628-9

Boone JE, Gordon-Larsen P, Adair LS, Popkin BM (2007) Screen time and physical activity during adolescence: longitudinal effects on obesity in young adulthood. Int J Behav Nutr Phys Act 4:26. doi:10.1186/1479-5868-4-26

Campagnolo PD, Vitolo MR, Gama CM, Stein AT (2008) Prevalence of overweight and associated factors in southern Brazilian adolescents. Public Health 122(5):509–515. doi:10.1016/j.puhe.2007.08.002

Cantril H (1965) The pattern of human concerns. Rutgers University Press, New Brunswick

Caspersen CJ, Powell KE, Christenson GM (1985) Physical activity, exercise, and physical fitness: definitions and distinctions for health-related research. Public Health Rep 100(2):126–131

Cole TJ, Bellizzi MC, Flegal KM, Dietz WH (2000) Establishing a standard definition for child overweight and obesity worldwide: international survey. BMJ 320(7244):1240–1243. doi:10.1136/bmj.320.7244.1240

Currie C, Hurrelmann K, Settertobulte W, Smith R, Todd J (2000) Health and health behavior among young people. Health behaviour in school-aged children: a WHO cross-national study (HBSC). World Health Organization, Copenhagen

de Jong E, Visscher TL, HiraSing RA, Heymans MW, Seidell JC, Renders CM (2013) Association between TV viewing, computer use and overweight, determinants and competing activities of screen time in 4- to 13-year-old children. Int J Obes 37(1):47–53. doi:10.1038/ijo.2011.244

de Wilde JA, Verkerk PH, Middelkoop BJ (2014) Declining and stabilising trends in prevalence of overweight and obesity in Dutch, Turkish, Moroccan and South Asian children 3–16 years of age between 1999 and 2011 in the Netherlands. Arch Dis Child 99(1):46–51. doi:10.1136/archdischild-2013-304222

Fonseca H, Gaspar de Matos M (2005) Perception of overweight and obesity among Portuguese adolescents: an overview of associated factors. Eur J Public Health 15(3):323–328. doi:10.1093/eurpub/cki071

Fonseca H, Silva AM, Matos MG et al (2010) Validity of BMI based on self-reported weight and height in adolescents. Acta Paediatr 99(1):83–88. doi:10.1111/j.1651-2227.2009.01518.x

Fosse NE, Haas SA (2009) Validity and stability of self-reported health among adolescents in a longitudinal, nationally representative survey. Pediatrics 123(3):e496–e501. doi:10.1542/peds.2008-1552

Herman KM, Sabiston CM, Tremblay A, Paradis G (2014) Self-rated health in children at risk for obesity: associations of physical activity, sedentary behaviour, and BMI. J Phys Act Health 11(3):543–552. doi:10.1123/jpah.2012-0124

Klakk H, Chinapaw M, Heidemann M, Andersen LB, Wedderkopp N (2013) Effect of four additional physical education lessons on body composition in children aged 8–13 years—a prospective study during two school years. BMC Pediatr 13:170. doi:10.1186/1471-2431-13-170

Marques A, Sallis JF, Martins J, Diniz J, Carreiro da Costa F (2014) Correlates of urban children's leisure-time physical activity and sedentary behaviors during school days. Am J Hum Biol 26(3):407–412. doi:10.1002/ajhb.22535

Martinez-Vizcaino V, Martinez MS, Pacheco BN et al (2012) Trends in excess of weight, underweight and adiposity among Spanish children from 2004 to 2010: the Cuenca Study. Public Health Nutr 15(12):2170–2174. doi:10.1017/S1368980012003473

Masuet-Aumatell C, Ramon-Torrell JM, Banque-Navarro M, Davalos-Gamboa Mdel R, Montano-Rodriguez SL (2013) Prevalence of overweight and obesity in children and adolescents from Cochabamba (Bolivia); a cross-sectional study. Nutr Hosp 28(6):1884–1891. doi:10.3305/nutrhosp.v28in06.6881

Morgen CS, Rokholm B, Brixval CS et al. (2013) Trends in prevalence of overweight and obesity in Danish infants, children and adolescents—are we still on a plateau? Plos One 8(7):1–10. doi:10.1371/journal.pone.0069860

O'Dea JA, Dibley MJ (2014) Prevalence of obesity, overweight and thinness in Australian children and adolescents by socioeconomic status and ethnic/cultural group in 2006 and 2012. Int J Public Health 59(5):819–828. doi:10.1007/s00038-014-0605-3

O'Dea JA, Nguyen Hoang TD, Dibley MJ (2011) Plateau in obesity and overweight in a cross sectional study of low, middle and high socioeconomic status schoolchildren between 2004 and 2009. Int J Public Health 56(6):663–667. doi:10.1007/s00038-011-0280-6

Ogden CL, Carroll MD, Kit BK, Flegal KM (2014) Prevalence of childhood and adult obesity in the United States, 2011–2012. JAMA 311(8):806–814. doi:10.1001/jama.2014.732

Olds T, Maher C, Shi ZM et al (2011) Evidence that the prevalence of childhood overweight is plateauing: data from nine countries. Int J Pediatr Obes 6(5–6):342–360. doi:10.3109/17477166.2011.605895

Onis M, Blossner M, Borghi E (2010) Global prevalence and trends of overweight and obesity among preschool children. Am J Clin Nutr 92(5):1257–1264. doi:10.3945/ajcn.2010.29786

Pettman T, Magarey A, Mastersson N, Wilson A, Dollman J (2014) Improving weight status in childhood: results from the eat well be active community programs. Int J Public Health 59(1):43–50. doi:10.1007/s00038-013-0455-4

Prentice-Dunn H, Prentice-Dunn S (2012) Physical activity, sedentary behavior, and childhood obesity: a review of cross-sectional studies. Psychol Health Med 17(3):255–273. doi:10.1080/13548506.2011.608806

Prochaska JJ, Sallis JF, Long B (2001) A physical activity screening measure for use with adolescents in primary care. Arch Pediatr Adolesc Med 155(5):554–559

Reiner M, Niermann C, Jekauc D, Woll A (2013) Long-term health benefits of physical activity—a systematic review of longitudinal studies. BMC Public Health 13:813. doi:10.1186/1471-2458-13-813

Roberts C, Freeman J, Samdal O et al (2009) The Health Behaviour in School-aged Children (HBSC) study: methodological developments and current tensions. Int J Public Health 54(Suppl 2):140–150. doi:10.1007/s00038-009-5405-9

Rokholm B, Baker JL, Sorensen TI (2010) The levelling off of the obesity epidemic since the year 1999—a review of evidence and perspectives. Obes Rev 11(12):835–846. doi:10.1111/j.1467-789X.2010.00810.x

Sardinha LB, Santos R, Vale S et al (2011) Prevalence of overweight and obesity among Portuguese youth: a study in a representative sample of 10–18-year-old children and adolescents. Int J Pediatr Obes 6(2–2):E124–E128. doi:10.3109/17477166.2010.490263

Schmitz KH, Harnack L, Fulton JE et al (2004) Reliability and validity of a brief questionnaire to assess television viewing and computer use by middle school children. J Sch Health 74(9):370–377

Speiser PW, Rudolf MC, Anhalt H et al (2005) Childhood obesity. J Clin Endocrinol Metab 90(3):1871–1887. doi:10.1210/jc.2004-1389

Steinberger J, Jacobs DR, Raatz S, Moran A, Hong CP, Sinaiko AR (2005) Comparison of body fatness measurements by BMI and skinfolds vs dual energy X-ray absorptiometry and their relation to cardiovascular risk factors in adolescents. Int J Obes 29(11):1346–1352. doi:10.1038/sj.ijo.0803026

Wadsworth T, Pendergast PM (2014) Obesity (sometimes) matters: the importance of context in the relationship between obesity and life satisfaction. J Health Soc Behav 55(2):196–214. doi:10.1177/0022146514533347

Wang Y, Lobstein T (2006) Worldwide trends in childhood overweight and obesity. Int J Pediatr Obes 1(1):11–25

Waters E, Silva-Sanigorski A, Burford BJ et al (2014) Interventions for preventing obesity in children. Sao Paulo Med J 132(2):128–129

WHO (2000) Obesity: preventing and managing the global epidemic: report of a WHO consultation. World Health Organization, Geneva

WHO (2007) Growth reference data for 5–19 years. http://www.who.int/growthref/who2007_bmi_for_age/en/. Accessed 15 April 2015

Zhang YX, Wang SR (2013) Rural-urban comparison in prevalence of overweight and obesity among adolescents in Shandong, China. Ann Hum Biol 40(3):294–297. doi:10.3109/03014460.2013.772654
Acknowledgments
The HBSC study in Portugal was funded by public funds: Ministry of Health and Ministry of Education and Science. We thank Professor Bruce Jones for revising the document.
About this article
Cite this article
Marques, A., de Matos, M.G. Trends in prevalence of overweight and obesity: are Portuguese adolescents still increasing weight?. Int J Public Health 61, 49–56 (2016). https://doi.org/10.1007/s00038-015-0758-8
Received:

Revised:

Accepted:

Published:

Issue Date:
Keywords
Portugal

Adolescent obesity

Body mass index

HBSC

Prevalence