Abstract
Objectives
To analyze how dimensions of social capital at the individual level are associated with adolescent smoking and whether associations differ by socioeconomic status.
Methods
Data were from the 'Health Behaviour in School-aged Children' study 2005/2006 including 6511 15-year-old adolescents from Flemish Belgium, Canada, Romania and England. Socioeconomic status was measured using the Family Affluence Scale (FAS). Social capital was indicated by friend-related social capital, participation in school and voluntary organizations, trust and reciprocity in family, neighborhood and school. We conducted pooled logistic regression models with interaction terms and tested for cross-national differences.
Results
Almost all dimensions of social capital were associated with a lower likelihood of smoking, except for friend-related social capital and school participation. The association of family-related social capital with smoking was significantly stronger for low FAS adolescents, whereas the association of vertical trust and reciprocity in school with smoking was significantly stronger for high FAS adolescents.
Conclusions
Social capital may act both as a protective and a risk factor for adolescent smoking. Achieving higher levels of family-related social capital might reduce socioeconomic inequalities in adolescent smoking.
This is a preview of subscription content, log in to check access.
Access options
Buy single article
Instant access to the full article PDF.
US$ 39.95
Price includes VAT for USA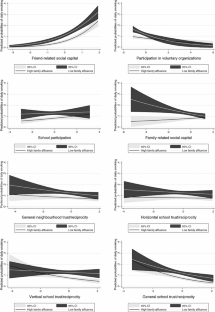 References
Bond L, Butler H, Thomas L, Carlin J, Glover S, Bowes G, Patton G (2007) Social and school connectedness in early secondary school as predictors of late teenage substance use, mental health, and academic outcomes. J Adolesc Health 40:9–18

Boyce WF, Davies D, Gallupe O, Shelley D (2008) Adolescent risk taking, neighborhood social capital, and health. J Adolesc Health 43:246–252

Buis M (2010) Stata tip 87: interpretation of interactions in nonlinear models. Stat J 10:305–308

Coleman JS (1994) Foundations of social theory, Paperback ed., 2nd printing. Belknap Press of Harvard University Press, Cambridge, Mass

Currie C, Samdal O, Boyce W, Smith R (2006) Health Behaviour in School-Aged Children: A WHO Cross-National Study (HBSC), Research Protocol for the 2005/2006 Survey. Child and Adolescent Health Research Unit (CAHRU), Edinburgh

Currie C, Molcho M, Boyce W, Holstein B, Torsheim T, Richter M (2008) Researching health inequalities in adolescents: the development of the health behaviour in school-aged children (HBSC) family affluence scale. Soc Sci Med 66:1429–1436

Currie C, Nic Gabhainn S, Godeau E (2009) The Health Behaviour in School-aged Children: WHO Collaborative Cross-National (HBSC) study: origins, concept, history and development 1982–2008. Int J Public Health 54:131–139

De Clercq B, Pfoertner T, Elgar FJ, Hublet A, Maes L (2014) Social capital and adolescent smoking in schools and communities: a cross-classified multilevel analysis. Soc Sci Med 119:81–87

Due P, Krølner R, Rasmussen M, Andersen A, Trab Damsgaard M, Graham H, Holstein BE (2011) Pathways and mechanisms in adolescence contribute to adult health inequalities. Scand J Public Health 39:62–78

Dufur MJ, Parcel TL, Troutman KP (2013) Does capital at home matter more than capital at school? Social capital effects on academic achievement. Res Soc Stratif Mobil 31:1–21

Eccles JS, Roeser RW (2011) Schools as developmental contexts during adolescence. J Res Adolesc 21:225–241

Elgar FJ, Trites SJ, Boyce W (2010) Social capital reduces socio-economic differences in child health: evidence from the Canadian Health Behaviour in School-Aged Children study. Can J Public Health 101:23–27

Ennett ST, Foshee VA, Bauman KE, Hussong A, Faris R, Hipp JR, Cai L (2010) A social contextual analysis of youth cigarette smoking development. Nicotine Tob Res 12:950–962

Evans GW, Kutcher R (2011) Loosening the link between childhood poverty and adolescent smoking and obesity: the protective effects of social capital. Psychol Sci 22:3–7

Freeman JG, Samdal O, Klinger DA, Dur W, Griebler R, Currie D, Rasmussen M (2009) The relationship of schools to emotional health and bullying. Int J Public Health 54:251–259

Giordano GN, Ohlsson H, Lindström M (2011) Social capital and health-purely a question of context? Health Place 17:946–953

Haines VA, Beggs JJ, Hurlbert JS (2011) Neighborhood disadvantage, network social capital, and depressive symptoms. J Health Soc Behav 52:58–73

Hanson MD, Chen E (2007) Socioeconomic status and health behaviors in adolescence: a review of the literature. J Behav Med 30:263–285

Harpham T, Grant E, Tomas E (2002) Measuring social capital within health surveys: key issues. Health Policy Plan 17:106–111

Islam MK, Merlo J, Kawachi I, Lindström M, Gerdtham U (2006) Social capital and health: does egalitarianism matter? A literature review. Int J Equity Health 5:3

Johansson A, Hermansson G, Ludvigsson J (2004) Parents' attitudes to children's tobacco smoke exposure and how the issue is handled in health care. J Pediatr Health Care 18:228–235

Kawachi I, Subramanian SV, Kim D (2008) Social Capital and Health. In: Kawachi I, Subramanian S, Kim D (eds) Social Capital and Health. Springer New York, New York, pp 1–26

Lundborg P (2005) Social capital and substance use among Swedish adolescents—an explorative study. Soc Sci Med 61:1151–1158

Maes L, Lievens J (2003) Can the school make a difference? A multilevel analysis of adolescent risk and health behaviour. Soc Sci Med 56:517–529

McLellan L, Rissel C, Donnelly N, Bauman A (1999) Health behaviour and the school environment in New South Wales, Australia. Soc Sci Med 49:611–619

McVicar D (2011) Estimates of peer effects in adolescent smoking across twenty six European countries. Soc Sci Med 73:1186–1193

Morgan A, Haglund B (2009) Social capital does matter for adolescent health: evidence from the English HBSC study. Health Promot Int 24:363–372

Morrow V (1999) Conceptualising social capital in relation to the well-being of children and young people: a critical review. Soc Rev 47:744–765

Mouw T (2006) Estimating the causal effect of social capital: a review of recent research. Annu Rev Sociol 32:79–102

Nichter M, Vuckovic N, Quintero G, Ritenbaugh C (1997) Smoking experimentation and initiation among adolescent girls: qualitative and quantitative findings. Tob Control 6:285–295

Nieminen T, Martelin T, Koskinen S, Aro H, Alanen E, Hyyppä MT (2010) Social capital as a determinant of self-rated health and psychological well-being. Int J Public Health 55:531–542

Perra O, Fletcher A, Bonell C, Higgins K, McCrystal P (2012) School-related predictors of smoking, drinking and drug use: evidence from the Belfast Youth development study. J Adolesc 35:315–324

Petrovici D, Ritson C (2006) Population, health and risk factors in a transitional economy. J Consum Policy 29:279–300

Pförtner T, Moor I, Rathmann K, Hublet A, Molcho M, Kunst AE, Richter M (2015) The association between family affluence and smoking among 15-year-old adolescents in 33 European countries, Israel and Canada: the role of national wealth. Addiction 110:162–173

Pichler F, Wallace C (2007) Patterns of formal and informal social Capital in Europe. Eur Sociol Rev 23:423–435

Portes A (1998) Social capital: its origins and applications in modern sociology. Annu Rev Sociol 24:1–24

Richter M, Vereecken CA, Boyce W, Maes L, Gabhainn SN, Currie CE (2009) Parental occupation, family affluence and adolescent health behaviour in 28 countries. Int J Public Health 54:203–212

Samdal O, Wold B, Klepf KI, Kannas L (2000) Students' perception of school and their smoking and alcohol use: a cross-national study. Addict Res Theory 8:141–167

Schneider S, Mohnen SM, Pust S (2008) The average age of smoking onset in Germany—trends and correlates. Int J Public Health 53:160–164

Simons-Morton BG (2007) Social influences on adolescent substance use. Am J Health Behav 31:672–684

Simons-Morton BG, Farhat T (2010) Recent findings on peer group influences on adolescent smoking. J Prim Prev 31:191–208

Szreter S, Woolcock M (2004) Health by association? Social capital, social theory, and the political economy of public health. Int J Epidemiol 33:650–667

Uphoff EP, Pickett KE, Cabieses B, Small N, Wright J (2013) A systematic review of the relationships between social capital and socioeconomic inequalities in health: a contribution to understanding the psychosocial pathway of health inequalities. Int J Equity Health 12:54

Vieno A, Perkins DD, Smith TM, Santinello M (2005) Democratic school climate and sense of community in school: a multilevel analysis. Am J Community Psychol 36:327–341

Williams RL (2000) A note on robust variance estimation for cluster-correlated data. Biometrics 56:645–646

Yach D, Hawkes C, Gould CL, Hofman KJ (2004) The global burden of chronic diseases: overcoming impediments to prevention and control. JAMA 291:2616–2622

Zambon A, Morgan A, Vereecken C, Colombini S, Boyce W, Mazur J, Lemma P, Cavallo F (2010) The contribution of club participation to adolescent health: evidence from six countries. J Epidemiol Community Health 64:89–95
Acknowledgments
The Health Behaviour in School-aged Children (HBSC) study is an international survey conducted in collaboration with the WHO Regional Office for Europe. The current International Coordinator of the study is Candace Currie, CAHRU, University of St Andrews, Scotland. The data bank manager is Oddrun Samdal, University of Bergen, Norway. The data collection in each country was funded at the national level. We are grateful for the financial support offered by the various government ministries, research foundations and other funding bodies in the participating countries and regions. This work on this paper is part of the project 'Tackling socio-economic inequalities in smoking (SILNE)', which is funded by the European Commission, Directorate-General for Research and Innovation, under the FP7-Health-2011 program, with grant agreement number 278273.
Electronic supplementary material
Below is the link to the electronic supplementary material.
About this article
Cite this article
Pförtner, T., De Clercq, B., Lenzi, M. et al. Does the association between different dimension of social capital and adolescent smoking vary by socioeconomic status? a pooled cross-national analysis. Int J Public Health 60, 901–910 (2015). https://doi.org/10.1007/s00038-015-0734-3
Received:

Revised:

Accepted:

Published:

Issue Date:
Keywords
Smoking

Socioeconomic inequalities

Adolescence

Social capital

Health Behaviour in School-aged Children