Abstract
Objectives
To investigate educational differentials in health expectancy among 50-year-old Danes before and during the financial crisis.
Methods
Nationwide register data on mortality were combined with data from SHARE surveys in 2006/2007 and 2010/2011 to estimate disability-free life expectancy (DFLE) and expected lifetime in self-rated good health by educational level.
Results
The difference in life expectancy between 50-year-old men and women with high and low educational levels increased by 0.3 and 0.8 years, respectively. The overall educational differentials in DFLE did not change much for women, whereas for men the tendency was that DFLE increased for those with high educational level and decreased for those with less education ascending the difference by almost 2 years (from 5.9 to 7.8 years), although the difference was not statistically significant. The educational disparity in expected lifetime in self-rated good health increased by 1.3 years for men and 1.2 years for women.
Conclusions
The social inequality in DFLE for men and expected lifetime in self-rated good health for both genders increased slightly during the short period. The financial crisis did not seem to indicate a change in the persistent trend of the widening social gap.
This is a preview of subscription content,
to check access.
Access this article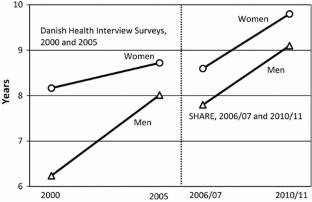 Similar content being viewed by others
References
Bambra C, Eikemo TA (2009) Welfare state regimes, unemployment and health: a comparative study of the relationship between unemployment and self-reported health in 23 European countries. J Epidemiol Community Health 63:92–98

Barendregt JJ, Bonneux L, van der Maas PJ (1994) Health expectancy: an indicator for change? J Epidemiol Community Health 48:482–487

Baumbach A, Gulis G (2014) Impact of financial crisis on selected health outcomes in Europe. Eur J Pub Health 24:399–403

Bingley P, Martinello A (2014) Measurement error in the survey of health, ageing and retirement in Europe: a validation study with administrative data for education level, income and employment. Working Paper Series 16-2014. http://www.share-project.org/uploads/tx_sharepublications/WP_Series_16_2014_Bingley_Martinello.pdf. Accessed 13 Aug 2015

Brønnum-Hansen H, Baadsgaard M (2008) Increase in social inequality in health expectancy in Denmark. Scand J Pub Health 36:44–51

Brønnum-Hansen H, Baadsgaard M (2012) Widening social inequality in life expectancy in Denmark. A register-based study on social composition and mortality trends for the Danish population. BMC Public Health 12:994

Dødsårsagsregisteret (2013) Tal og analyse. Statens Serum Insitut, Copenhagen. http://www.ssi.dk/~/media/Indhold/DK%20-%20dansk/Sundhedsdata%20og%20it/NSF/Registre%20og%20kliniske%20databaser/Registre/Dodsaarsagsregisteret/Dødsårsagsregisteret%202013.ashx. Accessed Aug 2015

Economou A, Nikolaou A, Theodossiou I (2008) Socioeconomic status and health-care utilization: a study of the effects of low income, unemployment and hours of work on the demand for health care in the European Union. Health Serv Manage Res 21:40–59

Gerdtham UG, Ruhm CJ (2006) Deaths rise in good economic times: evidence from the OECD. Econ Hum Biol 4:298–316

Gili M, Roca M, Basu S, McKee M, Stuckler D (2013) The mental health risks of economic crisis in Spain: evidence from primary care centres, 2006 and 2010. Eur J Public Health 23:103–108

Harhay MO, Bor J, Basu S, McKee M, Mindell JS, Shelton NJ, Stuckler D (2014) Differential impact of the economic recession on alcohol use among white British adults, 2004–2010. Eur J Public Health 24:410–415

Ifanti AA, Argyriou AA, Kalofonou FH, Kalofonos HP (2013) Financial crisis and austerity measures in Greece: their impact on health promotion policies and public health care. Health Policy 113:8–12

Jagger C, Cox B, Le Roy S, the EHEMU team (2007) Health expectancy calculation by the Sullivan method: a practical guide. 3rd edn, EHEMU technical report 2006_3. http://www.eurohex.eu/pdf/Sullivan_guide_final_jun2007.pdf. Accessed 13 Aug 2015

Jeune B, Eriksen ML, Andersen-Ranberg K, Brønnum-Hansen H (2015) Improvement in health expectancy at age 50 and 65 in Denmark during the period 2004–2011. Scand J Pub Health 43:254–259

Karanikolos M, Mladovsky P, Cylus J, Thomson S, Basu S, Stuckler D, Mackenbach JP, McKee M (2013) Financial crisis, austerity, and health in Europe. Lancet 381:1323–1331

Kentikelenis A, Karanikolos M, Reeves A, McKee M, Stuckler D (2014) Greece's health crisis: from austerity to denialism. Lancet 383:748–753

Kondo N (2012) Socioeconomic disparities and health: impacts and pathways. J Epidemiol 22:2–6

Lopez Bernal JA, Gasparrini A, Artundo CM, McKee M (2013) The effect of the late 2000s financial crisis on suicides in Spain: an interrupted time-series analysis. Eur J Pub Health 23:732–736

Lorant V, Demarest S, Miermans PJ, Van Oyen H (2007) Survey error in measuring socio-economic risk factors of health status: a comparison of a survey and a census. Int J Epidemiol 36:1292–1299

Mackenbach JP (2012) Public health and welfare. Eur J Pub Health 22:1

Martikainen PT, Valkonen T (1996) Excess mortality of unemployed men and women during a period of rapidly increased unemployment. Lancet 348:909–912

Mathers CD, Robine JM (1997) How good is Sullivan's method for monitoring changes in population health expectancies. J Epidemiol Community Health 51:80–86

McInerney M, Mellor JM (2012) Recessions and seniors' health, health behaviors, and healthcare use: analysis of the Medicare Current Beneficiary Survey. J Health Econ 31:744–751

McKee M, Stuckler D (2012) The crisis of capitalism and the marketisation of health care: the implications for public health professionals. J Public Health Res 1:236–239

Murphy GC, Athanasou JA (1999) The effect of unemployment on mental health. J Occup Organ Psychol 72:83–99

Nusselder WJ, Looman CW (2004) Decomposition of differences in health expectancy by cause. Demography 41:315–334

Reeves A, McKee M, Gunnell D, Chang SS, Basu S, Barr B, Stuckler D (2015) Economic shocks, resilience, and male suicides in the Great Recession: cross-national analysis of 20 EU countries. Eur J Public 25:404–409

Ruhm CJ (2007) A healthy economy can break your heart. Demography 44:829–848

Sabiers SE, Amini SN (2013) Ulighed: De fattigste danskere er blevet fattigere. Arbejderbevægelsens Erhvervsråd (inequality: the poorest Danes have become poorer. The Economic Council of the Labour Movement), Copenhagen. http://www.ae.dk/sites/www.ae.dk/files/dokumenter/analyse/ae_ulighed-de-fattigste-danskere-er-blevet-fattigere_0.pdf. Accessed Aug 2015

Statistics Denmark (2014) Statistikbanken, Copenhagen. http://www.statistikbanken.dk/. Accessed Aug 2015

Stuckler D, Basu S, Suhrcke M, Coutts A, McKee M (2009) The public health effect of economic crises and alternative policy responses in Europe: an empirical analysis. Lancet 374:315–323

Suhrcke M, Stuckler D (2012) Will the recession be bad for our health? It depends. Soc Sci Med 74:647–653

Sullivan DF (1971) A single index of mortality and morbidity. Health Services and Mental Health Administration (HSMHA). Health Rep 86:347–354

Vandoros S, Hessel P, Leone T, Avendano M (2013) Have health trends worsened in Greece as a result of the financial crisis? A quasi-experimental approach. Eur J Pub Health 23:727–731

Zavras D, Tsiantou V, Pave E, Mylona K, Kyriopoulos J (2013) Impact of economic crisis and other demographic and socio-economic factors on self-rated health in Greece. Eur J Pub Health 23:206–210
Ethics declarations
Conflict of interest
No competing interests.
Funding
The SHARE data collection has been primarily funded by the European Commission through the 5th Framework Programme (project QLK6-CT-2001-00360 in the thematic programme Quality of Life), through the 6th Framework Programme (projects SHARE-I3, RII-CT-2006-062193, COMPARE, CIT5- CT-2005-028857, and SHARELIFE, CIT4-CT-2006-028812) and through the 7th Framework Programme (SHARE-PREP, No 211909, SHARE-LEAP, No 227822 and SHARE M4, No 261982). See http://www.share-project.org for a full list of funding institutions.
The contribution of HBH was financed by a grant from the Danish Health and Medicines Authority.
About this article
Cite this article
Brønnum-Hansen, H., Baadsgaard, M., Eriksen, M.L. et al. Educational inequalities in health expectancy during the financial crisis in Denmark. Int J Public Health 60, 927–935 (2015). https://doi.org/10.1007/s00038-015-0726-3
Received:

Revised:

Accepted:

Published:

Issue Date:

DOI: https://doi.org/10.1007/s00038-015-0726-3
Keywords