Abstract
Objectives
This study investigated whether soft drink consumption is related to fighting and bullying behaviour among school-aged children and whether nervousness and irritation mediated this relationship.
Methods
The data on 7583 adolescents aged 11–15 years from the Slovak part of the Health Behaviour in School-Aged Children (HBSC) study 2010 were analysed. Self-reported soft drink intake, bullying, fighting, nervousness, irritability and confounding variables were analysed using logistic regressions. To assess the potential mediation of daily nervousness and irritability on the association between soft drink consumption and aggressive behaviour, we used Sobel tests.
Results
Adolescents' daily soft drink consumption was associated with bullying and fighting, and these relationships were partially mediated by nervousness and irritability. Adjustment of the analyses on gender, age and family affluence did not change the estimates.
Conclusions
Adolescents' daily soft drink consumption was associated with negative mood deviations such as nervousness and irritability and with aggressive behaviour in the form of bullying and fighting. Our findings provide new evidence about soft drink consumption-related risks and thus can contribute to the preventive actions aimed at reducing them.
Access options
Buy single article
Instant access to the full article PDF.
USD 39.95
Price excludes VAT (USA)
Tax calculation will be finalised during checkout.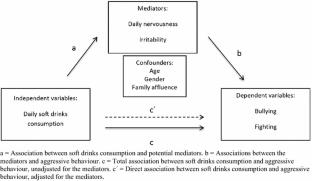 References
Basu S, McKee M, Galea G, Stuckler D (2013) Relationship of soft drink consumption to global overweight, obesity, and diabetes: a cross-national analysis of 75 countries. Am J Public Health 103:2071–2077

Benton D (2007) The impact of diet on anti-social, violent and criminal behaviour. Neurosci Biobehav Rev 31:752–774

Brener ND, Collins JL, Kann L, Warren CW, Williams BI (1995) Reliability of the youth risk behavior survey questionnaire. Am J Epidemiol 141:575–580

Caprara GV, Paciello M, Gerbino M, Cugini C (2007) Individual differences conducive to aggression and violence: trajectories and correlates of irritability and hostile rumination through adolescence. Aggressive Behav 33:359–374

Currie C et al (2012) Social determinants of health and well-being among young people. Health Behaviour in School-aged Children (HBSC) study. In: Currie C (eds) International report from the 2009/2010 survey. Copenhagen, WHO Regional Office for Europe (Health Policy for Children and Adolescents, no. 6)

DeWall CN, Deckman T, Gailliot MT, Bushman BJ (2011) Sweetened blood cools hot tempers: physiological self-control and aggression. Aggressive Behav 37:73–80

Hasselkvist A, Johansson A, Johansson A (2014) Association between soft drink consumption, oral health and some lifestyle factors in Swedish adolescents. Acta Odontol Scand 72:1039–1046

Haugland S, Wold B (2001) Subjective health complaints in adolescence—reliability and validity of survey methods. J Adolesc 24:611–624

Høstmark AT (2010) The Oslo Health Study: soft drink intake is associated with the metabolic syndrome. Appl Physiol Nutr Metab 35:635–642

Kristjansson AL, Sigfusdottir ID, Frost SS, James JE (2013) Adolescent Caffeine Consumption and Self-Reported Violence and Conduct Disorder. J Youth Adolesc 42:1053–1062

Lien L, Lien N, Heyerdahl S, Thoresen M, Bjertness E (2006) Consumption of Soft drinks and hyperactivity, mental distress, and conduct problems among adolescents in Oslo, Norway. Am J Public Health 96:1815–1820

Martin CA, Cook C, Woodring JH, Burkhardt G, Guenthner G, Omar HA, Kelly TH (2008) Caffeine use: association with nicotine use, aggression, and other psychopathology in psychiatric and pediatric outpatient adolescents. ScientificWorldJournal 8:512–516

Naska A, Bountziouka V, Trichopoulou A (2010) Soft drinks: time trends and correlates in twenty-four European countries. A cross-national study using the DAFNE (Data Food Networking) databank. Public Health Nutr 13:1346–1355

Olafsdottir S, Eiben G, Prell H, Hense S, Lissner L, Mårild S, Reisch L, Berg C (2014) Young children's screen habits are associated with consumption of sweetened beverages independently of parental norms. Int J Public Health 59:67–75

Saravis S, Schachar R, Zlotkin S, Leiter LA, Anderson GH (1990) Aspartame: effects on learning, behavior, and mood. Pediatrics 86:75

Schnohr CW, Makransky G, Kreiner S, Torsheim T, Hofmann F, De Clercq B, Elgar FJ, Currie C (2013) Item response drift in the family affluence scale: a study on three consecutive surveys of the health behaviour in school-aged children (HBSC) survey. Measurement (02632241) 46:3119–3126

Shi Z, Taylor AW, Wittert G, Goldney R, Gill TK (2010) Soft drink consumption and mental health problems among adults in Australia. Public Health Nutr 13:1073–1079

Sobel ME (2008) Identification of causal parameters in randomized studies with mediating variables. J Educ Behav Stat 33:230–251

Solberg ME, Olweus D (2003) Prevalence estimation of school bullying with the Olweus Bully/Victim Questionnaire. Aggressive Behav 29:239–268

Solnick SJ, Hemenway D (2012) The 'Twinkie Defense': the relationship between carbonated non-diet soft drinks and violence perpetration among Boston high school students. Inj Prev 18:259–263

Solnick SJ, Hemenway D (2014) Soft drinks, aggression and suicidal behaviour in US high school students. Inj Control Saf Promot 21:266–273

Suglia SF, Solnick S, Hemenway D (2013) Soft drinks consumption is associated with behavior problems in 5-year-olds. J Pediatr 163:1323–1328

Tandel KR (2011) Sugar substitutes: health controversy over perceived benefits. J Pharmacol Pharmacother 2:236–243

te Velde SJ, Singh A, Chinapaw M, De Bourdeaudhuij I, Jan N, Kovacs E, Bere E, Vik FN, Bringolf-Isler B, Manios Y, Moreno L, Brug J (2014) Energy balance related behaviour: personal, home- and friend-related factors among schoolchildren in europe studied in the ENERGY-project. PLoS One 9:1–15

Van den Eeden SK, Koepsell TD, Longstreth WTJ, van Belle G, Daling JR, McKnight B (1994) Aspartame ingestion and headaches: a randomized crossover trial. Neurology 44:1787–1793

Vereecken CA, Maes L (2003) A Belgian study on the reliability and relative validity of the Health Behaviour in School-Aged Children food-frequency questionnaire. Public Health Nutr 6:581–588

Vereecken CA, Inchley J, Subramanian SV, Hublet A, Maes L (2005) The relative influence of individual and contextual socio-economic status on consumption of fruit and soft drinks among adolescents in Europe. Eur J Public Health 15:224–232

Vereecken CA, Rossi S, Giacchi MV, Maes L (2008) Comparison of a short food-frequency questionnaire and derived indices with a seven-day diet record in Belgian and Italian children. Int J Public Health 53:297–305

Verzeletti C, Maes L, Santinello M, Vereecken CA (2010) Soft drink consumption in adolescence: associations with food-related lifestyles and family rules in Belgium Flanders and the Veneto Region of Italy. Eur J Public Health 20:312–317

Vessey J, Strout TD, Difazio RL, Walker A (2014) Measuring the youth bullying experience: a systematic review of the psychometric properties of available instruments. J Sch Health 84:819–843
Acknowledgments
This work was partially supported by the Research and Development Support Agency under Contract No. APVV 0032-11, by the Scientific Grant Agency of the Ministry of Education, Science, Research and Sport of the Slovak Republic, the Slovak Academy of Sciences, Reg. No. 1/0895/14, and was also partially funded within the framework of the project "Social determinants of health in socially and physically disadvantaged and other groups of population" of the Ministry of Education, Youth and Sports in Czech Republic CZ.1.07/2.3.00/20.0063'.
Compliance with ethical standards
The study was approved by the Ethics Committee of the Medical Faculty at the P. J. Safarik University in Kosice. Parents were informed about the study via the school administration and could opt out if they disagreed with their child's participation. Participation in the study was fully voluntary and anonymous with no explicit incentives provided for participation.
Conflict of interest
The authors declare that they have no conflict of interest.
About this article
Cite this article
Holubcikova, J., Kolarcik, P., Madarasova Geckova, A. et al. The mediating effect of daily nervousness and irritability on the relationship between soft drink consumption and aggressive behaviour among adolescents. Int J Public Health 60, 699–706 (2015). https://doi.org/10.1007/s00038-015-0707-6
Received:

Revised:

Accepted:

Published:

Issue Date:

DOI: https://doi.org/10.1007/s00038-015-0707-6
Keywords