Abstract
Objectives
To examine the impact of electronic media (EM) use on teenagers' life satisfaction (LS) and to assess the potential moderating effect of supportive communication with parents (SCP).
Methods
Data were drawn from the cross-national Health Behaviour in School-aged Children (HBSC) study (2009/2010) in Canada, England, Germany, Hungary, Italy, Israel, The Netherlands, Poland and Scotland. Sample size: 53,973 students aged 11–15 years.
Results
More hours per day spent on the computer were associated with lower LS; more EM communication with friends with higher LS. This relationship became negative if EM use reached and exceeded a certain threshold. SCP moderated the effect of EM communication with friends, but not computer use for the total sample. SCP seems to be more important than computer use or EM communication with friends for LS and it seems to buffer negative effects of EM use.
Conclusions
Communication with parents seems to buffer the negative effects of EM use on LS during adolescence. Higher computer use was related to lower LS, but "optimal" frequency of EM communication with friends was country specific.
This is a preview of subscription content, log in to check access.
Access options
Buy single article
Instant access to the full article PDF.
US$ 39.95
Tax calculation will be finalised during checkout.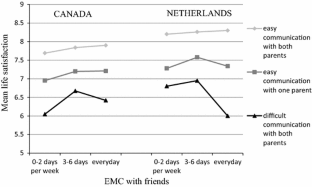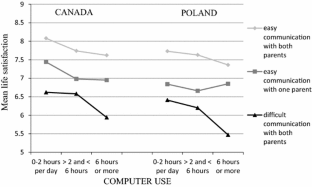 References
Adiele I, Olatokun W (2014) Prevalence and determinants of internet addiction among adolescents. Comput Hum Behav 31:100–110

American Academy of Pediatrics (2001) Children, adolescents, and television. Pediatrics 107(2):423–426

Antonogeorgos G, Panagiotakos DB, Grigoropoulou D, Papadimitriou A, Anthracopoulos M, Nicolaidou P, Priftis KN (2013) The mediating effect of parents' educational status on the association between adherence to the Mediterranean diet and childhood obesity: the PANACEA study. Int J Public Health 58(3):401–408

Becker MW, Alzahabi R, Hopwood CJ (2013) Media multitasking is associated with symptoms of depression and social anxiety. Cyberpsychol Behav Social Netw 16:132–135

Benson J (2011) Psychiatrist says video games are influencing youth and not for the better. The day. http://www.theday.com/article/20110602/NWS01/306029399

Boyce W, Dallago L, Settertobulte W (2004) Socioeconomic inequality. In: Currie C, Roberts C, Morgan A, Smith R, Samdal O, Rasmussen Barnekow V (eds) Young people's health in context: international report from the HBSC 2001/02 survey. WHO Regional Office for Europe, Copenhagen, pp 13–25

Bradshaw J, Keung A, Rees G, Goswami H (2011) Children's subjective well-being: international comparative perspectives. Child Youth Serv Rev 33(4):548–556

Brooks FM, Magnusson J, Spencer N, Morgan A (2012) Adolescent multiple risk behaviour: an asset approach to the role of family, school and community. J Public Health (Oxf) 34(Suppl 1):i48–i56

Chahal H, Fung C, Kuhle S, Veugelers PJ (2013) Availability and night-time use of electronic entertainment and communication devices are associated with short sleep duration and obesity among Canadian children. Pediatr Obes 8(1):42–51

Currie C, Zanotti C, Morgan A, Currie D, Looze de M, Roberts C, Samdal O, Smith ORF, Barnekow V (eds) (2012) Social determinants of health and well-being among young people: health behaviour in school-aged children (HBSC) study: international report from the 2009/2010 survey. Health policy for children and adolescents, vol 6. WHO Regional Office for Europe, Copenhagen

Deniz L (2010) Excessive internet use and loneliness among secondary school students. J Instr Psychol 37:20–23

Diener E, Emmons RA, Larsen RJ, Griffin S (1985) The satisfaction with life scale. J Pers Assess 49(1):71–75

Elgar FJ, Craig W, Trites SJ (2013) Family dinners, communication, and mental health in Canadian adolescents. J Adolesc Health 52(4):433–438

Ferguson CJ, Muñoz ME, Garza A, Galindo M (2014) Concurrent and prospective analyses of peer, television and social media influences on body dissatisfaction, eating disorder symptoms and life satisfaction in adolescent girls. J Youth Adolesc 43(1):1–14

Finne E, Bucksch J, Lampert T, Kolip P (2013) Physical activity and screen-based media use: cross-sectional associations with health-related quality of life and the role of body satisfaction in a representative sample of German adolescents. Health Psychol Behav Med 1(1):15–30

Helsen M, Vollebergh W, Meeus W (2000) Social support from parents and friends and emotional problems in adolescence. J Youth Adolesc 29(3):319–335

Iannotti RJ, Janssen I, Haug E, Kololo H, Annaheim B, Borraccino A (2009) Interrelationships of adolescent physical activity, screen-based sedentary behaviour, and social and psychological health. Int J Public Health 54(S2):191–198

Jackson LA, von Eye A, Fitzgerald HE, Witt EA, Zhao Y (2011) Internet use, videogame playing and cell phone use as predictors of children's body mass index (BMI), body weight, academic performance, and social and overall self-esteem. Comput Human Behav 27(1):599–604

Johnson GM (2010) Internet use and child development: validation of the ecological techno-subsystem. Educ Techno Soc 13(1):176–185

Kuntsche E, Simons-Morton B, ter Bogt T, Queija IS, Tinoco VM, de Matos Gaspar, Margarida Santinello M, Lenzi M (2009) Electronic media communication with friends from 2002 to 2006 and links to face-to-face contacts in adolescence: an HBSC study in 31 European and North American countries and regions. Int J Public Health 54(Suppl 2):243–250

Lacy KE, Allender SE, Kremer PJ, Silva-Sanigorski AM, Millar LM, Moodie ML, Mathews LB, Malakellis M, Swinburn BA (2012) Screen time and physical activity behaviours are associated with health-related quality of life in Australian adolescents. Qual Life Res 21(6):1085–1099

Levin KA, Currie C (2010) Family structure, mother–child communication, father–child communication, and adolescent life satisfaction: a cross-sectional multilevel analysis. Health Educ 110(3):152–168

Levin KA, Currie C (2013) Reliability and validity of an adapted version of the Cantril ladder for use with adolescent samples. Soc Indic Res:1–17

Livingstone S, Haddon L, Görzig A, Ólafsson K (2011) EU Kids online final report. http://www.lse.ac.uk/media@lse/research/EUKidsOnline

Manago AM, Taylor T, Greenfield PM (2012) Me and my 400 friends: the anatomy of college students' Facebook networks, their communication patterns, and well-being. Dev Psychol 48(2):369–380

Mathers M, Canterford L, Olds T, Hesketh K, Ridley K, Wake M (2009) Electronic media use and adolescent health and well-being: cross-sectional community study. Acad Pediatr 9(5):307–314

Mesch GS (2003) The family and the internet: the Israeli case. Soc Sci Q 84(4):1038–1050

Moreno C, Sánchez-Queija I, Muñoz-Tinoco V, Matos MG, Dallago L, Bogt TT, Camacho I, Rivera F (2009) Cross-national associations between parent and peer communication and psychological complaints. Int J Public Health 54(S2):235–242

Mößle T, Kleimann M, Rehbein F, Pfeiffer C (2010) Media use and school achievement—boys at risk? Br J Dev Psychol 28(3):699–725

Ofcom (2014) Children and parents: media use and attitudes report. http://stakeholders.ofcom.org.uk/binaries/research/media-literacy/media-use-attitudes-14/Childrens_2014_Report.pdf. Accessed 3 Oct 2014

Page AS, Cooper AR, Griew P, Jago R (2010) Children's screen viewing is related to psychological difficulties irrespective of physical activity. Pediatrics 126(5):e1011

Park N (2004) The role of subjective well-being in positive youth development. Ann Am Acad Pol Soc Sci 591(1):25–39

Piko BF, Hamvai C (2010) Parent, school and peer-related correlates of adolescents' life satisfaction. Child Youth Serv Rev 32(10):1479–1482

Purcell K (2013) 10 Things to know about how teens use technology. Pew Research Center. http://www.pewinternet.org/2013/07/10/10-things-to-know-about-how-teens-use-technology/

Racine EF, DeBate RD, Gabriel KP, High RR (2011) The relationship between media use and psychological and physical assets among third- to fifth-grade girls. J Sch Health 81(12):749–755

Rosen LD, Lim AF, Felt J, Carrier LM, Cheever NA, Lara-Ruiz JM, Mendoza JS, Rokkum J (2014) Media and technology use predicts ill-being among children, preteens and teenagers independent of the negative health impacts of exercise and eating habits. Comput Human Behav 35:364–375

Steinberg L, Morris AS (2001) Adolescent development. J Cogn Educ Psychol 2(1):55–87

Stepanikova I, Nie NH, He X (2010) Time on the internet at home, loneliness, and life satisfaction: evidence from panel time-diary data. Comput Human Behav 26(3):329–338

Sweetser P, Wyeth P (2005) Gameflow. Comput Entertain 3(3):3

Tabak I, Jodkowska M, Oblacińska A (2013) Family meals, support and communication within the family as predictors of teenagers' subjective health and life satisfaction. Pediatr Pol 6(88):533–539

Torsheim T, Eriksson L, Schnohr CW, Hansen F, Bjarnason T, Välimaa R (2010) Screen-based activities and physical complaints among adolescents from the Nordic countries. BMC Public Health 10(1):324

Uttal DH, Meadow NG, Tipton E, Hand LL, Alden AR, Warren C, Newcombe NS (2013) The malleability of spatial skills: a meta-analysis of training studies. Psychol Bull 139(2):352–402

Valkenburg PM, Peter J (2007) Online communication and adolescent well-being: testing the stimulation versus the displacement hypothesis. J Comput Mediat Commun 12(4):1169–1182

Valkenburg PM, Peter J (2009) Social consequences of the internet for adolescents: a decade of research. Curr Dir Psychol Sci 18(1):1–5

Valkenburg PM, Peter J (2011) Online communication among adolescents: an integrated model of its attraction, opportunities, and risks. J Adolesc Health 48(2):121–127
Additional information
This article is part of the special issue "Communication Technology, Media Use and the Health of Our Kids".
About this article
Cite this article
Boniel-Nissim, M., Tabak, I., Mazur, J. et al. Supportive communication with parents moderates the negative effects of electronic media use on life satisfaction during adolescence. Int J Public Health 60, 189–198 (2015). https://doi.org/10.1007/s00038-014-0636-9
Received:

Revised:

Accepted:

Published:

Issue Date:
Keywords
Life satisfaction

Adolescents

Computer use

Supportive communication with parents

Cross-national study