Abstract
Objectives
This paper examines whether Eastern European immigrants aged 50 and over living in Northern and Western Europe face a health disadvantage in terms of self-perceived health, with respect to the native-born. We also examined health changes over time (2004–2006–2010) through the probabilities of transition among self-perceived health states, and how they vary according to nativity status and age group.
Methods
Data were obtained from the Survey of Health, Ageing and Retirement in Europe (SHARE). Logistic regressions and probabilities of transition were used.
Results
Results emphasise the health disadvantage of Eastern European immigrants living in Germany, France and  Sweden with respect to the native-born, even after controlling for socio-economic status. Probabilities of transition also evidenced that people born in Eastern Europe were more likely to experience worsening health and less likely to recover from sickness.
Conclusions
This paper suggests that health inequalities do not affect immigrant groups in equal measure and confirm the poorer and more steeply deteriorating health status of Eastern European immigrants.
Access options
Buy single article
Instant access to the full article PDF.
USD 39.95
Price includes VAT (USA)
Tax calculation will be finalised during checkout.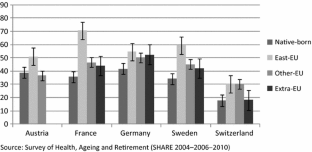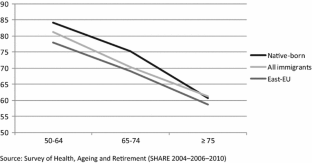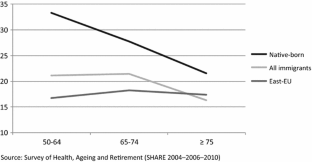 References
Agyemang C, Denktas S, Bruijnzeels M, Foets M (2006) Validity of the single-item question on self-rated health status in first generation Turkish and Moroccans versus native Dutch in the Netherlands. Public Health 120(6):543–550

Ai C, Norton EC (2003) Interaction terms in logit and probit models. Econ Lett 80(1):123–129

Boback M, Marmot M (1996) East-West mortality divide and its potential explanations: proposed research agenda. BMJ 312(7028):421–425

Börsch-Supan A, Jürges H (2005) The Survey of Health, Ageing and Retirement in Europe—Methodology. Mannheim, Germany: Mannheim Research Institute for the Economics of Aging (MEA). Available at: http://www.share-project.org/uploads/tx_sharepublications/SHARE_BOOK_METHODOLOGY_Wave1.pdf.

Carlson P (1998) Self-perceived health in East and West Europe: another European health divide. Soc Sci Med 46(10):1355–1366

Chandola T, Jenkinson C (2000) Validating self-rated health in different ethnic groups. Ethn Health 5(2):151–159

Diehr P, Patrick DL (2001) Probabilities of transition among health states for older adults. Qual Life Res 10(5):431–442

Fassmann H, Münz R (1992) Patterns and trends of international migration in Western Europe. Popul Dev Rev 18(3):457–480

Frejka T, Iglicka-Okolska K, Jazwinska E, Kanopiene V, Macura M, Malinovskaya E, Mullan B, Okolski M, Pyrozhkov S, Sipaviciene A (1995) Changing international migration patterns in Central and Eastern Europe in the early 1990s. In: Evolution or revolution in European population vol. 2, European population conference, Franco Angeli, Milan, pp 213–226 4–8 Sept 1995

Fylkesnes K (1993) Determinants of health care utilization–visits and referrals. Scand J Soc Med 21(1):40–50

Huijts T, Kraaykamp G (2012) Immigrants' health in Europe: a cross-classified multilevel approach to examine origin country, destination country, and community effects. Int Migr Rev 46(1):101–137

Idler EL, Benyamini Y (1997) Self-rated health and mortality: a review of twenty-seven community studies. J Health Soc Behav 38(1):21–37

Jung J (2006) Estimating Markov transition probabilities between health states in the HRS dataset. Working Paper, Indiana University: Bloomington. Available at: http://www.researchgate.net/publication/228419924_Estimating_Markov_Transition_Probabilities_between_Health_States_in_the_HRS_Dataset.

Kaplan GA, Goldberg DE, Everson SA, Cohen RD, Salonen R, Tuomilehto J, Salonen J (1996) Perceived health status and morbidity and mortality: evidence from the Kuopio ischaemic heart disease risk factor study. Int J Epidemiol 25(2):259–265

Lanari D, Bussini O (2012) International migration and health inequalities in later life. Ageing Soc 32(6):935–962

Leibfried S (1992) Towards a European welfare state. In: Ferge Z, Kolberg JE (eds) Social policy in a changing Europe. Campus-Verlag, Frankfurt, pp 245–279

Leon DA, Chenet L, Shkolnikov VM, Zakharov S, Shapiro J, Rakhmanova G, Vassin S, McKee M (1997) Huge variation in Russian mortality rates 1984–1994: artefact, alcohol, or what? Lancet 350(9075):383–388

Lindstrom M, Sundquist J, Ostergren P (2001) Ethnic differences in self reported health in Malmö in southern Sweden. J Epidemiol Community Health 55(2):97–103

Lundberg O, Manderbacka K (1996) Assessing reliability of a measure of self-rated health. Scand J Soc Med 24(3):218–224

Mitrushina MN, Satz P (1991) Correlates of self-rated health in the elderly. Aging 3(1):73–77

Münz R (1995) Where did they all come from? Typology and geography of European mass migration in the twentieth century. In: Evolution or revolution in European population vol. 1, European population conference, Franco Angeli, Milan, pp 95–154 4–8 Sept 1995

Nielsen SS, Krasnick A (2010) Poorer self-perceived health among migrants and ethnic minorities versus the majority population in Europe: a systematic review. Int J Public Health 55(5):357–371

Peto R, Lopez AD, Boreham J, Thun M, Heath C Jr (1992) Mortality from tobacco in developed countries: indirect estimation from national vital statistics. Lancet 339(8804):1268–1278

Pudaric S, Sundquist J, Johansson SE (2003) Country of birth, instrumental activities of daily living, self-rated health and mortality: a Swedish population-based survey of people aged 55-74. Soc Sci Med 56(12):2493–2503

Ronellenfitsch U, Razum O (2004) Deteriorating health satisfaction among immigrants from Eastern Europe to Germany. Int J Equity Health 3(1):4

Salt J (1989) A comparative overview of international trends and types, 1950–80. Int Migr Rev 23(3):431–456

SHARE (2004–2006–2010). http://www.share-project.org.

Solé-Auró A, Crimmins EM (2008) Health of immigrants in European countries. Int Migr Rev 42(4):861–876

UNESCO (1997) Institute for Statistics, International Standard Classification of Education. Available at: http://www.uis.unesco.org/Library/Documents/isced97-en.pdf.

United Nations (2008) Population division: the standard country or area codes for statistical use, Revision 4. Available at: http://unstats.un.org/unsd/methods/m49/m49alpha.htm.

Vaillant N, Wolff FC (2010) Origin differences in self-reported health among older migrants living in France. Public Health 124(2):90–98

Weziak-Bialowolska D (2014) Health conditions in regions of Eastern and Western Europe. Int J Public Health 59(3):529–539

Witvliet M, Arah OA, Stronks K, Kunst AE (2014) Examining self-rated health of young central and eastern Europeans in the context of other world regions. Eur J Public Health 24(2):314–321
Acknowledgments
This paper uses data from SHARE wave 4 release 1.1.1, as of March 28th 2013 and SHARE wave 1 and 2 release 2.5.0, as of May 24th 2011. The SHARE data collection has been primarily funded by the European Commission through the 5th Framework Programme (project QLK6-CT-2001-00360 in the thematic programme Quality of Life), through the 6th Framework Programme (projects SHARE-I3, RII-CT-2006-062193, COMPARE, CIT5- CT-2005-028857, and SHARELIFE, CIT4-CT-2006-028812) and through the 7th Framework Programme (SHARE-PREP, N° 211909, SHARE-LEAP, N° 227822 and SHARE M4, N° 261982). Additional funding from the U.S. National Institute on Aging (U01 AG09740-13S2, P01 AG005842, P01 AG08291, P30 AG12815, R21 AG025169, Y1-AG-4553-01, IAG BSR06-11 and OGHA 04-064) and the German Ministry of Education and Research as well as from various national sources is gratefully acknowledged (see www.share-project.org for a full list of funding institutions). We thank the two anonymous reviewers for their useful comments on earlier draft of this paper.
About this article
Cite this article
Lanari, D., Bussini, O. & Minelli, L. Self-perceived health among Eastern European immigrants over 50 living in Western Europe. Int J Public Health 60, 21–31 (2015). https://doi.org/10.1007/s00038-014-0629-8
Received:

Revised:

Accepted:

Published:

Issue Date:
Keywords
Self-perceived health

Eastern European immigrants

Europe

SHARE

Probabilities of transition