Abstract
Objectives
The objective of this study was to present a qualitative 'situation analysis' of the healthcare system in Tunisia, as it applies to management of cardiovascular disease (CVD) and diabetes. A primary concern was the institutional capacity to manage non-communicable diseases (NCDs).
Methods
Research took place during 2010 (analysis of official documents, semi-structured interviews with key informants, and case studies in four clinics). Walt and Gilson's framework (1994) for policy analysis was used: content, actors, context, and process.
Results
Problems of integration and coordination have compounded funding pressures. Despite its importance in Tunisian healthcare, primary health is ill-equipped to manage NCDs. With limited funds, and no referral or health information system, staff morale in the public sector was low. Private healthcare has been the main development filling the void.
Conclusion
This study highlights major gaps in the implementation of a comprehensive approach to NCDs, which is an urgent task across the region. In strategic planning, research on the health system is vital; but the capacity within Ministries of Health to use research has first to be built, with a commitment to grounding policy change in evidence.
This is a preview of subscription content,
to check access.
Access this article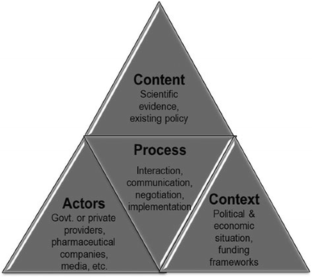 References
Abdul Rahim HF, Sibai A, Khader Y, Hwalla N, Fadhil I et al (2014) Non-communicable diseases in the Arab world. Lancet 383(9914):356–367. doi:10.1016/S0140-6736(13)62383-1

Abu-Zaineh M, Arfa C, Ventelou B, Ben Romdhane H, Moatti J-P (2013a) Fairness in healthcare finance and delivery: what about Tunisia? Health Policy Plan 28:czt029. doi:10.1093/heapol/czt029

Abu-Zaineh M, Ben Romdhane H, Ventelou B, Moatti J-P, Arfa C (2013b) Appraising financial protection in health: the case of Tunisia. Int J Health Care Financ Econ 13:73–93. doi:10.1007/s10754-013-9123-8

Achour N (2012) Tunisie. In: Les systèmes de santé en Algérie, Maroc et Tunisie. IPEMED Études et Analyses No. 13, pp 101–116

Arfa C, Achouri H (2008) Tunisia: good practice in expanding health coverage. In: Gottret P, Schieber G, Waters H (eds) Good practice in health financing: lessons from reforms in low and middle-income countries. World Bank, Washington DC, pp 51–53

Arfa C, Elgazzar H (2013) Consolidation and transparency: transforming Tunisia's health care for the poor. World Bank, Washington DC. https://openknowledge.worldbank.org/handle/10986/13312

Atek M, Traissac P, El Ati J, Laid Y, Aounallah-Skhiri H et al (2013) Obesity and association with area of residence, gender and socio-economic factors in Algerian and Tunisian adults. PLoS One 8(10):e75640. doi:10.1371/journal.pone.0075640

Batniji R, Khatib L, Cammett M, Sweet J, Basu S et al (2014) Health in the Arab world: a view from within 1: governance and health in the Arab world. Lancet 383(9914):343–355. doi:10.1016/S0140-6736(13)62185-6

Ben Mansour N, Lassoued O, Saidi O, Aissi W, Ben Ali S et al (2012) Trends in secondary prevention of coronary heart disease in Tunisia: prevention of recurrences of MI and stroke. Glob Heart 7(4):361–366

Ben Romdhane M (2006) Social policy and development in Tunisia since Independence: a political perspective. In: Karshenas M, Moghadem V, UN Research Institute for Social Development (eds) Social policy in the Middle East: economic, political, and gender dynamics. Palgrave Macmillan, New York, pp 31–77

Ben Romdhane H, Grenier F (2009) Social determinants of health in Tunisia: the case-analysis of Ariana. Int J Equity Health 8:9. doi:10.1186/1475-9276-8-9

Ben Romdhane H, Khaldi R, Oueslati A, Skhiri H (2002) Epidemiologic and nutritional transition in Tunisia. Options Méditerranéennes 41:278

Ben Romdhane H, Haouala H, Belhani A et al (2005) Epidemiological transition in Tunisia: its determinants and health impact. La Tunisie Médicale 83:1–7

Ben Romdhane H, Husseini A, Jabbour S (2012) Non-communicable diseases-II: focus on cardiovascular diseases. In: Jabbour S, Giacaman R, Khawaja M, Nuwayhid I (eds) Public health in the Arab world. Cambridge University Press, Cambridge, pp 164–177

Bouguerra R, Alberti H, Salem L, Rayanna C, El Ati J et al (2007) The global diabetes pandemic: the Tunisian experience. Eur J Clin Nutr 61:160–165

Boutayeb A, Helmert U (2011) Social inequalities, regional disparities and health inequity in North African countries. Int J Equit Health 10:23. doi:10.1186/1475-9276-10-23

Chaoui F, Legros M (2012) Les pays du Maghreb, des États en transition sanitaire. In: Les systèmes de santé en Algérie, Maroc et Tunisie: défis nationaux et enjeux partagés. IPEMED Études et Analyses No. 13, pp 19–45

Elasmi M, Feki M, Senhaji H, Jemaa R, Hej Taieb S (2009) Prevalence des facteurs de risque cardiovasculaires conventionnels dans la population du grand Tunis. Revue d'Epidemiologie et de Sante Publique 57:87–92. doi:10.1016/j.respe.2008.12.010

Elgazzar H, Raad F, Arfa C, Mataria A, Salti N et al (2010). Who pays? Out-of-pocket health spending and equity implications in the Middle East and North Africa. Health, nutrition and population (HNP) Discussion Paper, World Bank, Washington, DC

Phillimore P, Zaman S, Ahmad B, Shoaibi A, Khatib R et al (2013) Health system challenges of cardiovascular disease and diabetes in four Eastern Mediterranean countries. Glob Public Health 8:875–889. doi:10.1080/17441692.2013.830756

Saidi O, Ben Mansour N, O'Flaherty M, Capewell S, Critchley J et al (2013) Analyzing recent coronary heart disease mortality trends in Tunisia between 1997 and 2009. PLoS One 8(5):e63202. doi:10.1371/journal.pone.0063202

Saleh S, Alameddine M, Natafgi N, Mataria A, Sabri B et al (2014) Health in the Arab world: a view from within 3: the path towards universal health coverage in the Arab uprising countries Tunisia, Egypt, Libya, and Yemen. Lancet 383(9914):368–381. doi:10.1016/S0140-6736(13)62339-9

TAHINA (2006) Epidemiological transition and health impact in North Africa. TAHINA project final report, Cardiovascular Epidemiology and Prevention Research Laboratory, Tunis

Unwin N, Mugusi F, Aspray T, Whiting D, Edwards R et al (1999) Tackling the emerging pandemic of non-communicable diseases in sub-Saharan Africa: the essential NCD health intervention project. Public Health 113:141–146

Walt G, Gilson L (1994) Reforming the health sector in developing countries: the central role of policy analysis. Health Policy Plan 9:353–370

World Health Organization (2005) Preventing chronic disease: a vital investment. WHO global report. WHO, Geneva

World Health Organization (2010) Global status report on non-communicable diseases 2010: description of the global burden of NCDs, their risk factors and determinants. WHO, Geneva

World Health Organization (2013) World health statistics. http://who.int/gho/publications/world_health_statistics/

World Health Organization National Health Account database. http://apps.who.int/nha/database/DataExplorerRegime.aspx
Acknowledgments
The research on which this article is based was conducted as part of MedCHAMPS, a project funded by the European Commission under the Framework 7 Programme (Grant No. 223075). We would like to acknowledge the contributions of Julia Critchley, the Scientific Coordinator of MedCHAMPS.
Additional information
This article is part of the supplement "The rising burden of non-communicable diseases in four Mediterranean countries and potential solutions".
About this article
Cite this article
Romdhane, H.B., Tlili, F., Skhiri, A. et al. Health system challenges of NCDs in Tunisia. Int J Public Health 60 (Suppl 1), 39–46 (2015). https://doi.org/10.1007/s00038-014-0616-0
Received:

Revised:

Accepted:

Published:

Issue Date:

DOI: https://doi.org/10.1007/s00038-014-0616-0
Keywords