Abstract
Objectives
To investigate multiple mediations of the association between education and depressive symptoms (BDI-V) by work-related stress (ERI) and social isolation, the regional variation of the first mediation and a potential moderating effect of regional unemployment rate.
Methods
6339 employees born in 1959 and 1965 were randomly recruited from 222 sample points in a German cohort study on work, age, health and work participation. A multilevel model of moderated lower-level mediation was used to investigate the confirmatory research question. Multiple mediations were tested corresponding to Baron and Kenny. These analyses were stratified for age and adjusted for sex, negative affectivity and overcommitment.
Results
In the association between education and depressive symptoms, indirect effects of work-related stress and social isolation were significant in both age cohorts whereas a direct association was observable in the younger cohort, only. The significant regional variation in the association between work-related stress and depressive symptoms was not statistically explained by regional unemployment rate.
Conclusions
Our findings point out that work-related stress and social isolation play an intermediary role between education and depressive symptoms in middle-aged employees.
This is a preview of subscription content,
to check access.
Access this article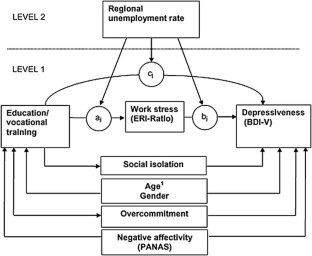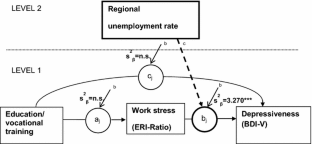 References
AAPOR (The American Association For Public Opinion Research) (2009) Standard definitions. Final dispositions of case codes and outcome rate for survey. Revisited Version 2009. http://www.aapor.org/AM/Template.cfm?Section=Standard_Definitions1&Template=/CM/ContentDisplay.cfm&ContentID=1814. Accessed 20 Apr 2013

Abraham JD, Hansson RO (1995) Successful ageing at work: an applied study of selection, optimization, and compensation through impression management. J Gerontol B Psychol Sci Soc Sci 50:P94–P103. doi:10.1093/geronb/50B.2.P94

Ajrouch KJ, Blandon AY, Antonucci TC (2005) Social networks among men and women: the effects of age and socioeconomic status. J Gerontol B Psychol Sci Soc Sci 60:S311–S317. doi:10.1093/geronb/60.6.S311

Baron RM, Kenny DA (1986) The mediator- moderator variable distinction in social psychological research: conceptual, strategic, and statistical considerations. J Pers Soc Psychol 51:1173–1182. doi:10.1037/0022-3514.51.6.1173

Bauer DJ, Preacher KJ, Gil KM (2006) Conceptualizing and testing random indirect effects and moderated mediation in multilevel models: new procedures and recommendations. Psychol Methods 11:142–163. doi:10.1037/1082-989X.11.2.142

Boersch-Supan A, Wilke CB (2009) Medium- and long-term labor force trends in Germany. J Labour Market Res 42:29–48 (German)

Borg V, Kristensen TS (2000) Social class and self-rated health: can the gradient be explained by differences in life style or work environment? Soc Sci Med 51:1019–1030. doi:10.1016/S0277-9536(00)00011-3

Bruce ML, Hoff RA (1994) Social and physical health risk factors for first-onset major depressive disorder in a community sample. Soc Psychiatry Psychiatr Epidemiol 29:165–171. doi:10.1007/BF00802013

Brummett BH, Barefoot JC, Siegler IC, Clapp-Channing NE, Lytle BL, Bosworth HB, Williams RB Jr, Mark DB (2001) Characteristics of socially isolated patients with coronary artery disease who are at elevated risk for mortality. Psychosom Med 63:267–272. doi:10.1097/00006842-200103000-00010

Busch MA, Maske UE, Ryl L, Schlack R, Hapke U (2013) Prevalence of depressive symptoms and diagnosed depression among adults in Germany: results of the German health interview and examination survey for adults (DEGS1). Bundesgesundheitsblatt Gesundheitsforschung Gesundheitsschutz 56:733–739. doi:10.1007/s00103-013-1688-3 German

Chandola T, Siegrist J, Marmot M (2005) Do changes in effort-reward imbalance at work contribute to an explanation of the social gradient in angina? Occup Environ Med 6:223–230. doi:10.1136/oem.2004.016675

Dragano N, Moebus S, Jöckel KH, Erbel R, Siegrist J, Heinz Nixdorf Recall Study (2008) Two models of job stress and depressive symptoms. Results from a population-based study. Soc Psychiatry Psychiatr Epidemiol 43:72–78. doi:10.1007/s00127-007-0267-z

Dragano N, Bobak M, Wege N, Peasey A, Verde PE, Kubinova R, Weyers S, Moebus S, Möhlenkamp S, Stang A, Erbel R, Jöckel KH, Siegrist J, Pikhart H (2007) Neighborhood socioeconomic status and cardiovascular risk factors: a multilevel analysis of nine cities in the Czech Republic and Germany. BMC Public Health 7:255. doi:10.1186/1471-2458-7-255

Federal Statistical Office (2009) Germany's Population by 2060 Results of the 12th coordinated population projection: available at: https://www.destatis.de/EN/Publications/Specialized/Population/GermanyPopulation2060.pdf?__blob=publicationFile. Accessed 14 Mar 2014

Geyer S, Hemström O, Peter R, Vågerö D (2006) Education, income, and occupational class cannot be used interchangeably in social epidemiology. Empirical evidence against a common practice. J Epidemiol Commun Health 60:804–810. doi:10.1136/jech.2005.041319

Graham JW, Olchowski AE, Gilreath TD (2007) How many imputations are really needed? Some practical clarifications of multiple imputation theory. Prev Sci 8:206–213. doi:10.1007/s11121-007-0070-9

Hafeman DM (2009) "Proportion explained": a causal interpretation for standard measures of indirect effect? Am J Epidemiol 170(11):1443–1448. doi:10.1093/aje/kwp283

Hagerty BM, Williams RA (1999) The effects of sense of belonging, social support, conflict and loneliness on depression. Nurs Res 48:215–219. doi:10.1097/00006199-199907000-00004

Hasselhorn HM, Peter R, Rauch A, Schroeder H, Swart E, Bender S, du Prel JB, Ebener M, March S, Trappmann M, Steinwede J, Mueller BH (2014) Cohort profile: the lidA Cohort Study—a German Cohort Study on work, age, health and work participation. Int J Epidemiol. doi:10.1093/ije/dyu021

Hoven H, Siegrist J (2013) Work characteristics, socioeconomic position and health: a systematic review of mediation and moderation effects in prospective studies. Occup Environ Med 70:663–669. doi:10.1136/oemed-2012-101331

Jöckel KH, Babitsch B, Bellach BM, Bloomfield K, Hoffmeyer-Zlotnik J, Winkler J, Wolf C (1998) Messung und Quantifizierung soziodemographischer Merkmale in epidemiologischen Studien. Empfehlungen: available from: www.gesundheitsforschung-bmbf.de/_media/Empfehlungen__Epidemiologische_Studien.pdf. Accessed 14 March 2014

Kristensen TS, Borg V, Hannerz H (2002) Socioeconomic status and psychosocial work environment: results from a Danish national study. Scand J Public Health Suppl 59:41–48. doi:10.1177/14034948020300030701

Kroll LE, Müters S, Dragano N (2011) Arbeitsbelastungen und Gesundheit [Work load and health]. GBE Kompakt 5:1-6. German

Lorant V, Deliège D, Eaton W, Robert A, Philippot P, Ansseau M (2003) Socioeconomic inequalities in depression: a meta-analysis. Am J Epidemiol 157:98–112. doi:10.1093/aje/kwf182

Melchior M, Chastang JF, Head J, Goldberg M, Zins M, Nabi H, Younès N (2013) Socioeconomic position predicts long-term depression trajectory: a 13-year follow-up of the GAZEL cohort study. Mol Psychiatry 18:112–121. doi:10.1038/mp.2011.116

Peter R, Siegrist J, Hallqvist J, Reuterwall C, Theorell T; the SHEEP Study Group (2002) Psychosocial work environment and myocardial infarction: improving risk estimation by combining two complementary job stress models in the SHEEP Study. J Epidemiol Commun Health 56:294–300. doi:10.1136/jech.56.4.294

Peter R, Gässler H, Geyer S (2007) Social status, status inconsistency, and risk of ischemic heart disease – a prospective study among members of a statutory health insurance company. J Epidemiol Commun Health 61:605–611. doi:10.1136/jech.2006.047340

Preacher KJ, Hayes AF (2008) Asymptotic and resampling strategies for assessing and comparing indirect effects in multiple mediator models. Behav Res Methods 40:879–891. doi:10.3758/BRM.40.3.879

Preacher KJ, Zyphur MJ, Zhang Z (2010) A general multilevel SEM framework for assessing multilevel mediation. Psychol Methods 15:209–233. doi:10.1037/a0020141

Raghunathan TE, Lepkowski JM, Van Hoewyk J, Solenberger P (2001) A multivariate technique for multiply imputing missing values using a sequence of regression models. Surv Methodol 27:85–95

Rau R, Gebele N, Morling K, Rösler U (2010) Untersuchung arbeitsbedingter Ursachen für das Auftreten von depressiven Störungen. Abschlussbericht zum Projekt "Untersuchung arbeitsbedingter Ursachen für das Auftreten von depressiven Störungen"-Projekt F 1865. ISBN 978-3-88261-1144 (German)

Rugulies R, Aust B, Madsen IE, Burr H, Siegrist J, Bültmann U (2013) Adverse psychosocial working conditions and risk of severe depressive symptoms. Do effects differ by occupational grade? Eur J Public Health 23:415–420. doi:10.1093/eurpub/cks071

Schaie KW (1994) Developmental Designs revisited. In: Cohen SH, Reese HW (eds) Lifespan developmental psychology. Hillsdale NJ, Earlbaum, pp 45–64

Schmitt M, Altstötter-Gleich C, Hinz A, Maes J, Brähler E (2006) Norms for the simplified Beck depression inventory (BDI-V) in a non-clinical population. Diagnostica 52:51–59. doi:10.1026/0012-1924.52.2.51 German

Siegrist J, Starke D, Chandola T, Godin I, Marmot M, Niedhammer I, Peter R (2004) The measurement of effort-reward imbalance at work: European comparisons. Soc Sci Med 58:1483–1499. doi:10.1016/S0277-9536(03)00351-4

Thompson ER (2007) Development and validation of an internationally reliable short-form of the positive and negative affect schedule (PANAS). J Cross Cult Psychol 38:227–242. doi:10.1177/0022022106297301

Tsutsumi A, Kawanami S, Horie S (2012) Effort-reward imbalance and depression among private practice physicians. Int Arch Occup Environ Health 85:153–161. doi:10.1007/s00420-011-0656-1

Van Vegchel N, de Jonge J, Bosma H, Schaufeli WB (2005) Reviewing the effort-reward imbalance model: drawing up the balance of 45 empirical studies. Soc Sci Med 60:1117–1131. doi:10.1016/j.socscimed.2004.06.043

Veiel HO (1990) The Mannheim interview on social support. reliability and validity data from three samples. Soc Psychiatry Psychiatr Epidemiol 25:250–259. doi:10.1007/BF00788646
Acknowledgments
The authors thank the lidA-study group for good co-operation which has built the ground on which this analysis has been performed. We thank the sponsor, the German Federal Ministry of Education and Research for funding (FKZ 01ER0827, 01ER0825, 01ER0806, 01ER0826). We thank also the Pearson Assessment & Information GmbH for giving the permission for using the BDI-V-questionnaire.
Conflict of interest
The authors declare that they have no conflict of interest.
Additional information
§ leben in der Arbeit (English: living at work).
About this article
Cite this article
du Prel, JB., Iskenius, M. & Peter, R. Are effort–reward imbalance and social isolation mediating the association between education and depressiveness? Baseline findings from the lidA§-study. Int J Public Health 59, 945–955 (2014). https://doi.org/10.1007/s00038-014-0613-3
Received:

Revised:

Accepted:

Published:

Issue Date:

DOI: https://doi.org/10.1007/s00038-014-0613-3
Keywords