Abstract
Objectives
Poor housing conditions experienced by many Indigenous peoples threaten their health and well-being. This study examines whether household crowding is associated with poorer psychosocial health among Greenlanders, and the mediating role of social support. It also assesses whether Inuit men and women are differently influenced by their housing conditions.
Methods
Data on more than 3,000 Inuit aged 18 years and older are from the Inuit health in transition Greenland survey. Associations between household crowding and composition, and mental well-being and binge drinking were examined using logistic regression models, adjusting for individuals' characteristics.
Results
Household crowding was associated with poorer mental well-being. Binge drinking was more common among people living in households without children. These effects were more important for women than for men. The association between household crowding and mental well-being was significantly mediated by social support. This suggests that having a strong social network may buffer the deleterious impacts of household crowding.
Conclusions
Targeting housing conditions and fostering social support as part of population health interventions might contribute to improving psychosocial health and well-being in Greenland.
This is a preview of subscription content, log in to check access.
Access options
Buy single article
Instant access to the full article PDF.
US$ 39.95
Price includes VAT for USA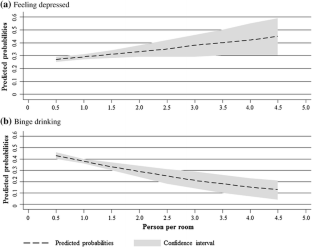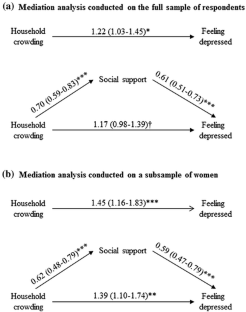 References
Australian Government Department of Families Housing Community Services and Indigenous Affairs (2013) Footprints in time: the longitudinal study of Indigenous children. Report from Wave 4. Available at: http://www.dss.gov.au/our-responsibilities/Indigenous-australians/publications-articles/families-children/footprints-in-time-the-longitudinal-study-of-Indigenous-children-lsic/key-summary-report-from-wave-4

Bailie RS, Wayte KJ (2006) Housing and health in Indigenous communities: key issues for housing and health improvement in remote Aboriginal and Torres Strait Islander communities. Aust J Rural Health 14:178–183

Banerji A, Greenberg D, White L, Macdonald W, Saxton A, Thomas E et al (2009) Risk factors and viruses associated with hospitalization due to lower respiratory tract infections in Canadian Inuit children : a case–control study. Pediatr Infect Dis J 28:1–5

Bjerregaard P (2010) Inuit health in transition—Greenland survey 2005–2009. Population sample and survey methods. http://www.si-folkesundhed.dk/upload/metoderapport_endelig.pdf. Accessed 2 Sep 2014

Bjerregaard P, Curtis T (2002) Cultural change and mental health in Greenland: the association of childhood conditions, language, and urbanization with mental health and suicidal thoughts among the Inuit of Greenland. Soc Sci Med 54:33–48

Bjerregaard P, Dahl-Petersen I (2008) Befolkningsundersøgelsen i Grønland 2005–2007 (Population health survey in Greenland 2005–2007. In Danish). National Institute of Public health, Writings on Greenland, Copenhagen

Bjerregaard P, Stensgaard T (2008) Greenland. In: Young TK, Bjerregaard P (eds) Health transitions in Arctic populations University of Toronto Press. Canada, Toronto, pp 23–38

Bjerregaard P, Berner J, Odland JO (2008) Environment and living conditions. In: Young TK, Bjerregaard P (eds) Health transitions in Arctic populations University of Toronto Press. Canada, Toronto, pp 23–38

Clark M, Riben P, Nowgesic E (2002) The association of housing density, isolation and tuberculosis in Canadian First Nations communities. Int J Epidemiol 31:940–943

Cohen S, Syme LS (eds) (1985) Social support and health. Academic Press, San Diego

Dawson PC (2006) Seeing like an Inuit family: the relationship between house form and culture in northern Canada. Inuit Studies 30:113–135

Dunn JR (2002) Housing and inequalities in health: a study of socioeconomic dimensions of housing and self reported health from a survey of Vancouver residents. J Epidemiol Community Health 56:671–681

Evans GW (1979) Behavioral and physiological consequences of crowding in humans. Appl Soc Psychol 9:27–46

Evans GW, Wells NM, Moch A (2003) Housing and mental health: a review of the evidence and a methodological and conceptual critique. J Social Issues 59:475–500

Gabe J, Williams P (1986) Is space bad for your health? The relationship between crowding in the home and emotional distress in women. Sociol Health Ill 8:351–371

Goldberg DP, Williams P (1988) The user's guide to the General Health Questionnaire, 1st edn. Windsor, United Kingdom

Gove WR, Hughes M (1983) Overcrowding in the household: an analysis of determinants and effects. Academic Press, New York

Gracey M, King M (2009) Indigenous health part 1: determinants and disease patterns. Lancet 374:65–75

Griffin J, Fuhrer R, Stansfeld S, Marmot M (2002) The importance of low control at work and home on depression and anxiety: do these effects vary by gender and social class? Soc Sci Med 54:738–798

Hansen KG, Bitsch S, Zalkind L (2013) Urbanization and the role of housing in the present development process in the Arctic. Nordic Center for Spatial Development, Stockholm, Sweden. Available at: http://www.nordregio.se/en/Publications/Publications-2013/Urbanization-and-the-role-of-housing-in-the-present-development-process-in-the-Arctic/

Healey GK, Meadows LM (2007) Inuit women's health in Nunavut, Canada: a review of the literature. Int J Circumpolar Health 66:199–214

Kearns A, Whitley E, Mason P, Petticrew M, Hoy C (2011) Material and meaningful homes: mental health impacts and psychosocial benefits of rehousing to new dwellings. Int J Public Health 56:597–607

Kirmayer LJ, Guthrie Valaskakis G (eds) (2009) Healing traditions. The mental health of aboriginal peoples in Canada. UBC Press, Vancouver

Koch A, Sorensen P, Homoe P, Mølbak K, Pedersen FK, Mortensen T et al (2002) Population-based study of acute respiratory infections in children, Greenland. Emerg Infect Dis 8:586–593

Kovesi T, Gilbert N, Stocco C, Fugler D, Dales R, Guay M et al (2007) Indoor air quality and the risk of lower respiratory tract infections in young Canadian Inuit children. CMAJ 177:155–160

Larcombe L, Nickerson P, Singer M, Robson R, Dantouze J, McKay L et al (2011) Housing conditions in 2 Canadian first nations communities. Int J Circumpolar Health 70:141–153

Lauster N, Tester F (2010) Culture as a problem in linking material inequality to health: on residential crowding in the Arctic. Health Place 16:523–530

Lear SA, Teo K, Gasevic D, Zhang X, Poirier PP, Rangarajan S et al (2014) The association between ownership of common household devices and obesity and diabetes in high, middle and low income countries. CMAJ 186:258–266

Lepore S, Evans G, Schneider M (1991) Dynamic role of social support in the link between chronic stress and psychological distress. J Pers Soc Psychol 61:899–909

Lynge I, Munk-Jørgensen P, Pedersen A, Mulvad G, Bjerregaard P (2003) Psykisk helbred hos patienter i Grønlands sundhedsvæsen (Mental health among patients in Greenland. In Danish). National Institute of Public Health, Copenhagen

MacKinnon DP, Dwyer JH (1993) Estimating mediated effects in prevention studies. Eval Rev 17:144–158

Memmott P, Birdsall-Jones C, Go-Sam C, Greenop K, Vanessa Corunna V (2011) Modelling crowding in Aboriginal Australia. Australian Housing and Urban Research Institute. Queensland Research Centre and Western Australia Research Centre. AHURI Positioning Paper No. 141

Minich K, Saudny H, Lennie C, Wood M, Williamson-Bathory L, Cao Z et al (2011) Inuit housing and homelessness: results from the international polar year Inuit health survey 2007–2008. Int J Circumpolar Health 70:520–531

PAARISA (2011) Mid-term evaluation and status report 2010. Evaluation report for 'Early intervention in pregnant families' (Danish only). Government of Greenland. Available at: http://www.paarisa.gl/media/18450/midtvejsevaluering_2010_tidlig_indsats.pdf. Accessed 2 Sep 2014

Regoeczi WC (2008) Crowding in context: an examination of the differential responses of men and women to high-density living environments. J Health Soc Behav 49:254–268

Richmond CAM (2009) The social determinants of Inuit health: a focus on social support in the Canadian Arctic. Int J Circumpolar Health 68:471–487

Richmond CAM, Ross NA, Egeland GM (2007) Social support and thriving health: a new approach to understanding the health of Indigenous Canadians. Am J Public Health 97:1827–1833

Riva M, Plusquellec P, Juster RP, Laouan-Sidi EA, Abdous B, Lucas M et al (2014) Household crowding is associated with higher allostatic load among Inuit. J Epidemiol Community Health 68:363–369

Shepherd CC, Li J, Mitrou F, Zubrick SR (2012) Socioeconomic disparities in the mental health of Indigenous children in Western Australia. BMC Public Health 12:756

Siegrist J, Marmot M (2004) Health inequalities and the psychosocial environment-two scientific challenges. Soc Sci Med 58:1463–1473

Søborg B, Andersen AB, Melbye M, Wohlfahrt J, Andersson M, Biggar RJ et al (2011) Risk factors for Mycobacterium tuberculosis infection among children in Greenland. Bull World Health Org 89:741–748

StataCorp (2010) Stata/SE 11.0 for Windows. College station, TX, USA

Statistics Greenland (2013) Greenland in figures 2013. Statistics Greenland. Available at: http://www.nordregio.se/en/Publications/Publications-2011/Megatrends/

Stern P (2005) Wage labor, housing policy, and the nucleation of Inuit households. Arctic Anthropology 42:66–81

Waldram JB, Herring DA, Young TK (2006) Aboriginal health in Canada: historical, cultural, and epidemiological perspectives, 2nd edn. University of Toronto Press, Toronto

Wechsler H, Nelson T (2001) Binge drinking and the American college student: what's five drinks? Psychol Addict Behav 15:287–291

Wells NM, Harris JD (2007) Housing quality, psychological distress, and the mediating role of social withdrawal: a longitudinal study of low-income women. J Environ Psychol 27:69–78

Young TK, Bjerregaard P (2008) Health transitions in Arctic populations. University of Toronto Press, Toronto
Acknowledgments
Financial support was received from Karen Elise Jensen's foundation, NunaFonden and the Danish Medical Research Council. MR's initial work on this paper was supported by a Banting postdoctoral fellowship awarded from the Canadian Institutes of Health Research (funding reference number: BPF-112930). We would like to thank the participants who gave their time to be involved in this study. We also acknowledge the useful comments of two anonymous reviewers.
Electronic supplementary material
Below is the link to the electronic supplementary material.
About this article
Cite this article
Riva, M., Larsen, C.V.L. & Bjerregaard, P. Household crowding and psychosocial health among Inuit in Greenland. Int J Public Health 59, 739–748 (2014). https://doi.org/10.1007/s00038-014-0599-x
Received:

Revised:

Accepted:

Published:

Issue Date:
Keywords
Indigenous health

Inuit

Housing

Crowding

Psychosocial health

Greenland