Abstract
Objectives
To explore the feasibility of using a simple multi-criteria decision analysis method with policy makers/key stakeholders to prioritize cardiovascular disease (CVD) policies in four Mediterranean countries: Palestine, Syria, Tunisia and Turkey.
Methods
A simple multi-criteria decision analysis (MCDA) method was piloted. A mixed methods study was used to identify a preliminary list of policy options in each country. These policies were rated by different policymakers/stakeholders against pre-identified criteria to generate a priority score for each policy and then rank the policies.
Results
Twenty-five different policies were rated in the four countries to create a country-specific list of CVD prevention and control policies. The response rate was 100 % in each country. The top policies were mostly population level interventions and health systems' level policies.
Conclusions
Successful collaboration between policy makers/stakeholders and researchers was established in this small pilot study. MCDA appeared to be feasible and effective. Future applications should aim to engage a larger, representative sample of policy makers, especially from outside the health sector. Weighting the selected criteria might also be assessed.
Access options
Buy single article
Instant access to the full article PDF.
USD 39.95
Price excludes VAT (USA)
Tax calculation will be finalised during checkout.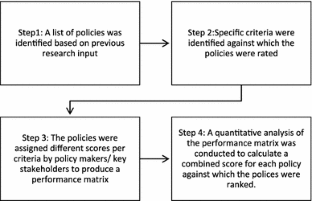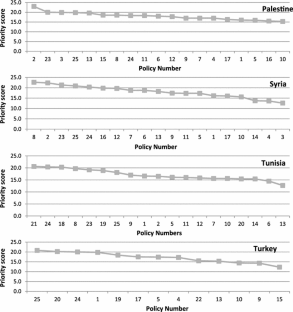 References
Abu-Rmeileh N, Shoaibi A, O'Flaherty M, Capewell S, AH (2012) Analysing falls in coronary heart disease mortality in the West Bank between 1998 and 2009. BMJ Open 2:e001061

AHPSR (2004) Strengthening health systems: the role and promise of policy and systems research. Alliance for Health Policy and Systems Research, Geneva

Baltussen R, Niessen L (2006) Priority setting of health interventions: the need for multi-criteria decision analysis. Cost Eff Resour Alloc 4:14

Baltussen R, Stolk E, Chisholm D, Aikins M (2006) Towards a multi-criteria approach for priority setting: an application to Ghana. Health Econ 15(7):689–696

Baltussen R, ten Asbroek AHA, Koolman X, Shrestha N, Bhattarai P, Niessen LW (2007) Priority setting using multiple criteria: should a lung health programme be implemented in Nepal? Health Policy Plann 22(3):178–185

Bots PWG, Hulshof JAM (2000) Designing multi-criteria decision analysis processes for priority setting in health policy. J Multi Criteria Decis Anal 9(1–3):56–75

Bowman S, Unwin N, Critchley J, Capewell S, Husseini A, Maziak W, Zaman S, Ben Romdhane H, Fouad F, Phillimore P, Unal B, Khatib R, Shoaibi A, Ahmad B (2012) Use of evidence to support healthy public policy: a policy effectiveness-feasibility loop. Bull World Health Org 90(11):847–853

Epping-Jordan JE, Galea G, Tukuitonga C, Beaglehole R (2005) Preventing chronic diseases: taking stepwise action. The Lancet 366(9497):1667–1671

Gibson JL, Martin DK, Singer PA (2004) Setting priorities in health care organizations: criteria, processes, and parameters of success. BMC Health Serv Res 4(1):25

Jabbour S, Giacaman R, Khawaja M, Nuwayhid I (eds) (2012) Public health in the Arab World, 1st edn. Cambridge University Press, New York

Kapiriri L, Norheim OF (2004) Criteria for priority-setting in health care in Uganda: exploration of stakeholders' values. Bull World Health Org 82:172–179

Koopmanschap MA, Stolk EA, Koolman X (2010) Dear policy maker: have you made up your mind? A discrete choice experiment among policy makers and other health professionals. Int J Technol Assess Health Care 26(02):198–204

Marmot M (2005) Social determinants of health inequalities. Lancet 365(9464):1099–1104

Maziak W, Critchley J, Zaman S, Unwin N, Capewell S, Bennett K, Unal B, Husseini A, Romdhane HB, Phillimore P (2013) Mediterranean studies of cardiovascular disease and hyperglycemia: analytical modeling of population socio-economic transitions (MedCHAMPS)-rationale and methods. Int J Public Health 58(4):547–553

Mendis S, Alwan A (2011) A prioritized research agenda for prevention and control of noncommunicable diseases. World Health Organization, Geneva

Miranda JJ, Kinra S, Casas JP, Davey Smith G, Ebrahim S (2008) Non-communicable diseases in low- and middle-income countries: context, determinants and health policy. Trop Med Int Health 13(10):1225–1234

Phillimore P, Zaman S, Ahmad B, Shoaibi A, Khatib R, Khatib R, Husseini A, Fouad F, Elias M, Maziak W, Tlili F, Tinsa F, Ben Romdhane H, Kılıç B, Kalaça S, Ünal B, Critchley J (2013) Health system challenges of cardiovascular disease and diabetes in four Eastern Mediterranean countries. Glob Public Health 8(8):875–889

Rudan I, Gibson JL, Ameratunga S, El Arifeen S, Bhutta ZA, Black M, Black RE, Brown KH, Campbell H, Carneiro I, Chan KY, Chandramohan D, Chopra M, Cousens S, Darmstadt GL, Meeks Gardner J, Hess SY, Hyder AA, Kapiriri L, Kosek M, Lanata CF, Lansang MA, Lawn J, Tomlinson M, Tsai AC, Webster J (2008) Setting priorities in global child health research investments: guidelines for implementation of CHNRI method. Croat Med J 49(6):720–733

Ryan M (2004) Discrete choice experiments in health care. BMJ 328(7436):360–361

Viergever RF, Olifson S, Ghaffar A, Terry RF (2010) A checklist for health research priority setting: nine common themes of good practice. Health Res Policy Syst 8:36

WHO (2011) Global status report on noncommunicable diseases 2010. World Health Organization, Geneva

World Economic Forum (2011) From burden to "best buys": reducing the economic impact of non-communicable diseases in low- and middle-income Countries. World Economic Forum and World Health Organization

World Health Organization (2008) 2008–2013 action plan for the global strategy for the prevention and control of noncommunicable diseases. WHO

World Health Organization (2011) Global status report on noncommunicable diseases 2010. World Health Organization, Geneva

Youngkong S, Baltussen R, Tantivess S, Mohara A, Teerawattananon Y (2012a) Multicriteria decision analysis for including health interventions in the universal health coverage benefit package in Thailand. Value Health 15(6):961–970

Youngkong S, Teerawattananon Y, Tantivess S, Baltussen R (2012b) Multi-criteria decision analysis for setting priorities on HIV/AIDS interventions in Thailand. Health Res Policy Syst 10:6
Acknowledgments
This research received funding from the European Community's Seventh Framework Programme (FP7/2007–2013) under Grant Agreement No. 223075—the MedCHAMPS project. We also would like to thank the MedCHAMPS working teams (The MedCHAMPS project team comprises: Julia Critchley (St Georges, University of London and Newcastle University, UK), Balsam Ahmad, Peter Phillimore, Shahaduz Zaman (Newcastle University, UK), Simon Capewell, Martin O'Flaherty, Mukesh Dherani (University of Liverpool, UK), Illonca Vartjes (University of Liverpool, UK, and University of Utrecht, NL), Kathleen Bennett (Trinity College Dublin, Ireland), Deniz Altun, Hale Arık, Özgür Aslan, Yücel Demiral, Sinem Doganay, Gül Ergör, Gül Gerçeklioğlu, Bülent Kilic, Gül Saatli, Hatice Şimşek, Kaan Sözmen, Belgin Unal (Dokuz Eylul University, Turkey), Ilhan Satman (Istanbul Faculty of Medicine, Istanbul, Turkey), Sibel Göğen (Primary Health Care General Directorate, Turkish Ministry of Health, Turkey), Sibel Kalaca (Marmara University, Istanbul, Turkey) Radwan Al Ali, Madonna Elias, Fouad Fouad, Samer Rastam, Nesrien Soulaiman, Ghmaez Moukeh (Syrian Center for Tobacco Studies, Aleppo, Syria) Wasim Maziak (Syrian Center for Tobacco Studies, Aleppo, Syria and Florida International University, Miami, US) Maher Abou Mayaleh (Aga Khan Foundation, Hama, Syria), Niveen Abu-Rmeileh, Rula Ghandour, Abdullatif Husseini, Samer Jaber, Rana Khatib, Rasha Khatib, Nahed Mikki, Azza Shoaibi (Birzeit University, Birzeit, oPt), Heidar Abu-Kteish (Palestinian Medical Relief Society, oPt), Waffa Aissi, Riadh Allani, Chokra Arfa, Latifa Beltaifa, Nadia Ben Mansour, Habiba Ben Romdhane, Olfa Lassoued, Olfa Saidi, Faten Tlili (Cardiovascular Epidemiology and Prevention Research Laboratory, Tunis, Tunisia) Nourredine Achour (Institut National de Santé Publique, Tunis, Tunisia), Nabil Ben Salah (Research Department, Ministry of Health, Tunisia), Helen Mason, Marissa Collins (Glasgow Caledonian University, UK), Gojka Roglic (WHO Geneva, Switzerland), Ibtihal Fadhil (Regional Adviser NCDs, WHO EMRO, Cairo, Egypt), Nigel Unwin (Newcastle University and University of the West Indies, Georgetown, Barbados).
Additional information
This article is part of the supplement "The rising burden of noncommunicable diseases in four Mediterranean countries and potential solutions".
Electronic supplementary material
Below is the link to the electronic supplementary material.
About this article
Cite this article
Ghandour, R., Shoaibi, A., Khatib, R. et al. Priority setting for the prevention and control of cardiovascular diseases: multi-criteria decision analysis in four eastern Mediterranean countries. Int J Public Health 60 (Suppl 1), 73–81 (2015). https://doi.org/10.1007/s00038-014-0569-3
Received:

Revised:

Accepted:

Published:

Issue Date:

DOI: https://doi.org/10.1007/s00038-014-0569-3
Keywords