Abstract
Objectives
This study investigated whether computer use is associated with health symptoms through sleep duration among 15-year olds in Finland, France and Denmark.
Methods
We used data from the WHO cross-national Health Behaviour in School-aged Children study collected in Finland, France and Denmark in 2010, including data on 5,402 adolescents (mean age 15.61 (SD 0.37), girls 53 %). Symptoms assessed included feeling low, irritability/bad temper, nervousness, headache, stomachache, backache, and feeling dizzy. We used structural equation modeling to explore the mediating effect of sleep duration on the association between computer use and symptom load.
Results
Adolescents slept approximately 8 h a night and computer use was approximately 2 h a day. Computer use was associated with shorter sleep duration and higher symptom load. Sleep duration partly mediated the association between computer use and symptom load, but the indirect effects of sleep duration were quite modest in all countries.
Conclusions
Sleep duration may be a potential underlying mechanism behind the association between computer use and health symptoms.
Access options
Buy single article
Instant access to the full article PDF.
US$ 39.95
Tax calculation will be finalised during checkout.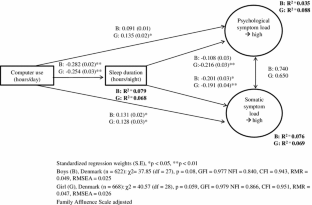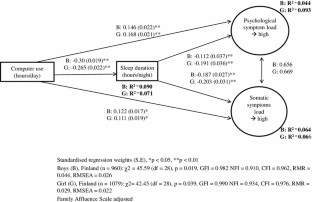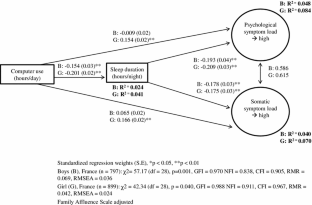 References
Adam EK, Snell EK, Pendry P (2007) Sleep timing and quantity in ecological and family context: a nationally representative time-diary study. J Fam Psychol 21(1):4–19

Alexander LM, Currie C (2004) Young people's computer use: implications for health education. Health Educ 104(4):254–261

American Academy of Pediatrics Committee on Public Education (2001) Children, adolescents, and television. Pediatrics 107(2):423–426

Amichai-Hamburger Y, Ben-Artzi E (2003) Loneliness and internet use. Comput Hum Behav 19:71–80

Arbuckle JL (2006) Amos (Version 7.0) [Computer Program]. SPSS, Chicago

Barlett ND, Gentile DA, Barlett CP, Eisenmann JC, Walsh DA (2012) Sleep as a mediator of screen time effects on US children's health outcomes. J Child Media 6:37–50

Block JJ (2008) Issues for DSM-V: internet addiction. Am J Psychiatry 165(3):306–307

Cajochen C, Frey S, Anders D, Späti J, Bues M, Pross A, Mager R, Wirz-Justice A, Stefani O (2011) Evening exposure to a light-emitting diodes (LED)-backlit computer screen affects circadian physiology and cognitive performance. J Appl Physiol 110:1432–1438

Carskadon MA (2011) Sleep in adolescents: the perfect storm. Pediatr Clin N Am 58:637–647

Curcio G, Ferrara M, De Gennaro L (2006) Sleep loss, learning capacity and academic performance. Sleep Med Rev 10:323–337

Currie C, Molcho M, Boyce W, Holstein BE, Tornheim T, Richter M (2008) Researching health inequalities in adolescents: the development of the health behaviour in school-aged children (HBSC) family affluence scale. Soc Sci Med 66:1429–1436

Currie C, Zanotti C, Morgan A, Currie D, Looze M, Roberts C, Samdal O, Smith ORF, Barnekow V (2012). Social determinants of health and well-being among young people. Health behavior in school-aged children (HBSC) study: International report from the 2009/2010 survey (No. 6)

Gini G, Pozzoli T (2009) Association between bullying and psychosomatic problems: a meta-analysis. Pediatrics 123:1059–1065

Hanson MD, Chen E (2007) Socioeconomic status and health behaviors in adolescence: a review of the literature. J Behav Med 30:263–285

Haugland S, Wold B (2001) Subjective health complaints in adolescence—reliability and validity of survey methods. J Adolesc 24:611–624

Hetland J, Torsheim T, Aarø LE (2002) Subjective health complaints in adolescence: dimensional structure and variation across gender and age. Scand J Public Health 30:223–230

Higuchi S, Motohashi Y, Liu Y, Maeda A (2005) Effects of playing a computer game using a bright display on presleep physiological variables, sleep latency, slow wave sleep and REM sleep. J Sleep Res 14(3):267–273

Kautiainen S, Koivusilta L, Lintonen T, Virtanen SM, Rimpelä A (2005) Use of information and communication technology and prevalence of overweight and obesity among adolescents. Int J Obes 29(8):925–933

Kim EJ, Dimsdale JE (2007) The effect of psychosocial stress on sleep: a review of polysomnographic evidence. Behav Sleep Med 5:256–278

Koivusilta LK (2007) Orientations in adolescent use of information and communication technology: a digital divide by sociodemographic background, educational career, and health. Scand J Public Health 35(1):95

Leger D, Beck F, Richard J-B, Godeau E (2012) Total sleep time severely drops during adolescence. PLoS One 7:e45204

Li S, Zhu S, Jin X, Yan C, Wu S, Jiang F, Shen X (2010) Risk factors associated with short sleep duration among Chinese school-aged children. Sleep Med 11(9):907–916

Mentzoni RA, Brunborg GS, Molde H, Myrseth H, Skouveroe KJ, Hetland J, Pallesen S (2011) Problematic video game use: estimated prevalence and associations with mental and physical health. Cyberpsychology Behav Soc Netw 14(10):591–596

Nixon GM, Thompson JMD, Han DY, Becroft DMO, Clark PM, Robinson E, Waldie KE, Wild CJ, Black PN, Mitchell EA (2009) Falling asleep: The determinants of sleep latency. Arch Dis Child 94:686–689

Ohannessian C (2009) Media use and adolescent psychological adjustment: an examination of gender differences. J Child Fam Stud 18(5):582–593

Owens J, Maxim R, McGuinn M, Nobile C, Msall M (1999) Television viewing habits and sleep disturbance in school children. Pediatrics 104(3):e27–e34

Penedo FJ, Dahn JR (2005) Exercise and well-being: a review of mental and physical health benefits associated with physical activity. Behav Med 18:189–193

Punamäki R, Wallenius M, Nygård C, Saarni L, Rimpelä A (2007) Use of information and communication technology (ICT) and perceived health in adolescence: the role of sleeping habits and waking-time tiredness. J Adolesc 30(4):569–585

Ravens-Sieberer U, Erhart M, Wille N, Wetzel R, Nickel J, Nickel J, Bullinger M (2006) Generic health-related quality-of-life assessment in children and adolescents: methodological considerations. Pharmacoeconomics 24:1199–1220

Rideout VJ, Foehr UG, Roberts DF (2010) Generation M2 media in the lives of 8- to 18-year-olds. Kaiser Family Foundation, Menlo Park

Roberts C, Freeman J, Samdal O, Schnohr CW, de Looze ME, Gabhainn SN, Iannotti R, Rasmussen M, The International HBSC Study Group (2009a) The health behaviour in school-aged children (HBSC) study: methodological developments and current tensions. Intl J Public Health 54:140–150

Roberts RE, Roberts CR, Duong HT (2009b) Sleepless in adolescence: prospective data on sleep deprivation, health and functioning. J Adolesc 32:1045–1057

Russ SA, Larson K, Franke TM, Halfon N (2009) Associations between media use and health in US children. Acad Pediatr 9(5):300–306

Schermelleh-Engel K, Moosbrugger H, Müller H (2003) Evaluating the fit of structural equation models: tests of significance and descriptive goodness-of-fit measures. Methods Psychol Res Online 8:23–74

Schmitz KH, Harnack L, Fulton JE, Jacobs DR, Gao S, Lytle LA, Van Coevering P (2004) Reliability and validity of a brief questionnaire to assess television viewing and computer use by middle school children. J Sch Health 74:370–377

Schreck KA, Richdale AL (2011) Knowledge of childhood sleep: a possible variable in under or misdiagnosis of childhood sleep problems. J Sleep Res 10:1365–1367

Short MA, Gradisar M, Wright H, Lack LC, Dohnt H, Carskadon MA (2011) Time for bed: parent-set bedtimes associated with improved sleep and daytime functioning in adolescents. Sleep 34:797–800

Van den Bulck J (2004) Television viewing, computer game playing, and internet use and self-reported time to bed and time out of bed in secondary-school children. Sleep 27(1):101–104

Westerlund L, Ray C, Roos E (2009) Associations between sleeping habits and food consumption patterns among 10–11-year-old children in Finland. Br J Nutr 102:1531–1537

Wolfson AR, Carskadon MA, Acebo C, Seifer R, Fallone G, Labyak SE, Martin JL (2003) Evidence for the validity of a sleep habits survey for adolescents. Sleep 26(2):213–216

Wolk R, Gami AS, Garcia-Touchard A, Somers VK (2005) Sleep and cardiovascular disease. Curr Probl Cardiol 30:625–662
Acknowledgments
This study is based on the WHO supported Health Behaviour among School-aged Children Study (HBSC). We thank the International Coordinator of the 2009/2010 study, Candace Currie, University of Edinburgh, Scotland, and the Data Bank Manager, Oddrun Samdal, University of Bergen, Norway. In addition, we also thank the Juho Vainio Foundation for funding this study.
About this article
Cite this article
Nuutinen, T., Roos, E., Ray, C. et al. Computer use, sleep duration and health symptoms: a cross-sectional study of 15-year olds in three countries. Int J Public Health 59, 619–628 (2014). https://doi.org/10.1007/s00038-014-0561-y
Received:

Revised:

Accepted:

Published:

Issue Date:
Keywords
Adolescent

Computer use

Sleep duration

Symptoms

Survey