Abstract
Objectives
Smoking is related to income and education and contributes to social inequality in morbidity and mortality. Socialisation theories focus on one's family of origin as regards acquisition of norms, attitudes and behaviours. Aim of this study is to assess associations of daily smoking with health orientation and academic track in young Swiss men. Further, to assess associations of health orientation and academic track with family healthy lifestyle, parents' cultural capital, and parents' economic capital.
Methods
Cross-sectional data were collected during recruitment for compulsory military service in Switzerland during 2010 and 2011. A structural equation model was fitted to a sample of 18- to 25-year-old Swiss men (N = 10,546).
Results
Smoking in young adults was negatively associated with academic track and health orientation. Smoking was negatively associated with parents' cultural capital through academic track. Smoking was negatively associated with health orientation which in turn was positively associated with a healthy lifestyle in the family of origin.
Conclusions
Results suggest two different mechanisms of intergenerational transmissions: first, the family transmission path of health-related dispositions, and secondly, the structural transmission path of educational inequality.
Access options
Buy single article
Instant access to the full article PDF.
USD 39.95
Price excludes VAT (USA)
Tax calculation will be finalised during checkout.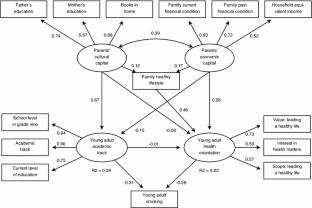 References
Abel T (2008) Cultural capital and social inequality in health. J Epidemiol Commun Health 62(7):e13. doi:10.1136/jech.2007.066159

Anand P, van Hees M (2006) Capabilities and achievements: an empirical study. J Socio Econ 35:268–284. doi:10.1016/j.socec.2005.11.003

Bourdieu P (1984) Distinction: a social critique of the judgement of taste. Harvard University Press, Cambridge

Bourdieu P (1986) The forms of capital. In: Richardson JG (ed) Handbook of theory and research for the sociology of education. Greenwood Press, New York, pp 241–258

Brown TA (2006) Confirmatory factor analysis for applied research. Methodology in the social sciences. Guilford Press, New York

Buchmann M, Sacchi S, Lamprecht M, Stamm H (2007) Switzerland: tertiary education expansion and social inequality. In: Shavit Y, Arum R, Gamoran A (eds) Stratification in higher education: a comparative study. Stanford University Press, Stanford, pp 321–348

Cockerham WC (2005) Health lifestyle theory and the convergence of agency and structure. J Health Soc Behav 46(1):51–67. doi:10.1177/002214650504600105

Dermota P, Wang J, Dey M, Gmel G, Studer J, Mohler-Kuo M (2013) Health literacy and substance use in young Swiss men. Int J Public Health. doi:10.1007/s00038-013-0487-9

Enders CK (2010) Applied missing data analysis. Guilford Press, New York

Evans MDR, Kelley J, Sikora J, Treiman DJ (2010) Family scholarly culture and educational success: books and schooling in 27 nations. Res Soc Strat Mob 28(2):171–197. doi:10.1016/j.rssm.2010.01.002

Galobardes B, Lynch JW, Davey Smith G (2004) Childhood socioeconomic circumstances and cause-specific mortality in adulthood: systematic review and interpretation. Epidemiol Rev 26:7–21. doi:10.1093/epirev/mxh008

Hanson MD, Chen E (2007) Socioeconomic status and health behaviors in adolescence: a review of the literature. J Behav Med 30(3):263–285. doi:10.1007/s10865-007-9098-3

Hofmann K, Schori D, Abel T (2013) Self-reported capabilities among young male adults in Switzerland: translation and psychometric evaluation of a German, French and Italian version of a closed survey instrument. Soc Ind Res 114(2):723–738. doi:10.1007/s11205-012-0170-1

Huisman M, Van Lenthe FJ, Giskes K, Kamphuis CBM, Brug J, Mackenbach JP (2012) Explaining socio-economic inequalities in daily smoking: a social-ecological approach. Eur J Public Health 22(2):238–243. doi:10.1093/eurpub/ckr039

Iversen A, Holsen I (2008) Inequality in health, psychosocial resources and health behavior in early adolescence: the influence of different indicators of socioeconomic position. Child Ind Res 1(3):291–302. doi:10.1007/s12187-008-9015-5

Jackson C, Dickinson D (2011) Anti-smoking parenting practices: recall by and effect on children's risk of smoking after 3 years. Int J Public Health 56(3):263–270. doi:10.1007/s00038-010-0227-3

Keller R, Radtke T, Krebs H, Hornung R (2011) Der Tabakkonsum der Schweizer Wohnbevölkerung in den Jahren 2001 bis 2010 [Tobacco consumption of Swiss residents in the years 2001 to 2010]. Universität Zürich, Psychologisches Institut, Zürich

Kestila L, Martelin T, Rahkonen O, Härkänen T, Koskinen S (2009) The contribution of childhood circumstances, current circumstances and health behaviour to educational health differences in early adulthood. BMC Public Health 9:164. doi:10.1186/1471-2458-9-164

Koivusilta LK, Rimpela AH, Rimpela MK (1998) Health related lifestyle in adolescence predicts adult educational level: a longitudinal study from Finland. J Epidemiol Commun Health 52(12):794–801. doi:10.1093/her/14.3.339

Krieger N, Okamoto A, Selby JV (1998) Adult female twins' recall of childhood social class and father's education: a validation study for public health research. Am J Epidemiol 147(7):704–708

Kvaavik E, Glymour M, Klepp K-I, Tell GS, Batty GD (2012) Parental education as a predictor of offspring behavioural and physiological cardiovascular disease risk factors. Eur J Public Health 22(4):544–550. doi:10.1093/eurpub/ckr106

Laaksonen M, Roos E, Rahkonen O, Martikainen P, Lahelma E (2005) Influence of material and behavioural factors on occupational class differences in health. J Epidemiol Commun Health 59(2):163–169. doi:10.1136/jech.2003.019323

Lahelma E (2005) Health and social stratification. In: Cockerham WC (ed) The Blackwell companion to medical sociology. Blackwell, Malden, pp 64–93

Lau RS, Cheung GW (2010) Estimating and comparing specific mediation effects in complex latent variable models. Org Res Methods 15(1):3–16. doi:10.1177/1094428110391673

Michaud PA, Berchtold A, Jeannin A, Chossis I, Suris JC (2006) Secular trends in legal and illegal substance use among 16 to 20 year old adolescents in Switzerland. Swiss Med Wkly 136(19–20):318–326

Muthén LK, Muthén BO (1998–2010) Mplus user's guide. Muthén & Muthén, Los Angeles

OECD (2010) PISA 2009 results: overcoming social background—equity in learning opportunities and outcomes (Volume II). doi:10.1787/9789264091504-en

Paavola M, Vartiainen E, Haukkala A (2004) Smoking from adolescence to adulthood: the effects of parental and own socioeconomic status. Eur J Public Health 14(4):417–421. doi:10.1093/eurpub/14.4.417

Patrick DL, Cheadle A, Thompson DC, Diehr P, Koepsell T, Kinne S (1994) The validity of self-reported smoking: a review and meta-analysis. Am J Public Health 84(7):1086–1093. doi:10.2105/AJPH.84.7.1086

Peto R (1994) Smoking and death: the past 40 years and the next 40. Br Med J 309(6959):937–939. doi:10.1136/bmj.309.6959.937

Power C, Graham H, Due P, Hallqvist J, Joung I, Kuh D, Lynch J (2005) The contribution of childhood and adult socioeconomic position to adult obesity and smoking behaviour: an international comparison. Int J Epidemiol 34(2):335–344. doi:10.1093/ije/dyh394

Radtke T, Keller R, Krebs H, Hornung R (2011) Der Tabakkonsum Jugendlicher und junger Erwachsener in den Jahren 2001 bis 2009/10 [Tobacco consumption of adolescents and young adults in the years 2001 to 2009/10]. Universität Zürich, Psychologisches Institut, Zürich

Richter M, Vereecken C, Boyce W, Maes L, Gabhainn S, Currie C (2009) Parental occupation, family affluence and adolescent health behaviour in 28 countries. Int J Public Health 54(4):203–212. doi:10.1007/s00038-009-8018-4

Shell Deutschland Holding (2006) Jugend 2006. Eine pragmatische Generation unter Druck [Youth 2006. A pragmatic generation under pressure]. Fischer, Frankfurt a. M

Siahpush M, McNeill A, Borland R, Fong GT (2006) Socioeconomic variations in nicotine dependence, self-efficacy, and intention to quit across four countries: findings from the international tobacco control (ITC) four country survey. Tob Control 15(suppl 3):iii71–iii75. doi:10.1136/tc.2004.008763

Singh-Manoux A, Marmot M (2005) Role of socialization in explaining social inequalities in health. Soc Sci Med 60(9):2129–2133. doi:10.1016/j.socscimed.2004.08.070

Stringhini S, Sabia S, Shipley M, Brunner E, Nabi H, Kivimaki M, Singh-Manoux A (2010) Association of socioeconomic position with health behaviors and mortality. JAMA 303(12):1159–1166. doi:10.1001/jama.2010.297

Wardle J, Steptoe A (2003) Socioeconomic differences in attitudes and beliefs about healthy lifestyles. J Epidemiol Commun Health 57(6):440–443. doi:10.1136/jech.57.6.440

Williams SJ (1995) Theorising class, health and lifestyles: can Bourdieu help us? Sociol Health Illn 17:577–605. doi:10.1111/1467-9566.ep10932093
Acknowledgments
This study was supported by a grant from the Swiss National Science Foundation (No. 105313_130068_/1). The study used data from the Swiss Federal Surveys of Adolescents (ch-x), collected by the ch-x research consortium ch-x cc. Project management: Institute for the Management and Economics of Education, University of Teacher Education Central Switzerland Zug: Stephan Huber. Research partners: Institute for Education Evaluation, associated institute of the University of Zurich: Urs Moser; Institute of Social and Preventive Medicine, University of Bern: Thomas Abel; and the Department of Sociology, University of Geneva: Sandro Cattacin.
About this article
Cite this article
Schori, D., Hofmann, K. & Abel, T. Social inequality and smoking in young Swiss men: intergenerational transmission of cultural capital and health orientation. Int J Public Health 59, 261–270 (2014). https://doi.org/10.1007/s00038-013-0537-3
Received:

Revised:

Accepted:

Published:

Issue Date:

DOI: https://doi.org/10.1007/s00038-013-0537-3
Keywords
Smoking

Young adults

Social inequalities

Socialisation theory