Abstract
Objectives
This study investigated the associations between children's screen habits and their consumption of sweetened beverages. Because parents might be disposed to regulate their child's screen and dietary habits in a similar direction, our specific aim was to examine whether these associations were independent of parental norms.
Methods
In the Swedish sample of the European Identification and prevention of dietary and lifestyle-induced health effects in children and infants (IDEFICS) study, parents filled in questionnaires about their 2 to 9-year-old children's (n = 1,733) lifestyle and diets.
Results
Associations between screen habits and sweetened beverage consumption were found independent of parental norms regarding sweetened beverages. A longitudinal analysis revealed that sweetened beverage consumption at 2-year follow-up was predicted by exposure to commercial TV at baseline (OR 1.4, 95 % CI 1.1–1.9). Cross-sectional analysis showed that the likelihood of consuming sweetened beverages at least 1–3 times per week increased for each hour/day watching television (OR 1.5, 95 % CI 1.2–1.9), and for being exposed to commercials (OR 1.6, 95 % CI 1.3–2.1). TV viewing time and commercial exposure contributed to the associations independently of each other.
Conclusions
The results strengthen the assumption that it is possible to influence children's dietary habits through their TV habits.
Access options
Buy single article
Instant access to the full article PDF.
US$ 39.95
Tax calculation will be finalised during checkout.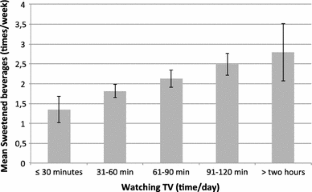 References
Ahrens W, Bamman K, Siani A et al (2011) The IDEFICS cohort: design, characteristics and participation in the baseline survey. Int J Obes 35:S3–S15

Barr-Anderson DJ, Larson NI, Nelson MC, Neumark-Sztainer D, Story M (2009) Does television viewing predict dietary intake five years later in high school students and young adults? Int J Behav Nutr Phys 6:1–8

Boynton-Jarrett R, Thomas TN, Peterson KE, Wiecha J, Sobol AM, Gortmaker SL (2003) Impact of television viewing patterns on fruit and vegetable consumption among adolescents. Pediatrics 112(6):1321–1326

Brekke HK, van Odijk J, Ludvigsson J (2007) Predictors and dietary consequences of frequent intake of high-sugar, low-nutrient foods in 1-year-old children participating in the ABIS study. Br J Nutr 97(1):176–181

Brown RJ, De Banate MA, Rother KI (2010) Artificial Sweeteners: a systematic review of metabolic effects in youth. Int J Pediatr Obes 5:305–312

Cairns G, Angus K, Hastings G (2009) The extent, nature and effects of food promotion to children: a review of the evidence to December 2008. World Health Organization

Cialdini RB, Trost MR (1998) Social influence: Social norms, conformity, and compliance. In: Gilbert DT, Fiski ST, Lindzey G (eds) The handbook of social psychology, vol II, 4th edn. McGraw-Hill, New York, pp 151–160

Cleland VJ, Schmidt MD, Dwyer T, Venn AJ (2008) Television viewing and abdominal obesity in young adults: is the association mediated by food and beverage consumption during viewing time or reduced leisure-time physical activity? Am J Clin Nutr 87:1148–1155

Cole TJ, Bellizzi MC, Flegal KM, Dietz WH (2000) Establishing a standard definition for child overweight and obesity worldwide: international survey. BMJ 320:1–6

Dubois L, Farmer A, Girard M, Peterson K (2008) Social factors and television use during meals and snacks is associated with higher BMI among pre-school children. Public Health Nutr 11(12):1267–1279

Epstein LH, Roemmich JN, Robinson JL et al (2008) A randomized trial of the effects of reducing television viewing and computer use on body mass index in young children. Arch Pediatr Adolesc Med 162(3):239–245

Feldman S, Eisenberg ME, Neumark-Sztainer D, Story M (2007) Associations between watching TV during family meals and dietary intake among adolescents. J Nutr Educ Behav 39:257–263

Giammattei J, Blix G, Marshak HH, Wollitzer AO, Pettitt DJ (2003) Television watching and soft drink consumption. Arch Pediatr Adolesc Med 157:882–886

Hancox RJ, Milne BJ, Poulton R (2004) Association between child and adolescent television viewing and adult health: a longitudinal birth cohort study. Lancet 364:257–262

Hare-Bruun H, Nielsen BM, Kristensen PL, Møller NC, Togo P, Heitmann BL (2011) Television viewing, food preferences, and food habits among children: a prospective epidemiological study. BMC Public Health 11:1–10

Jordan AB, Robinson TN (2008) Children, television viewing, and weight status: summary and recommendations from an expert panel meeting. Ann Am Acad Polit Social Sci 119:119–132

Kelly B, Halford JCG, Boyland EJ et al (2010) Television food advertising to children: a global perspective. Am J Public Health 100(9):1730–1736

Lanfer A, Hebestreit A, Ahrens W et al (2011) Reproducibility of food consumption frequencies derived from the children's eating habits questionnaire used in the IDEFICS study. Int J Obes 35:S61–S68

Laurson K, Eisenmann JC, Moore S (2008) Lack of association between television viewing, soft drinks, physical activity and body mass index in children. Acta Paediatr 97:795–800

Lee JG, Messer LB (2010) Intake of sweet drinks and sweet treats versus reported and observed caries experience. Eur Arch Paediatr Dent 11(1):5–17

Lissner L, Lanfer A, Gwozdz W et al (2012) Television habits in relation to overweight, diet and taste preferences in European children: the IDEFICS study. Eur J Epidemiol. doi:10.1007/s10654-012-9718-2

Ludwig DS, Gortmaker SL (2004) Programming obesity in childhood. Lancet 364:226–227

Ludwig DS, Peterson KE, Gortmaker SL (2001) Relation between consumption of sugar-sweetened drinks and childhood obesity: a prospective, observational analysis. Lancet 357:505–508

Marmot M, Friel S, Bell R, Houweling TAJ, Taylor S, on behalf of the Commission on Social Determinants of Health (2008) Closing the gap in a generation: health equity through action on the social determinants of health. Lancet 372:1661–1669

Matheson DM, Killen JD, Wang Y, Varady A, Robinson TN (2004) Children's food consumption during television viewing. Am J Clin Nutr 79:1088–1094

McGowan L, Croker H, Wardle J, Cooke L (2012) Environmental and individual determinants of core and non-core food and drink intake in preschool-aged children in the United Kingdom. Eur J Clin Nutr 66:322–328

Miller SA, Taveras EM, Rifas-Shiman SL, Gillman MW (2008) Association between television viewing and poor diet quality in young children. Int J Pediatr Obes 3:168–176

MMS, Media Audience Measurement in Scandinavia [Mediamätning i Skandinavien] (2006) TV-viewing 2006. Annual Report

Moreno LA, Rodríguez G (2007) Dietary risk factors for development of childhood obesity. Curr Opin Clin Nutr 10:336–341

Mourao D, Bressan J, Campbell W, Mattes R (2007) Effects of food form on appetite and energy intake in lean and obese young adults. Int J Obes 31:1688–1695

Pearson N, Ball K, Crawford D (2011) Mediators of longitudinal associations between television viewing and eating behaviours in adolescents. Int J Behav Nutr Phys 8:1–9

Péneau S, Mekhmoukh A, Chapelot D et al (2009) Influence of environmental factors on food intake and choice of beverage during meals in teenagers: a laboratory study. Br J Nutr 102:1854–1859

Popkin BM (2010) Patterns of beverage use across the lifecycle. Physiol Behav 100:4–9

Rey-López JP, Vicente-Rodríguez G, Biosca M, Moreno LA (2008) Sedentary behaviour and obesity development in children and adolescents. Nutr Metab Cardiovas 18:242–251

Swedish Media Council (2010) Young children and media [Småungar & Medier 2010]. Stockholm

Swedish National Food Administration (2007) Dietary habits and nutrient intake in Swedish children 4 year old and school children in grade 2 and 5. Riksmaten—children 2003. http://www.slv.se/Group1/Food-and-Nutrition/Dietary-surveys1/Riksmaten---Children-2003-Summary/. Accessed January 2011

Swinburn B, Shelly A (2008) Effects of TV time and other sedentary pursuits. Int J Obes 32:S132–S136

The Swedish Broadcasting Authority (2007) Media Development [Medieutveckling]

Van Strien T, van Niekerk R, Ouwens MA (2009) Perceived parental food controlling practices are related to obesogenic or leptogenic child life style behaviors. Appetite 53:151–154

Vartanian LR, Schwartz MB, Brownell KD (2007) Effects of soft drink consumption on nutrition and health: a systematic review and meta-analysis. Am J Public Health 97(4):667–675
Acknowledgments
This work was supported by The Swedish council for working life and social research. The study was conducted as part of the IDEFICS study (http://www.idefics.eu). We gratefully acknowledge the financial support of the European Community within the Sixth RTD Framework Programme Contract No. 016181. We have received grant support from the European Union for the IDEFICS study.
Conflict of interest
The authors declare that they have no conflict of interests.
Ethical standard
This study complies with Swedish legislation. Approval by the appropriate ethical committees has been obtained. Both the children and their parents gave their consent.
About this article
Cite this article
Olafsdottir, S., Eiben, G., Prell, H. et al. Young children's screen habits are associated with consumption of sweetened beverages independently of parental norms. Int J Public Health 59, 67–75 (2014). https://doi.org/10.1007/s00038-013-0473-2
Received:

Revised:

Accepted:

Published:

Issue Date:
Keywords
Children

Television

Advertisements

Soft drinks

Parents

Family

Food habits