Abstract
Objectives
Roma constitute a large minority in several Central European countries, with a mostly disadvantaged societal and health position. The aim of this study was to assess biological and other cardiovascular diseases (CVD) risk factors in people living in Roma settlements and to compare them with non-Roma.
Methods
We used data from the cross-sectional Hepa-Meta study conducted in Slovakia. The sample consisted of 452 Roma (mean age = 34.7, 35.2 % men) and 403 non-Roma (mean age = 33.5, 45.9 % men). The effect of ethnicity was analysed using logistic regression adjusted for age and stratified by gender.
Results
Roma were more likely to have obesity, low HDL cholesterol, normal total cholesterol, and to smoke than non-Roma. Moreover, Roma women were more likely to have abdominal obesity and Roma men to have normal LDL cholesterol than non-Roma. No significant differences by ethnicity were found regarding hypertriglyceridaemia, hyperglycaemia and hypertension.
Conclusions
Our study confirmed higher rates of some CVD risk factors in Roma compared with non-Roma. Our findings call for interventions aiming at decreasing CVD risks and improving health literacy among Roma, to reduce CVD morbidity and premature mortality.
Access options
Buy single article
Instant access to the full article PDF.
USD 39.95
Price includes VAT (USA)
Tax calculation will be finalised during checkout.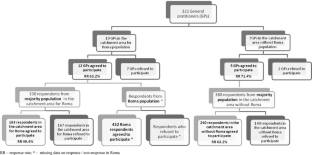 References
Al-Attar S, Pollex RL, Ban MR, Kue Young T, Bjerregaard P, Anand SS, Yusuf S, Zinman B, Harris SB, Hanley AJG, Connelly PW, Huff MW, Hegele RA (2008) Association between the FTO rs9939609 polymorphism and the metabolic syndrome in a non-Caucasian multi-ethnic sample. Cardiovasc Diabetol 7:1–6

Belak A (2005) Health through eyes of those excluded. An Anthropological Survey of a Romani Rural settlement In Central Slovakia. (Zdravie očami vylúčených. Antropologická štúdia stredoslovenskej rómskej osady). Diploma thesis. Prague

Carrasco-Garrido P, Lopez de Andres A, Hernandez Barrera V, Jimenez-Trujillo I, Jimenez-Garcia R (2011) Health status of Roma women in Spain. Eur J Public Health 21(6):793–798

Catapano AL, Reiner Z, De Backer G, Graham I, Taskinen MR, Wiklund O, Agewall S, Alegria E, Chapman MJ, Durrington P, Erdine S, Halcox J, Hobbs R, Kjekshus J, Perrone Filardi P, Riccardi G, Storey RF, Wood D (2011) ESC/EAS guidelines for the management of dyslipidaemias: the task force for the management of dyslipidaemias of the European Society of Cardiology (ESC) and the European Atherosclerosis Society (EAS). Atherosclerosis 217(1):1–44

Cleemput PV, Parry G, Thomas K, Peters J, Cooper C (2007) Health-related beliefs and experiences of Gypsies and Travellers: a qualitative study. J Epidemiol Community Health 61:205–210

Corella D, Carrasco P, Sorli JV, Coltell O, Ortega-Azorın C, Guillen M, Gonzalez JI, Saiz C, Estruch R, Ordovas JM (2012) Education modulates the association of the FTO rs9939609 polymorphism with body mass index and obesity risk in the Mediterranean population. Nutr Metab Cardiovasc Dis 22(8):651–658

Elovainio M, Ferrie JE, Singh-Manoux A, Shipley M, Batty GD, Head J, Hamer M, Jokela M, Virtanen M, Brunner E, Marmot MG, Kivimaki M (2011) Socioeconomic differences in cardiometabolic factors: social causation or health-related selection? evidence from the Whitehall II Cohort Study, 1991–2004. Am J Epidemiol 174(7):779–789

European Union Agency for Fundamental Rights (2009) EU-MIDIS European Union Minorities and Discrimination Survey. Vienna

Ginter E, Krajcovicova-Kudlackova M, Kacala O, Kovacic V, Valachovicova M (2001) Health status of Romanies (Gypsies) in the Slovak Republic and in the neighbouring countries. Bratisl Lek Listy 102(10):479–484

Graham I, Atar D, Borch-Johnsen K, Boysen G, Burell G, Cifkova R, Dallongeville J, De Backer G, Ebrahim S, Gjelsvik B, Herrmann-Lingen C, Hoes A, Humphries S, Knapton M, Perk J, Priori SG, Pyorala K, Reiner Z, Ruilope Z, Sans-Menendez S, Scholte op Reimer W, Weissberg P, Wood J, Yarnell S, Zamorano JL (2007) European guidelines on cardiovascular disease prevention in clinical practice: executive summary: Fourth joint task force of the European society of cardiology and other societies on cardiovascular disease prevention in clinical practice. Eur Heart J 28(19):2375–2414

Grotto I, Huerta M, Sharabi Y (2008) Hypertension and socioeconomic status. Curr Opin Cardiol 23(4):335–339

Jarcuska P, Bobakova D, Uhrin J, Bobak L, Babinska I, Kolarcik P, Zezula I, Veselska Z, Madarasova Geckova A (2013) Are barriers in accessing health services in the Roma population associated with worse health status among Roma? Int J Public Health accepted

Kavanagh A, Bentley RJ, Turrell G, Shaw J, Dunstan D, Subramanian SV (2010) Socioeconomic position, gender, health behaviours and biomarkers of cardiovascular disease and diabetes. Soc Sci Med 71(6):1150–1160

Kosa K, Adany R (2007) Studying vulnerable populations lessons from the Roma minority. Epidemiology 18(3):290–299

Kosa Z, Voko Z, Szeles G, Kardos L, Kosa K, Fesus G, Adany R, Nemeth R, Orszagh S, McKee M (2007) A comparative health survey of the inhabitants of Roma settlements in Hungary. Am J Public Health 97(5):853–859

Krajcovicova–Kudlackova M, Blazicek P, Spustova V, Valachovicova M, Ginter E (2004) Cardiovascular risk factors in young Gypsy population. Bratisl Lek Listy 105(7–8):256–259

Macekova S, Bernasovsky I, Gabrikova D, Bozikova A, Bernasovska J, Boronova I, Behulova R, Svickova P, Petrejcikova E, Sotak M, Sovicova A, Carnogurska J (2012) Association of the FTO rs9939609 polymorphism with obesity in Roma/Gypsy population. Am J Phys Anthropol 147(1):30–34

Mackenbach JP, Stirbu I, Roskam A, Schaap M, Menvielle G, Leinsalu M (2007) Socio-economic inequalities in mortality and morbidity: a cross-European perspective. In: Tackling health inequalities in Europe: an integrated approach. Eurothine final report. Rotterdam: Department of Public Health, University Medical Centre Rotterdam, pp 24–48

Mackenbach JP, Stirbu I, Roskam AR, Schaap MM, Menvielle G, Leinsalu M, Kunst AE (2008) Socioeconomic inequalities in health in 22 European countries. N Engl J Med 358(23):2468–2481

Marcincin A, Marcincinova L (2009) The cost of non-inclusion: the key to integration is respect for diversity. Open Society Foundation, Bratislava

Nielsen SS, Krasnik A (2010) Poorer self-perceived health among migrants and ethnic minorities versus the majority population in Europe: a systematic review. Int J Public Health 55(5):357–371

Ostrihonova T, Beresova J (2010) Occurrence of metabolic syndrome and its risk factors amongst a selected group of Roma inhabitants. Hygiena 55(1):7–14

Paulik E, Nagymajtenyi L, Easterling D, Rogers T (2011) Smoking behaviour and attitudes of Hungarian Roma and non-Roma population towards tobacco control policies. Int J Public Health 56:485–491

Petek D, Pavlic DR, Svab I, Lolic D (2006) Attitudes of Roma toward smoking: qualitative study in Slovenia. Croat Med J 47:344–347

Peters J, Parry GD, Van Cleemput P, Moore J, Cooper CL, Walters SJ (2009) Health and use of health services: a comparison between Gypsies and Travellers and other ethnic groups. Ethn Health 14(4):359–377

Rodriguez NS, Derecho NR (2009) Health and the Roma community, analysis of the situation in Europe. Bulgaria, Czech Republic, Greece, Portugal, Romania, Slovakia, Spain. Fundacion Secretariado Gitano, Madrid (Spain)

Roskam AR, Kunst AE (2008) The predictive value of different socio-economic indicators for overweight in nine European countries. Public Health Nutr 11(12):1256–1266

Roskam AR, Kunst AE, Van Oyen H, Demarest S, Klumbiene J, Regidor E, Helmert U, Jusot F, Dzurova D, Mackenbach JP (2010) Comparative appraisal of educational inequalities in overweight and obesity among adults in 19 European countries. Int J Epidemiol 39(2):392–404

Singh-Manoux A, Ferrie JE, Chandola T, Marmot M (2004) Socioeconomic trajectories across the life course and health outcomes in midlife: evidence for the accumulation hypothesis? Int J Epidemiol 33(5):1072–1079

Skodova Z, van Dijk JP, Nagyova I, Rosenberger J, Ondusova D, Studencan M, Reijneveld SA (2010) Psychosocial factors of coronary heart disease and quality of life among Roma coronary patients: a study matched by socioeconomic position. Int J Public Health 55(5):373–380

Slusna L (2010) Slovakia: Healthy Communities. In: Poverty and social exclusion in the WHO European Region: health systems respond. WHO Regional Office for Europe, Copenhagen, pp 167–177

Sundquist K, Chaikiat A, León VR, Johansson SE, Sundquist J (2011) Country of birth, socioeconomic factors, and risk factor control in patients with type 2 diabetes: a Swedish study from 25 primary health-care centres. Diabetes Metab Res Rev 27(3):244–254

Suresh S, Sabanayagam C, Shankar A (2011) Socioeconomic status, self-rated health, and mortality in a multiethnic sample of US adults. J Epidemiol 21(5):337–345

Tourangeau R, Smith TW (1996) Asking sensitive questions: the impact of data collection mode, question format, and question context. Public Opin Q 60(2):275–304

Vasecka M, Dzambazovic R (2000) Socio-economic Situation of Romanies in Slovakia as Potential Migrants and Asylum Seekers in EU Member States. International Organization for Migration, Bratislava

Voko Z, Csepe P, Nemeth R, Kosa K, Kosa Z, Szeles G, Adany R (2009) Does socioeconomic status fully mediate the effect of ethnicity on the health of Roma people in Hungary? J Epidemiol Community Health 63(6):455–460

Vozarova de Courten B, de Courten M, Hanson RL, Zahorakova A, Egyenes HP, Tataranni PA, Bennett PH, Vozar J (2003) Higher prevalence of type 2 diabetes, metabolic syndrome and cardiovascular diseases in gypsies than in non-gypsies in Slovakia. Diabetes Res Clin Pract 62(2):95–103

World Health Organization (2009) Global health risks: mortality and burden of disease attributable to selected major risks. Geneva

Zeljko H, Skaric-Juric T, Narancic NS, Salihovic MP, Klaric IM, Barbalic M, Starcevic B, Lauc LB, Janicijevic B (2008) Traditional CVD risk factors and socio-economic deprivation in Roma minority population of Croatia. Coll Antropol 32(3):667–676

Zimmet P, Alberti KGMM, Ríos MS (2005) A new international diabetes federation worldwide definition of the metabolic syndrome: the rationale and the results. Rev Esp Cardiol 58(12):1371–1376
Acknowledgements
This project was partially supported by Roche Slovensko, s.r.o., and the Agency of the Slovak Ministry of Education for the Structural Funds of the EU, under project ITMS: 26220120058.
Additional information
HEPA-META team: Jarčuška Peter, Pella Daniel, Mareková Mária, Siegfried Leonard, Pastvová Lýdia, Fedačko Ján, Kollárová Jana, Dražilová Sylvia, Rosenberger Jaroslav, Schréter Ivan, Kristián Pavol, Veseliny Eduard, Janičko Martin, Virág Ladislav, Birková Anna, Kmeťová Marta, Halánová Monika, Cáriková Katarína, Petrášová Darina, Lovayová Viera, Merkovská Lucia, Jedličková Lucia and Valková Ivana.
About this article
Cite this article
Babinska, I., Veselska, Z.D., Bobakova, D. et al. Is the cardiovascular risk profile of people living in Roma settlements worse in comparison with the majority population in Slovakia?. Int J Public Health 58, 417–425 (2013). https://doi.org/10.1007/s00038-013-0463-4
Received:

Revised:

Accepted:

Published:

Issue Date:
Keywords
Roma

Ethnicity

Cardiovascular diseases

Biological risk factors

Participatory approach