Abstract
Objectives
In recent years, the European euthanasia debate has become more intense, and the practice was legalized in the Netherlands, Belgium, and Luxembourg. We aimed to determine the current degree of public acceptance of euthanasia across Europe and investigate what factors explain differences.
Methods
Data were derived from the 2008 wave of the European Values Survey (EVS), conducted in 47 European countries (N = 67,786, response rate = 69 %). Acceptance of euthanasia was rated on a 1–10 scale.
Results
Relatively high acceptance was found in a small cluster of Western European countries, including the three countries that have legalized euthanasia and Denmark, France, Sweden and Spain. In a large part of Europe public acceptance was relatively low to moderate. Comparison with the results of the previous EVS wave (1999) suggests a tendency towards a polarization in Europe, with most of Western Europe becoming more permissive and most of Eastern Europe becoming less permissive.
Conclusions
There is roughly a West-East division in euthanasia acceptance among the European public, making a pan-European policy approach to the issue difficult.
Access options
Buy single article
Instant access to the full article PDF.
USD 39.95
Price excludes VAT (USA)
Tax calculation will be finalised during checkout.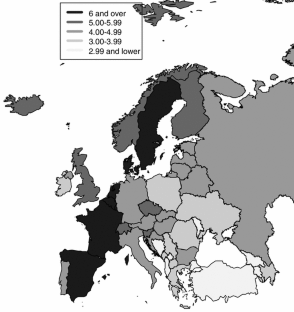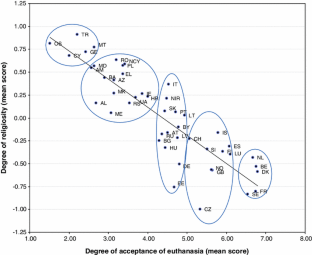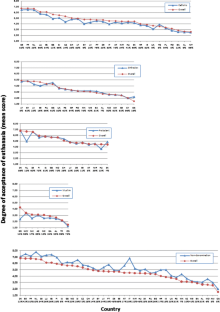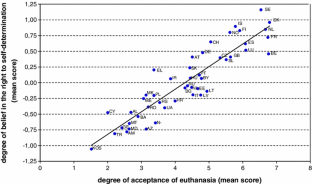 References
Bachman JG, Alcser KH, Doukas DJ et al (1996) Attitudes of Michigan physicians and the public toward legalizing physician-assisted suicide and voluntary euthanasia. N Engl J Med 334(5):303–309

Bulow HH, Sprung CL, Reinhart K et al (2008) The world's major religions' points of view on end-of-life decisions in the intensive care unit. Intensive Care Med 34(3):423–430

Campbell CS (2000) Euthanasia and religion. UNESCO Courier 53(1):37–39

Carlson P (1998) Self-perceived health in East and West Europe: another European health divide. Soc Sci Med 46(10):1355–1366

Carlson P (2004) The European health divide: a matter of financial or social capital? Soc Sci Med 59(9):1985–1992

Cohen J, Marcoux I, Bilsen J et al (2006a) European public acceptance of euthanasia: socio-demographic and cultural factors associated with the acceptance of euthanasia in 33 European countries. Soc Sci Med 63(3):743–756

Cohen J, Marcoux I, Bilsen J et al (2006b) Trends in acceptance of euthanasia among the general public in 12 European countries (1981–1999). Eur J Public Health 16:663–669

Cohen J, van Delden J, Mortier F et al (2008) Influence of physicians' life stances on attitudes to end-of-life decisions and actual end-of-life decision-making in six countries. J Med Ethics 34(4):247–253

Crumley B (2008) French Euthanasia case rumbles on. http://www.time.com/time/world/article/0,8599,1726787,00.html

De Moor R (1995) Values in Western Societies. Tilburg University Press, Tilburg

deCesare MA (2000) Public attitudes toward euthanasia and suicide for terminally ill persons: 1977 and 1996. Soc Biol 47(3–4):264–276

Donovan GK (1997) Decisions at the end of life: Catholic tradition. Christ Bioethics 3(3):188–203

EVS (2010a) European values study 2008, 4th wave, Integrated Dataset. GESIS Data Archive, Cologne, Germany, ZA4800 Dataset Version 2.0.0 (2010-11-30). doi:10.4232/1.10188

EVS (2010b) EVS 2008 guidelines and recommendations. GESIS-Technical Reports 2010/16. http://www.europeanvaluesstudy.eu/

EVS, GESIS (2010): EVS 2008 Method Report. GESIS-Technical Reports 2010/17. http://www.europeanvaluesstudy.eu/

Ferreira N (2007) Latest legal and social developments in the euthanasia debate: bad moral consciences and political unrest. Med Law 26(2):387–407

Green-Pedersen C (2007) The conflict of conflicts in comparative perspective: Euthanasia as a political issue in Denmark, Belgium, and the Netherlands. Compar Politics 39(3):273–291

Halman L, Luijkx R, van Zudert M (2005) Atlas of European values. Brill, Leiden

Hevesi D (2008) Hugo Claus, one of Belgium's most renowned authors, Dies at 78, New York Times

Holloway HD, Hayslip B, Murdock ME (1994) Measuring attitudes toward euthanasia. Omega (Westport) 30(1):53–65

Jorgenson DE, Neubecker RC (1980) Euthanasia: a national survey of attitudes toward voluntary termination of life. Omega (Westport) 11(4):281–291

Kelner MJ, Bourgeault IL (1993) Patient control over dying: responses of health care professionals. Soc Sci Med 36(6):757–765

Kopfensteiner TR (1996) Death with dignity: a Roman Catholic perspective. Linacre Q 63(4):64–75

Laaksonen M, McAlister AL, Laatikainen T et al (2001) Do health behaviour and psychosocial risk factors explain the European east–west gap in health status? Eur J Public Health 11(1):65–73

Larue GA (1985) Euthanasia and religion. A survey of the attitudes of world religions to the right-to-die. The Hemlock Society, Los Angeles

Leinbach RM (1993) Euthanasia attitudes of older persons: a cohort analysis. Res Aging 15(4):433–448

Oehmichen M, Meissner C (2003) Active euthanasia and physician-assisted suicide: the German discussion. Legal Medicine (Tokyo) 5(Suppl 1):S20–S28

Rietjens JA, van der Heide A, Onwuteaka-Philipsen BD et al (2005) A comparison of attitudes towards end-of-life decisions: survey among the Dutch general public and physicians. Soc Sci Med 61(8):1723–1732

Schroder C, Schmutzer G, Klaiberg A et al (2003) Attitudes towards professional euthanasia in the range between grement in the society and personal preferences—results of a representative examination of the German general population. Psychother Psychosom Med Psychol 53(8):334–343

Schroepfer TA, Noh H, Kavanaugh M (2009) The myriad strategies for seeking control in the dying process. Gerontologist 49(6):755–766

Seale C (2000) Changing patterns of death and dying. Soc Sci Med 51(6):917–930

Sikora J (2009) Religion and attitudes concerning euthanasia Australia in the 1990s. J Sociol 45(1):31–54

Snelling PC (2004) Consequences count: against absolutism at the end of life. J Adv Nurs 46(4):350–357

Suarez-Almazor ME, Belzile M, Bruera E (1997) Euthanasia and physician-assisted suicide: a comparative survey of physicians, terminally ill cancer patients, and the general population. J Clin Oncol 15(2):418–427

Tomka M (2002) Religious restoration in Eastern Europe—introduction. Social Compass 49(4):483–495

Tomka M (2004) Religious changes in central and eastern Europe. Revue D Etudes Comparatives Est-Ouest 35(4):11–35
Acknowledgments
Joachim Cohen is a postdoctoral Fellow of the Research Foundation - Flanders (FWO). This study used data of the European Values Study 2008, 4th wave, Integrated Dataset. GESIS Data Archive, Cologne, Germany, ZA4800 Dataset Version 2.0.0 (2010-11-30), doi:10.4232/1.10188. The analyses and writing activities were funded by a grant from the Research Council of the Vrije Universiteit Brussel (HOA27). We would like to thank Jane Ruthven for proofreading and copy editing the manuscript.
Additional information
J. Cohen and P. Van Landeghem contributed equally to this work.
About this article
Cite this article
Cohen, J., Van Landeghem, P., Carpentier, N. et al. Public acceptance of euthanasia in Europe: a survey study in 47 countries. Int J Public Health 59, 143–156 (2014). https://doi.org/10.1007/s00038-013-0461-6
Received:

Revised:

Accepted:

Published:

Issue Date:

DOI: https://doi.org/10.1007/s00038-013-0461-6
Keywords
Euthanasia

Public opinion

Cross-national comparison

Survey

Eastern Europe

Western Europe