Abstract
Objectives
The health of Roma has been found to be poorer than that of the majority population. The aim of this study was to explore the differences between Roma and non-Roma regarding perceived barriers in accessing health services. Furthermore, we aimed to assess the association between self-rated health status and Roma ethnicity and explore to what degree barriers in accessing health services explain this association.
Methods
We used data from the cross-sectional HepaMeta study conducted in 2011 in Slovakia. The final sample comprised 452 Roma (mean age 34.7; 35.2 % men) and 403 (mean age 33.5; 45.9 % men) non-Roma respondents.
Results
Roma ethnicity was found to be significantly associated with poorer self-rated health status. A considerable part of this association can be explained by barriers in accessing health services as perceived by Roma.
Conclusions
Worse health in Roma is partially mediated by worse access to health services, apart from a large educational gap between Roma living in settlements and the majority population. Interventions should focus not only on health literacy among Roma but also on the health care system and health care professionals.
Access options
Buy single article
Instant access to the full article PDF.
USD 39.95
Price includes VAT (USA)
Tax calculation will be finalised during checkout.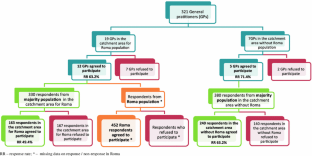 References
Babinska I, Veselska Z, Bobakova D et al (2013) Is the cardiovascular risk profile of people living in Roma settlements worse in comparison with the majority population in Slovakia? Int J Pub Health (accepted)

Bastos JL, Faerstein E (2012) Conceptual and methodological aspects of relations between discrimination and health in epidemiological studies. Cad Saude Publica 28(1):177–183

Carrasco-Garrido P, Lopez de Andres A, Hernandez Barrera V, Jimenez-Trujillo I, Jimenez-Garcia R (2011) Health status of Roma women in Spain. Eur J Public Health 21:793–798

Currie C, Gabhainn SN, Godeau E et al (2008) Inequalities in young people's health: health behaviour in school-aged children (HBSC) international report from the 2005/2006 survey. Health policy for children and adolescents

Derevjanikova S (2010) Socialnopravna ochrana deti z marginalizovanych romskych komunit (Social and legal protection of children from marginalized Roma communities). In: Socialni, ekonomicke, pravni a bezpecnostni otazky soucasnosti (Social, economical, legal, and safety issues of the present). Private University College of Economic Studies, Ltd., Prague

Erasmus MC, University Medical Centre Rotterdam (2007) Tackling health inequalities in Europe: an integrated approach. Department of Public health, University Medical Centre Rotterdam, The Netherlands

European Roma Rights Centre (2006) Ambulance not on the way: the disgrace of health care for Roma in Europe. Westimprim bt, Budapest

European Union Agency for Fundamental Rights (2009) EU-MIDIS European Union Minorities and Discrimination Survey. http://fra.europa.eu/fraWebsite/eumidis/index_en.htm

Filadelfiova J, Gerbery D, Skobla D (2007) Report on the living conditions of Roma in Slovakia. United Nations Development Programme, Regional Bureau for Europe, Bratislava

Fundacion Secretariado Gitano (FSG) (2009) Health and the Roma community: analysis of the situation in Europe. FSG, Madrid

Gold M, Franks P, Erickson P (1996) Assessing the health of the nation. The predictive validity of a preference-based measure and self-rated health. Med Care 34:163–177

Gourgoulianis KI, Tsoutsou P, Fotiadou N et al (2000) Lung function in gypsies in Greece. Arch Environ Health 55:453–454

Hajioff S, McKee M (2000) The health of the Roma people: a review of the published literature. J Epidemiol Commun H 54:864–869

Idler EL, Benyamini Y (1997) Self-rated health and mortality: a review of twenty-seven community studies. J Health Soc Behav 38:21–37

Janevic T, Jankovic J, Bradley E (2012) Socioeconomic position, gender, and inequalities in self-rated health between Roma and non-Roma in Serbia. Int J Public Health 57:49–55

Kolarcik P, Madarasova Geckova A, Orosova O, van Dijk JP, Reijneveld SA (2009) To what extent does socioeconomic status explain differences in health between Roma and non-Roma adolescents in Slovakia? Soc Sci Med 68:1279–1284

Kosa Z, Voko Z, Szeles G et al (2007) A comparative health survey of the inhabitants of Roma settlements in Hungary. Am J Public Health 97:853–859

Koupilova I, Epstein H, Holcik J, Hajioff S, McKee M (2001) Health needs of the Roma population in the Czech and Slovak Republics. Soc Sci Med 53:1191–1204

Krajcovicova-Kudlackova M, Blazicek P, Spustova V et al (2004) Cardiovascular risk factors in young Gypsy population. Bratisl Lek Listy 105:256–259

Lynch E (2006) Travellers' tales. Nurs Stand 20:20–21

Mackenbach JP, Stirbu I, Roskam AR et al (2008) Socioeconomic inequalities in health in 22 European countries. New Engl J Med 358:2468–2481

Marcincin A, Marcincinova L (2009) The cost of non-inclusion: the key to integration is respect for diversity. Open Society Foundation, Bratislava

Masseria C, Mladovsky P, Hernandez-Quevedo C (2010) The socio-economic determinants of the health status of Roma in comparison with non-Roma in Bulgaria, Hungary and Romania. Eur J Public Health 20:549–554

Panzarella C, Alloy LB, Whitehouse WG (2006) Expanded hopelessness theory of depression: on the mechanisms by which social support protects against depression. Cognitive Ther Res 30:307–333

Petek D, Pavlic DR, Svab I et al (2006) Attitudes of Roma toward smoking: qualitative study in Slovenia. Croat Med J 47:344–347

Peters J, Parry GD, Van Cleemput P et al (2009) Health and use of health services: a comparison between gypsies and travellers and other ethnic groups. Ethnic Health 14:359–377

Proctor C, Linley P, Maltby J (2009) Youth life satisfaction: a review of the literature. J Happiness Stud 10:583–630

Puporka L, Zadori Z (1999) The health status of Romas in Hungary. Roma Press Center, Budapest

Reynolds M (2005) Transitions online: Myths debunked. Transitions Online. http://www.ceeol.com/aspx/issuedetails.aspx?issueid=8631ee01-dc65-4b4b-8504-ddc3bc4cdcbd. Accessed 21 November 2008

Rosicova K, Madarasova Geckova A, van Dijk JP, Kollarova J, Rosic M, Groothoff JW (2011) Regional socioeconomic indicators and ethnicity as predictors of regional infant mortality rate in Slovakia. Int J Public Health 56:523–531

Rosicova K, Madarasova Geckova A, van Dijk JP, Rosic M, Zezula I, Groothoff JW (2009) Socioeconomic indicators and ethnicity as determinants of regional mortality rates in Slovakia. Int J Pub Health 54(4):274–282

Schaaf M (2011) Roma Health Mediators: Successes and Challenges. Roma Health Project Open Society Public Health Program. Open Society Foundations, New York. ISBN: 978-1-936133-58-1

Sepkowitz KA (2006) Health of the world's Roma population. Lancet 367:1707–1708

Slusna L (2010) Slovakia. In: Healthy Communities. Poverty and social exclusion in the WHO European Region: health systems respond. WHO Regional Office for Europe, Copenhagen

Stansfeld SA, Head J, Marmot MG (1998) Explaining social class differences in depression and well-being. Soc Psychiatr Psychiatr Epidemiol 33:1–9

Tourangeau R, Smith TW (1996) Asking sensitive questions: the impact of data collection mode, question format, and question context. Public Opin Quart 60:275–304

Van Cleemput P, Parry G, Thomas K, Peters J, Cooper C (2007) Health-related beliefs and experiences of gypsies and travelers: a qualitative study. J Epidemiol Commun H 61:205–210

Vasecka M, Dzambazovic R (2000) Socialno-ekonomicka situacia Romov na Slovensku ako potencionalnych migrantov a ziadatelov o azyl v krajinach EU. ("Socio-economic Situation of Romanies in Slovakia as Potential Migrants and Asylum Seekers in EU Member States"). International Organization for Migration, Bratislava

Vivian C, Dundes L (2004) The crossroads of culture and health among the Roma (Gypsies). J Nurs Scholarship 36:86–91

Voko Z, Csepe P, Nemeth R et al (2009) Does socioeconomic status fully mediate the effect of ethnicity on the health of Roma people in Hungary? J Epidemiol Commun H 63:455–460

Zeman CL, Depken DE, Senchina DS (2003) Roma health issues: a review of the literature and discussion. Ethnic Health 8:223–250
Acknowledgments
This project was partially supported by Roche Slovensko, s.r.o., and the Agency of the Slovak Ministry of Education for the Structural Funds of the EU, under project ITMS: 26220120058 (40 %).
Additional information
Members of HEPA-META team are given in Appendix
Appendix
Appendix
HEPA-META team: Jarčuška Peter, Pella Daniel, Mareková Mária, Siegfried Leonard, Pastvová Lýdia, Fedačko Ján, Kollárová Jana, Dražilová Sylvia, Rosenberger Jaroslava, Schréter Ivan, Kristián Pavol, Veseliny Eduard, Janičko Martin, Virág Ladislav, Birková Anna, Kmeťová Marta, Halánová Monika, Cáriková Katarína, Petrášová Darina, Lovayová Viera, Merkovská Lucia, Jedličková Lucia, Valková Ivana. * Safarik University, Trieda SNP 1, 040 01, Kosice, Slovak Republic. http://www.lf.upjs.sk/hepameta
About this article
Cite this article
Jarcuska, P., Bobakova, D., Uhrin, J. et al. Are barriers in accessing health services in the Roma population associated with worse health status among Roma?. Int J Public Health 58, 427–434 (2013). https://doi.org/10.1007/s00038-013-0451-8
Received:

Revised:

Accepted:

Published:

Issue Date:
Keywords
Roma

Ethnicity

Self-rated health

Access to health services

Health inequalities

Slovakia