Abstract
Objective
To evaluate the effects of household use of cleaning products during pregnancy on infant wheezing and lower respiratory tract infections (LRTI).
Methods
In four prospective Spanish birth cohorts (n = 2,292), pregnant women reported the use of household cleaning products. When infants were 12–18 months old, current cleaning product use and infant's wheezing and LRTI were reported. Cohort-specific associations between the use of specific products and respiratory outcomes were evaluated using multivariable regression analyses and estimates were combined using random-effects meta-analyses.
Results
The period prevalence of LRTI was higher when sprays (combined odds ratio (OR) = 1.29; 95 % confidence interval (CI) 1.04–1.59) or air fresheners (OR = 1.29; CI 1.03–1.63) were used during pregnancy. The odds of wheezing increased with spray (OR = 1.37; CI 1.10–1.69) and solvent (OR = 1.30; CI 1.03–1.62) use. The associations between spray and air freshener use during pregnancy and both outcomes remained apparent when these products were not used after pregnancy. Nevertheless, the estimates were higher when post-natal exposure was included.
Conclusion
The use of cleaning sprays, air fresheners and solvents during pregnancy may increase the risk of wheezing and infections in the offspring.
Access options
Buy single article
Instant access to the full article PDF.
USD 39.95
Price excludes VAT (USA)
Tax calculation will be finalised during checkout.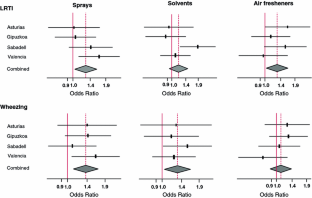 References
Dietert RR, Zelikoff JT (2008) Early-life environment, developmental immunotoxicology, and the risk of pediatric allergic disease including asthma. Birth Defects Res B Dev Reprod Toxicol 83:547–560. doi:10.1002/bdrb.20170

Farrow A, Taylor H, Northstone K, Golding J (2003) Symptoms of mothers and infants related to total volatile organic compounds in household products. Arch Environ Health 58:633–641. doi:10.3200/AEOH.58.10.633-641

Henderson J, Sherriff A, Farrow A, Ayres JG (2008) Household chemicals, persistent wheezing and lung function: effect modification by atopy? Eur Respir J 31:547–554. doi:10.1183/09031936.00086807

Herr M, Just J, Nikasinovic L et al (2012) Influence of host and environmental factors on wheezing severity in infants: findings from the PARIS birth cohort. Clin Exp Allergy 42:275–283. doi:10.1111/j.1365-2222.2011.03933.x

Jaakkola JJK, Jaakkola MS (2006) Professional cleaning and asthma. Curr Opin Allergy Clin Immunol 6:85–90. doi:10.1097/01.all.0000216849.64828.55

Karr C, Lumley T, Shepherd K et al (2006) A case-crossover study of wintertime ambient air pollution and infant bronchiolitis. Environ Health Perspect 114:277–281

Kogevinas M, Antó JM, Sunyer J et al (1999) Occupational asthma in Europe and other industrialised areas: a population-based study. European Community Respiratory Health Survey Study Group. Lancet 353:1750–1754

Medina-Ramón M, Zock JP, Kogevinas M et al (2003) Asthma symptoms in women employed in domestic cleaning: a community based study. Thorax 58:950–954

Medina-Ramón M, Zock JP, Kogevinas M et al (2005) Asthma, chronic bronchitis, and exposure to irritant agents in occupational domestic cleaning: a nested case–control study. Occup Environ Med 62:598–606. doi:10.1136/oem.2004.017640

Medina-Ramón M, Zock JP, Kogevinas M et al (2006) Short-term respiratory effects of cleaning exposures in female domestic cleaners. Eur Respir J 27:1196–1203. doi:10.1183/09031936.06.00085405

Nickmilder M, Carbonnelle S, Bernard A (2007) House cleaning with chlorine bleach and the risks of allergic and respiratory diseases in children. Pediatr Allergy Immunol 18:27–35. doi:10.1111/j.1399-3038.2006.00487.x

Ribas-Fitó N, Ramón R, Ballester F et al (2006) Child health and the environment: the INMA Spanish Study. Paediatr Perinat Epidemiol 20:403–410. doi:10.1111/j.1365-3016.2006.00745.x

Ségala C, Poizeau D, Mesbah M et al (2008) Winter air pollution and infant bronchiolitis in Paris. Environ Res 106:96–100. doi:10.1016/j.envres.2007.05.003

Sherriff A, Farrow A, Golding J, Henderson J (2005) Frequent use of chemical household products is associated with persistent wheezing in pre-school age children. Thorax 60:45–49. doi:10.1136/thx.2004.021154

Sigurs N, Aljassim F, Kjellman B et al (2010) Asthma and allergy patterns over 18 years after severe RSV bronchiolitis in the first year of life. Thorax 65:1045–1052. doi:10.1136/thx.2009.121582

Smith KR, Samet JM, Romieu I, Bruce N (2000) Indoor air pollution in developing countries and acute lower respiratory infections in children. Thorax 55:518–532

Sunyer J, Garcia-Esteban R, Alvarez M et al (2010) DDE in mothers' blood during pregnancy and lower respiratory tract infections in their infants. Epidemiology 21:729–735. doi:10.1097/EDE.0b013e3181e5ea96

Zock J-P, Plana E, Jarvis D et al (2007) The use of household cleaning sprays and adult asthma: an international longitudinal study. Am J Respir Crit Care Med 176:735–741. doi:10.1164/rccm.200612-1793OC

Zock J-P, Plana E, Antó JM et al (2009) Domestic use of hypochlorite bleach, atopic sensitization, and respiratory symptoms in adults. J Allergy Clin Immunol 124(731–738):e1. doi:10.1016/j.jaci.2009.06.007

Zock J-P, Vizcaya D, Le Moual N (2010) Update on asthma and cleaners. Curr Opin Allergy Clin Immunol 10:114–120. doi:10.1097/ACI.0b013e32833733fe
Acknowledgments
This study was funded by grants from the Instituto de Salud Carlos III (Red INMA G03/176, CB06/02/0041, FIS-FEDER 03/1615, 04/1509, 04/1112, 04/1931, 05/1079, 05/1052, 06/1213, 07/0314 and 09/02647), the Conselleria de Sanitat Generalitat Valenciana, the Spanish Ministry of Health (FIS-PI041436, FIS- PI081151, FISS-PI042018, FISS-PI09/02311, FIS-PI06/0867 and FIS-PS09/00090), the Generalitat de Catalunya-CIRIT 1999SGR 00241, Obra Social Cajastur, Universidad de Oviedo, Department of Health of the Basque Government (2005111093 and 2009111069), Provincial Government of Gipuzkoa (DFG06/004 and DFG08/001), and Fundación Roger Torné. We acknowledge all the participants in the INMA project for their generous collaboration. A full roster of the INMA Project Investigators can be found at http://www.proyectoinma.org/presentacion-inma/listado-investigadores/en_listado-investigadores.html
Additional information
This study was conducted on behalf of the INMA Project.
Electronic supplementary material
Below is the link to the electronic supplementary material.
About this article
Cite this article
Casas, L., Zock, J.P., Carsin, A.E. et al. The use of household cleaning products during pregnancy and lower respiratory tract infections and wheezing during early life. Int J Public Health 58, 757–764 (2013). https://doi.org/10.1007/s00038-012-0417-2
Received:

Revised:

Accepted:

Published:

Issue Date:

DOI: https://doi.org/10.1007/s00038-012-0417-2
Keywords
Household products

Respiratory tract infections

Wheezing

Infant

Longitudinal studies