Abstract
Objectives
The model of cumulative inequality predicts that health differences between educational levels increase with age. Using a variety of analytical approaches and measures of health, studies have, however, reported increasing as well as decreasing and constant patterns of educational health inequality. The aim of this study is use a standardized research design to compare different dimensions of health inequality trajectories across educational levels.
Methods
We used data from two waves (2004/2005 and 2006/2007) of SHARE. The sample consisted of respondents aged 50–80 (n = 14,818). Using OLS regression models, we analyzed trajectories of health inequality in self-reported measures (ADL, IADL, mobility, chronic diseases, and self-rated health) as well as non-invasive objective measures (grip strength) of physical health.
Results
Inequality between higher and lower educated individuals increased significantly in limitations of physical functioning and grip strength. In chronic diseases and self-rated health, the gap between these two groups remained constant.
Conclusion
Although our results mainly supported the model of cumulative inequality, they also showed that the trajectory of the education-health gradient is not uniform but varies across different dimensions of physical health.
Access options
Buy single article
Instant access to the full article PDF.
US$ 39.95
Tax calculation will be finalised during checkout.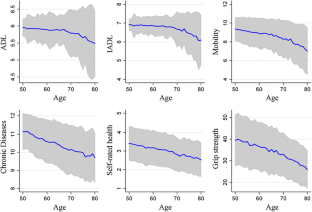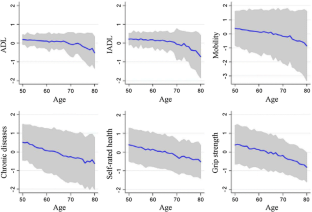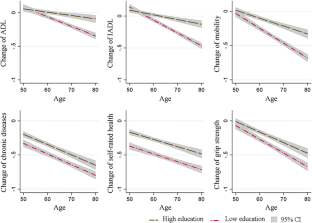 References
Avendano M, Jürges MH, Mackenbach JP (2009) Educational level and changes in health across Europe: longitudinal results from SHARE. J Eur Soc Policy 19:301–316

Blane D, Bartley M, Smith GD (1997) Disease aetiology and materialist explanations of socioeconomic mortality differentials. Eur J Public Health 7:385–391

Blane D, Netuveli G, Stone J (2007) The development of life course epidemiology. Rev Epidemiol Sante Publique 55:31–38

Börsch-Supan A, Brugiavini A, Jürges H, Kapteyn A, Mackenbach JP, Siegrist J, Weber G (eds) (2008) First results from the survey of health, ageing and retirement in Europe (2004–2007). Starting the Longitudinal Dimension, Druckerei Schwörer

Chandola T, Clarke P, Morris JN, Blane D (2006) Pathways between education and health: a causal modelling approach. J R Stat Soc A Stat 169:337–359

Dannefer D (1987) Aging as intracohort differentiation: accentuation, the matthew effect, and the life course. Soc Forum 2:211–237

Dannefer D (2003) Cumulative advantage/disadvantage and the life course: cross fertilising age and social science theory. J Gerontol B Psychol 58:327–337

Dupre ME (2007) Educational differences in age-related patterns of disease: reconsidering the cumulative disadvantage and age-as-leveler hypotheses. J Health Soc Behav 48:1–15

Ferraro KF, Shippee TP (2009) Aging and cumulative inequality: how does inequality get under the skin? Gerontologist 49:333–343

Goldman D, Smith JP (2002) Can patient self-management help explain the SES health gradient? Proc Natl Acad Sci 99(16):10929–10934

Hank K, Jürges H, Schupp J, Wagner GG (2006) Die Messung der Greifkraft als objektives Gesundheitsmaß in sozialwissenschaftlichen Bevölkerungsumfragen. DIW Discussion Papers. http://www.diw.de/documents/publikationen/73/diw_01.c.44221.de/dp577.pdf

Henretta JC, Campbell RT (1976) Status attainment and status maintenance: a study of stratification in old age. Am Soc Rev 41:981–992

Herd P (2006) Do functional health inequalities decrease in old age? Educational status and functional decline among the 1931–1941 birth cohort. Res Aging 28:375–392

House JS, Kessler RC, Herzog RA, Mero RP, Kinney AM, Breslow MJ (1990) Age, socioeconomic status, and health. Milbank Q 68:383–411

House JS, Lantz PM, Herd P (2005) Continuity and change in the social stratification of aging and health over the life course: evidence from a nationally representative longitudinal study from 1986 to 2001/2002 (American's Changing Lives Study). J Gerontol B Psychol 60B(Special Issue II):15–26

Knesebeck O (2005) Soziale Einflüsse auf die Gesundheit alter Menschen. Eine deutsch-amerikanische Vergleichsstudie. 1st edn. Verlag Hans Huber, Hogrefe AG, Bern

Knesebeck O, Verde PE, Dragano N (2006) Education and health in 22 European countries. Soc Sci Med 63:1344–1351

Lynch SM (2003) Cohort and life-course patterns in the relationship between education and health: a hierarchical approach. Demography 40:309–331

Power C, Hertzman C (1997) Social and biological pathways linking early life and adult disease. Br Med Bull 53(1):210–221

Power C, Manor O, Matthews S (1999) The duration and timing of exposure: effects of socioeconomic environment on adult health. Am J Public Health 89:1059–1065

Read JG, Gorman BK (2010) Gender and health inequality. Annu Rev Sociol 36:371–386

Ross CE, Wu C (1996) Education, age, and the cumulative advantage in health. J Health Soc Behav 37:104–120

Schöllgen I, Oliver H, Tesch-Römer C (2010) Socioeconomic status and health in the second half of life: findings from the German Ageing Survey. Eur J Ageing 7:17–28

Sturgis P, Allum N, Brunton-Smith I (2009) Attitudes over time: the psychology of panel conditioning. In: Lynn P (ed) Methodology of longitudinal survey, Wiley, New York, pp 113–127

Williams DR, Collins C (1995) US socioeconomic and racial differences in health: patterns and explanations. Annu Rev Sociol 21:349–386

Willson AE, Kim MS, Glen HE Jr (2007) Cumulative advantage processes as mechanisms of inequality in life course health. Am J Sociol 112:1886–1924
Additional information
This article is part of the special issue "Life course influences on health and health inequalities: moving towards a Public Health perspective".
About this article
Cite this article
Leopold, L., Engelhartdt, H. Education and physical health trajectories in old age. Evidence from the Survey of Health, Ageing and Retirement in Europe (SHARE). Int J Public Health 58, 23–31 (2013). https://doi.org/10.1007/s00038-012-0399-0
Received:

Revised:

Accepted:

Published:

Issue Date:
Keywords
Cumulative advantage

Education and health

Old age