Abstract
Objectives
To examine the relation between income inequality and school bullying (perpetration, victimisation and bully/victims) and explore whether the relation is attributable to international differences in violent crime.
Methods
Between 1994 and 2006, the Health Behaviour in School-aged Children study surveyed 117 nationally representative samples of adolescents about their involvement in school bullying over the previous 2 months. Country prevalence rates of bullying were matched to data on income inequality and homicides.
Results
With time and country differences held constant, income inequality positively related to the prevalence of bullying others at least twice (b = 0.25), victimisation by bullying at least twice (b = 0.29) and both bullied and victimisation at least twice (b = 0.40). The relation between income inequality and victimisation was partially mediated by country differences in homicides.
Conclusions
Understanding the social determinants of school bullying facilitates anti-bullying policy by identifying groups at risk and exposing its cultural and economic influences. This study found that cross-national differences in income inequality related to the prevalence of school bullying in most age and gender groups due, in part, to a social milieu of interpersonal violence.
This is a preview of subscription content, log in to check access.
Access options
Buy single article
Instant access to the full article PDF.
US$ 39.95
Price includes VAT for USA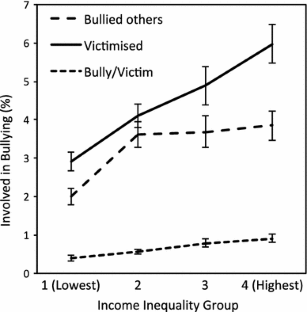 References
Anthony BJ, Wessler SL, Sebian JK (2010) Commentary: guiding a public health approach to bullying. J Pediatr Psychol 35:1113–1115

Arsenio WF, Gold J (2006) The effects of social injustice and inequality on children's moral judgments and behavior: towards a theoretical model. Cogn Dev 21:388–400

Baron RM, Kenny DA (1986) The moderator–mediator variable distinction in social psychological research: conceptual, strategic, and statistical considerations. J Pers Soc Psychol 51:1173–1182

Butchart A, Engström K (2002) Sex- and age- specific relations between economic development, economic inequality and homicide rates in people aged 0–24 years: a cross-sectional analysis. Bull World Health Organ 80:797–805

Chen E (2004) Why socioeconomic status affects the health of children: a psychosocial perspective. Curr Dir Psychol Sci 13:112–115

Craig W, Harel-Fisch Y, Fogel-Grinvald H, Dostaler S, Hetland J, Simons-Morton B, Molcho M, de Mato MG, Overpeck M, Due P, Pickett W, HBSC Violence & Injuries Prevention Focus Group, HBSC Bullying Writing Group (2009) A cross-national profile of bullying and victimization among adolescents in 40 countries. Int J Public Health S54:216–224

Crick N, Dodge K (1994) A review and reformulation of social-information-processing mechanisms in children's social adjustment. Psychol Bull 115:74–101

Currie C, Gabhainn SN, Godeau E, Roberts C, Smith R, Currie D, Pickett W, Richter M, Morgan A, Barnekow V (eds) (2008a) Inequalities in young people's health: Health Behaviour in School-aged Children international report from the 2005/2006 survey. World Health Organization, Copenhagen

Currie C, Molcho M, Boyce W, Holstein B, Torsheim T, Richter M (2008b) Researching health inequalities in adolescents: the development of the Health Behaviour in School-Aged Children (HBSC) Family Affluence Scale. Soc Sci Med 66:1429–1436

Daly M, Wilson M, Vasdev S (2001) Income inequality and homicide rates in Canada and the United States. Can J Criminol 43:219–236

Due P, Merlo J, Harel-Fisch Y, Damsgaard MT, Holstein BE, Hetland J, Currie C, Gabhainn SN, de Matos MG, Lynch J (2009) Socioeconomic inequality in exposure to bullying during adolescence: a comparative, cross-sectional, multilevel study in 35 countries. Am J Public Health 99:907–914

Elgar FJ, Aitken N (2011) Income inequality, trust and homicide in 33 countries. Eur J Public Health 21:241–246

Elgar FJ, Craig W, Boyce W, Morgan A, Vella-Zarb R (2009) Income inequality and school bullying: multilevel study of adolescents in 37 countries. J Adolesc Health 45:351–359

Fajnzylber P, Lederman D, Loayza N (2002) Inequality and violent crime. J Law Econ 45:1–40

Hawker DS, Boulton MJ (2000) Twenty years' research on peer victimization and psychosocial maladjustment: a meta-analytic review of cross-sectional studies. J Child Psychol Psychiatry 41:441–455

Hsieh CC, Pugh MD (1993) Poverty, income inequality, and violent crime: a meta-analysis of recent aggregate data studies. Crim Justice Rev 18:182–202

Kawachi I, Kennedy BP (2002) The health of nations: why inequality is harmful to your health. New Press, New York

Kim YS, Koh YJ, Leventhal BL (2004) Prevalence of school bullying in Korean middle school students. Arch Pediatr Adolesc Med 158:737–741

Kumpulainen K, Rasanen E (2000) Children involved in bullying at elementary school age: their psychiatric symptoms and deviance in adolescence: an epidemiological sample. Child Abuse Negl 24:1567–1577

Lee MR, Bankston WB (1999) Political structure, economic inequality and homicide: a cross-sectional analysis. Deviant Behav 20:27–55

MacKinnon DP, Lockwood CM, Hoffman JM, West SG, Sheets V (2002) A comparison of methods to test mediation and other intervening variable effects. Psychol Methods 7:83–104

Molcho M, Craig W, Due P, Pickett W, Harel-Fisch Y, Overpeck M, Pickett W, Boyce W, Craig W, Due P, Holstein B, Molcho M, Harel Y, Vollebergh W, Hetland J, Samdal O, Mazur J, de Matos MG, van der Sluijs W, Katreniakova Z, Overpeck M, Nansel T, Wang J (2009) Cross-national time trends in bullying behaviour 1994–2006: findings from Europe and North America. Int J Public Health S54:225–234

Nansel TR, Overpeck M, Pilla RS, Ruan WJ, Simons-Morton BG (2001) Bullying behaviors among US youth: prevalence and association with psychosocial adjustment. J Am Med Assoc 285:2094–2100

Nansel TR, Craig W, Overpeck MD, Saluja G, Ruan WJ, Health Behaviour in School-aged Children Bullying Analyses Working Group (2004) Cross-national consistency in the relationship between bullying behaviors and psychosocial adjustment. Arch Pediatr Adolesc Med 158:730–736

O'Donnell DA, Schwab-Stone ME, Ruchkin V (2006) The mediating role of alienation in the development of maladjustment in youth exposed to community violence. Dev Psychopathol 18:215–232

Olweus D (1996) The Revised Olweus Bully/Victim Questionnaire. Mimeo, Research Center for Health Promotion, University of Bergen, Bergen

Olweus D (1999) Sweden. In: Smith PK, Morita Y, Junger-Tas J, Olweus D, Catalano R, Slee P (eds) The nature of school bullying: a cross-national perspective. Routledge, New York, pp 7–27

Ostrom CW Jr (1990) Time series analysis: regression techniques, 2nd edn., series no. 07-099. Sage University paper series on quantitative applications in the social sciences. Sage, Newbury Park

Pepler D, Jiang D, Craig W, Connolly J (2008) Developmental trajectories of bullying and associated factors. Child Dev 79:325–338

Pickett KE, Wilkinson RG (2007) Child wellbeing and income inequality in rich societies: ecological cross sectional study. BMJ 335:1080

Pickett KE, Mookherjee J, Wilkinson RG (2005) Adolescent birth rates, total homicides, and income inequality in rich countries. Am J Public Health 95:1181–1183

Soliday E, Moore KJ, Lande MB (2002) Daily reports and pooled time series analysis: pediatric psychology applications. J Pediatr Psychol 27:67–76

Solt F (2009) Standardizing the world income inequality database. Soc Sci Q 90:231–242

Srabstein JC, Berkman BE, Pyntikov E (2008) Antibullying legislation: a public health perspective. J Adolesc Health 42:11–20

Ward MM, Leigh JP (1993) Pooled time series regression analysis in longitudinal studies. J Clin Epidemiol 46:645–659

West P, Sweeting H (2004) Evidence on equalisation in health in youth from the West of Scotland. Soc Sci Med 59:13–27

Wilkinson R (2004) Why is violence more common where inequality is greater? Ann N Y Acad Sci 1036:1–12

Wilkinson RG, Pickett KE (2009) The spirit level: why more equal societies almost always do better. Penguin, London
Acknowledgments
The HBSC is a cross-national collaborative study of the World Health Organisation Regional Office for Europe and is funded by each of its member countries. Currently, the International Coordinator is Candace Currie, St. Andrews University, Scotland, and Data Bank Manager is Oddrun Samdal, University of Bergen, Norway. The countries involved in this analysis (current responsible principal investigator) were: Austria (R Felder-Puig), Belgium (D Piette, C Vereecken), Bulgaria (L Vasileva), Canada (W Pickett, J Freeman), Croatia (M Kuzman), Czech Republic (M Kalman), Denmark (P Due) Estonia (K Aasvee), Finland (J Tynjälä), France (E Godeau), Germany (P Kolip), Greece (A Kokkevi), Hungary (Á Németh), Iceland (T Bjarnason), Ireland (S Nic Gabhainn), Israel (Y Harel-Fisch), Italy (F Cavallo), Latvia (I Pudule), Lithuania (A Zaborskis), Luxembourg (Y Wagener), Malta (M Massa), the Netherlands (W Vollebergh), Norway (O Samdal), Poland (J Mazur), Portugal (M Gaspar de Matos), Romania (A Baban), Russia (team member A Malinin), Slovakia (A Madarasova Geckova), Slovenia (H Jericek), Spain (C Moreno), Sweden (L Eriksson), Switzerland (E Kuntsche), Turkey (O Ercan), Ukraine (O Balakireva), TFYR Macedonia (L Kostarova Unkovska), the UK (England [A Morgan], Scotland [C Currie], Wales [C Roberts]) and the USA (R Iannotti). The preparation of this article was funded in part by a grant to the first author from the Canadian Institutes of Health Research.
Appendix
Appendix
See Table 5.
About this article
Cite this article
Elgar, F.J., Pickett, K.E., Pickett, W. et al. School bullying, homicide and income inequality: a cross-national pooled time series analysis. Int J Public Health 58, 237–245 (2013). https://doi.org/10.1007/s00038-012-0380-y
Received:

Revised:

Accepted:

Published:

Issue Date:
Keywords
Bullying

Adolescents

Social conditions

Income inequality

HBSC

Pooled time-series analysis