Abstract
Objectives
Little is known about historical smoking patterns in Mexico. Policy makers must rely on imprecise predictions of human or fiscal burdens from smoking-related diseases. In this paper we document intergenerational patterns of smoking, project them for future cohorts, and discuss those patterns in the context of Mexico's impressive economic growth.
Methods
We use retrospectively collected information to generate life-course smoking prevalence rates of five birth-cohorts, by gender and education. With dynamic panel data methods, we regress smoking rates on indicators of economic development.
Results
Smoking is most prevalent among men and the highly educated. Smoking rates peaked in the 1980s and have since decreased, slowly on average, and fastest among the highly educated. Development significantly contributed to this decline; a 1 % increase in development is associated with an average decline in smoking prevalence of 0.02 and 0.07 percentage points for women and men, respectively.
Conclusion
Mexico's development may have triggered forces that decrease smoking, such as the spread of health information. Although smoking rates are falling, projections suggest that they will be persistently high for several future generations.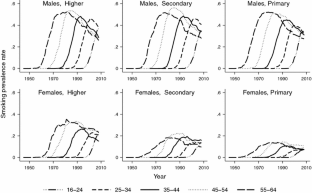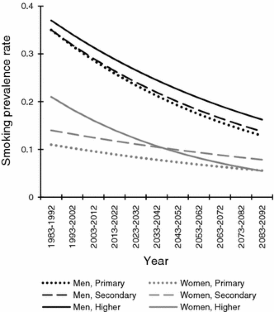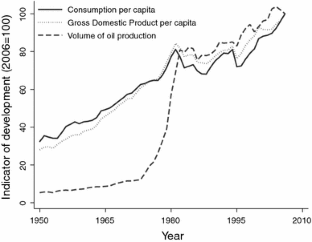 References
Ahacic K, Kennison R, Thorslung M (2008) Trends in smoking in Sweden from 1968 to 2002: age, period and cohort patterns. Prev Med 46:558–564. doi:10.1016/j.ypmed.2008.03.006

Arellano M, Bond S (1991) Some tests of specification for panel data: Monte Carlo evidence and an application to employment equations. Rev Econ Stud 58:277–297. doi:10.2307/2297968

Avila M, Tapia Conyer R, Ruiz-Gaytan C, Caso-Gonzalez L (2006) Mexico and the tobacco industry. BMJ 332:548. doi:10.1136/bmj.332.7540.548

Barro R, Ursua J (2008) Macroeconomic crises since 1870. Paper number 13940 presented at NBER, Cambridge

Berney LR, Blane DB (1997) Collecting retrospective data: accuracy of recall after 50 years judged against historical records. Soc Sci Med 45:1519–1525. doi:10.1016/S0277-9536(97)00088-9

Brigham J, Lessov-Schlaggar CN, Javitz HS, Krasnow RE, Tildesley E, Andrews J, Hops H, Cornelius MD, Day NL, McElroy M, Swan GE (2010) Validity of recall of tobacco use in two prospective cohorts. Am J Epidemiol 172:828–835. doi:10.1093/aje/kwq179

Cavelaars A, Kunst A, Geurts J, Crialesi R, Grötvedt L, Helmert U, Lahelma E (2000) Educational differences in smoking: international comparison. BMJ 320:1102–1107. doi:10.1136/bmj.320.7242.1102

CDC (1992) Smoking and health in the Americas. US Department of Health and Human Services, National Center for Chronic Disease Prevention and Health Promotion, Office on Smoking and Health, Atlanta

Chow GC (1960) Tests of equality between sets of coefficients in two linear regressions. Econometrica 28:591–605. doi:10.2307/1910133

Christopoulou R, Han J, Jaber A, Lillard D (2011) Dying for a smoke: how much does differential mortality of smokers affect estimated life-course smoking prevalence? Prev Med 52:66–70. doi:10.1016/j.ypmed.2010.11.011

Doll R, Hill A (1950) Smoking and carcinoma of the lung. BMJ 2:739–748. doi:10.1136/bmj.2.4682.739

Federico B, Costa G, Kunst AE (2007) Educational inequalities in initiation, cessation, and prevalence of smoking among 3 Italian birth cohorts. Am J Public Health 97:838–845. doi:10.2105/AJPH.2005.067082

Fernandez E, Schiaffino A, Borras J, Shafey O, Villalbi J, La Vecchia C (2003) Prevalence of cigarette smoking by birth cohort among males and females in Spain, 1910–1990. Eur J Cancer Prev 12:57–62. doi:10.1097/00008469-200302000-00009

Huisman M, Kunst A (2005) Educational inequalities in smoking among men and women aged 16 years and older in 11 European countries. Tob Control 14:106–113. doi:10.1136/tc.2004.008573

Kemm J (2001) A birth cohort analysis of smoking by adults in Great Britain 1974–1998. J. Public Health 23:306–311. doi:10.1093/pubmed/23.4.306

Kenkel D, Lillard DR, Mathios A (2003) Smoke or fog? The usefulness of retrospectively reported information about smoking. Addiction 98:1307–1313. doi:10.1046/j.1360-0443.2003.00445.x

Kim S, De La Rosa M, Rice C, Delva J (2007) Prevalence of smoking and drinking among older adults in seven urban cities in Latin America and the Caribbean. Subst Use Misuse 42:1455–1475. doi:10.1080/10826080701212501

Koenig L, Jacob T, Haber J (2009) Validity of the lifetime drinking history: a comparison of retrospective and prospective quantity-frequency measures. J Stud Alcohol Drugs 70:296–303

Kuri-Morales P, Alegre-Díaz J, Mata-Miranda M (2002) Mortalidad atribuible al consumo de tabaco en México. Salud Pública México 44:S29–S33. doi:10.1590/S0036-36342002000700007

Kuri-Morales P, González-Roldán J, Hoy M, Cortés-Ramírez M (2006) Epidemiología del tabaquismo en México. Salud Pública México 48:S91–S98. doi:10.1590/S0036-36342006000700011

Laaksonen M, Uutela A, Vartiainen E, Jousilahti P, Helakorpi S, Puska P (1999) Development of smoking by birth cohort in the adult population in eastern Finland 1972–97. Tob Control 8:161–168. doi:10.1136/tc.8.2.161

Lillard D, Christopoulou R, Liu F, Gil Lacruz A, Balmori J, Han J, Jaber A (2010) Patterns and predictors of smoking in ten developed and developing countries. In: 3rd biennial conference of the American Society of Health Economists, Cornell University, Ithaca

Lopez A, Collishaw N, Piha T (1994) A descriptive model of the cigarette epidemic in developed countries. Tob Control 3:242–247. doi:10.1136/tc.3.3.242

Marugame T, Kamo K, Sobue T, Akiba S, Mizuno S, Satoh H, Suzuki T, Tajima K, Tamakoshi A, Tsugane S (2006) Trends in smoking by birth cohorts born between 1900 and 1977 in Japan. Prev Med 42:120–127. doi:10.1016/j.ypmed.2005.09.009

Menezes A, Perez-Padilla R, Jardim J, Muino A, Lopez M, Valdivia G, Montes de Oca M, Talamo C, Hallal P, Victora C (2005) Chronic obstructive pulmonary disease in five Latin American cities (the PLATINO study): a prevalence study. Lancet 366:1875–1881. doi:10.1016/S0140-6736(05)67632-5

Menezes A, Lopez M, Halla P, Muino A, Perez-Padilla R, Jardim J, Valdivia G, Pertuze J, Montes de Oca M, Talamo C, Victora C (2009) Prevalence of smoking and incidence of initiation in the Latin American adult population: the PLATINO study. BMC Public Health 9:151–158. doi:10.1186/1471-2458-9-151

Moreno GD, Cantu MP (2002) Perspectiva sobre el tabaquismo en Mexico. Revista Salud Publica y Nutrición 3:2

Organizacion Mundial de la Salud (OMS) (1975) Los efectos del tabaco sobre la salud. Revista de Sanidad e Higiene Pública 49:203

Pampel F (2003) Age and education patterns of smoking among women in high income nations. Soc Sci Med 57:1505–1514. doi:10.1016/S0277-9536(02)00543-9

Park E, Koh H, Kwon J, Suh M, Kim H, Cho S (2009) Secular trends in adult male smoking form 1992 to 2006 in South Korea: age-specific changes with evolving tobacco-control policies. Public Health 123:657–664. doi:10.1016/j.puhe.2009.09.007

Perlman F, Bobak M, Gilmore A, McKee M (2007) Trends in the prevalence of smoking in Russia during the transition to a market economy. Tob Control 16:299–305. doi:10.1136/tc.2006.019455

Royal College of Physicians of London (RCPL) (1962) Smoking and health: summary and report of the Royal College of Physicians of London on smoking in relation to cancer of the lung and other diseases. Pitman Medical Publishing Co Ltd, London

Samet J, Wipfli H, Perez-Padilla R, Yach D (2006) Mexico and the tobacco industry; doing the wrong thing for the right reason. BMJ 332:353–354. doi:10.1136/bmj.332.7537.353

Santibañez L, Vernez G, Razquin P (2005) Education in Mexico: challenges and opportunities. RAND Corporation, Santa Monica

Sebrie E, Glantz S (2006) The tobacco industry in developing countries. BMJ 332:313–314. doi:10.1136/bmj.332.7537.313

Secretaría de Salud (2008) Encuesta Nacional de Adicciones 2002 (ENA-08). Dirección General de Epidemiología, Mexico

Stebbins K (1994) Making a killing south of the border: transnational cigarette companies in Mexico and Guatemala. Soc Sci Med 38:105–115. doi:10.1016/0277-9536(94)90305-0

Tapia Conyer R, Kuri Morales P, Meneses González F (1995) Smoking attributable mortality Mexico 1992. Morb Mortal Wkly Rep 44:372–381

U.S. Department of Health Education and Welfare (USDHEW) (1964) Smoking and health: report of the advisory committee to the surgeon general of the Public Health Service. Public Health Service Publication No. 1103, Washington
Acknowledgments
We gratefully acknowledge funding from the National Institute on Aging (Grant 1 R01 AG030379-01A2) and the comments from two anonymous referees.
About this article
Cite this article
Christopoulou, R., Lillard, D.R. & Balmori de la Miyar, J.R. Smoking behavior of Mexicans: patterns by birth-cohort, gender, and education. Int J Public Health 58, 335–343 (2013). https://doi.org/10.1007/s00038-012-0376-7
Received:

Revised:

Accepted:

Published:

Issue Date:
Keywords
Smoking prevalence

Economic development

Birth-cohort

Gender

Education

Mexico