Abstract
Objective
Roma experience high levels of discrimination and social exclusion. Our objective was to examine differences in self-rated health (SRH) between Roma and non-Roma in Serbia.
Methods
Using data from the 2007 Living Standards Measurement Survey in Serbia (n = 14,313), we used binomial regression to estimate the relative risk (RR) of poor (SRH) among Roma (n = 267) relative to non-Roma. We additionally conducted group comparisons of combinations of Romani ethnicity, poverty, and gender, relative to the baseline group of non-Roma males not in poverty.
Results
Adjusting for age, Roma were more than twice as likely as non-Roma to report poor SRH (RR = 2.3, 95% Confidence Interval (CI) = 1.8, 2.8). After adjustment for household consumption, employment, and education, the RR was reduced to 1.6 (95% CI = 1.3, 2.0). Romani women, regardless of whether they were living in poverty or not, experienced the greatest risk of poor SRH, with risks relative to non-Roma males not in poverty of 3.2 (95% CI = 2.3, 4.2) and 3.1 (95% CI = 2.4, 4.0), respectively.
Conclusion
Roma in Serbia are at increased risk of poor SRH; Romani women experience the greatest burden of poor SRH.
Access options
Buy single article
Instant access to the full article PDF.
USD 39.95
Price includes VAT (USA)
Tax calculation will be finalised during checkout.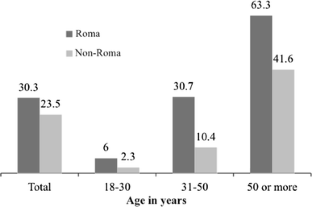 References
Agyemang C, Denktas S, Bruijnzeels M, Foets M (2006) Validity of the single-item question on self-rated health status in first generation Turkish and Moroccans versus native Dutch in the Netherlands. Public Health 120:543–550

Bambra C, Gibson M, Sowden A, Wright K, Whitehead M, Petticrew M (2010) Tackling the wider social determinants of health and health inequalities: evidence from systematic reviews. J Epidemiol Commun Health 64:284

Bobak M, Dejmek J, Solansky I, Sram RJ (2005) Unfavourable birth outcomes of the Roma women in the Czech Republic and the potential explanations: a population-based study. BMC Public Health 5:106

Bogdanovic D, Nikic D, Petrovic B, Kocic B, Jovanovic J, Nikolic M, Milosevic Z (2007) Mortality of Roma population in Serbia, 2002–2005. Croat Med J 48:720–726

Bond JE (2004) Intersecting identities and human rights: the example of Romani women's reproductive rights. Georgetown J Gender Law 5:897

Burström B, Fredlund P (2001) Self rated health: is it as good a predictor of subsequent mortality among adults in lower as well as in higher social classes? J Epidemiol Commun Health 55:836

Crowe D (2007) A history of the gypsies of Eastern Europe and Russia. Palgrave Macmillan, New York

Delpierre C, Lauwers-Cances V, Datta G, Lang T, Berkman L (2009) Using self-rated health for analysing social inequalities in health: a risk for underestimating the gap between socioeconomic groups? J Epidemiol Commun Health 63:426

DeSalvo KB, Bloser N, Reynolds K, He J, Muntner P (2006) Mortality prediction with a single general self-rated health question. J Gen Intern Med 21:267–275

Dostal M, Topinka J, Sram RJ (2010) Comparison of the health of Roma and non-Roma children living in the district of Teplice. Int J Public Health 55:435–441

Finch BK, Hummer RA, Reindl M, Vega WA (2002) Validity of self-rated health among Latino (a) s. Am J Epidemiol 155:755

Hafeman DM, Schwartz S (2009) Opening the black box: A motivation for the assessment of mediation. Int J Epidemiol 38:838

Idler EL, Benyamini Y (1997) Self-rated health and mortality: a review of twenty-seven community studies. J Health Soc Behav 38:21–37

Jakšić B, Bašić G (2005) The art of survival: where and how Roma live in Serbia. Institute for Philosophy and Social Theory, Belgrade

Janes CR, Corbett KK (2009) Anthropology and global health. Annu Rev Anthropol 38:167–183

Janevic T, Petrovic O, Bjelic I, Kubera A (2010) Risk factors for childhood malnutrition in Roma settlements in Serbia. BMC Public Health 10:509

Janevic T, Sripad P, Bradley E (2011) Yale global health initiative research brief: access to prenatal care among Romani women in Serbia and Macedonia. New Haven

Janković J, Simić S, Marinković J (2010) Inequalities that hurt: demographic, socio-economic and health status inequalities in the utilization of health services in Serbia. Eur J Public Health 20:389

Kolarcik P, Geckova AM, Orosova O, van Dijk JP, Reijneveld SA (2009) To what extent does socioeconomic status explain differences in health between Roma and non-Roma adolescents in Slovakia? Soc Sci Med 68:1279–1284

Kosa K, Adany R (2007) Studying vulnerable populations: lessons from the Roma minority. Epidemiology 18:290–299

Kosa Z, Szeles G, Kardos L, Kosa K, Nemeth R, Orszagh S, Fesus G, McKee M, Adany R, Voko Z (2007) A comparative health survey of the inhabitants of Roma settlements in Hungary. Am J Public Health 97:853–859

McGee DL, Liao Y, Cao G, Cooper RS (1999) Self-reported health status and mortality in a multiethnic US cohort. Am J Epidemiol 149:41

Mullings L, Schulz A (2005) Intersectionality and health: an introduction. In: Schulz A, Mullings L (eds) Gender, race, class and health: intersectional approaches, pp 3–17

Open Society Foundations (2010) No data–no progress. New York

Rambouskova J, Dlouhy P, Krizova E, Prochazka B, Hrncirova D, Andel M (2009) Health behaviors, nutritional status, and anthropometric parameters of Roma and non-Roma mothers and their infants in the Czech Republic. J Nutr Educ Behav 41:58–64

Ravnbol CI (2010) The human rights of minority women: Romani Women's Rights from a perspective on international human rights law and politics. Int J Minor Group Rights 17:1–45

Rosicova K, Geckova AM, van Dijk JP, Rosic M, Zezula I, Groothoff JW (2009) Socioeconomic indicators and ethnicity as determinants of regional mortality rates in Slovakia. Int J Public Health 54:274–282

Rughiniş C (2010) Quantitative tales of ethnic differentiation: measuring and using Roma/Gypsy ethnicity in statistical analyses. Ethnic Racial Stud 99999:1–26

Sen G, Iyer A, Mukherjee C (2009) A methodology to analyse the intersections of social inequalities in health. J Human Dev Capab 10:397–415

Sepkowitz KA (2006) Health of the world's Roma population. Lancet 367:1707–1708

Smedley BD, Stith AY (2003) Unequal treatment: confronting racial and ethnic disparities in health care. Natl Acad Pr

Spiegelman D, Hertzmark E (2005) Easy SAS calculations for risk or prevalence ratios and differences. Am J Epidemiol 162:199–200

Spirova M, Budd D (2008) The EU accession process and the Roma minorities in new and soon-to-be member states. Comp Eur Politics 6:81–101

Statistical Office of the Republic of Serbia (2008) Living standards measurement study, Serbia. Belgrade

Thomas SB, Sansing VV, Davis A, Magee M, Massaro E, Srinivas V, Helmy T, Desvigne-Nickens P, Brooks MM (2010) Racial differences in the association between self-rated health status and objective clinical measures among participants in the BARI 2D trial. Am J Public Health 100:S269

Todorova I, Baban A, Alexandrova-Karamanova A, Bradley J (2009) Inequalities in cervical cancer screening in Eastern Europe: perspectives from Bulgaria and Romania. Int J Public Health 54:222–232

UNICEF (2007) 2005 Multiple indicator cluster survey, Serbia. Belgrade, Serbia

United Nations Development Programme (2004) Faces of Poverty, Faces of Hope. Bratislava

United Nations Development Programme (2006) At risk: Roma and the displaced in Southeast Europe. Bratislava

Van Doorslaer E, Jones AM (2003) Inequalities in self-reported health: validation of a new approach to measurement. J Health Econ 22:61–87

Vokó Z, Csépe P, Németh R, Kósa K, Kósa Z, Széles G, Ádány R (2009) Does socioeconomic status fully mediate the effect of ethnicity on the health of Roma people in Hungary? J Epidemiol Commun Health 63:455

White K, Borrell LN (2010) Racial/ethnic residential segregation: framing the context of health risk and health disparities. Health Place 17:438–448

Williams DR, Mohammed SA (2009) Discrimination and racial disparities in health: evidence and needed research. J Behav Med 32:20–47
About this article
Cite this article
Janevic, T., Jankovic, J. & Bradley, E. Socioeconomic position, gender, and inequalities in self-rated health between Roma and non-Roma in Serbia. Int J Public Health 57, 49–55 (2012). https://doi.org/10.1007/s00038-011-0277-1
Received:

Revised:

Accepted:

Published:

Issue Date:
Keywords
Health status

Inequalities

Socioeconomic factors

Romany

Serbia