Abstract
Objective
To analyze the relationship between alcohol consumption and incident HIV infection.
Methods
Articles were identified via electronic and hand searches. Inclusion criteria were: incident HIV infection, preceding alcohol consumption, and association relating the two. The DerSimonian and Laird random effects model was used. For studies with more than one estimate of a given type, estimates were combined using the inverse variance weighted method. Publication bias was assessed using Begg's and Egger's tests. Heterogeneity was assessed using Q and I 2 statistics.
Results
Ten studies were included. Overall alcohol consumption (any of the three types identified) increased the risk of HIV (RR 1.98, 95% CI 1.59–2.47). Alcohol consumers were at 77% higher risk (RR 1.77, 95% CI 1.43–2.19). Those consuming alcohol prior to, or at the time of, sexual relations were at an 87% increased risk (RR 1.87, 95% CI 1.39–2.50). For binge drinkers, the risk was double that of non-binge drinkers (RR 2.20, 95% CI 1.29–3.74).
Conclusions
Alcohol consumption is associated with an increased risk of incident HIV infection. Additional research is required to further investigate a possible causal role.
Access options
Buy single article
Instant access to the full article PDF.
US$ 39.95
Tax calculation will be finalised during checkout.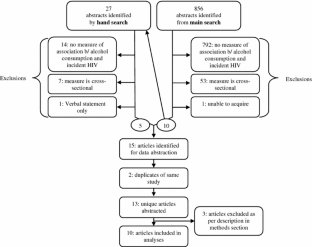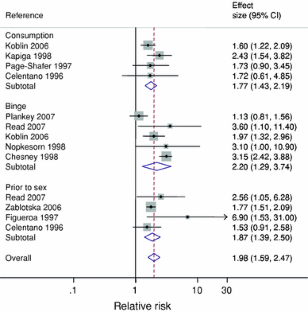 References
Bagasra O, Bachman SE, Jew L, Tawadros R, Cater J, Boden G, Ryan I, Pomerantz RJ (1996) Increased human immunodeficiency virus type 1 replication in human peripheral blood mononuclear cells induced by ethanol: potential immunopathogenic mechanisms. J Infect Dis 173:550–558

Begg CB, Mazumdar M (1994) Operating characteristics of a rank correlation test for publication bias. Biometrics 50:1088–1101

Benotsch EG, Kalichman SC, Kelly JA (1999) Sexual compulsivity and substance use in HIV-seropositive men who have sex with men: prevalence and predictors of high-risk behaviors. Addict Behav 24:857–868

Benotsch EG, Kalichman SC, Pinkerton SD (2001) Sexual compulsivity in HIV-positive men and women: prevalence, predictors, and consequences of high-risk behaviors. Sexual Addict Compuls 8:83–99

Bryan A, Ray LA, Cooper ML (2007) Alcohol use and protective sexual behaviors among high-risk adolescents. J Stud Alcohol Drugs 68:327–335

Celentano DD, Nelson KE, Suprasert S, Eiumtrakul S, Tulvatana S, Kuntolbutra S, Akarasewi P, Matanasarawoot A, Wright NH, Sirisopana N (1996) Risk factors for HIV-1 seroconversion among young men in northern Thailand. JAMA 275:122–127

Chesney MA, Barrett DC, Stall R (1998) Histories of substance use and risk behavior: precursors to HIV seroconversion in homosexual men. Am J Public Health 88:113–116

Cook RL, Clark DB (2005) Is there an association between alcohol consumption and sexually transmitted diseases? A systematic review. Sex Transm Dis 32:156–164

Crowe LC, George WH (1989) Alcohol and human sexuality: review and integration. Psychol Bull 105:374–386

Dingle GA, Oei TP (1997) Is alcohol a cofactor of HIV and AIDS? Evidence from immunological and behavioral studies. Psychol Bull 122:56–71

Egger M, Davey Smith G, Schneider M, Minder C (1997) Bias in meta-analysis detected by a simple, graphical test. Br Med J 315:629–634

Figueroa JP, Ward E, Morris J, Brathwaite AR, Peruga A, Blattner W, Vermund SH, Hayes R (1997) Incidence of HIV and HTLV-1 infection among sexually transmitted disease clinic attenders in Jamaica. J Acquir Immune Defic Syndr Hum Retrovirol 15:232–237

Fisher JC, Bang H, Kapiga SH (2007) The association between HIV infection and alcohol use: a systematic review and meta-analysis of African studies. Sex Transm Dis 34:856–863

Fisher JC, Cook PA, Sam NE, Kapiga SH (2008) Patterns of alcohol use, problem drinking, and HIV infection among high-risk African women. Sex Transm Dis 35:537–544

George WH, Stoner SA (2000) Understanding acute alcohol effects on sexual behavior. Annu Rev Sex Res 11:92–124

Gordon CM, Carey MP, Carey KB (1997) Effects of a drinking event on behavioral skills and condom attitudes in men: implications for HIV risk from a controlled experiment. Health Psychol 16:490–495

Halpern-Felsher BL, Millstein SG, Ellen JM (1996) Relationship of alcohol use and risky sexual behavior: a review and analysis of findings. J Adolesc Health 19:331–336

Kalichman SC, Cain D (2004) The relationship between indicators of sexual compulsivity and high risk sexual practices among men and women receiving services from a sexually transmitted infection clinic. J Sex Res 41:235–241

Kalichman SC, Rompa D (1995) Sexual sensation seeking and Sexual Compulsivity Scales: reliability, validity, and predicting HIV risk behavior. J Pers Assess 65:586–601

Kalichman SC, Johnson JR, Adair V, Rompa D, Multhauf K, Kelly JA (1994) Sexual sensation seeking: scale development and predicting AIDS-risk behavior among homosexually active men. J Pers Assess 62:385–397

Kalichman SC, Heckman T, Kelly JA (1996) Sensation seeking as an explanation for the association between substance use and HIV-related risky sexual behavior. Arch Sex Behav 25:141–154

Kalichman SC, Weinhardt L, DiFonzo K, Austin J, Luke W (2002) Sensation seeking and alcohol use as markers of sexual transmission risk behavior in HIV-positive men. Ann Behav Med 24:229–235

Kalichman SC, Simbayi LC, Kaufman M, Cain D, Jooste S (2007a) Alcohol use and sexual risks for HIV/AIDS in sub-Saharan Africa: systematic review of empirical findings. Prev Sci 8:141–151

Kalichman SC, Simbayi LC, Vermaak R, Cain D, Jooste S, Peltzer K (2007b) HIV/AIDS risk reduction counseling for alcohol using sexually transmitted infections clinic patients in Cape Town, South Africa. J Acquir Immune Defic Syndr 44:594–600

Kalichman SC, Simbayi LC, Vermaak R, Cain D, Smith G, Mthebu J, Jooste S (2008) Randomized trial of a community-based alcohol-related HIV risk-reduction intervention for men and women in Cape Town South Africa. Ann Behav Med 36:270–279

Kapiga SH, Lyamuya EF, Lwihula GK, Hunter DJ (1998) The incidence of HIV infection among women using family planning methods in Dar es Salaam, Tanzania. AIDS 12(1):75–84

Kippax S, Campbell D, Van de Ven P, Crawford J, Prestage G, Knox S, Culpin A, Kaldor J, Kinder P (1998) Cultures of sexual adventurism as markers of HIV seroconversion: a case control study in a cohort of Sydney gay men. AIDS Care 10(6):677–688

Koblin BA, Husnik MJ, Colfax G, Huang Y, Madison M, Mayer K, Barresi PJ, Coates TJ, Chesney MA, Buchbinder S (2006) Risk factors for HIV infection among men who have sex with men. AIDS 20(5):731–739

Krantz SR, Lynch DA, Russell JM (2002) Gender-specific profiles of self-reported adolescent HIV risk behaviors. J Assoc Nurses AIDS Care 13(6):25–33

LaBrie J, Earleywine M, Schiffman J, Pedersen E, Marriot C (2005) Effects of alcohol, expectancies, and partner type on condom use in college males: event-level analyses. J Sex Res 42:259–266

Leigh BC (2002) Alcohol and condom use: a meta-analysis of event-level studies. Sex Transm Dis 29:476–482

Leigh BC, Stall R (1993) Substance use and risky sexual behavior for exposure to HIV. Issues in methodology, interpretation, and prevention. Am Psychol 48:1035–1045

Leigh BC, Morrison DM, Hoppe MJ, Beadnell B, Gillmore MR (2008) Retrospective assessment of the association between drinking and condom use. J Stud Alcohol Drugs 69:773–776

Maisto SA, Carey MP, Carey KB, Gordon CM (2002) The effects of alcohol and expectancies on risk perception and behavioral skills relevant to safer sex among heterosexual young adult women. J Stud Alcohol 63:476–485

Murphy ST, Monahan J, Miller LC (1998) Inference under the influence: the impact of alcohol and inhibition conflict on women's sexual decision making. Pers Soc Psychol Bull 24:517–528

Nopkesorn T, Mock PA, Mastro TD, Sangkharomya S, Sweat M, Limpakarnjanarat K, Laosakkitiboran J, Young NL, Morse SA, Schmid S, Weniger BG (1998) HIV-1 subtype E incidence and sexually transmitted diseases in a cohort of military conscripts in northern Thailand. J Acquir Immune Defic Syndr Hum Retrovirol 18(4):372–379

Page-Shafer K, Veugelers PJ, Moss AR, Strathdee S, Kaldor JM, van Griensven GJ (1997) Sexual risk behavior and risk factors for HIV-1 seroconversion in homosexual men participating in the Tricontinental Seroconverter Study, 1982–1994. Am J Epidemiol 146:531–542

Plankey MW, Ostrow DG, Stall R, Cox C, Li X, Peck JA, Jacobson LP (2007) The relationship between methamphetamine and popper use and risk of HIV seroconversion in the multicenter AIDS cohort study. J Acquir Immune Defic Syndr 45(1):85–92

Read TR, Hocking J, Sinnott V, Hellard M (2007) Risk factors for incident HIV infection in men having sex with men: a case-control study. Sex Health 4(1):35–39

Rehm J, Mathers C, Popova S, Thavorncharoensap M, Teerawattananon Y, Patra J (2009) Global burden of disease and injury and economic cost attributable to alcohol use and alcohol-use disorders. Lancet 373:2223–2233

Room R, Babor T, Rehm J (2005) Alcohol and public health. Lancet 365:519–530

StataCorp (2008) Stata Statistical Software: Release 10.1. Stata Corporation, College Station

Steele CM, Josephs RA (1990) Alcohol myopia. Its prized and dangerous effects. Am Psychol 45:921–933

Szabo G (1997) Alcohol's contribution to compromised immunity. Alcohol Health Res World 21:30–41

UNAIDS (2008) 2008 Report on the global AIDS epidemic. UNAIDS, Geneva

Wang C, Vlahov D, Galai N, Cole SR, Bareta J, Pollini R, Mehta SH, Nelson KE, Galea S (2005) The effect of HIV infection on overdose mortality. AIDS 19:935–942

Weinhardt LS, Carey MP (2000) Does alcohol lead to sexual risk behavior? Findings from event-level research. Annu Rev Sex Res 11:125–157

World Health Organization (2002) World Health Report 2002. WHO, Geneva

World Health Organization (2008) Towards universal access : scaling up priority HIV/AIDS interventions in the health sector : progress report 2008. World Health Organization, Geneva

Zablotska IB, Gray RH, Serwadda D, Nalugoda F, Kigozi G, Sewankambo N, Lutalo T, Mangen FW, Wawer M (2006) Alcohol use before sex and HIV acquisition: a longitudinal study in Rakai, Uganda. AIDS 20:1191–1196
Acknowledgments
We thank the attendees of the Alcohol and Infectious Diseases Technical meeting held in Cape Town, South Africa in July 2008 and hosted by the South African Medical Research Council in collaboration with the World Health Organization. The research work was funded by the South African Medical Research Council (MRC) through a grant received from the US President's Emergency Fund for AIDS Relief (PEPFAR) through the US Centers for Disease Control and Prevention (CDC). Its contents are solely the responsibility of the authors and do not necessarily represent the official views of the CDC.
About this article
Cite this article
Baliunas, D., Rehm, J., Irving, H. et al. Alcohol consumption and risk of incident human immunodeficiency virus infection: a meta-analysis. Int J Public Health 55, 159–166 (2010). https://doi.org/10.1007/s00038-009-0095-x
Received:

Revised:

Accepted:

Published:

Issue Date:
Keywords
Alcohol

HIV

Incidence

Meta-analysis