Abstract
Elevation gradients provide an ideal setting to infer species' functional trait responses to predicted future climate change. In plants, leaf functional traits help assess their capacity to cope with varying resources. Variation in abiotic conditions over short vertical distances can influence plant phenology, particularly leafing and flowering durations, and leaf functional traits at both inter- and intra-specific levels. However, studies examining relationships between leaf functional traits and phenology duration along elevation gradients are limited. We tested the relationship between leaf size, leaf thickness, specific leaf area, and leafing durations in 10 Rhododendron species in the Sikkim Himalaya. All the investigated traits varied significantly across species, but intra-specific variation in functional traits was observed only among a few. Leaf size and thickness showed significant negative relationships with elevation and a comparative phylogenetic method exhibited a strong relationship between leaf traits and leafing duration. We observed higher leaf thickness and size in species with longer leafing durations and less overlap in leafing and flowering durations. In contrast, species with shorter leafing durations and relatively more overlap in their flowering and leafing durations showed lower leaf thickness and leaf size. Leaf traits such as leaf thickness and leaf size also exhibited a strong phylogenetic signal across 10 Rhododendron species. Overall, from our findings, we infer that along an elevation gradient, the magnitude of leaf trait responses to future increases in temperature may vary depending on species phenology durations and phylogeny.
Access options
Buy single article
Instant access to the full article PDF.
USD 39.95
Price includes VAT (USA)
Tax calculation will be finalised during checkout.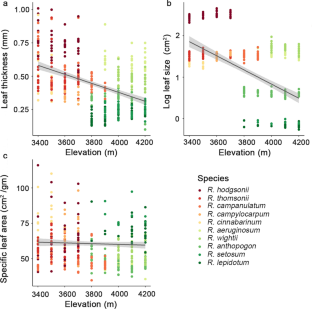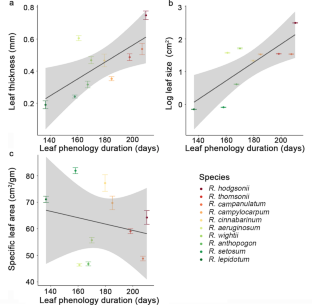 References
Ackerly D, Knight C, Weiss S, Barton K, Starmer K (2002) Leaf size, specific leaf area and microhabitat distribution of chaparral woody plants: contrasting patterns in species level and community level analyses. Oecologia 130:449–457. https://doi.org/10.1007/s004420100805

Bardgett RD, Wardle DA (2010) Aboveground-belowground linkages: biotic interactions, ecosystem processes, and global change. Oxford University Press, Oxford

Basnett S, Nagaraju SK, Gudasalamani R, Devy S (2019) Influence of phylogeny and abiotic factors varies across early and late reproductive phenology of Himalayan Rhododendrons. Ecosphere 10:e02581. https://doi.org/10.1002/ecs2.2581

Bates D, Maechler M, Bolker B (2011) lme4: linear mixed-effects models using S4 classes. http://CRAN.R-project.org/packagelme4. Accessed 2013

Blomberg SP, Garland TT, Ives AR (2003) Testing for phylogenetic signal in comparative data: behavioral traits are more labile. Evolution 57:717–745. https://doi.org/10.1111/j.0014-3820.2003.tb00285.x

Bolmgren K, Cowan P (2008) Time-size tradeoffs: a phylogenetic comparative study of flowering time, plant height and seed mass in a north-temperate flora. Oikos 117:424–429. https://doi.org/10.1111/j.2007.0030-1299.16142.x

Cavender-Bares J, Ackerly DD, Baum DA, Bazzaz FA (2004) Phylogenetic overdispersion in Floridian oak communities. Am Nat 163: 823–843. http://www.jstor.org/stable/https://doi.org/10.1086/386375

Choler P (2005) Consistent shifts in alpine plant traits along a mesotopographical gradient. Arct Antarct Alp Res 37:444–453. https://doi.org/10.1657/1523-0430(2005)037[0444:CSIAPT]2.0.CO;2

Cornelissen JHC, Diez PC, Hunt R (1996) Seedling growth, allocation and leaf attributes in a wide range of woody plant species and types. J Ecol 84:755–765. https://www.jstor.org/stable/2261337

Cornwell WK, Ackerly DD (2009) Community assembly and shifts in plant trait distributions across an environmental gradient in coastal. Ecol Monogr 79:109–126. https://doi.org/10.1890/07-1134.1

Davies TJ, Wolkovich EM, Kraft NJ, Salamin N, Allen JM, Ault TR et al (2013) Phylogenetic conservatism in plant phenology. J Ecol 101:1520–1530. https://doi.org/10.1111/1365-2745.12154

Diaz H, Grosjean M, Graumlich L (2003) Climate variability and change in high elevation regions: past, present and future. Clim Change 59:1–4. https://doi.org/10.1023/A:1024416227887

Dolezal J, Dvorsky M, Kopecky M et al (2016) Vegetation dynamics at the upper elevational limit of vascular plants in Himalaya. Sci Rep 6:1–13. https://doi.org/10.1038/srep24881

Du Y, Mao L, Queenborough SA, Freckleton RP, Chen B, Ma K (2015) Phylogenetic constraints and trait correlates of flowering phenology in the angiosperm flora of China. Glob Ecol Biogeogr 24:928–938. https://doi.org/10.1111/geb.12303

Du Y, Chen J, Willis CG, Zhou Z, Liu T, Dai W, Zhao Y, Ma K (2017) Phylogenetic conservatism and trait correlates of spring phenological responses to climate change in northeast China. Ecol Evol 7:6747–6757. https://doi.org/10.1002/ece3.3207

Dullinger S, Gattringer A, Thuiller W et al (2012) Extinction debt of high-mountain plants under twenty-first-century climate change. Nat Clim Chang 2:619–622. https://doi.org/10.1038/nclimate1514

Elzinga JA, Atlan A, Biere A, Gigord L, Weis AE, Bernasconi G (2007) Time after time: flowering phenology and biotic interactions. Trends Ecol Evol 22:432–439. https://doi.org/10.1016/j.tree.2007.05.006

Fajardo A, Siefert A (2016) Phenological variation of leaf functional traits within species. Oecologia 180:951–959. https://doi.org/10.1007/s00442-016-3545-1

Felde VA, Kapfer J, Grytnes JA (2012) Upward shift in elevational plant species ranges in Sikkilsdalen, central Norway. Ecography 35:922–932. https://doi.org/10.1111/j.1600-0587.2011.07057.x

Freckleton RP, Harvey PH, Pagel M (2002) Phylogenetic analysis and comparative data. Am Nat 160:712–726. https://doi.org/10.1086/343873

Gotelli NJ, Graves GR (1996) Null models in ecology. Smithsonian Institution Press, Washington DC

Gotelli NJ, Hart EM, Ellison AM (2015) EcoSimR: null model analysis for ecological data. R package version 1.0. http://github.com/gotellilab/EcoSimRdoi:https://doi.org/10.5281/zenodo.16522

Graham CH, Parra JL, Rahbek C, McGuire JA (2009) Phylogenetic structure in tropical hummingbird communities. PNAS 106:19673–19678. https://doi.org/10.1073/pnas.0901649106

Grierson AJC, Long DG (1983) Flora of Bhutan, vol 2. Royal Botanical Garden, Edinburgh

Guo H, Mazer SJ, Du G (2010) Geographic variation in seed mass within and among nine species of Pedicularis (Orobanchaceae): effects of elevation, plant size and seed number per fruit. J Ecol 98:1232–1242. https://doi.org/10.1111/j.1365-2745.2010.01688.x

Hampe A, Petit RJ (2005) Conserving biodiversity under climate change: the rear edge matters. Ecol Lett 8:461–467. https://doi.org/10.1111/j.1461-0248.2005.00739.x

Hart R, Georgian EM, Salick J (2016) Fast and cheap in the fall: phylogenetic determinants of late flowering phenologies in Himalayan Rhododendron. Am J Bot 103:198–206. https://doi.org/10.3732/ajb.1500440

Harvey PH, Pagel MD (1991) The comparative method in evolutionary biology. Oxford press, Oxford

Heilmeier H (2019) Functional traits explaining plant responses to past and future climate changes. Flora 254:1–11. https://doi.org/10.1016/j.flora.2019.04.004

Henn JJ, Buzzard V et al (2018) Intraspecific trait variation and phenotypic plasticity mediate alpine plant species response to climate change. Front Plant Sci 9:1548. https://doi.org/10.3389/fpls.2018.01548

Inouye DW, Wielgolaski FE (2013) Phenology at high altitudes. Phenology: an integrative environmental science. Springer, Dordrecht, pp 249–272

Kattel DB, Yao T, Yang W, Gao Y, Tian L (2015) Comparison of temperature lapse rates from the northern to the southern slopes of the Himalayas. Int J Climatol 35:4431–4443. https://doi.org/10.1002/joc.4297

Kembel SW, Cowan PD, Helmus MR, Cornwell WR, Morlon H, Ackerly DD, Blomberg SP, Webb CO (2010) Picante: R tools for integrating phylogenies and ecology. Bioinformatics 26:1463–1464. https://doi.org/10.1093/bioinformatics/btq166

Körner C (1999) Alpine plant life: functional plant ecology of high mountain ecosystems. Springer Science and Business Media, Berlin

Körner C (2003) Alpine plant life, 2nd edn. Springer, Berlin

Körner C (2012) Alpine treelines: functional ecology of the global high elevation tree limits. Springer Science and Business Media, Berlin

Körner C, Spehn EM (2019) Mountain biodiversity: a global assessment. CRC Press, Boca Raton

Kraft NJB, Godoy O, Levine JM (2015) Plant functional traits and the multidimensional nature of species coexistence. Proc Natl Acad Sci USA 112:797–802. https://doi.org/10.1073/Pnas.1413650112

Kudo G (1996) Intraspecific variation of leaf traits in several deciduous species in relation to length of growing season. Ecoscience 3:483–489. https://doi.org/10.1080/11956860.1996.11682367

Kurashige Y, Etoh JI, Handa T, Takayanagi K, Yukawa T (2001) Sectional relationships in the genus Rhododendron (Ericaceae): evidence from matK and trnK intron sequences. Plant Syst Evol 228:1–14. https://doi.org/10.1007/s006060170033

Lian-Ming G, De-Zhu L, Chang-Qin Z (2003) Phylogenetic relationships of Rhododendron section Azaleastrum (Ericaceae) based on ITS sequences. JSE 41:173–179. http://www.jse.ac.cn/EN/Y2003/V41/I2/173

Liu Y, Zhang L, Liu Z, Luo K, Chen S, Chen K (2012) Species identification of Rhododendron (Ericaceae) using the chloroplast deoxyribonucleic acid psbA-trnH genetic marker. Pharmacogn Mag 8:29. https://doi.org/10.4103/0973-1296.93311

Manish K, Pandit MK, Telwala Y, Nautiyal DC, Koh LP, Tiwari S (2017) Elevational plant species richness patterns and their drivers across non-endemics, endemics and growth forms in the Eastern Himalaya. Int J Plant Res 130:829–844. https://doi.org/10.1007/s10265-017-0946-0

McKown AD, Guy RD, Azam MS, Drewes EC, Quamme LK (2013) Seasonality and phenology alter functional leaf traits. Oecologia 172:653–665. https://doi.org/10.1007/s00442-012-2531-5

Orme D (2013) The caper package: comparative analysis of phylogenetics and evolution in R. R package version, 5:1–36. http://CRAN.R-project.org/package=corrplot

Parmesan C (2006) Ecological and evolutionary responses to recent climate change. Annu Rev Ecol Evol Syst 37:637–669. https://doi.org/10.1146/annurev.ecolsys.37.091305.110100

Pérez-Harguindeguy N, Diaz S, Gamier E et al (2013) New handbook for stand-ardised measurement of plant functional traits worldwide. Aust J Bot 61:167–234. https://doi.org/10.1071/BT12225

Pfennigwerth AA, Bailey JK, Schweitzer JA (2017) Trait variation along elevation gradients in a dominant woody shrub is population-specific and driven by plasticity. AoB Plants 9:plx027. https://doi.org/10.1093/aobpla/plx027

Pradhan KC (2010) The Rhododendrons of Sikkim: Handbook. Sikkim adventure, Gangtok

Rathcke BJ, Lacey EP (1985) Phenological patterns of terrestrial plants. Ann Rev Ecol Syst 16:179–214. https://doi.org/10.1146/annurev.es.16.110185.001143?journalCode=ecolsys.1

Read QD, Moorhead LC, Swenson NG, Bailey JK, Sanders NJ (2014) Convergent effects of elevation on functional leaf traits within and among species. Funct Ecol 28:37–45. https://doi.org/10.1111/1365-2435.12162

Reich PB, Walters MB, Ellsworth DS (1992) Leaf life-span in relation to leaf, plant and stand characteristics among diverse ecosystems. Ecol Mono 62:365–392. https://doi.org/10.2307/2937116

Sambrook J, Russell DW (2001) Molecular cloning: a laboratory manual. Cold Spring Harbor Laboratory Press, New York

Sharma PK, Tiwari A, Shrestha BB (2020) Changes in regeneration and leaf traits of Rhododendron campanulatum along a treeline ecotone in central Nepal. J Mt Sci-Engl 17:602–613. https://doi.org/10.1007/s11629-019-5386-y

Sides CB, Enquist BJ, Ebersole JJ, Smith MN, Henderson AN, Sloat LL (2014) Revisiting Darwin's hypothesis: does greater intraspecific variability increase species' ecological breadth? Am J Bot 101:56–62. https://doi.org/10.3732/ajb.1300284

Srivastava T, Kumar A (2018) Seasonal habitat use in three species of wild ungulates in Sikkim Himalaya. Mamm Biol 88:100–106. https://doi.org/10.1016/j.mambio.2017.11.013

Telwala Y, Brook BW, Manish K, Pandit MK (2013) Climate induced elevational range shifts and increase in plant species richness in a Himalayan biodiversity epicenter. PLoS ONE 8:e57103. https://doi.org/10.1371/journal.pone.0057103

Thakur D, Chawla A (2019) Functional diversity along elevational gradients in the high altitude vegetation of the western Himalaya. Biodivers Conserv 28:1977–1996. https://doi.org/10.1007/s10531-019-01728-5

Theurillat JP, Guisan A (2001) Potential impact of climate change on vegetation in the European Alps: a review. Clim Change 50:77–109. https://doi.org/10.1023/A:1010632015572

Thuiller W, Lavorel S, Araújo MB, Sykes MT, Prentice IC (2005) Climate change threats to plant diversity in Europe. PNAS 102:8245–8250. https://doi.org/10.1073/pnas.0409902102

Varma V, Osuri AM (2013) Black Spot: a platform for automated and rapid estimation of leaf area from scanned images. Plant Ecol 214:1529–1534. https://doi.org/10.1007/s11258-013-0273-z

Wang J, Shen J, Wu Y, Wei TY (2013) corrplot: visualization of a correlation matrix. R package version 0.73. http://CRAN.R-project.org/package=corrplot

Wright IJ, Westoby M (2000) Cross-species relationship between seedling relative growth rate, nitrogen productivity and root vs leaf function in 28 Australian woody species. Funct Ecol 14:97–107. https://doi.org/10.1046/j.1365-2435.2000.00393.x

Wright IJ, Dong N, Maire V et al (2017) Global climatic drivers of leaf size. Science 357:917–921. https://doi.org/10.1126/science.aal4760

Wu ZY, Raven PH, Hong DY (2005) Flora of China, vol 14. Missouri Botanical Garden Press, Saint Louis
Acknowledgements
This research was funded by the Department of Biotechnology, Government of India (Grant No. BT/01/NE/PS/NCBS/09) and the National Mission on Himalayan Studies, and implemented by the Ministry of Environment, Forest & Climate Change of India (Grant No. GBPI/NMHS/HF/RA/2015–2016). We thank the Sikkim State Department of Forests and Wildlife, Sikkim Police Department, and Indian Army for research permits and logistical support. Sonam Bhutia and Rakesh Basnett provided assistance for the data collection during the field work. Poornima A and Rani Saggere helped with the lab work. We thank Sandeep Sen for his valuable comments on the analysis. We are very thankful to three anonymous reviewers whose valuable comments have improved the manuscript.
Ethics declarations
Conflict of interest
The authors declare that they have no conflict of interest.
Additional information
Publisher's Note
Springer Nature remains neutral with regard to jurisdictional claims in published maps and institutional affiliations.
Electronic supplementary material
Below is the link to the electronic supplementary material.
About this article
Cite this article
Basnett, S., Devy, S.M. Phenology determines leaf functional traits across Rhododendron species in the Sikkim Himalaya. Alp Botany 131, 63–72 (2021). https://doi.org/10.1007/s00035-020-00244-5
Received:

Accepted:

Published:

Issue Date:
Keywords
Eastern Himalaya

Elevation gradient

Climate change

Functional traits

Phenology

Rhododendron