Abstract
Since the Little Ice Age maximum in mid-nineteenth century, glaciers of the Alps lost more than half of their respective area. The chance to observe primary succession in deglaciated areas has motivated researchers ever since with quite a number of studies on vegetation dynamics in glacier forelands dating back to the nineteenth and early twentieth century. Harsh site conditions make glacier forelands challenging environments for the colonization. Due to high mortality rates during establishment, plant colonization and vegetation dynamics in glacier forelands are commonly considered slow and delayed. Recent research, however, shows that primary succession of plants in glacier forelands is accelerated, most likely due to climate warming. This is demonstrated by a speedup of the colonization process itself as well as by changed colonization strategies of the plant species involved. Employing a virtually complete species list for 1911 provided by Raimund v. Klebelsberg and our data collected along a chronosequence roughly a century later, we compare the floristic composition and structural attributes of the plant species governing primary succession within the glacier foreland of Lenksteinferner (ferner is a Tyrolean toponym for glacier) (South Tyrol, Italy). We address questions of changes in the dynamics of colonization, the plant species involved and their respective biological traits. Our study confirms that present-day vegetation dynamics in the glacier foreland are accelerated, colonization occurs faster and more species are involved in early colonization than a century ago. However, the dominant early colonizers are essentially the same and there are no fundamental differences concerning the spectra of biological traits between the two sampling dates. Altered colonization strategies due to climate change could not be detected within the glacier foreland of the Lenksteinferner, probably due to a compensation of climate warming during the twentieth century by the shift of the glacier terminus to a higher elevation. As the difference in temperature between the two sampling areas matches the magnitude of warming between the two sampling dates, similar temperature conditions in front of the glacier terminus today and at Klebelsberg's times can be assumed.
Access options
Buy single article
Instant access to the full article PDF.
US$ 39.95
Tax calculation will be finalised during checkout.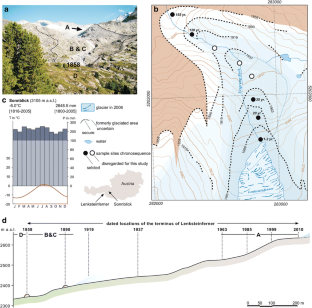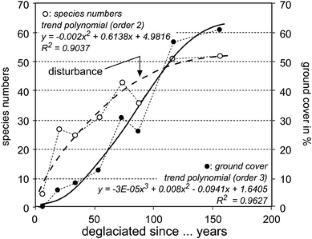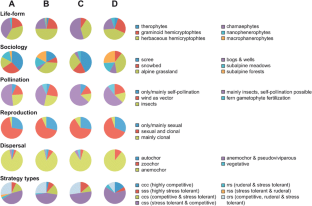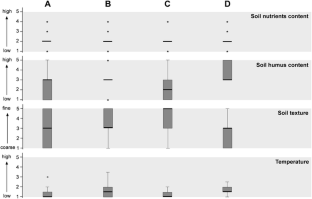 References
Auer I, Böhm R, Jurkovic A, Lipa W, Orlik A, Potzmann R, Schöner W, Ungersböck M, Matulla C, Briffa K, Jones PD, Efthymiadis D, Brunetti M, Nanni T, Maugeri M, Mercalli L, Mestre O, Moisselin J-M, Begert M, Müller-Westermeier G, Kveton V, Bochnicek O, Stastny P, Lapin M, Szalai S, Szentimrey T, Cegnar T, Dolinar M, Gajic-Capka M, Zaninovic K, Majstorovic Z, Nieplova E (2007) HISTALP-historical instrumental climatological surface time series of the greater alpine region 1760–2003. Int J Climatol 27:17–46

Bardgett RD, Bowman WD, Kaufmann R, Schmidt SK (2005) A temporal approach to linking aboveground and belowground ecology. Trends Ecol Evol 20(11):634–641

Bradshaw AD (1993) Understanding the fundamentals of succession. In: Miles J, Walton DWH (eds) Primary succession on land. Blackwell, Oxford, pp 1–3

Burga CA (1999) Vegetation development on the glacier forefield Morteratsch (Switzerland). Appl Veg Sci 2:17–24

Burga CA (2013) More and quicker new land for pioneer plants and faster plant settlement - 14 years plant monitoring of the glacier foreland Morteratsch (2000 m a.s.l., Pontresina, Upper Engadine, Switzerland). In Frei E R, Stöckli V, Rixen C, Wipf S (eds.) Faster, Higher, More? Past, Present and Future Dynamics of Alpine and Arctic Flora under Climate Change. Abstracts. International conference, September 22 to 25, 2013 Bergün, Switzerland. Birmensdorf, Swiss Federal Institute for Forest, Snow and Landscape Research WSL. [http://www.wsl.ch/epub/aafc]

Burga CA, Krüsi B, Egli M, Wernli M, Elsener S, Ziefle M, Fischer T, Mavrisa C (2010) Plant succession and soil development on the foreland of the Morteratsch glacier (Pontresina, Switzerland): straight forward or chaotic? Flora 205:561–576

Cannone N, Diolaiuti G, Guglielmin M, Smiraglia C (2008) Accelerating climate change impacts on alpine glacier forefield ecosystems in the European Alps. Ecol Appl 18(3):637–648

Coaz J (1887) Erste Ansiedlung phanerogamer Pflanzen auf von Gletschern verlassenem Boden. Mitteilungen der Naturforschenden Gesellschaft Bern für 1886:3–12

Damm B (1998) Der Ablauf des Gletscherrückzuges in der Rieserfernergruppe (Tirol) im Anschluss an den Hochstand um 1850. Z Gletsch Glazialgeol 34:141–159

Damm B, Felderer A (2013) Impact of atmospheric warming on permafrost degradation and debris flow initiation—a case study from the eastern European Alps. E G Quat Sci J 62(2):136–149

Deutschman A (2003) A tale of two valleys: Wine, Wealth and the Battle for the Good Life in Napa and Sonoma. Crown Archetype. [http://www.zamg.ac.at/a-tale-of-two-valleys/]

Ellenberg H (1996) Vegetation Mitteleuropas mit den Alpen. UTB, Stuttgart, p 1095

Ellenberg H, Weber H E, Düll R, Wirth V, Werner W, Paulißen D (1991) Zeigerwerte von Pflanzen in Mitteleuropa. Scripta Geobotanica 18, Göttingen, pp 248

Erschbamer B, Kneringer E, Niederfriniger Schlag R (2001) Seed rain, seed bank, seedling recruitment, and survival of seedlings on a glacier foreland in the Central Alps. Flora 196(4):304–312

Erschbamer B, Niederfriniger Schlag R, Winkler E (2008) Colonization processes on a central alpine glacier foreland. J Veg Sci 19(6):855–862

Fickert Th (2016) Zur Bedeutung von Dauerbeobachtungsstudien in der Sukzessionsforschung. Passauer Schriften zur Geographie, Bd. 29, Passau, pp 158

Fischer M A, Adler W, Oswald K (2005) Exkursionsflora für Österreich, Liechtenstein und Südtirol. Land Oberösterreich, Biologiezentrum der OÖ Landesmuseen, Linz, pp 1392

Grime JP (1979) Plant strategies and vegetation process. Wiley, Chichester, p 222

Hiltbrunner E, Schwikowski M, Körner C (2005) Inorganic nitrogen storage in alpine snow pack in the Central Alps (Switzerland). Atmos Environ 39:2249–2259

Jones CC, del Moral R (2009) Dispersal and establishment both limit colonization during primary succession on a glacier foreland. Plant Ecol 204(2):217–230

Kerner von Marilaun A (1863) Das Pflanzenleben der Donauländer. Verlag der Wagner'schen Universitäts-Buchhandlung, Innsbruck

Klotz S, Kühn I, Durka W (2002) BIOLFLOR—Eine Datenbank mit biologisch-ökologischen Merkmalen zur Flora von Deutschland. Schriftenreihe für Vegetationskunde 38, Bundesamt für Naturschutz, Bonn

Körner C (2014) Mountain ecosystems in a changing environment. Eco Mont 6(1):71–77

Landolt E, Bäumler B, Erhardt A, Hegg O, Klötzli F A, Lämmler W, Nobis M, Rudmann-Maurer K, Schweingruber F H, Theurillat J-P, Urmi E, Vust M, Wohlgemuth T (2010) Ökologische Zeigerwerte und Biologische Kennzeichen zur Flora der Schweiz und der Alpen, Bern, 376

Lüdi W (1945) Besiedlung und Vegetationsentwicklung auf den jungen Seitenmoränen des Grossen Aletschgletschers, mit einem Vergleich der Besiedlung im Vorfeld des Rhonegletschers und des Oberen Grindelwaldgletschers. Bericht über das Geobotanische Forschungsinstitut Rübel in Zürich für das Jahr 1944:35–112

Marcante S, Sierra-Almeida A, Spindelböck JP, Erschbamer B, Neuner G (2012) Frost as a limiting factor for recruitment and establishment of early development stages in an alpine glacier foreland? J Veg Sci 23(5):858–868

Müller-Schneider P (1986) Verbreitungsbiologie der Blütenpflanzen Graubündens. Veröffentlichungen des Geobotanischen Instituts der Eidg. Techn. Hochschule, Stiftung Rübel, Zürich, H. vol 85, p 263

Nagl F, Erschbamer B (2010) Pflanzliche Sukzession im Gletschervorfeld – Vegetation und Besiedlungsstrategien. Koch E-M, Erschbamer B (eds.) Glaziale und periglaziale Lebensräume im Raum Obergurgl. Innsbruck University Press, Innsbruck, pp 121–143 and 251–263

Paul F, Kääb A, Maisch M, Kellenberger T, Haeberli W (2004) Rapid disintegration of Alpine glaciers observed with satellite data. Geophys Res Lett. doi:10.1029/2004GL020816

Pickett STA (1989) Space-for-time substitution as an alternative to long-term studies. Likens GE (ed.): Long-term studies in ecology: approaches and alternatives. Springer, New York, 110–135

Raunkiaer C (1934) The lifeforms of plants and statistical plant geography. Oxford University Press, UK, p 632

Richard JL (1975) Dynamique de la végétation au bord du grand glacier d'Aletsch (Alpes Suisses). Schmidt W (ed.) Sukzessionsforschung. Berichte der Internationalen Symposien der Internationalen Vereinigung für Vegetationskunde (Rinteln 1973), Cramer, Vaduz, pp 189–209

Rübel E (1912) Pflanzengeographische Monographie des Berninagebietes. Engelmann, Leipzig

Schöner W, Böhm R, Auer I (2012) 125 years of high-mountain research at Sonnblick Observatory (Austrian Alps)—from "the house above the clouds" to a unique research platform. Theor Appl Climatol 110:491–498

Stöcklin J, Bäumler E (1996) Seed rain, seedling establishment and clonal growth strategies on a glacier foreland. J Veg Sci 7:45–56

Stotter M, Heufler L (1840) Geognostische-botanische Bemerkungen auf einer Reise durch Ötztal und Schnals. Neue Zeitschrift des Ferdinandeums

Tackenberg O, Stöcklin J (2008) Wind dispersal of alpine plant species: a comparison with lowland species. J Veg Sci 19(1):109–118

Vittoz P, Bodin J, Ungricht S, Burga C, Walther G-R (2008) One century of vegetation change on Isla Persa, a nunatak in the Bernina massif in the Swiss Alps. J Veg Sci 19:671–680

von Klebelsberg R (1913) Das Vordringen der Hochgebirgsvegetation in den Tiroler Alpen—eine alpin-pflanzengeographische Studie. Österreichische Botanische Zeitschrift 63(5):177–186 (63(6): 241–254)

Zemp M, Roer I, Kääb A, Hoelzle M, Paul F, Haeberli W (2008) Global glacier changes: facts and figures. WGMS, UNEP, Geneva

Zemp M, Frey H, Gärtner-Roer I, Nussbaumer SU, Hoelzle M, Paul F, Haeberli W, Denzinger F, Ahlstrøm AP, Anderson B, Bajracharya S, Baroni C, Braun LN, Cáceres BE, Casassa G, Cobos G, Dávila LR, Delgado Granados H, Demuth MN, Espizua L, Fischer A, Fujita K, Gadek B, Ghazanfar A, Hagen JO, Holmlund P, Karim N, Li Z, Pelto M, Pitte P, Popovnin VV, Portocarrero CA, Prinz R, Sangewar CV, Severskiy I, Sigurðsson O, Soruco A, Usubaliev R, Vincent C (2015) Historically unprecedented global glacier decline in the early 21st century. J Glaciol 61(228):745–761. doi:10.3189/2015JoG15J017
Acknowledgements
We would like to thank Dr. Stefan Klotz (UFZ Leipzig) for providing the access code to the BiolFlor database. Helpful comments of three anonymous reviewers and the Editor-in-Chief of Alpine Botany, Dr. Jürg Stöcklin, on earlier drafts greatly improved the manuscript. The authors are also very grateful to Dr. Donald Friend (Minnesota State University, Mankato, USA) for valuable linguistic advice.
Ethics declarations
Conflict of interest
The authors declare that they have no conflict of interest.
Declaration of authorship
T.F. designed the study. T.F. and F.G. performed botanical data sampling and analyses, B.D. performed the reconstruction of the glacial history of Lenksteinferner. All authors contributed to manuscript writing.
Electronic supplementary material
Below is the link to the electronic supplementary material.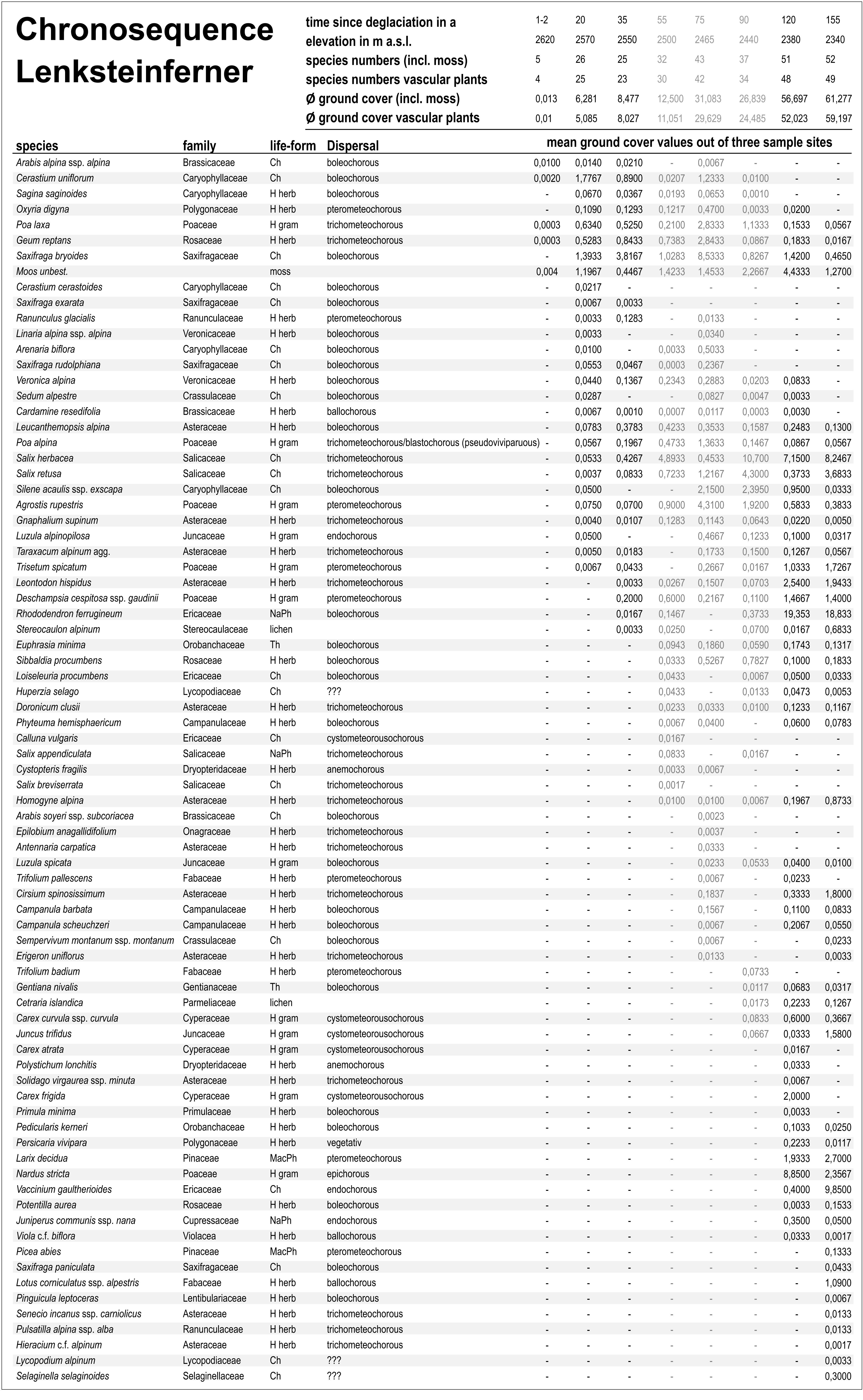 S1 Monthly and mean annual vertical temperature lapse rates and elevations of 0°C-isotherm based on data of nine meteorological stations in the Rieserferner group and adjacent areas for the period 1994–2004 (according to Damm and Felderer 2013) (JPEG 463 kb)
S2 Species list for the entire chronosequence in the glacier foreland of Lenksteinferner, grey columns are disregarded here, as they do match neither site age nor location of the Klebelsberg data (JPEG 7562 kb)
About this article
Cite this article
Fickert, T., Grüninger, F. & Damm, B. Klebelsberg revisited: did primary succession of plants in glacier forelands a century ago differ from today?. Alp Botany 127, 17–29 (2017). https://doi.org/10.1007/s00035-016-0179-1
Received:

Accepted:

Published:

Issue Date:
Keywords
Climate warming

Glacier retreat

Lenksteinferner

Little Ice Age

Plant colonization strategies

Vegetation dynamics