Abstract
The mean temperature of the growing season has been found to correlate with treeline position across the globe, but regional variation still needs to be explained. In the present study, we explored how the elevation of the alpine treeline varies with slope exposure and the distinct influence of the summer monsoon in the Three Parallel Rivers region of SW China (Yunnan). We hypothesized that the treeline elevation will not vary distinctly with slope exposure, because tree canopies are coupled to atmospheric conditions rather than ground temperature. We extracted treeline positions from Landsat TM images, DEM (digital elevation model) data and climatic data from Worldclim to analyze the relationship between treeline position and climate. The results revealed no significant exposure effect. Treeline elevations were almost the same at different slope exposure in each of these north–south stretching mountain ranges. Counter to expectation, south-facing slopes showed a slightly lower position than the others, which may be caused either by greater monsoon exposure (cloud cover) or human disturbance. The mean growing season temperature at treeline showed the same pattern as was obtained globally in earlier assessments (6.7 °C). However, the treeline elevation (as well as the isotherm position) increased from west (wet) to east (drier) along the summer monsoon route. Our results confirmed the theory that the treeline is strongly associated with atmospheric circulation and does not benefit from greater radiative warming on south-facing slopes during the growing season. The common treeline isotherm hypothesis matches with treeline position in this monsoon-driven climate regime.
Access options
Buy single article
Instant access to the full article PDF.
USD 39.95
Price excludes VAT (USA)
Tax calculation will be finalised during checkout.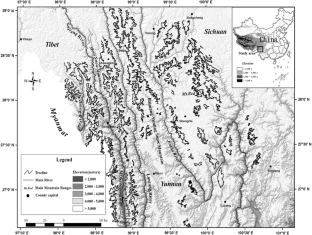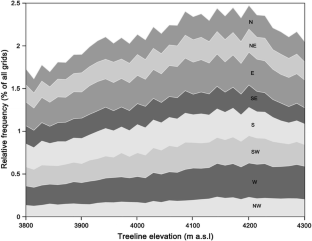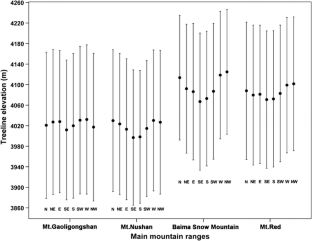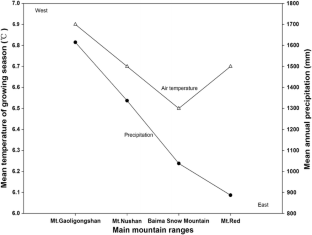 References
Bader MY, Ruijten JJA (2008) A topography-based model of forest cover at the alpine treeline in the tropical Andes. J Biogeogr 35:711–723

Bandyopadhyay J (1992) The Himalaya: Prospects for and constraints on sustainable development. In: Stone PB (ed) The State of the World's Mountains. Zed Books Ltd., London and New Jersey, pp 93–126

Beaman JH (1962) The timberlines of Itzaccihuatl and Popocatepetl, Mexico. Ecology 43:377–385

Editorial Committee of Yunnan Vegetation (1987) Yunnan Vegetation. Science Press, Beijing, p 1024 In Chinese

Geatz R (1999) Great Rivers of Yunnan: conservation in a changing China. Nat Conser Mag 49:10–17

Geiger R, Aron RH, Todhunter P (2003) The climate near the ground. Rowman and Littlefield Publishers, Langham, p 584

Harsch MA, Bader MY (2011) Treeline form-a potential key to understanding treeline dynamics. Global Ecol Biogeogr 4:582–596

Harsch MA, Hulme PE, McGlone MS, Duncan RP (2009) Are treelines advancing? A global meta-analysis of treeline response to climate warming. Ecol Lett 10:1040–1049

Hijmans RJ, Cameron SE, Parra JL, Jones PG, Jarvis A (2005) Very high resolution interpolated climate surfaces for global land areas. Int J Climatol 25:1965–1978

Holtmeier FK (1993) Timberlines as indicators of climatic changes: problems and research needs. In: Frenzel B (ed) Oscillations of the alpine and polar tree limits in the Holocene. Gustav Fischer Verlag, Stuttgart, pp 211–222

Holtmeier FK (2009) Mountain timberlines. Ecology, patchiness and dynamics: advances in global change research 2nd edn. Springer, Berlin, 36:1–437

Holtmeier FK, Broll G (2005) Sensitivity and response of northern hemisphere altitudinal and polar treelines to environmental change at landscape and local scales. Global Ecol Biogeogr 14:395–410

Institute of Geography, CAS (1982) Integrated physico-geographical regionalization and mountain altitudinal belts in the Hengduan Mountains of Northwestern Yunnan. 1981 Annual report of the integrated survey group of Tibet, Chinese Academy of Science (in Chinese)

IUCN (2003) Three Parallel Rivers of Yunnan Protected Areas. http://whc.unesco.org/en/list/1083. Accessed 25 July 2012

Körner C (1998) A re-assessment of high elevation treeline position and their explanation. Oecologia 115:445–459

Körner C (2012) Alpine treelines: functional ecology of the global high elevation tree limits. Springer, Basel

Körner C, Paulsen J (2004) A world-wide study of high altitude treeline temperatures. J Biogeogr 31:713–732

Malanson GP, Resler LM, Bader MY, Holtmeier FK, Butler DR, Weiss DJ, Daniels LD, Daniels Fagre DB (2011) Mountain treelines: a roadmap for research orientation. Arct Antarct Alp Res 2:167–177

Malyshev L, Nimis PL (1997) Climatic dependence of the ecotone between alpine and forest orobiomes in southern Siberia. Flora 192:109–120

Mark M (2008) Three Parallel Rivers of Yunnan Protected Areas China. In: Cutler J. Cleveland (eds) Encyclopedia of Earth (Washington, DC: Environmental Information Coalition, National Council for Science and the Environment). United Nations Environment Programme-World Conservation Monitoring Centre (Content Partner)

Metzger MJ, Bunce RGH, Jongman RHG, Sayre R, Trabucco A, Zomer R (2013) A high resolution bioclimate map of the world: a unifying framework for global biodiversity research. Global Ecol Biogeogr 22:630–638

Miehe G (1989) Vegetation patterns on Mount Everest as influenced by monsoon and föhn. Vegetatio 79:21–32

Miehe G, Miehe S, Will M, Opgenoorth L, Duo L, Dorgeh T, Liu JQ (2008) An inventory of forest relicts in the pastures of Southern Tibet (Xizang AR, China). Plant Ecol 194:157–177

Mittermeier R, Meyers N, Mittermeier N, Gil P, Ford H (1999) Hot spots: Earth's biologically richest and most endangered terrestrial ecoregions. Cemex, Conservation International, Mexico

Myers N, Mittermeier RA, Mittermeier CG, da Fonseca GAB, Kent J (2000) Biodiversity hotspots for conservation priorities. Nature 403:853–858

OSU-SCAS (2006) The Climate Source, Inc. Oregon State Universit. http://www.climatesource.com/cn/fact_sheets/yunnanppt_xl.jpg and http://www.climatesource.com/cn/fact_sheets/fact_tmean_cn.html. Accessed 20 May 2012

Paulsen J, Körner C (2001) GIS-analysis of tree-line elevation in the Swiss Alps suggests no exposure effect. J Veg Sci 12:817–824

Poveda G, Mesa OJ, Salazar LF, Arias PA, Moreno HA, Vieira SC, Agudelo PA, Toro VG, Alvarez JF (2005) The diurnal cycle of precipitation in the tropical Andes of Colombia. Mon Weather Rev 133:228–240

Schickhoff U (2005) The upper timberline in the Himalayas, Hindu Kush and Karakorum: a review of geographical and ecological aspects. In: Broll G, Keplin B (eds) Mountain ecosystems. Studies in treeline ecology. Springer, Berlin, pp 275–354

Sherman RE, Mullen R, Li HM, Fang ZD, Wang Y (2007) Alpine ecosystems of Northwest Yunnan, China: an initial assessment for conservation. J Mt Sci 3:188–192

Smith AP, Young TP (1987) Tropical alpine plant ecology. Annu Rev Ecol Sys 18:137–158

Treml V, Banaš M (2008) The effect of exposure on alpine treeline position: a case study from the High Sudetes, Czech Republic. Arct Antarc Alp Res 4:751–760

Troll C (1973) The upper timberlines in different climate zones. Arct Alp Res 5:3–18

Tucker CJ, Grant DM, Dykstra JD (2004) NASA's global orthorectified landsat data set. Photogramm Eng Remote Sens 70:313–322

Walsh SJ, Brown DG, Geddes CA, Weiss DJ, Hammer ES, Tuttle JP (2009) Pattern process relations in the alpine and subalpine environments, Glacier National Park, Montana, USA: a remote sensing and GIScience perspective. In: Butler DR, Malanson GP, Walsh SJ, Fagre DB (eds) The changing alpine treeline of Glacier National Park, Montana, USA. Elsevier, The Netherlands, p 199

Walther A, Linderholm H (2006) A comparison of growing season indices for the Greater Baltic Area. Int J Biometeorol 51:107–118

Wan YX, Zhang WC, Xiao ZN (2009) Spatiotemporal variation characteristics of air temperature in longitudinal ridge-gorge region of Yunnan in recent century. J Nat Disasters 18:183–188 (in Chinese)

Xu XD, Miao QJ, Wang J, Zhang XJ (2003) The water vaportransport model at the regional boundary during the Meiyu period. Adv Atmos Sci 20:333–342

Yao YH, Zhang BP, Han F, Pang Y (2010) Diversity and geographical pattern of altitudinal belts in the Hengduan Mountains in China. J Mt Sci 7:123–132

Zhang ZM, Eva MDC, Ou XK, Robert RDW, Lieven PCV (2008) Mapping dominant communities vegetation in Meili Snow Mountain, Yunnan Province, China using satellite imagery and plant community data. Geocarto Int 23:135–153

Zhang ZM, Robert RDW, Frieke MBVC, Lieven PCV, Eva MDC, Ou XK (2011) The influence of different topographic correction strategies on vegetation classification accuracy in the Lancang watershed, China. J Appl Remote Sens 5:1–21

Zimmermann NE, Roberts DW (2001) Final report of the MLP climate and biophysical mapping project. Scientific project report. WSL, Switzerland
Acknowledgments
We thank Jens Paulsen for his advice on climate data processing, and we are very grateful to the editor Jürg Stöcklin and three reviewers for their instructive comments and suggestions. This work was supported by the National Natural Science Foundation of China (31160101 and 31260148) and the National Key Technologies R&D Program of China (2011BAC09B07).
About this article
Cite this article
Wang, W., Körner, C., Zhang, Z. et al. No slope exposure effect on alpine treeline position in the Three Parallel Rivers Region, SW China. Alp Botany 123, 87–95 (2013). https://doi.org/10.1007/s00035-013-0118-3
Received:

Accepted:

Published:

Issue Date:

DOI: https://doi.org/10.1007/s00035-013-0118-3
Keywords
Forest limit

Growing season

Monsoon climate

Hengduan mountains