Abstract
Plant survival in alpine landscapes is constantly challenged by the harsh and often unpredictable environmental conditions. Steep environmental gradients and patchy distribution of habitats lead to small size and spatial isolation of populations and restrict gene flow. Agricultural land use has further increased the diversity of habitats below and above the treeline. We studied the consequences of the highly structured alpine landscape for evolutionary processes in four study plants: Epilobium fleischeri, Geum reptans, Campanula thyrsoides and Poa alpina. The main questions were: (1) How is genetic diversity distributed within and among populations and is it affected by altitude, population size or land use? (2) Do reproductive traits such as allocation to sexual or vegetative reproduction vary with altitude or land use? Furthermore, we studied if seed weight increases with altitude. Within-population genetic diversity of the four species was high and mostly not related to altitude and population size. Nevertheless, genetic differentiation among populations was pronounced and strongly increasing with distance. In Poa alpina genetic diversity was affected by land use. Results suggest considerable genetic drift among populations of alpine plants. Reproductive allocation was affected by altitude and land use in Poa alpina and by succession in Geum reptans. Seed weight was usually higher in alpine species than in related lowland species. We conclude that the evolutionary potential to respond to global change is mostly intact in alpine plants, even at high altitude. Phenotypic variability is shaped by adaptive as well as by random evolutionary processes; moreover plastic responses to growth conditions seem to be crucial for survival of plants in the alpine landscape.
Zusammenfassung
Das Überleben von Pflanzen in der alpinen Landchaft ist durch die harschen Umweltbedingungen eine ständige Herausforderung. Die alpine Landschaft zeichnet sich durch steile Umweltgradienten, fragmentierte Lebensräume und genetisch isolierte, oft kleine Populationen aus. Die landwirtschaftliche Nutzung hat diese kleinräumigen Strukturen noch verstärkt. Wir untersuchten die Auswirkungen der reich strukturierten alpinen Landschaft auf Evolutionsprozesse bei vier Arten: Epilobium fleischeri, Geum reptans, Campanula thyrsoides und Poa alpina. Hauptfragen waren: (1) Ist die genetische Diversität in Populationen abhängig von der Höhe über Meer, von der Populationsgrösse oder der Landnutzung und wie stark sind Populationen genetisch differenziert? (2) Verändern sich reproduktive Eigenschaften wie die Allokation in die sexuelle bzw. die klonale Reproduktion mit der Höhe und der Landnutzung? Weiter untersuchten wir die Auswirkung der Höhe über Meer auf das Samengewicht. Die genetische Diversität war bei allen vier Arten gross und ändert sich in der Regel nicht mit der Höhe oder der Populationsgrösse. Trotzdem fanden wir eine starke Populationsdifferenzierung, die mit der Distanz in allen Fällen deutlich zunahm. Bei Poa alpina wurde die genetische Diversität auch durch die Landnutzung beeinflusst. Genetische Drift war bei allen Arten beträchtlich. Die reproduktive Allokation wurde bei Geum reptans durch das Sukzessionsstadium und bei Poa alpina durch die Höhe und die Landnutzung beeinflusst. Das Samengewicht nimmt bei vielen alpinen Pflanzenarten im Vergleich mit Arten aus dem Tiefland zu. Wir schlussfolgern, dass die Anpassungsfähigkeit an eine sich ändernde Umwelt bei Alpenpflanzen auch in grosser Höhe intakt ist. Phänotypische Variabilität wird nicht nur durch adaptive, sondern auch durch Zufallsprozesse geformt. Phenotypische Plastizität scheint für das Überleben von Alpenpflanzen eine wichtige Rolle zu spielen.
Access options
Buy single article
Instant access to the full article PDF.
USD 39.95
Price includes VAT (USA)
Tax calculation will be finalised during checkout.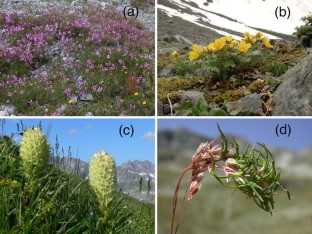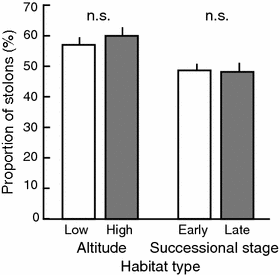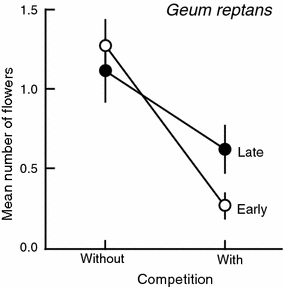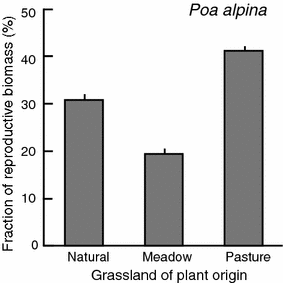 References
Ægisdóttir HH, Kuss P, Stöcklin J (2007) No inbreeding depression in an outcrossing alpine species: the breeding system of Campanula thyrsoides. Flora 2002:218–225

Aeschimann D, Lauber K, Moser DM, Theurillat J-P (2004) Flora alpina (3 volumes). Haupt, Bern

Billings WD, Mooney HA (1968) The ecology of arctic and alpine plants. Bot J Linn Soc 80:125–160

Bingham RA, Ranker TA (2000) Genetic diversity in alpine and foothill populations of Campanula rotundifolia (Campanulaceae). Int J Plant Sci 161:403–411

Bliss LC (1971) Arctic and alpine plant life cycles. Annu Rev Ecol Syst 2:405–438

Bradschaw AD (1965) Evolutionary significance of phenotypic plasticity in plants. Adv Genet 13:115–155

Bradshaw AD (1984) Ecological significance of genetic variation between populations. In: Dirzo R, Sarukhan J (eds) Perspectives on plant populatoin ecology. Sinauer, Sunderland, MA, pp 213–228

Körner Ch (2003) Alpine plant life, 2nd edn. Springer, Heidelberg

Chapin FS, Körner Ch (eds) (1995) Arctic and alpine biodiversity: patterns, causes and ecosystem consequences. Ecol Stud, vol 113. Springer, Berlin

Clausen J, Keck DD, Hiesey WM (1940) Experimental studies on the nature of species. I. Effect of varied environment on western North American plants. Publication 520, Carnegie Institution of Washington, Washington

Crispo E, Hendry AP (2005) Does time since colonization influence isolation by distance? A meta-analysis. Conserv Genet 6:665–682

Despres L, Loriot S, Gaudeul M (2002) Geographic pattern of genetic variation in the European globeflower Trollius europaeus L. (Ranunculaceae) inferred from amplified fragment length polymorphism markers. Mol Ecol 11:2337–2347

Fischer M, Stöcklin J (1997) Local extinctions of plants in remnants of extensively used calcareous grasslands 1950–1985. Conserv Biol 11:727–737

Fischer M, Rudmann-Maurer K, Weyand A, Stöcklin J (2008) Agricultural land use and biodiversity in the Alps. Mt Res Dev 28:148–156

Frankham R, Ballou JD, Briscoe DA (2002) Introduction to conservation genetics. Cambridge University Press, Cambridge

Gadeul M, Taberlet P, Till-Bottraud I (2000) Genetic diversity in an endangered alpine plant, Eryngium alpinum L. (Apiaceae), inferred from amplified fragment length polymorphism markers. Mol Ecol 9:1625–1637

Galen C, Shore JS, Deyoe H (1991) Ecotypic divergence in Alpine Polemonium viscosum: genetic structure, quantitative variation, and local adaptation. Evolution 45:1218–1228

Galloway LF, Fenster CB (2000) Population differentiation in an annual legume: local adaptation. Evolution 54:1173–1181

Gugerli F, Eichenberger K, Schneller JJ (1999) Promiscuity in populations of the cushion plant Saxifraga oppositifolia in the Swiss Alps as inferred from random amplified polymorphic DNA (RAPD). Mol Ecol 8:453–461

Hamrick JL, Godt MJW (1989) Allozyme diversity in plant species. In: Brown HD, Clegg MT, Kahler AL, Weir BD (eds) Plant population genetics, breeding and genetic resources. Sinauer Associates, Sunderland, pp 43–63

Hartmann H (1957) Studien über die vegetative Fortpflanzung in den Hochalpen. Jahresb Naturforsch Ges Graubünden 86:3–168

Hewitt GM (2004) Genetic consequences of climatic oscillations in the Quaternary. Phil Trans Royal Soc Lond B Biol Sci 359:183–195

Holderegger R, Stehlik I, Abbott J (2002) Molecular analysis of the Pleistocene history of Saxifraga oppositifolia in the Alps. Mol Ecol 11:1409–1418

Kadereit JW, Licht W, Uhink CH (2008) Asian relationship of the flora of the European Alps. Plant Ecol Divers 1:171–179

Klimeš L, Klimešova J, Hendriks R, van Groenendael J (1997) Clonal plant architecture: a comparative analysis of form and function. In: de Kroon H, van Groenendael J (eds) The ecology and evolution of clonal plants. Backhuys Publishers, Leiden, pp 1–29

Kuss P, Pluess AR, Ægisdóttir HH, Stöcklin J (2008) Spatial isolation and genetic differentiation in naturally fragmented plant populations of the Swiss Alps. J Plant Ecol 1:149–159

Leimu R, Mutikainen P, Koricheva J, Fischer M (2006) How general are positive relationships between plant population size, fitness and genetic variation? J Ecol 94:942–952

Nybom N, Bartish I (2004) Effects of life history traits and sampling strategies on genetic diversity estimates obtained with RAPD markers in plants. Perspect Plant Ecol Evol Syst 3:93–114

Ohsawa T, Ide Y (2008) Global patterns of genetic variation in plant species along vertical and horizontal gradients on mountains. Global Ecol Biogeogr 17:152–162

Ozenda P (1988) Die Vegetation der Alpen. Fischer Verlag, Stuttgart

Parisod C (2008) Postglacial recolonisation of plants in the western Alps of Switzerland. Bot Helv 118:1–12

Pigliucci M (2003) Phenotypic integration: studying the ecoloy and evolution of complex pehnotypes. Ecol Lett 6:265–272

Pluess AR, Stöcklin J (2004) Population genetic diversity of the clonal plant Geum reptans (Rosaceae) in the Swiss Alps. Am J Bot 91:2013–2021

Pluess AR, Stöcklin J (2005) The importance of population origin and environment on clonal and sexual reproduction in the alpine plant Geum reptans. Funct Ecol 19:228–237

Pluess AR, Schütz W, Stöcklin J (2005) Seed weight increases with altitude in the Swiss Alps between related species but not among populations of individual species. Oecologia 144:55–61

Rudmann-Maurer K, Weyand A, Fischer M, Stöcklin J (2007) Microsatellite diversity of the agriculturally important alpine grass Poa alpina in relation to land use and natural environment. Ann Bot 100:1249–1258

Rusterholz H-P, Stöcklin J, Schmid B (1993) Populationsbiologische Studien an Geum reptans L. Verh Ges Oekologie 22:337–346

Schönswetter F, Stehlik I, Holderegger R, Tribsch A (2005) Molecular evidence for glacial refugia of mountain plants in the European Alps. Mol Ecol 14:3547–3555

Stehlik I (2000) Nunataks and peripheral refugia for alpine plants during Quaternary glaciation in the middle part of the Alps. Bot Helv 110:25–30

Stehlik I (2003) Resisteance or emigration? Response of alpine plants to the ice ages. Taxon 52:499–510

Stöcklin J (1992) Umwelt, Morphologie und Wachstumsmuster klonaler Pflanzen—eine Übersicht. Bot Helv 102:3–21

Sultan SE (1987) Evolutionary implications of phenotypic plasticity in plants. Evol Biol 21:127–178

Tackenberg O, Stöcklin J (2008) Wind dispersal of alpine plant species: a comparison with lowland species. J Veg Sci 19:109–118

Theurillat JP (1979) Etude biosystématique d' Epilobium dodonaei Vill. Et d'E. fleischeri Hochst. (Onagraceae). Bull Soc Neuchâteloise Sci Nat 3:105–128

Thiel-Egenter C, Gugerli F, Alwarez N, Brodbeck S, Cieslak E, Colli L, Englisch T, Gaudeul M, Gielly L, Korbecka G, Negrini R, Paun O, Pellechia M, Roux D, Ronikier M, Schönswetter P, Schüpfer F, Taberlet P, Tribsch A, van Loo M, Winkler M, Holderegger R, the IntraBioDiv Consortium (2009) Effects of species traits on the genetic diversity of high-mountain plants: a multi-species study across the Alps and the Carpathians. Global Ecol Biogeogr 18:78–87

Till-Bottraud I, Gaudeul M (2002) Intraspecific genetic diversity in alpine plants. In: Körner C, Spehn EM (eds) Mountain biodiversity: a global assessment. Parthenon, London, pp 23–34

Tribsch A, Schönswetter P (2003) Patterns of endemism and comparative phylogeography confirm palaeo-environmental evidence for Pleistocene refugia in the Eastern Alps. Taxon 52:477–497

Turesson G (1922) The genotypic response of the plant species to the habitat. Hereditas 3:211–350

Watson MA (1984) Developmental constraints—effect on population growth and patterns of resource allocation in a clonal plant. Am Nat 123:411–426

Weppler T, Stöcklin J (2005) Variation in sexual and clonal reproduction in the alpine Geum reptans in contrasting altitudes and succession stages. Basic Appl Ecol 6:305–316

Weppler T, Stöcklin J (2006) Does pre-dispersal seed predation limit reproduction and population growth in the alpine clonal plant Geum reptans. Plant Ecol 187:277–287

Weppler T, Stoll P, Stöcklin J (2006) The relative importance of sexual and clonal reproduction for population growth in the long-lived alpine plant Geum reptans. J Ecol 94:869–879

Westoby J, Jurado E, Leishmann M (1992) Comparative evolutionary ecology of seed size. Tree 7:368–372

Willi Y, Van Buskirk J, Hoffmann AA (2006) Limits to the adaptive potential of small populations. Ann Rev Ecol Evol Syst 37:433–458

Young A, Boyle T, Brown T (1996) The population genetic consequences of habitat fragmentation for plants. Tree 11:413–418
Acknowledgments
The work presented here was presented as an oral contribution at the Xth Symposium of the IOPB 2008 at Vysoké Tatry, Slowakia and was supported by the Swiss National Science Foundation grants No. 31-59271.99, 3100AO-100762, 3100AO-116785 and 4048-064494. The author thanks H.H. Ægisdóttir, T. Weppler, K. Rudmann-Maurer and A. Weyand, who were doctoral students in these projects, M. Fischer, F. Gugerli, and O. Tackenberg for their collaboration, and S. Güsewell for helpful comments on an earlier version of the manuscript.
Additional information
Responsible editor: Sabine Güsewell.
About this article
Cite this article
Stöcklin, J., Kuss, P. & Pluess, A.R. Genetic diversity, phenotypic variation and local adaptation in the alpine landscape: case studies with alpine plant species. Bot. Helv. 119, 125–133 (2009). https://doi.org/10.1007/s00035-009-0065-1
Received:

Accepted:

Published:

Issue Date:
Keywords
Altitudinal gradient

Clonal reproduction

Common garden

Gene flow

Genetic drift

Isolation by distance

Microsatellites

RAPD

Seed weight