Abstract
Light and nutrients are bottom-up factors in controlling biofilm in tropical shaded oligotrophic streams. Regardless of the predominant resource source (autochthonous or allochthonous), greater availability of light and nutrients favors the development and, later, grazing (top-down factor) of the biofilm, with reflections on the trophic structure of these ecosystems. The increase in primary productivity in lotic ecosystems may reflect the fractionation of dissolved inorganic carbon (DIC) by the algal cells contained in the biofilm. A global meta-analysis showed that an increase in primary productivity leads to enrichment of the carbon isotope ratios of biofilm. The objective of this study was to evaluate how top-down (grazing) and bottom-up (light and nutrient) factors act on the biofilm and whether algal biomass determines the isotopic fractionation of δ13C in headwaters of Central Brazil. The density of grazing macroinvertebrates was controlled with electric pulses. Electrified (excluding grazers) and non-electrified grids were implemented in open and shaded areas in each stream. The biofilm ash-free dry mass (AFDM) doubled in nutrient-enriched streams. The effect of grazing on the biomass of the biofilm was significant for the nutrient-enriched streams, with a 50% reduction in the AFDM. Additionally, shading influenced chlorophyll-a even in pristine streams, as the concentration increased approximately ten-fold under open canopy conditions. There was a significant negative relationship between chlorophyll-a concentrations and δ13C values. Our study provides evidence that biofilm biomass increases as a result of changes in bottom-up controls. Top-down control significantly reduced biofilm in the food web based on autochthonous organic matter.
Access options
Buy single article
Instant access to the full article PDF.
US$ 39.95
Tax calculation will be finalised during checkout.
Subscribe to journal
Immediate online access to all issues from 2019. Subscription will auto renew annually.
US$ 79
Tax calculation will be finalised during checkout.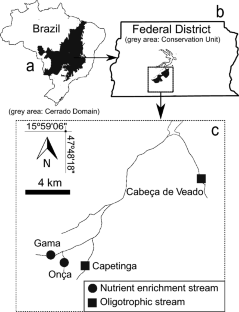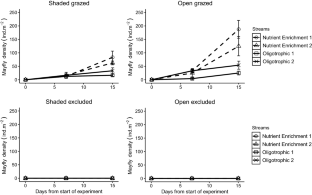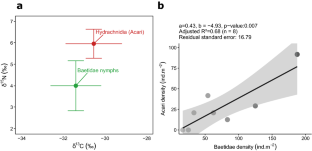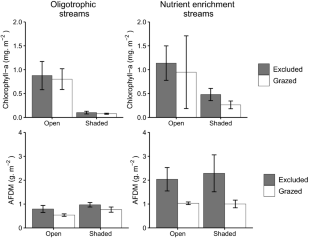 References
Altman N, Krzywinski M (2015) Points of significance: split plot design. Nat Methods 12:165–166. https://doi.org/10.1038/nmeth.3293

Barton´ K (2020) MuMIn: multi‐model inference. R package version 1.43.17, p 75

Bates D, Mächler M, Bolker B, Walker S (2015) Fitting linear mixed-effects models using lme4. J Stat Softw. https://doi.org/10.18637/jss.v067.i01

Bechtold HA, Rosi EJ, Warren DR, Keeton WS (2017) Forest age influences in-stream ecosystem processes in northeastern US. Ecosystems 20:1058–1071. https://doi.org/10.1007/s10021-016-0093-9

Böttger K (1970) Die Ernährungsweise der Wassermilben (Hydrachnellae, Acari), Feeding of water-mites (Hydrachnellae, Acari). Int Rev ges Hydrobiol 55:895–912

Braccia A, Eggert SL, King N (2014) Macroinvertebrate colonization dynamics on artificial substrates along an algal resource gradient. Hydrobiologia 727:1–18. https://doi.org/10.1007/s10750-013-1779-z

Brett MT, Bunn SE, Chandra S et al (2017) How important are terrestrial organic carbon inputs for secondary production in freshwater ecosystems? Freshw Biol 62:833–853

Bumpers PM, Rosemond AD, Maerz JC, Benstead JP (2017) Experimental nutrient enrichment of forest streams increases energy flow to predators along greener food-web pathways. Freshw Biol 62:1794–1805. https://doi.org/10.1111/fwb.12992

Campeau A, Wallin MB, Giesler R et al (2017) Multiple sources and sinks of dissolved inorganic carbon across Swedish streams, refocusing the lens of stable C isotopes. Sci Rep 7:1–14. https://doi.org/10.1038/s41598-017-09049-9

Campos JEG, Dardenne MA, Freitas-Silva FH, Martins-Ferreira MAC (2013) Geologia do grupo paranoá na porção externa da faixa Brasília. Brazilian J Geol 43:461–476. https://doi.org/10.5327/Z2317-48892013000300004

Cochero J, Nicolosi Gelis MM, Sathicq MB, Gómez N (2018) Biofilm early stage development in two nutrient-rich streams with different urban impacts. River Res Appl 34:755–764. https://doi.org/10.1002/rra.3290

Cremona F, Planas D, Lucotte M (2010) Influence of functional feeding groups and spatiotemporal variables on the δ15N signature of littoral macroinvertebrates. Hydrobiologia 647:51–61. https://doi.org/10.1007/s10750-009-9798-5

da Reis AS, Albrecht MP, Bunn SE (2020) Food web pathways for fish communities in small tropical streams. Freshw Biol 65:893–907. https://doi.org/10.1111/fwb.13471

Davids K, Sabatino A Di, Gerecke R et al (2007) Acari: Hydrachnidia. In: Bartsch I, Davids C, Deichse l R (eds) Chelicerata: Araneae, Acari I. Süßwasserfauna von Mitteleuropa 7/2–1. Spektrum Akademischer, Heidelberg, pp 241–333

DeNicola M, Hoagland KD, Roemer SC (1992) Influences of canopy cover on spectral irradiance and periphyton assemblages in a prairie stream. J N Am Benthol Soc 11:391–404. https://doi.org/10.2307/1467560

Di Sabatino A, Smit H, Gerecke R et al (2008) Global diversity of water mites (Acari, Hydrachnidia; Arachnida) in freshwater. Hydrobiologia 595:303–315. https://doi.org/10.1007/s10750-007-9025-1

Dobson AJ, Barnett AG (2018) An introduction to generalized linear models. CRC Press, New York

Dominguez E, Hubbard MD, Peters WL (1992) Clave para ninfas y adultos de las familias y géneros de Ephemeroptera (Insecta) sudamericanos. Biol Acuat 1992:16

Estes JA, Terborgh J, Brashares JS et al (2011) Trophic downgrading of planet Earth. Science 333:301–306. https://doi.org/10.1126/science.1205106

Feijó-Lima R, Mcleay SM, Silva-Junior EF et al (2018) Quantitatively describing the downstream effects of an abrupt land cover transition: buffering effects of a forest remnant on a stream impacted by cattle grazing. Inl Waters 8:294–311. https://doi.org/10.1080/20442041.2018.1457855

Ferreira MJN, Froehlich CG (1992) Estudo da fauna de Ephemeroptera (Insecta) do córrego do Pedregulho (Pedregulho, SP, Brasil) com aspectos da biologia de Thraulodes schlingeri Traver & Edmunds, 1967. Rev Brasil Entomol Curitiba 36(3):541–548

Finlay JC (2001) Stable-carbon-isotope ratios of river biota: Implications for energy flow in lotic food webs. Ecology 82:1052–1064. https://doi.org/10.1890/0012-9658(2001)082[1052:SCIROR]2.0.CO;2

Finlay JC, Kendal C (2007) Stable isotope tracing of temporal and spatial variability in organic matter sources to freshwater ecosystems. In: Michener R, Lajtha K (eds) Stable isotopes in ecology and environmental science. Blackwell Publishing, Hoboken, pp 283–333

Finlay JC, Power ME, Cabana G (1999) Effects of water velocity on algal carbon isotope rations: implications river food web studies. Limnol Oceanogr 44:1198–1203

Fonseca BM, de Mendonça-Galvão L (2014) Pristine aquatic systems in a Long Term Ecological Research (LTER) site of the Brazilian Cerrado. Environ Monit Assess 186:8683–8695. https://doi.org/10.1007/s10661-014-4035-8

Fonseca BM, De Mendonça-Galvão L, Padovesi-Fonseca C et al (2014) Nutrient baselines of Cerrado low-order streams: comparing natural and impacted sites in Central Brazil. Environ Monit Assess 186:19–33. https://doi.org/10.1007/s10661-013-3351-8

Forstmeier W, Schielzeth H (2011) Cryptic multiple hypotheses testing in linear models: overestimated effect sizes and the winner's curse. Behav Ecol Sociobiol 65:47–55. https://doi.org/10.1007/s00265-010-1038-5

Frazer GW, Canham CD, Lertzman KP (1999) Imaging software to extract canopy structure and gap light transmission indices from true-colour fisheye photographs, users manual and program documentation. Copyright. Gap Light Anal. (GLA), Version 2.0 1, pp 1–40

Garcia EA, Townsend SA, Douglas MM (2015) Context dependency of top-down and bottom-up effects in a Northern Australian tropical river. Freshw Sci 34:679–690. https://doi.org/10.1086/681106

Goncalves JJF, França JS, Callisto M (2006) Dynamics of allochthonous organic matter in a tropical brazilian headstream. Braz Arch Biol Technol 49:967–973. https://doi.org/10.1590/S1516-89132006000700014

Gruner DS, Smith JE, Seabloom EW et al (2008) A cross-system synthesis of consumer and nutrient resource control on producer biomass. Ecol Lett 11:740–755. https://doi.org/10.1111/j.1461-0248.2008.01192.x

Gücker B, Boëchat IG, Giani A (2009) Impacts of agricultural land use on ecosystem structure and whole-stream metabolism of tropical Cerrado streams. Freshw Biol 54:2069–2085. https://doi.org/10.1111/j.1365-2427.2008.02069.x

Hart DD (1990) Resource limitation in a stream community: phosphorus enrichment effects on periphyton and grazers. In: David D, Hart and Christopher T Robinson Reviewed work. Ecological Society of America Stable. http://www.jstor.o. America (NY), vol 71, pp 1494–1502

Hill WR, Middleton RG (2006) Changes in carbon stable isotope ratios during periphyton development. Limnol Ocean 51:2360–2369

Hill WR, Ryon MG, Schilling EM (1995) Light limitation in a stream ecosystem: responses by primary producers and consumers. Ecology 76:1297–1309. https://doi.org/10.2307/1940936

Hunke P, Mueller EN, Schröder B, Zeilhofer P (2015) The Brazilian Cerrado: assessment of water and soil degradation in catchments under intensive agricultural use. Ecohydrology 8:1154–1180. https://doi.org/10.1002/eco.1573

Ishikawa NF, Doi H, Finlay JC (2012) Global meta-analysis for controlling factors on carbon stable isotope ratios of lotic periphyton. Oecologia 170:541–549. https://doi.org/10.1007/s00442-012-2308-x

Johnson MS, Lehmann J, Riha SJ et al (2008) CO2 efflux from Amazonian headwater streams represents a significant fate for deep soil respiration. Geophys Res Lett 35:1–5. https://doi.org/10.1029/2008GL034619

Kuznetsova A, Brockhoff PB, Christensen RHB (2017) lmerTest package: tests in linear mixed effects models. J Stat Softw. https://doi.org/10.18637/jss.v082.i13

Laws EA, Popp BN, Bidigare RR et al (1995) Dependence of phytoplankton carbon isotopic composition on growth rate and CO2aq: theoretical considerations and experimental results. Geochim Cosmochim Acta 59:1131–1138. https://doi.org/10.1016/0016-7037(95)00030-4

Lourenço-Amorim C, Neres-Lima V, Moulton TP et al (2014) Control of periphyton standing crop in an Atlantic Forest stream: the relative roles of nutrients, grazers and predators. Freshw Biol 59:2365–2373. https://doi.org/10.1111/fwb.12441

Mangiafico S (2020) Functions to Support Extension Education Program Evaluation [R package rcompanion version 2.3.26]

Marker AF, Nush EA, Rai H, Riemann B (1980) The measurement of photosynthetic pigments in freshwaters and standardization of methods: conclusions and recommendations. Arch Fur Hydrobiol 14:91–106

Mccutchan JH, Lewis WM, Kendall C, Mcgrath CC (2003) Variation in trophic shift for stable isotope ratios of carbon, nitrogen, and sulfur. Oikos 2:378–390

Merritt RW, Cummins KW, Berg MB (2008) An introduction to the aquatic insects of North America, 4th edn. Kendall/Hunt Publishing Company, Dubuque

Mosisch TD, Bunn SE, Davies PM (2001) The relative importance of shading and nutrients on algal production in subtropical streams. Freshw Biol 46:1269–1278. https://doi.org/10.1046/j.1365-2427.2001.00747.x

Moulton TP, Lourenço-Amorim C, Sasada-Sato CY et al (2015) Dynamics of algal production and ephemeropteran grazing of periphyton in a tropical stream. Int Rev Hydrobiol 100:61–68. https://doi.org/10.1002/iroh.201401769

Mugnai R, Nessimian JL, Baptista DF (2010) Manual de identificação de macroinvertebrados aquáticos do Estado do Rio de Janeiro, 1o. Technical Books, Rio de Janeiro

Neres-Lima V, Brito EF, Krsulović FAM et al (2016) High importance of autochthonous basal food source for the food web of a Brazilian tropical stream regardless of shading. Int Rev Hydrobiol 101:132–142. https://doi.org/10.1002/iroh.201601851

Proctor H, Pritchard G (1989) Neglected predators : Water mites (Acari : Parasitengona : Hydrachnellae) in freshwater communities. J N Am Benthol Soc 8:100–111

Quinn GP, Keough MJ (2002) Experimental design and data analysis for biologists. Cambridge University Press, Cambridge

R Core Team (2020) A language and environment for statistical computing

Reatto A, Martins ES (2005) Classes de solo em relação aos controles da paisagem no bioma Cerrado. In: Scariot A, Sousa-Silva JC, Felfili JM (eds) Cerrado: ecologia, biodiversidade e conservação. Ministério do Meio Ambiente, pp 49–59

Ribeiro JF, Walter BMT (2001) As matas de galeria no contexto do bioma Cerrado. In: Ribeiro JF, Fonseca CEL, Sousa Silva JC (eds) Cerrado: caracterização e recuperação de Matas de Galeria. Embrapa Cerrados, Planaltina, pp 29–47

Rooney N, McCann KS (2012) Integrating food web diversity, structure and stability. Trends Ecol Evol 27:40–45. https://doi.org/10.1016/j.tree.2011.09.001

Rosas KG, Colón-Gaud C, Ramírez A (2020) Trophic basis of production in tropical headwater streams, Puerto Rico: an assessment of the importance of allochthonous resources in fueling food webs. Hydrobiologia 847:1961–1975. https://doi.org/10.1007/s10750-020-04224-y

Saltarelli WA, Dodds WK, Tromboni F et al (2018) Variation of stream metabolism along a tropical environmental gradient. J Limnol 77:359–371. https://doi.org/10.4081/jlimnol.2018.1717

Sartory DP, Grobbelaar JU (1984) Extraction of chlorophyll a from freshwater phytoplankton for spectrophotometric analysis. Hydrobiologia 114:177–187. https://doi.org/10.1007/BF00031869

Sharkey TD, Berry JA (1985) Carbon isotope fractionatino of algae as influenced by an inducible CO2 concentration mechanism. Am Soc plan Physiol 1985:389–401

Singer GA, Battin TJ (2007) Anthropogenic subsidies alter stream consumer-resource stoichiometry, biodiversity, and food chains. Ecol Appl 17:376–389. https://doi.org/10.1890/06-0229

Slavik K, Peterson BJ, Deegan LA et al (2004) Long-term responses of the Kuparuk river ecosystem to phosphorus fertilization. Ecology 85:939–954. https://doi.org/10.1890/02-4039

Sokal RR, Rohlf FJ (2011) Biometry: The principles and practice of statistics in biological research. W.H. Freeman & Company, New York

Spence J, Telmer K (2005) The role of sulfur in chemical weathering and atmospheric CO2 fluxes: evidence from major ions, δ13CDIC, and δ34SSO4 in rivers of the Canadian Cordillera. Geochim Cosmochim Acta 69:5441–5458. https://doi.org/10.1016/j.gca.2005.07.011

Stegen JC, Black AR (2011) Trophic ecology of an aquatic mite (Piona carnea) preying on Daphnia pulex: effects of predator density, nutrient supply and a second predator (Chaoborus americanus). Hydrobiologia 668:171–182. https://doi.org/10.1007/s10750-010-0454-x

Strassburg BBN, Brooks T, Feltran-barbieri R et al (2017) Moment of truth for the Cerrado hotspot. Nat Publ Gr 1:1–3. https://doi.org/10.1038/s41559-017-0099

Sturt MM, Jansen MAK, Harrison SSC (2011) Invertebrate grazing and riparian shade as controllers of nuisance algae in a eutrophic river. Freshw Biol 56:2580–2593. https://doi.org/10.1111/j.1365-2427.2011.02684.x

Telmer K, Veizer J (1999) Carbon fluxes, pCO2 and substrate weathering in a large northern river basin, Canada: carbon isotope perspectives. Chem Geol 159:61–86. https://doi.org/10.1016/S0009-2541(99)00034-0

Tromboni F, Lourenço-Amorim C, Neres-Lima V et al (2019) Conversion of tropical forests to agriculture alters the accrual, stoichiometry, nutrient limitation, and taxonomic composition of stream periphyton. Int Rev Hydrobiol 104:116–126. https://doi.org/10.1002/iroh.201801963

Vander Zanden MJ, Rasmussen JB (1999) Primary consumer δ13C and δ15N and the trophic position of aquatic consumers. Ecology 80:1395–1404

Vannote RL, Minshall GW, Cummins KW et al (1980) The river continuum concept. Can J Fish Aquat Sci 37:130–137

Warren DR, Keeton WS, Kiffney PM et al (2016) Changing forests-changing streams: Riparian forest stand development and ecosystem function in temperate headwaters. Ecosphere 7:1–19. https://doi.org/10.1002/ecs2.1435

Więcek M, Martin P, Gąbka M (2013) Distribution patterns and environmental correlates of water mites (Hydrachnidia, Acari) in peatland microhabitats. Exp Appl Acarol 61:147–160. https://doi.org/10.1007/s10493-013-9692-8

Worm B, Duffy JE (2003) Biodiversity, productivity and stability in real food webs. Trends Ecol Evol 18:628–632. https://doi.org/10.1016/j.tree.2003.09.003
Acknowledgements
We would like to thank the Environmental Isotope Studies group (www.eisunb.com) from the University of Brasilia for its assistance in the field and with laboratory analyzes.
Funding
The first author received a grant from the Coordenação de Aperfeiçoamento de Pessoal de Nível Superior (CAPES) and the Conselho Nacional de Desenvolvimento Científico e Tecnológico (CNPq) through the Graduate Program in Ecology of the University of Brasilia (Process: 140269/2017-7). This research was funded by the Conselho Nacional de Desenvolvimento Científico e Tecnológico (CNPq-PELD: "Cerrados do Planalto Central: Estrutura, dinâmica e processos ecológicos", process: 441581/2016-1) and the Rufford Foundation's Small Grants Program (Application Identification: 19719-1).
Ethics declarations
Conflicts of interest
The authors declare no conflicts of interest.
Ethics approval
We are also grateful for the permission (nº 56144) by the Chico Mendes Institute for Biodiversity Conservation (ICMBio) in the development of the experiment. We are also grateful for the permission by the Jardim Botânico de Brasilia and the Fazenda Água Limpa of the University of Brasilia in the implementation of the experiment. The registration number for the National System for the Management of Genetic Heritage and Associated Traditional Knowledge (SisGen) is A018ECD.
Additional information
Publisher's Note
Springer Nature remains neutral with regard to jurisdictional claims in published maps and institutional affiliations.
About this article
Cite this article
Kisaka, T.B., de Almeida, A., de Mendonça-Galvão, L. et al. Understanding the factors controlling biofilm as an autochthonous resource in shaded oligotrophic neotropical streams. Aquat Sci 83, 24 (2021). https://doi.org/10.1007/s00027-021-00781-z
Received:

Accepted:

Published:
Keywords
Stable isotopes

Invertebrates

Biofilm

Nutrient enrichment

Top–down

Bottom–up

Shaded streams