Abstract
Shoreline erosion in lakes is a pressing issue for many landowners, yet common erosion mitigation practices that involve armoring can alter littoral habitat and potentially diminish near-shore biodiversity. We studied the effects of two armoring methods (i.e., riprap, retaining walls) on habitat, taxonomic richness, relative abundance, and total abundance of fishes and benthic macroinvertebrates at shorelines on Big Rideau Lake in eastern Ontario, Canada. Snorkel surveys were conducted to assess aquatic habitat characteristics and fish diversity, and benthic infauna were sampled using kick-nets. Submergent and emergent macrophytes were more abundant at natural rocky shorelines compared to shorelines modified with riprap or retaining walls. Coarse woody debris was also more abundant at natural shorelines compared to riprap and retaining wall shorelines. Relative abundances of some fish species varied between shoreline types, but overall species richness and total abundance did not. Largemouth Bass (Micropterus salmoides) were more abundant at natural sites than armored sites. Conversely, Rock Bass (Ambloplites rupestris), Pumpkinseed (Lepomis gibbosus), Bluegill (Lepomis macrochirus), Yellow Perch (Perca flavescens), and baitfish from the family Cyprinidae were more abundant at both types of armored sites compared to natural sites. Taxonomic richness of benthic macroinvertebrates did not vary among shoreline types, however abundance of Amphipoda, Isopoda, Ephemeroptera, and Cladocera was greater at armored shorelines. These results suggest that human modification of shorelines is altering littoral ecosystems and potentially leading to shifts in the community structure of littoral nekton. More study is needed to fully understand the community level effects of shoreline erosion mitigation involving armoring in freshwater lakes and determine the effectiveness of alternative mitigation strategies that preserve natural habitat features.
Access options
Buy single article
Instant access to the full article PDF.
USD 39.95
Price excludes VAT (USA)
Tax calculation will be finalised during checkout.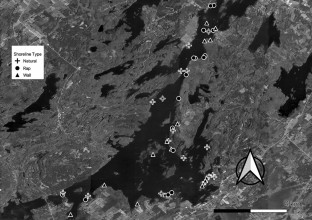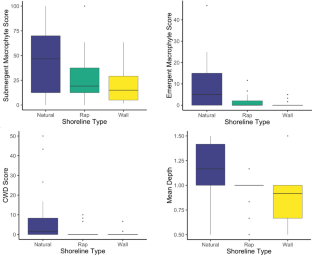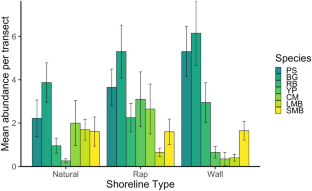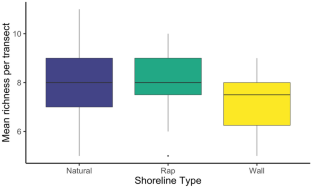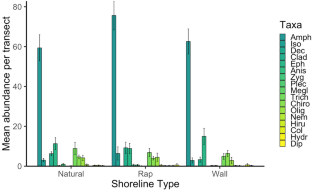 References
Abdel-Fattah S, Hasnain S (2017) What are the impacts on temperate fish productivity of shoreline works activities? A systematic review protocol. Environ Evid 6:31

Adakole J, Anunne P (2004) Benthic macroinvertebrates as indicators of environmental quality of an urban stream, Zaria, Northern Nigeria. J Aquat Sci 18(2):85–92

Ahrenstorff T, Sass G, Helmus M (2009) The influence of littoral zone coarse woody habitat on home range size, spatial distribution, and feeding ecology of largemouth bass (Micropterus salmoides). Hydrobiologia 623(1):223–233

Arimoro FO, Muller WJ (2010) Mayfly (Insecta: Ephemeroptera) community structure as an indicator of the ecological status of a stream in the Niger Delta area of Nigeria. Environ Monit Assess 166:581–594

Arkema KK, Guannel G, Verutes G, Wood SA, Guerry A, Ruckelshaus M, Kareiva P, Lacayo M, Silver JM (2013) Coastal habitats shield people and property from sea-level rise and storms. Nat Climate Change 3:913–918

August P (1983) The role of habitat complexity and heterogeneity in structuring tropical mammal communities. Ecology 64(6):1495–1507

Bilkovic DM, Mitchell MM (2013) Ecological tradeoffs of stabilized salt marshes as a shoreline protection strategy: effects of artificial structures on macrobenthic assemblages. Ecol Eng 61(A):469–481

Bilkovic D, Roggero M (2008) Effects of coastal development on nearshore estuarine nekton communities. Mar Ecol Prog Ser 358:27–39

Bilkovic DM, Mitchell M, Mason P, Duhring K (2016) The role of living shorelines as estuarine habitat conservation strategies. Coast Manag 44(3):161–174

Bozek CM, Burdick DM (2005) Impacts of seawalls on saltmarsh plant communities in the Great Bay Estuary, New Hampshire USA. Wetl Ecol Manag 13(5):553–568

Brauns M, Garcia X, Walz N, Pusch M (2007) Effects of human shoreline development on littoral macroinvertebrates in lowland lakes. J Appl Ecol 44(6):1138–1144

Brazner JC (1997) Regional, habitat, and human development influences on coastal wetland and beach fish assemblages in Green Bay, Lake Michigan. J Great Lakes Res 23(1):36–51

Brooks TM, Mittermeier RA, Mittermeier CG, Da Fonseca GAB, Rylands AB et al (2002) Habitat loss and extinction in the hotspots of biodiversity. Conserv Biol 16(4):909–923

Bryan M, Scarnecchia D (1992) Species richness, composition, and abundance of fish larvae and juveniles inhabiting natural and developed shorelines of a glacial Iowa lake. Environ Biol Fishes 35(4):329–341

Cairns Jr J (1993) A history of biological monitoring using benthic macroinvertebrates. In: Freshwater biomonitoring and benthic macroinvertebrates, pp 10–27

Christensen D, Herwig B, Schindler D (1996) Impacts of lakeshore residential development on coarse woody debris in north temperate lakes. Ecol Appl 6(4):1143–1149

Dillon P, Scheider W, Reid R, Jeffries D (1994) Lakeshore capacity study: part I—test of effects of shoreline development on the trophic status of lakes. Lake Reserv Manag 8(2):121–129

Dugan JE, Airoldi L, Chapman MG, Walker SG, Schlacher T (2011) Estuarine and coastal structures: environmental effects, a focus on shore and nearshore structures. In: Wolanski E, McLusky D (eds) Treatise on estuarine and coastal science. Elsevier Press, New York, pp 17–41

Durocher P, Provine W, Kraai J (1984) Relationship between abundance of largemouth bass and submerged vegetation in Texas reservoirs. N Am J Fish Manag 4(1):84–88

Eadie J, Keast A (1984) Resource heterogeneity and fish species diversity in lakes. Can J Zool 62(9):1689–1695

Engel S, Nichols SA (1994) Aquatic macrophyte growth in a turbid windswept lake. J Freshw Biol 9(2):97–109

Enironmental Protection Agency (EPA) (2003) Benthic macroinvertebrate protocols. https://archive.epa.gov/water/archive/web/html/ch07main.html. Accessed 4 Feb 2020

Erös T, Tóth B, Sevcsik A, Schmera D (2008) Comparison of fish assemblage diversity in natural and artificial rip-rap habitats in the littoral zone of a large river (River Danube, Hungary). Int Rev Hydrobiol 93(1):88–105

Everett R, Ruiz G (1993) Coarse woody debris as a refuge from predation in aquatic communities. Oecologia 93(4):475–486

Fausch K (1993) Experimental analysis of microhabitat selection in juvenile steelhead (Oncorhynchus mykiss) and coho salmon (O. kisutch) in a British Columbia stream. Can J Fish Aquat Sci 50(6):1198–1207

Fisheries and Oceans Canada (DFO) (2008) The shore primer. In: Fisheries and Oceans Canada. Fish Habitat Management Program, Praries Area (ISBN: 978-0-662-48025-9)

Fleituch T, Sozka H, Kudelska D, Kownacki A (2002) Macroinvertebrates as indicators of water quality in rivers: a scientific basis for Polish standard method. Large Rivers 13(3–4):225–239

French J (1988) Effect of submersed aquatic macrophytes on resource partitioning in yearling rock bass (Ambloplites rupestris) and pumpkinseeds (Lepomis gibbosus) in Lake St Clair. J Great Lakes Res 14(3):291–300

Garland R, Tiffan K, Rondorf D, Clark L (2002) Comparison of subyearling fall chinook salmon's use of riprap revetments and unlatered habitats in Lake Wallula of the Columbia River. N Am J Fish Manag 22(4):1283–1289

Garrison PJ, Laliberte GD, Ewart BP (2010) The importance of water level changes and shoreline development in the eutrophication of a shallow, seepage lake. Proc Acad Nat Sci Phila 160(1):113–126

Gaufin AR, Tarzwell CM (1956) Aquatic macro-invertebrate communities as indicators of pollution in Lytle Creek. Sew Ind Wastes 28(7):906–924

Giam X, Bradshaw CJA, Tan HTW, Sodhi NS (2010) Future habitat loss and the conservation of plant biodiversity. Biol Cons 143(7):1594–1602

Gittman R, Fodrie F, Popwich A, Keller D, Bruno J, Currin C, Peterson C, Piehler M (2015) Engineering away our natural defenses: an analysis of shoreline hardening in the US. Front Ecol Environ 13(6):301–307

Goodnight CJ (1973) The use of aquatic macroinvertebrates as indicators of stream pollution. Trans Am Microsc Soc 92(1):1–13

Gratwicke B, Speight M (2005) The relationship between fish species richness, abundance and habitat complexity in a range of shallow tropical marine habitats. J Fish Biol 66(3):650–667

Hall D, Werner E (1977) Seasonal distribution and abundance of fishes in the littoral zone of a Michigan lake. Trans Am Fish Soc 106(6):545–555

Harmon M, Franklin J, Swanson F, Sollins P, Gregory S, Lattin J, Anderson N, Cline S, Aumen N, Sedell J, Lienkaemper G, Cromack K, Cummins K (1986) Ecology of coarse woody debris in temperate ecosystems. Adv Ecol Res 15:133–302

Helmus M, Sass G (2008) The rapid effects of whole-lake reduction of coarse woody debris on fish and benthic macroinvertebrates. Freshw Biol 53(7):1423–1433

James MR, Weatherhead M, Stanger C, Graynoth E (1997) Macroinvertebrate distribution in the littoral zone of Lake Coleridge, South Island, New Zealand—effects of habitat stability, wind exposure, and macrophytes. N Z J Mar Freshw Res 32(2):287–305

Jellyman P, Harding J (2012) The role of dams in altering freshwater communities in New Zealand. N Z J Mar Freshw Res 46(4):475–489

Jennings M, Bozek M, Hatzenbeler G, Emmons E, Staggs M (1999) Cumulative effects of incremental shoreline habitat modification on fish assemblages in north temperate lakes. N Am J Fish Manag 19:18–27

Jennings M, Emmons E, Hatzenbeler G, Edwards C, Bozek M (2003) Is littoral habitat affected by residential development and land use in watersheds of Wisconsin lakes? Lake Reserv Manag 19(3):272–279

Jones C, Somers KM, Craig B, Reynoldson TB (2007) Ontario benthos biomonitoring network: protocol manual (ISBN: 978-1-4249-2121-8)

Kasangaki A, Babaasa D, Efitre J, McNeilage A, Bitariho R (2006) Links between anthropogenic perturbations and benthic macroinvertebrate assemblages in Afromontane forest streams in Uganda. Hydrobiologia 563:231–245

Keast A (1984) The introduced aquatic macrophyte, Myriophyllum spicatum, as habitat for fish and their invertebrate prey. Can J Zool 62:1289–1303

Kerans BL, Karr JB (1994) A benthic index of biotic integrity (B-IBI) for rivers of the Tennessee Valley. Ecol Appl 4(4):768–785

Kornis MS, Breitburg D, Balouskus R, Bilkovic DM, Davias LA et al (2017) Linking the abundance of estuarine fish and crustaceans in nearshore waters to shoreline hardening and land cover. Estuar Coasts 40(5):1464–1486

Kornis MS, Bilkovic DM, Davias LA, Giordano S, Breitburg DL (2018) Shoreline hardening affects nekton biomass, size structure, and taxonomic diversity in nearshore waters, with responses mediated by functional species groups. Estuar Coasts 41:159–179

Kostylev VE, Erlandsson J, Ming MY, Williams GA (2005) The relative importance of habitat complexity and surface area in assessing biodiversity: fractal application on rocky shores. Ecol Complex 2(3):272–286

Liddle M, Scorgie H (1980) The effects of recreation on freshwater plants and animals: a review. Biol Cons 17(3):183–206

Lovall CD, Seitz RD, Knick KE (2017) Direct and indirect impacts of shoreline development on shallow-water benthic communities in a depauperate estuarine system. Bull Mar Sci 93(3):715–741

Maceina M, Bettoli P, Klussmann W, Betsill R, Noble R (1991) Effect of aquatic macrophyte removal on recruitment and growth of black crappies and white crappies in Lake Conroe, Texas. N Am J Fish Manag 11(4):556–563

Mallin M, Williams K, Esham E, Lowe R (2000) Effect of human development on bacteriological water quality in coastal watersheds. Ecol Appl 10(4):1047–1056

McCafferty WP (1975) The burrowing mayflies (Ephemeroptera: Ephemeroidea) of the United States. Trans Am Entomol Soc 101:447–504

Millenium Ecosystem Assessment (2005) Ecosystems and human well-being: synthesis. Island Press, Washington, DC

Morley SA, Toft JD, Hanson KM (2012) Ecological effects of shoreline armoring on intertidal habitats of a Puget sound urban estuary. Estuar Coasts 35(3):774–784

Mouillot D, Graham N, Bestien Villé Ger S, Mason N, Bellwood D (2013) A functional approach reveals community responses to disturbances. Trends Ecol Evol 28(3):167–177

Mousavi SK, Primicerio R, Amundsen PA (2003) Diversity and structure of Chironomidae (Diptera) communities along a gradient of heavy metal contamination in the subarctic watercourse. Sci Total Environ 307(1–3):93–110

National Research Council (NRC) (2007) Mitigating shore erosion along sheltered coasts. The National Academies Press, Washington, D.C.

Newbrey MG, Bozek MA, Jennings MJ, Cook JE (2005) Branching complexity and morphological characteristics of coarse woody structure as lacustrine fish habitat. Can J Fish Aquat Sci 62(9):2110–2123

O'Connor N (1991) The effects of habitat complexity on the macroinvertebrates colonising wood substrates in a lowland stream. Oecologia 85(4):504–512

O'Neal JS (2007) Snorkel surveys. Salmonid field protocols handbook: techniques for assessing status and trends in salmon and trout populations. American Fisheries Society, Bethesda, pp 324–336

Patrick CJ, Weller DE, Ryder M (2016) The relationship between shoreline armoring and adjacent submerged aquatic vegetation in Chesapeake Bay and nearby Atlantic Coastal Bays. Estuar Coasts 39(1):158–170

Peterson MS, Lowe MR (2009) Implications of cumulative impacts to estuarine and marine habitat quality for fish and invertebrate resources. Rev Fish Sci 17(4):505–523

Pimm SL, Askins RA (1995) Forest losses predict bird extinctions in eastern North America. Proc Natl Acad Sci USA 92(20):9343–9347

Pimm SL, Raven P (2000) Extinction by numbers. Nature 403:843–845

Pister B (2009) Urban marine ecology in southern California: the ability of riprap structures to serve as rocky intertidal habitat. Mar Biol 156(5):861–873

Purcell A, Bressler D, Paul M, Barbour M, Rankin E, Carter J, Resh V (2009) Assessment tools for urban catchments: developing biological indicators based on benthic macroinvertebrates. J Am Water Resour Assoc 45(2):306–319

Quigley J, Harper D (2004) Streambank protection with rip-rap: an evaluation of the effects on fish and fish habitat. Can Manuscr Rep Fish Aquat Sci 2701:76

Radomski P, Goeman T (2001) Consequences of human lakeshore development on emergent and floating-leaf vegetation abundance. N Am J Fish Manag 21(1):46–61

Rahel F (1984) Factors structuring fish assemblages along a bog lake successional gradient. Ecology 65(4):1276–1289

Roberts CM, Ormond RFG (1987) Habitat complexity and coral reef fish diversity and abundance on Red Sea fringing reefs. Mar Ecol Prog Ser 41(1):1–8

Romare P, Berg S, Lauridsen T, Jeppesen E (2003) Spatial and temporal distribution of fish and zooplankton in a shallow lake. Freshw Biol 48(8):1353–1362

Sass G, Gille C, Hinke J, Kitchell J (2006) Whole-lake influences of littoral structural complexity and prey body morphology on fish predator-prey interactions. Ecol Freshw Fish 15(3):301–308

Savino J, Stein R (1982) Predator-prey interaction between largemouth bass and bluegills as influence by simulated, submersed vegetation. Trans Am Fish Soc 111(3):255–266

Schmieder K (2004) European lake shores in danger—concepts for a sustainable development. Limnologica 34(1–2):3–14

Schmude KL, Jennings MJ, Otis KJ, Piette RR (1998) Effects of habitat complexity on macroinvertebrate colonization of artificial substrates in North Temperate lakes. Freshw Sci 17(1):73–80

Schneider JC, Alexander GR, Merna JW (2000) Modules for lake and stream surveys. In: Scheider JC (ed) Chap. 2: manual of fisheries survey methods II: with periodic updates. Michigan Department of Natural Resources, Fisheries Special Report 25, Ann Arbor

Scott WB, Crossman EJ (1973) Freshwater fishes of Canada. Bulletin 184 of the Fisheries Research Board of Canada

Seitz RD, Lipcius RN, Olmstead NH, Seebo MS, Lambert DM (2006) Influence of shallow-water habitats and shoreline development on abundance, biomass, and diversity of benthic prey and predators in Chesapeake Bay. Mar Ecol Prog Ser 326:11–27

Small C, Nicholls RJ (2003) A global analysis of human settlement in coastal zones. J Coast Res 19(3):584–599

Sobocinski K, Cordell J, Simenstad C (2010) Effects of shoreline modifications on supratidal macroinvertebrate fauna on Puget Sound, Washington Beaches. Estuar Coasts 33(3):699–711

Strayer DL, Dudgeon D (2010) Freshwater biodiversity conservation: recent progress and future challenges. Freshw Sci 29(1):344–358

Strayer DL, Findlay SG (2010) Ecology of freshwater shore zones. Aquat Sci 72:127–163

Strayer DL, Findlay SG, Miller D, Malcom HM, Fischer DT, Coote T (2012) Biodiversity in Hudson River shore zones: influence of shoreline type and physical structure. Aquat Sci 74:597–610

Teixeira T, Neves L, Araújo F (2009) Effects of a nuclear power plant thermal discharge on habitat complexity and fish community structure in Ilha Grande Bay, Brazil. Mar Environ Res 68(4):188–195

Tickner T, Opperman J, Abell R, Acreman M, Arthington AH et al (2020) Bending the curve of global freshwater biodiversity loss—an emergency recovery plan. BioScience 70(4):330–342

Toft JD, Cordell JR, Simenstad CA, Stamatiou LA (2007) Fish distribution, abundance, and behaviour along city shoreline types in Puget Sound. N Am J Fish Manag 27:465–480

Tonn W, Magnuson J (1982) Patterns in the species composition and richness of fish assemblages in Northern Wisconsin lakes. Ecology 63(4):1149–1166

Vadeboncoeur Y, McIntyre P, Vander Zanden M (2011) Borders of biodiversity: life at the edge of the world's largest lakes. Bioscience 61(7):526–537

Rideau Valley Conservation Association (RVCA) (2014) Rideau Lakes subwatershed report: Big Rideau Lake—portland catchment. Rideau Valley Conservation Authority, pp 1–19

Valley R, Bremigan M (2002) Effect of macrophyte bed architecture on largemouth bass foraging: implications of exotic macrophyte invasions. Trans Am Fish Soc 131(2):234–244

Vitousek PM, Mooney HA, Lubchenco J, Melillo JM (1997) Human domination of Earth's ecosystems. Science 277(5325):494–499

Warren Jr M.L (2009) Centrarchid identification and natural history. In: Centrarchid fishes: diversity, biology, and conservation. Blackwell Publishing, Oxford, pp 375–534

Wensink SM, Tiegs SD (2016) Shoreline hardening alters freshwater shoreline ecosystems. Freshw Sci 35(3):764–777

Whitfield AK (1984) The effects of prolonged aquatic macrophyte senescence on the biology of the dominant fish species in a southern African coastal lake. Estuar Coast Shelf Sci 18(3):315–329

Zolderdo AJ, Abrams AEI, Reid CH, Suski CD, Midwood JD, Cooke SJ (2019) Evidence of fish spillover from freshwater protected areas in lakes of eastern Ontario. Aquat Conserv 29(7):1106–1122
Acknowledgements
We thank the staff of the Queen's University Biological Station for their support. Aaron Zolderdo provided input on the transect surveying method, Joshua Kurek provided input on benthos sampling methods, and Benjamin Hlina provided input on statistical analysis. Brooke Etherington and Daniel Mameri assisted with data collection. Funding was provided by an NSERC Strategic Grant to Dr. Cooke and Dr. Vermaire in partnership with Parks Canada. Dr. Cooke, Dr. Vermaire and Dr. Smol are further supported by NSERC Discovery Grants. Scientific Collection Permits were provided by Parks Canada and the Ontario Ministry of Natural Resources and Forestry. We thank several anonymous referees for their input on our manuscript.
Additional information
Publisher's Note
Springer Nature remains neutral with regard to jurisdictional claims in published maps and institutional affiliations.
About this article
Cite this article
Chhor, A.D., Glassman, D.M., Smol, J.P. et al. Ecological consequences of shoreline armoring on littoral fish and benthic macroinvertebrate communities in an Eastern Ontario lake. Aquat Sci 82, 73 (2020). https://doi.org/10.1007/s00027-020-00740-0
Received:

Accepted:

Published:

DOI: https://doi.org/10.1007/s00027-020-00740-0
Keywords
Aquatic habitat

Erosion mitigation

Riprap

Retaining walls

Shoreline