Abstract
Biological invasions caused by accidental introductions often result in severe ecological impact. Revealing the pattern of spread can clarify processes which drive these types of invasions and therefore help mitigate their impact. Here, based on the genetic structure at five microsatellite loci, we reconstructed the invasion history of the topmouth gudgeon (Pseudorasbora parva). This small cyprinid fish was introduced from China in the early 1960s into countries around the Black Sea, spreading rapidly throughout Europe north, west and southward. Distribution of the genetic variation from 14 European and one Chinese founder population was analysed, revealing possible pathways of spread in Europe. Overall, the distribution of genetic diversity across populations is strongly correlated to the geographic and temporal spread of P. parva across its invasive range. Populations closest to the founder sites had high levels of genetic diversity and little genetic differentiation. Furthermore, a pattern of isolation-by-distance was found, which indicates human-mediated stepping-stone colonisation. The data also indicate that the invasive populations originate from recent admixture of divergent source populations with some recently established populations, although the admixture signal has been dampened by strong genetic drift. These results nevertheless show that despite being a human-mediated invasion, the pattern of spread resembles a natural stepping-stone colonization with a well-defined front of invasion.
Access options
Buy single article
Instant access to the full article PDF.
US$ 39.95
Tax calculation will be finalised during checkout.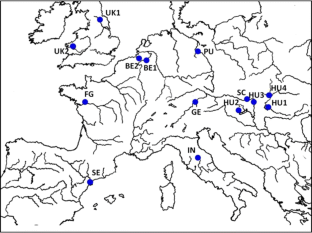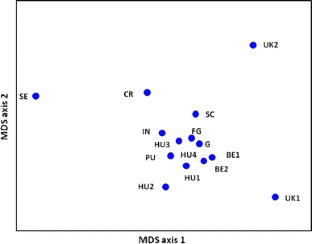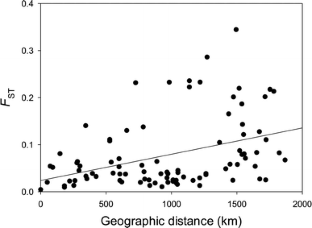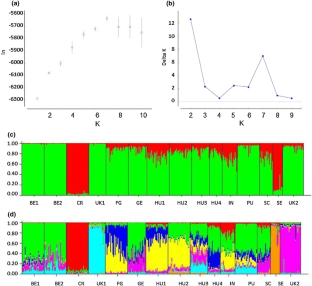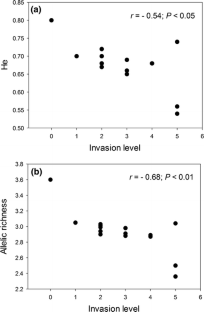 References
Addisonsoft XLSTAT (2008) Data analysis and statistics with Microsoft Excel. Addisonsoft, Paris

Amos W, Harwood J (1998) Factors affecting levels of genetic diversity in natural populations. Philos Trans R Soc Lond B 353:177–186. doi:10.1098/rstb.1998.0200

Andreou D, Feist SW, Stone D, Bateman K, Gozlan RE (2011) First occurrence and associated pathology of Sphaerothecum destruens in cyprinids. Dis Aquat Org 15:145–151. doi:10.3354/dao02356

Andreou D, Arkush KD, Guégan J, Gozlan RE (2012) Introduced pathogens and native freshwater biodiversity: a case study of Sphaerothecum destruens. PLoS One 7:e36998. doi:10.1371/journal.pone.0036998

Berner D, Grandchamp A, Hendry AP (2009) Variable progress toward ecological speciation in parapatry: stickleback across eight lake-stream transitions. Evolution 63–7:1740–1753. doi:10.1111/j.1558-5646.2009.00665.x

Britton JR, Brazier M (2006) Eradicating the invasive topmouth gudgeon Pseudorasbora parva from a recreational fishery in Northern England. Fish Manag Ecol 13:329–335. doi:10.1111/j.1365-2400.2006.00510.x

Britton JR, Davies GD, Brazier M, Pinder AC (2007) A case study on the population ecology of a topmouth gudgeon (Pseudorasbora parva) population in the UK and the implications for native fish communities. Aquat Conserv Mar Freshw Ecosyst 17:749–759. doi:10.1002/aqc.809

Broquet T, Ray N, Petit E, Fryxell JM, Burel F (2006) Genetic isolation by distance and landscape connectivity in the American marten (Martes americana). Landsc Ecol 21:877–889. doi:10.1007/s10980-005-5956-y

Clegg SM, Degnan SM, Kikkawa J, Moritz C, Estoup A, Owens IPF (2002) Genetic consequences of sequential founder events by an island-colonizing bird. Proc Natl Acad Sci USA 99:8127–8132. doi:10.1073/pnas.102583399

Cornuet JM, Luikart G (1996) Description and power analysis of two tests for detecting recent population bottlenecks from allele frequency data. Genetics 144:2001–2014. doi:10.1093/bioinformatics/btn514

di Rienzo A, Peterson AC, Garzat JC, Valdes AM, Slatkin M, Freimer NB (1994) Mutational processes of simple-sequence repeat loci in human populations. Proc Natl Acad Sci USA 91:3166–3170

Earl DA (2011) Structure harvester v0.6.1. Available at http://taylor0.biology.ucla.edu/structureHarvester

Evanno G, Regnaut S, Goudet J (2005) Detecting the number of clusters of individuals using the software STRUCTURE: a simulation study. Mol Ecol 14:2611–2620. doi:10.1111/j.1365-294X.2005.02553.x

Facon B, Ruth A, Hufbauer RA, Tayeh A, Loiseau A, Lombaert E, Vitalis R, Guillemaud T, Lundgren JG, Estoup A (2010) Report inbreeding depression is purged in the invasive insect Harmonia axyridis. Curr Biol 21:424–427. doi:10.1016/j.cub.2011.01.068

Genton BJ, Shykoff JA, Giraud T (2005) High genetic diversity in French invasive populations of common ragweed, Ambrosia artemisiifolia, as a result of multiple sources of introduction. Mol Ecol 14:4275–4285. doi:10.1111/j.1365-294X.2005.02750.x

Gillis NK, Walters LJ, Fernandes FC, Hoffman EA (2009) Higher genetic diversity in introduced than in native populations of the mussel Mytella charruana: evidence of population admixture at introduction sites. Divers Distrib 15:784–795. doi:10.1111/j.1472-4642.2009.00591.x

Goudet J (2001) FSTAT, a program to estimate and test gene diversities and fixation indices (version 2.9.3), updated from Goudet 1995. Available from http://www.unil.ch/izea/soft-wares/fstat.html

Gozlan RE (2012) Pseudorasbora parva temminck and schlegel (topmouth gudgeon). In: Francis RA (ed) A handbook of global freshwater invasive species. Earthscan, Abingdon, pp 275–285

Gozlan RE, Pinder AC, Shelley J (2002) Occurrence of the Asiatic cyprinid Pseudorasbora parva in England. J Fish Biol 61:298–300. doi:10.1111/j.1095-8649.2002.tb01755.x

Gozlan RE, St-Hilaire S, Feist SW, Martin P, Kent ML (2005) Disease threats on European fish. Nature 435:1045. doi:10.1038/4351046a

Gozlan RE, Whipps C, Arkush K (2009) Characterisation and geographical isolation of Sphaerothecum destruens in Europe. Int J Parasitol 39:1055–1058

Gozlan RE, Andreou D, Asaeda T, Beyer K, Bouhadad R et al (2010) Pancontinental invasion of Pseudorasbora parva: towards a better understanding of freshwater fish invasions. Fish Fish 11:315–340. doi:10.1111/j.1467-2979.2010.00361.x

Gozlan RE, Burnard D, Andreou D, Britton R (2013) Understanding the threats posed by non-native species: public vs. conservation managers. PLoS One 8:e53200. doi:10.1371/journal.pone.0053200

Handley LJL, Estoup A, Evans DM, Thomas CE, Lombaert E, Facon B, Aebi A, Roy HE (2011) Ecological genetics of invasive alien species. Biocontrol 56:409–428. doi:10.1007/s10526-011-9386-2

Hänfling B (2007) Understanding the establishment success of non-indigenous fishes: lessons from population genetics. J Fish Biol 71:115–135. doi:10.1111/j.1095-8649.2007.01685.x

Hänfling B, Hellemans B, Volckaert FAM, Carvalho GR (2002) Late glacial history of the cold-adapted freshwater fish Cottus gobio, revealed by microsatellites. Mol Ecol 11:1717–1729. doi:10.1046/j.1365-294X.2002.01563.x

Hardy OJ, Vekemans X (1999) Isolation by distance in a continuous population: reconciliation between spatial autocorrelation analysis and population genetics models. Hereditary 83:145–154. doi:10.1046/j.1365-2540.1999.00558.x

Herborg LM, Weetman D, van Oosterhout C, Hänfling B (2007) Genetic population structure and contemporary dispersal patterns of a recent European invader the Chinese mitten crab Eriocheir sinensis. Mol Ecol 16:231–242. doi:10.1111/j1365-294X200603133x

Kalinowski ST, Taper ML, Marshall TC (2007) Revising how the computer program CERVUS accommodates genotyping error increases success in paternity assignment. Mol Ecol 16:1099–1106. doi:10.1111/j.1365-294x.2007.03089.x

Kang M, Buckley YM, Lowe AJ (2007) Testing the role of genetic factors across multiple independent invasions of the shrub Scotch broom (Cytisus scoparius). Mol Ecol 16:4662–4673. doi:10.1111/j.1365-294X.2007.03536.x

Kelly AC, Mateus-Pinilla NE, Douglas M, Shelton P, Novakofski J (2011) Microsatellites behaving badly: empirical evaluation of genotyping errors and subsequent impacts on population studies. Genet Mol Res 10:2534–2553. doi:10.4238/2011.October.19.1

Konishi M, Takata K (2004) Impact of asymmetrical hybridization followed by sterile F1 hybrids on species replacement in Pseudorasbora. Conserv Genet 5:463–474. doi:10.1023/B:COGE.0000041027.64785.77

Lombaert E, Guillemaud T, Cornuet JM, Malausa T, Facon B, Estoup A (2010) Bridgehead effect in the worldwide invasion of the biocontrol harlequin ladybird. PLoS One 5:e9743. doi:10.1371/journal.pone.0009743

Maron JL, Vila M, Bommarco R, Elmendorf S, Beardsley P (2004) Rapid evolution of an invasive plant. Ecol Monogr 74:261–280. doi:10.1890/03-4027

McCauley DE, Smith RA, Lisenby JD, Hsieh C (2003) The hierarchical spatial distribution of chloroplast DNA polymorphism across the introduced range of Silene vulgaris. Mol Ecol 12:3227–3235. doi:10.1046/j.1365-294X.2003.01992.x

Nei M (1978) Estimation of average heterozygosity and genetic distance from a small number of individuals. Genetics 89:583–590

Nei M, Maruyama T, Chakraborty R (1975) The bottleneck effect and genetic variability in populations. Evolution 29:1–10

Okada M, Lyle M, Jasieniuk M (2009) Inferring the introduction history of the invasive apomictic grass Cortaderia jubata using microsatellite markers. Divers Distrib 15:148–157. doi:10.1111/j.1472-4642.2008.00530.x

Pimentel D, Lach L, Zuniga R, Morrison D (2000) Environmental and economic costs of nonindigenous species in the United States. Bioscience 50:53–65

Pinder AC, Gozlan RE (2003) Sunbleak and topmouth Gudgeon—two new additions to Britain's freshwater fishes. Br Wildl 19:77–83

Piry S, Luikart G, Cornuet JM (1999) BOTTLENECK: a computer programme for detecting recent reductions in the effective population size using allele frequency data. J Hered 90:502–503. doi:10.1093/jhered/90.4.502

Prentis PJ, Wilson JRU, Domontt EE, Richardson DM, Lowe AJ (2008) Adaptive evolution in invasive species. Trends Plant Sci 13(6):288–294. doi:10.1016/j.tplants.2008.03.004

Pritchard JK, Stephens M, Donnelly P (2000) Inference of population structure using multilocus genotype data. Genetics 155:945–959

Prospero S, Rigling D (2012) Invasion genetics of the chestnut blight fungus Cryphonectria parasitica in Switzerland. Phytopathology 102:73–82. doi:10.1094/PHYTO-02-11-0055

Puillandre N, Dupas S, Dangles O, Zeddam JL, Capdevielle-Dulac C, Barbin K, Torres-Leguizamon M, Silvain JF (2008) Genetic bottleneck in invasive species: the potato tuber moth adds to the list. Biol Invasions 10:319–333. doi:10.1007/s10530-007-9132-y

Ramachandran S, Deshpande O, Roseman CC, Rosenberg NA, Feldman MW, Cavalli-Sforza LL (2005) Support from the relationship of genetic and geographic distance in human populations for a serial founder effect originating in Africa. Proc Natl Acad Sci USA 102(942–15):947. doi:10.1073/pnas.0507611102

Raymond M, Rousset F (1995) GENEPOP (version 1.2): population genetics software for exact tests and ecumenicism. J Hered 86:248–249

Reed DH, Frankham R (2001) How closely correlated are molecular and quantitative measures of genetic variation? A meta-analysis. Evolution 55:1095–1103

Rice WR (1989) Analyzing tables of statistical tests. Evolution 43:223–225

Rousset F (1997) Genetic differentiation and estimation of gene flow from F statistics under isolation by distance. Genetics 145:1219–1228

Simon A, Britton R, Gozlan R, van Oosterhout C, Volckaert FAM, Hänfling B (2011) Invasive cyprinid fish in Europe originate from the single introduction of an admixed source population followed by a complex pattern of spread. PLoS One 6:e18560. doi:10.1371/journal.pone.0018560

Tesson SV, Legrand C, van Oosterhout C, Montresor M, Kooistra WH, Procaccini G (2013) Mendelian inheritance pattern and high mutation rates of microsatellite alleles in the diatom Pseudo-nitzschia multistriata. Protist 164:89–100. doi:10.1016/j.protis.2012.07.001

van Oosterhout C, Hutchinson WF, Wills DP, Shipley P (2004) MICROCHECKER: software for identifying and correcting genotyping errors in microsatellite data. Mol Ecol Notes 4:535–538. doi:10.1111/j.1471-8286.2004.00684.x

Vardien W, Richardson DM, foxcroft LC, Wilson JRU, Le Roux JJ (2013) Management history determines gene flow in a prominent invader. Ecographie 36:1032–1041. doi:10.1111/j.1600-0587.2012.00120.x

Vidal O, Garcia-Berthou E, Tedesco PA, Garcıia-Marin J (2010) Origin and genetic diversity of mosquitofish (Gambusia holbrooki) introduced to Europe. Biol Invasions 12:841–851. doi:10.1007/s10530-009-9505-5

Weir BS, Cockerham CC (1984) Estimating F-Statistics for the Analysis of Population Structure. Evolution 38:1358–1370

Zahorska E, Kovac V, Falka I, Beyer K, Katina S, Copp GH, Gozlan RE (2009) Morphological variability of the Asiatic cyprinid, topmouth gudgeon Pseudorasbora parva, in its introduced European range. J Fish Biol 74:167–185. doi:10.1111/j.1095-8649.2008.02121.x

Zepeda-Paulo FA, Simon JC, Ramirez CC, Fuentes-Contreras E, Margaritopoulos JT, Wilson ACC, Sorenson CE, Briones LM, Azevedo R, Ohashi DV, Lacroix C, Glais L, Figueroa CC (2010) The invasion route for an insect pest species: the tobacco aphid in the New World. Mol Ecol 19:4738–4752. doi:10.1111/j.1365-294X.2010.04857.x
Acknowledgments
We thank Chun-Guang Zhang, Liying Sui, M. Lorenzoni, S. Kh. Pipoyan, Z. Adamek and H. Weisenbach, H. Verreycken, C. Belpaire, G. VanThuyne, E. Zahorska and P. Takacs for collecting specimens, K. Watanabe for sending tissue for DNA analysis and to D. Joyce for commenting on the manuscript. This study was approved by the University of Hull Ethics Committee (approval number: U001).
Conflict of interest
The authors declare no conflict of interest.
Electronic supplementary material
Below is the link to the electronic supplementary material.
About this article
Cite this article
Simon, A., Gozlan, R.E., Robert Britton, J. et al. Human induced stepping-stone colonisation of an admixed founder population: the spread of topmouth gudgeon (Pseudorasbora parva) in Europe. Aquat Sci 77, 17–25 (2015). https://doi.org/10.1007/s00027-014-0374-3
Received:

Accepted:

Published:

Issue Date:
Keywords
Microsatellite

Admixture

Introduction

Alien species

Bottleneck

Fish

Biodiversity