Abstract
The impact of invasive alien species on native species is of increasing global concern. Invasive species can cause food-web shifts that have severe consequences for native species and ecosystems. However, the mechanisms by which the invaders influence the native communities are poorly understood. Here we investigated the interactions of the invasive Ponto-Caspian mysid Limnomysis benedeni with native freshwater zooplankton in laboratory and mesocosm experiments. This mysid migrates between benthic and pelagic zones and thereby forms a potential trophic link between these habitats. In laboratory predation experiments, L. benedeni fed both on Daphnia galeata and D. magna, and predation rates depended on the sizes of predator and prey but not on the availability of light. However, no predation was observed at prey sizes greater than 2 mm, which appears to be the upper size limit for a successful prey capture by L. benedeni. In outdoor mesocosm experiments, L. benedeni strongly decreased the densities of cladocerans, rotifers and copepod nauplii within a few days, while the densities of copepods were unaffected. Prey selection indices provide further evidence for strongly selective predation of L. benedeni on different zooplankton taxa. The presence of phytoplankton as an additional resource for the omnivorous mysid led to a lower predation pressure of L. benedeni on Cladocera and rotifers, indicating that the presence of alternative prey modulates the strength of the top-down effect of invasive mysids on the zooplankton community. These results suggest that the invasion of L. benedeni can have profound and complex impacts on the community structure of the native zooplankton fauna and that mysid invasions potentially have whole-ecosystem consequences.
This is a preview of subscription content, log in to check access.
Access options
Buy single article
Instant access to the full article PDF.
US$ 39.95
Price includes VAT for USA
Subscribe to journal
Immediate online access to all issues from 2019. Subscription will auto renew annually.
US$ 99
This is the net price. Taxes to be calculated in checkout.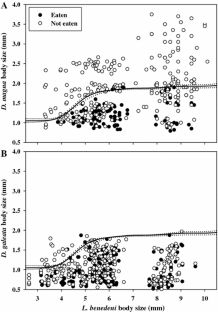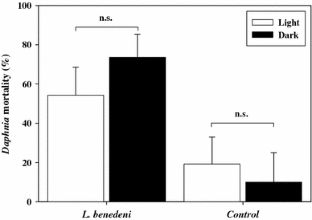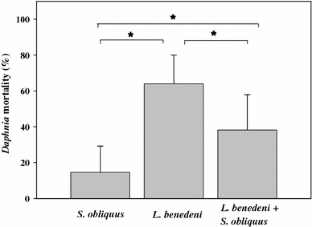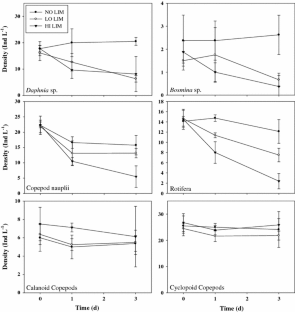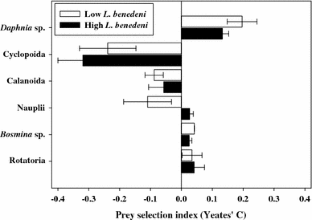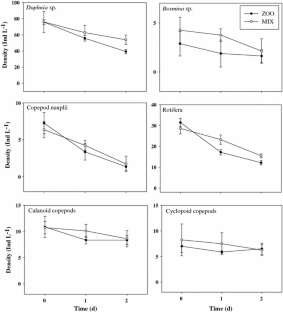 References
Arbaciauskas K (2002) Ponto-caspian amphipods and mysids in the inland waters of Lithuania: history of introduction, current distribution and relation with native malacostracans. In: Leppäkoski E (ed) Invasive aquatic species of Europe, pp 104–115. Kluwer, Dordrecht

Audzijonyte A, Daneliya ME, Vainola R (2006) Comparative phylogeography of Ponto-Caspian mysid crustaceans: isolation and exchange among dynamic inland sea basins. Mol Ecol 15:2969–2984

Bailey RJE, Dick JTA, Elwood RW, Macneil C (2006) Predatory interactions between the invasive amphipod Gammarus tigrinus and the native opossum shrimp Mysis relicta. J North Am Benthol Soc 25:393–405

Bij De Vaate A, Jazdzewski K, Ketelaars HAM, Gollasch S, Van Der Velde G (2002) Geographical patterns in range extension of Ponto-Caspian macroinvertebrate species in Europe. Can J Fish Aquat Sci 59:1159–1174

Borcherding J, Murawski S, Arndt H (2006) Population ecology, vertical migration and feeding of the Ponto-Caspian invader Hemimysis anomala in a gravel-pit lake connected to the River Rhine. Freshw Biol 51:2376–2387

Borcherding J, Hermasch B, Murawski P (2007) Field observations and laboratory experiments on growth and lipid content of young-of-the-year perch. Ecol Freshw Fish 16:198–209

Branstrator DK, Cabana G, Mazumder A, Rasmussen JB (2000) Measuring life-history omnivory in the opossum shrimp, Mysis relicta, with stable nitrogen isotopes. Limnol Oceanogr 45:463–467

Chess DW, Stanford JA (1998) Comparative energetics and life cycle of the opossum shrimp (Mysis relicta) in native and non-native environments. Freshw Biol 40:783–794

Cristescu MEA, Hebert PDN (2005) The "Crustacean Seas"—an evolutionary perspective on the Ponto-Caspian peracarids. Can J Fish Aquat Sci 62:505–517

Fink P, Peters L, Von Elert E (2006) Stoichiometric mismatch between littoral invertebrates and their periphyton food. Arch Hydrobiol 165:145–165

Gergs R, Hanselmann AJ, Eisele I, Rothhaupt KO (2008) Autecology of Limnomysis benedeni Czerniavsky, 1882 (Crustacea: Mysida) in Lake Constance, Southwestern Germany. Limnologica 38:139–146

Goldman CR, Morgan MD, Threlkeld ST, Angeli N (1979) Population dynamics analysis of the cladoceran disappearance from Lake Tahoe, California-Nevada. Limnol Oceanogr 24:289–297

Gorokhova E, Hansson S (1997) Effects of experimental conditions on the feeding rate of Mysis mixta (Crustacea, Mysidacea). Hydrobiologia 355:167–172

Grossnickle NE (1982) Feeding habits of Mysis relicta—an overview. Hydrobiologia 93:101–107

Holdich D, Gallagher S, Rippon L, Harding P, Stubbington R (2006) The invasive Ponto-Caspian mysid, Hemimysis anomala, reaches the UK. Aquat Invas 1:4–6

Ketelaars HAM, Lambregts-Van De Clundert FE, Carpentier CJ, Wagenvoort AJ, Hoogenboezem W (1999) Ecological effects of the mass occurrence of the Ponto-Caspian invader, Hemimysis anomala GO Sars, 1907 (Crustacea: Mysidacea), in a freshwater storage reservoir in the Netherlands, with notes on its autecology and new records. Hydrobiologia 394:233–248

Koksvik JI, Reinertsen H, Langeland A (1991) Changes in plankton biomass and species composition in Lake Jonsvatn, Norway, following the establishment of Mysis relicta. Am Fish Soc Symp 9:115–125

Lampert W (1991) The dynamics of Daphnia in a shallow lake. Verh Int Verein Limnol 24:795–798

Langeland A, Koksvik JI, Nydal J (1991) Impact of the introduction of Mysis relicta on the zooplankton and fish populations in a Norwegian lake. Am Fish Soc Symp 9:98–114

Lasenby DC, Langford RR (1973) Feeding and assimilation of Mysis relicta. Limnol Oceanogr 18:280–285

Lesutiene J, Gorokhova E, Gasiunaite ZR, Razinkovas A (2007) Isotopic evidence for zooplankton as an important food source for the mysid Paramysis lacustris in the Curonian Lagoon, the South-Eastern Baltic Sea. Estuar Coast Shelf Sci 73:73–80

Lesutiene J, Gorokhova E, Gasiunaite ZR, Razinkovas A (2008) Role of mysid seasonal migrations in the organic matter transfer in the Curonian Lagoon, south-eastern Baltic Sea. Estuar Coast Shelf Sci 80:225–234

Pearre S (1982) Estimating prey preference by predators—uses of various indexes, and a proposal of another based on Chi2. Can J Fish Aquat Sci 39:914–923

Pinheiro J, Bates D (2000) Mixed-effects models in S and S-Plus. Springer, Berlin

Pothoven SA, Grigorovich IA, Fahnenstiel GL, Balcer MD (2007) Introduction of the Ponto-Caspian bloody-red mysid Hemimysis anomala into the Lake Michigan basin. J Great Lakes Res 33:285–292

R Development Core Team (2009) R: a language and environment for statistical computing. R Foundation for Statistical Computing

Ramcharan CW, Sprules WG (1986) Visual predation in Mysis relicta Loven. Limnol Oceanogr 31:414–420

Ricciardi A, Maclsaac HJ (2000) Recent mass invasion of the North American Great Lakes by Ponto-Caspian species. Trends Ecol Evol 15:62–65

Ricciardi A, Rasmussen JB (1998) Predicting the identity and impact of future biological invaders: a priority for aquatic resource management. Can J Fish Aquat Sci 55:1759–1765

Siehoff S, Hammers-Wirtz M, Strauss T, Ratte HT (2009) Periphyton as alternative food source for the filter-feeding cladoceran Daphnia magna. Freshw Biol 54:15–23

Stich HB, Lampert W (1984) Growth and reproduction of migrating and non-migrating Daphnia species under simulated food and temperature conditions of diurnal vertical migration. Oecologia 61:192–196

Viherluoto M, Viitasalo M (2001a) Effect of light on the feeding rates of pelagic and littoral mysid shrimps: a trade-off between feeding success and predation avoidance. J Exp Mar Biol Ecol 261:237–244

Viherluoto M, Viitasalo M (2001b) Temporal variability in functional responses and prey selectivity of the pelagic mysid, Mysis mixta, in natural prey assemblages. Mar Biol 138:575–583

Viherluoto M, Kuosa H, Flinkman J, Viitasalo M (2000) Food utilisation of pelagic mysids, Mysis mixta and M relicta, during their growing season in the northern Baltic Sea. Mar Biol 136:553–559

Viitasalo M, Kiorboe T, Flinkman J, Pedersen LW, Visser AW (1998) Predation vulnerability of planktonic copepods: consequences of predator foraging strategies and prey sensory abilities. Mar Ecol Prog Ser 175:129–142

Williamson M (1996) Biological Invasions, 1st edn. Chapman & Hall, London

Wittmann KJ (2007) Continued massive invasion of Mysidae in the Rhine and Danube river systems, with first records of the order Mysidacea (Crustacea: Malacostraca: Peracarida) for Switzerland. Rev Suisse Zool 114:65–86

Wittmann KJ, Ariani AP (2000) Limnomysis benedeni Czerniavsky: a Pontocaspian mysid new for the freshwaters of France (Crustacea, Mysidacea). Vie Milieu 50:117–122
Acknowledgments
We would like to thank Cassandra Derreza-Greeven, Ulrike König and several volunteer students for assistance in the field and in the lab. Thanks to Petra Merkel for the analysis of particulate organic carbon and to Helmut Hillebrand for providing the mesocosm containers. Comments and suggestions by Eric von Elert and an anonymous reviewer greatly improved this manuscript.
About this article
Cite this article
Fink, P., Kottsieper, A., Heynen, M. et al. Selective zooplanktivory of an invasive Ponto-Caspian mysid and possible consequences for the zooplankton community structure of invaded habitats. Aquat Sci 74, 191–202 (2012). https://doi.org/10.1007/s00027-011-0210-y
Received:

Accepted:

Published:

Issue Date:
Keywords
Invasive species

Limnomysis benedeni

Mysida

Neozoa

Omnivory

Zooplankton