Abstract
A series of meteotsunamis hit a few locations in the Mediterranean and Black Seas during 22–27 June 2014. Meteotsunamis were particularly numerous on 25 and 26 June in the Adriatic Sea, where at least six harbours and bays were stricken by powerful waves: strongest events occurred in Vela Luka (Korčula Island), a known meteotsunami hot-spot, where waves reached height of ~3 m, and in Rijeka dubrovačka Bay, where strong ~5 m/s currents accompanied ~2.5 m high waves. Intensification of high-frequency sea level activity was observed at both the eastern and western Adriatic tide gauge stations, with maximum recorded wave heights reaching ~68 cm (Ortona, Italy). A series of individual air pressure disturbances characterized by pronounced rates of air pressure change (up to 2.4 hPa/5 min), limited spatial extent (~50 km) and high temporal variability, propagated over the Adriatic on 2 days in question. Numerical hydrodynamic model SCHISM forced by measured and idealised air pressure disturbances was utilised to reproduce the observed Adriatic sea level response. Several important conclusions were reached: (1) meteotsunamis occurring at various parts of the coast were generated by different atmospheric air pressure disturbances; (2) topographic influence can be removed from sea level spectra by computing spectral signal-to-background ratios; the result, being related to the external forcing, resembles atmospheric pressure spectra; (3) sea response is strongly dependant on details of atmospheric forcing; and (4) over complex bathymetries, like the middle and south Adriatic ones, numerous effects, including Proudman resonance, edge waves, strong topographical enhancement and refractions on the islands placed on the pathway of atmospheric disturbances should be taken into account to fully understand meteotsunami generation and dynamics. An in-depth numerical study is planned to supplement the latter conclusion and to quantify contribution of each process.
Access options
Buy single article
Instant access to the full article PDF.
USD 39.95
Price includes VAT (USA)
Tax calculation will be finalised during checkout.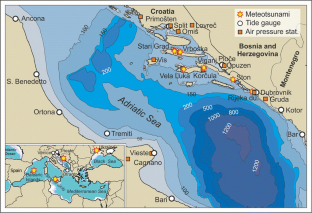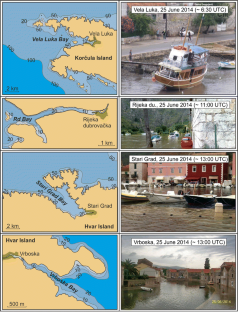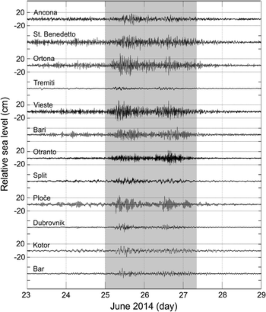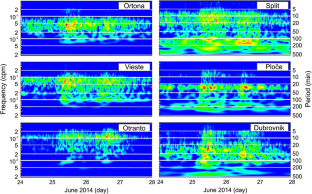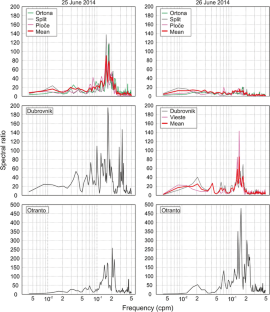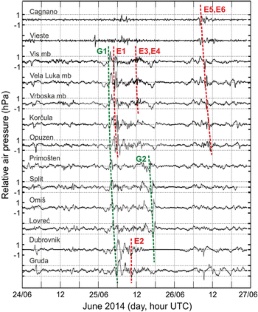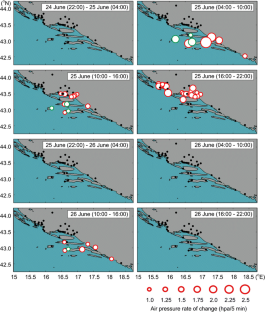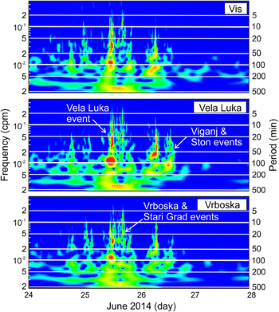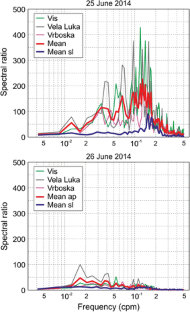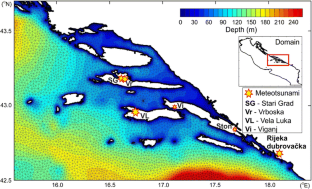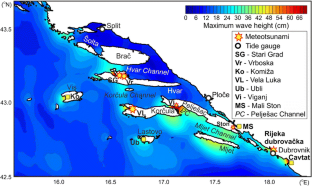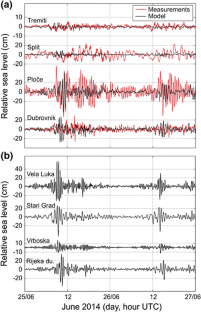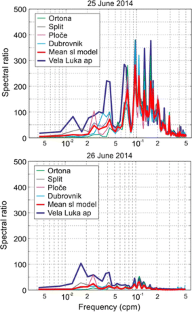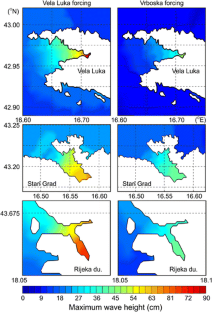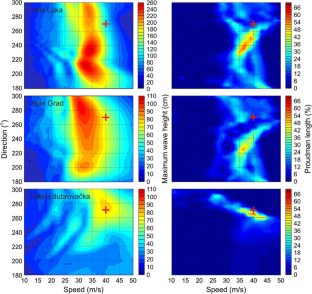 References
Candela, J., Mazzola, S., Sammari, C., Limeburner, R., Lozano, C.J., Patti, B., and Bonnano, A. (1999), The "Mad Sea" phenomenon in the Strait of Sicily, J Phys Oceanogr. 29, 2210–2231.

Dziewonski, A., Bloch, S., and Landisman, M. (1969), A technique for the analysis of transient seismic signals, Bull Seismol Soc Am. 59, 427–444.

Hibiya, T., and Kajiura, K. (1982), Origin of the Abiki phenomenon (a kind of seiche) in Nagasaki Bay, J Oceanogr Soc Japan. 38, 172–182.

Jansà, A., Monserrat, S., and Gomis, D. (2007), The rissaga of 15 June 2006 in Ciutadella (Menorca), a meteorological tsunami, Adv Geosci. 12, 1–4.

Lamb, H., Hydrodynamics (Cambridge Univ. Press, Cambridge 1932).

Lipa, B., Parikh, H., Barrick, D., Roarty, H., and Glenn, S. (2014), High-frequency radar observations of the June 2013 US East Coast meteotsunami, Nat Hazards 74, 109–122.

Marcos, M., Monserrat, S., Medina, R., Orfila, A., and Olabarrieta, M. (2009), External forcing of meteorological tsunamis at the coast of the Balearic Islands, Phys Chem Earth. 34, 938–947.

McGarr, A. (1965), Excitation of seiches in channels by seismic waves, J Geophys Res. 70, 847–854.

Mercer, D., Sheng, J., Greatbatch, R.J., and Bobanović, J. (2002), Barotropic waves generated by storms moving rapidly over shallow water, J Geophys Res. 107, C10, 3152.

Monserrat, S., and Thorpe, A.J. (1996), Use of ducting theory in an observed case of gravity waves, J Atmos Sci. 53, 1724–1736.

Monserrat, S., Rabinovich, A. B., and Casas, B. (1998), On the reconstruction of the transfer function for atmospherically generated seiches, Geophys Res Lett. 25, 2197–2200.

Monserrat, S., Vilibić, I., and Rabinovich, A.B. (2006), Meteotsunamis: atmospherically induced destructive ocean waves in the tsunami frequency band, Nat Hazards Earth Syst Sci. 6, 1035–1051.

Okal, E.A., Visser, J.N.J., and de Beer, C.H. (2014), The Dwarskersbos, South Africa local tsunami of August 27, 1969: field surveyand simulation as a meteorological event, Nat Hazards. 74, 251–268.

Orlić, M. (1980), About a possible occurence of the Proudman resonance in the Adriatic, Thalassia Jugoslavica. 16, 79–88.

Orlić, M. (2015), The first attempt at cataloguing tsunami-like waves of meteorological origin in Croatian coastal waters, Acta Adriat. 56, 83–96.

Orlić, M., Belušić, D., Janeković, I., and Pasarić, M. (2010), Fresh evidence relating the great Adriatic surge of 21 June 1978 to mesoscale atmospheric forcing, J Geophys Res. 115, C06011.

Pond, S., and Pickard, G. L., Introductory Dynamical Oceanography (Butterworth-Heinmann, Oxford 1998).

Proudman, J. (1929), The effects on the sea of changes in atmospheric pressure, Geophys Suppl Mon Not R Astron Soc. 2(4), 197–209.

Rabinovich, A.B. (1997), Spectral analysis of tsunami waves: Separation of source and topography effects, J Geophys Res. 102, C6, 12663–12676.

Rabinovich, A.B., Seiches and harbour oscillations, In Handbook of Coastal and Ocean Engineering (ed. Kim, Y.C.) (World Scientific, Singapore 2009).

Rabinovich, A.B., Thomson, R.E., and Stephenson, F.E. (2006), The Sumatra tsunami of 26 December 2004 as observed in the North Pacific and North Atlantic oceans, Surv Geophys. 27, 647–677.

Rabinovich, A.B., Thomson, R.E., and Fine, I.V. (2013), The 2010 Chilean tsunami off the west coast of Canada and the northwest coast of the United States, Pure Appl. Geophys. 170, 1529–1565.

Renault, L., Vizoso, G., Jansá, A., Wilkin, J., and Tintoré, J. (2011), Toward the predictability of meteotsunamis in the Balearic Sea using regional nested atmosphere and ocean models, Geophys Res Lett. 38, L10601.

Šepić, J., and Vilibić, I. (2011), The development and implementation of a real-time meteotsunami warning network for the Adriatic Sea, Nat Hazards Earth Syst Sci. 11, 83–91.

Šepić, J., and Rabinovich, A. B. (2014), Meteotsunami in the Great Lakes and on the Atlantic coast of the United States generated by the 'derecho' of 29-30 June 2012, Nat Hazards 74, 75–107.

Šepić, J., Vilibić, I., and Belušić, D. (2009), The source of the 2007 Ist meteotsunami (Adriatic Sea), J Geophys Res. 114, doi: 10.1029/2008JC005092.

Šepić, J., Vilibić, I., Rabinovich, A.B., and Monserrat, S. (2015a), Widespread tsunami-like waves of 23-27 June in the Mediterranean and Black Seas generated by high-altitude atmospheric forcing, Sci Rep 5, 11682, doi:10.1038/srep11682.

Šepić, J., Vilibić, I., and Fine, I. (2015b), Northern Adriatic meteorological tsunamis: Assessment of their potential through ocean modeling experiments, J Geophys Res. 120, 2993–3010.

Tanaka, K. (2010), Atmospheric pressure-wave bands around a cold front resulted in ameteotsunami in the East China Sea in February 2009, Nat Hazards Earth Syst Sci. 10, 2599–2610.

Thomson, R.E., and Emery, W.J., Data Analysis Methods in Physical Oceanography, Third and revised edition, (Elsevier Science, Amsterdam, London, New York 2014).

Thomson, R.E., Rabinovich, A.B., Fine, I.V., Sinnott, D.C., McCarthy, A., Sutherland, N.A.S., and Neill, L. K. (2009), Meteorological tsunamis on the coasts of British Columbia and Washington, Phys. Chem. Earth. 34, 971–988.

Ursell, F. (1952), Edge waves on a sloping beach, P Roy Soc A-Math Phy. 214, 79–97.

Vilibić, I., and Mihanović, H. (2003), A study of resonant oscillations in the Split harbour (Adriatic Sea), Estuar Coast Shelf Sci. 3-4, 861–867.

Vilibić, I., and Mihanović, H. (2005), Resonance in Ploče Harbor (Adriatic Sea), Acta Adriat. 46, 125–136.

Vilbić, I., and Šepić, J. (2009), Destructive meteotsunamis along the eastern Adriatic coast: Overview, Phys Chem Earth. 34, 904–917.

Vilibić, I., Domijan, N., Orlić, M., Leder, N., and Pasarić, M. (2004), Resonant coupling of a traveling air pressure disturbance with the east Adriatic coastal waters, J Geophys Res. 109, C10001.

Vilibić, I., Monserrat, S., Rabinovich, A. B., and Mihanović, H. (2008), Numerical modeling of a destructive meteotsunami that occurred on 15 June 2006 at the Balearic Islands, Pure Appl Geophys. 165, 2169–2195.

Vučetić, T., Vilibić, I., Tinti, S., and Maramai, A. (2009), The great Adriatic flood of 21 June 1978 revisited: an overview of the reports, Phys Chem Earth. 34, 894–903.

Wertman, C.A., Yablonsky, R.M., Shen, Y., Merrill, J., Kincaid, C.R., and Pockalny, R.A. (2014), Mesoscale convective system surface pressure anomalies responsible for meteotsunamis along the US East Coast on June 13th, 2013, Sci Rep. 4, 7143, doi:10.1038/srep07143.

Zhang, Y.J. (2014), SCHISM theory manual.

Zhang, Y.J., and Baptista, A. M. (2008), SELFE: A semi-implicit Eulerian-Langrangian finite-element model for cross-scale ocean circulation, Ocean Model. 21, 71–96.
Acknowledgments
We gratefully acknowledge the following organizations and data portals for providing us with tide gauge and atmospheric data: UNESCO IOC, Paris (www.ioc-sealevelmonitoring.org); the Hydrographic Institute of the Republic of Croatia, Split; the Institute of Hydrometeorology and Seismology of Montenegro, Podgorica; the Institute of Oceanography and Fisheries, Split; Weather Underground (www.wunderground.com); Pljusak (pljusak.com). We are in debt to numerous eyewitnesses who provided testimony and photos of the events, especially to Joseph Jung from Vela Luka. We are also grateful to Seni Erceg and Stjepko Car who helped us gather valuable information on the Hvar events. The study has been supported by Croatian Science Foundation under the projects MESSI (UKF Contract No. 25/15), SCOOL (IP-2014-09-5747), CARE (IP-11-2013-2831) and ADAM-ADRIA (IP-2013-11-5928). Finally, we thank two anonymous reviewers and editor Alexander B. Rabinovich for their helpful comments and advices.
About this article
Cite this article
Šepić, J., Međugorac, I., Janeković, I. et al. Multi-Meteotsunami Event in the Adriatic Sea Generated by Atmospheric Disturbances of 25–26 June 2014. Pure Appl. Geophys. 173, 4117–4138 (2016). https://doi.org/10.1007/s00024-016-1249-4
Received:

Revised:

Accepted:

Published:

Issue Date:
Keywords
Meteotsunami

Adriatic Sea

hydrodynamic modelling

Proudman resonance

atmospheric pressure disturbances