Abstract
The great Tohoku-oki earthquake of March 11, 2011 generated a devastating tsunami in the near field as well as substantial far-field effects throughout the Pacific Ocean. In New Zealand, the tsunami was widely observed and instrumentally recorded on an extensive array of coastal tidal gauges and supplemented by current velocity data from two sites. While the tsunami's first arrival was on the morning of March 12 in New Zealand, the strongest effects occurred throughout that afternoon and into the following day. Tsunami effects consisted primarily of rapid changes in water level and associated strong currents that affected numerous bays, harbors, tidal inlets and marine facilities, particularly on the northern and eastern shores of the North Island. The tsunami caused moderate damage and significant overland flooding at one location. The tsunami signal was clearly evident on tide gauge recordings for well over 2 days, clearly illustrating the extended duration of far field tsunami hazards. Real time analysis and modelling of the tsunami through the night of March 11, as the tsunami crossed the Pacific, was used as a basis for escalating the predicted threat level for the northern region of New Zealand. A comparison to recorded data following the tsunami shows that these real time prediction models were accurate despite the coarse near-shore bathymetry used in the assessment, suggesting the efficacy of such techniques for future events from far-field sources.
Access options
Buy single article
Instant access to the full article PDF.
USD 39.95
Price includes VAT (USA)
Tax calculation will be finalised during checkout.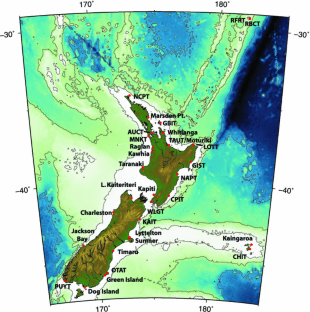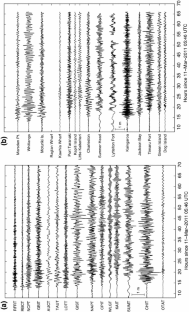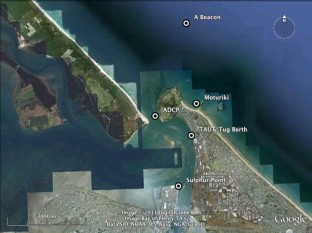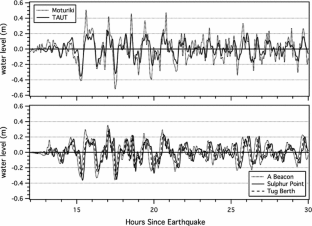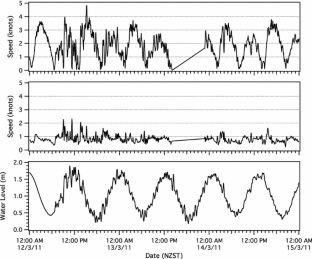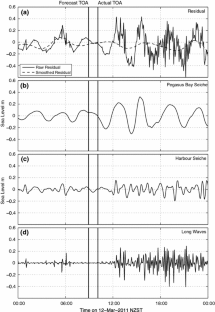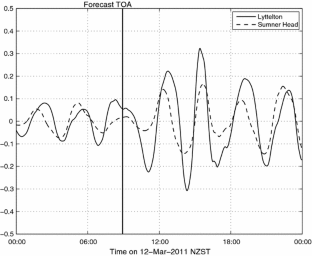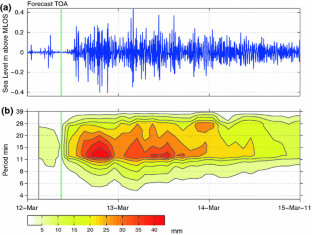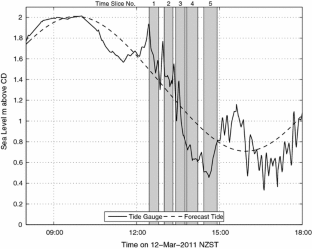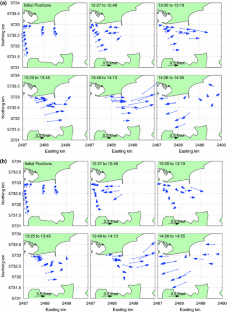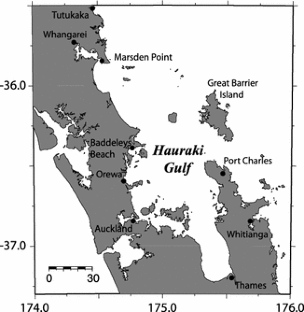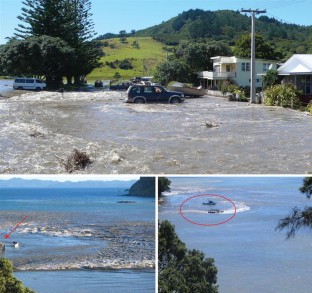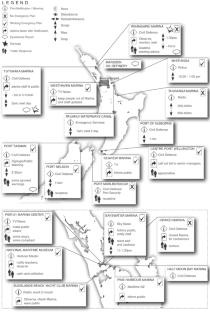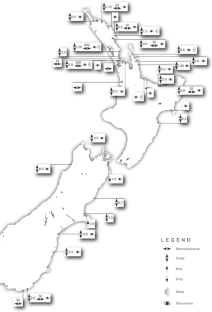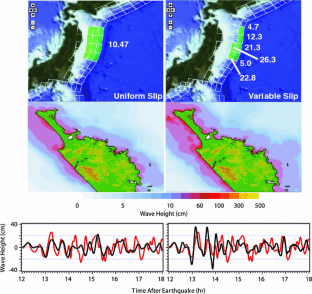 References
Borrero, J., and Greer, S.D. (2012). Comparison of the 2010 Chile and 2011 Japan Tsunamis in the Far-Field. Pure Appl. Geophys, in review.

Goring, D. (2009a). Seiche in Lyttelton Harbor, Mulgor Technical Note, October 2009.

Goring, D. (2009b). Meteotsunami resulting from the propagation of synoptic-scale weather systems. Phys. Chem. Earth 34, 1009–1015.

Goring, D. (2011). Honshu Tsunami 12-March-2011, Report to the Lyttelton Port Company, 17 pp.

Goring, D., and Henry, R. (1998). Short period (1–4 h) sea level fluctuations on the Canterbury coast, New Zealand. New Zeal. J. Mar. Fresh. 32, 119–134.

IOC/UNESCO (2011). IOC/UNESCO Japan Tsunami Bulletin No. 29, 30 September, 2011, 2 pp.

Lynett, P., Weiss, R., Renteria, W., Morales, G., and Don, S. (2012). Coastal Impacts of the March 11th Tsunami in the Galapagos Islands. Pure Appl. Geophys, accepted for publication.

MetOcean Solutions (2009) Waves and Currents in Lyttelton Harbor. Report for Lyttelton Port of Christchurch, December 2009.

Misiti, M., Misiti, Y., Oppenheim, G., and Poggi, J.-M. (2000). Wavelet Toolbox User's Guide. The Mathworks Inc., Natick, Mass.

Peninsula Post (2011) 'EQC's first tsunami claims from Port Charles', 8 September 2011, p 4.

Reymond, D., Hyvernaud, H., and Okal, E. (2012). The 2010 and 2011 tsunamis in French Polynesia: Operational aspects and field surveys. Pure Appl. Geophys, accepted for publication.

Titov, V., Moore, C, Greenslade, D., Pattiaratchi, C., Badal, R., Synolakis, C., and Kânoğlu, U. (2011). A new tool for inundation modeling: community modeling interface for tsunamis (ComMIT). Pure Appl. Geophys., 168, 2121–2131.

Wilson, R., Admire, A., Borrero, J., Dengler, L., Legg, M., Lynett, P., Miller, K., Ritchie, A., Sterling, K., and Whitmore, P. (2012). Observations and Impacts from the 2010 Chilean and 2011 Japanese tsunamis in California. Pure Appl. Geophys., submitted.
Acknowledgments
The Port of Tauranga provided water level and current data in Tauranga Harbor. Lyttelton Port of Christchurch provided water level data for Lyttelton Harbor. Other sources of sea level data are listed in the Tide Gauge Data section. ASR Intern Cole Cannon conducted numerous phone interviews with employees and operators of maritime facilities throughout New Zealand. The authors would like to acknowledge the valuable information provided by the operators and employees of various marine facilities who were interviewed for this report. Rob Eaton of OCEL Consultants Ltd and staff from En-Viro Consultants conducted the drogue tracking study at Lyttelton Harbor. John Black provided photographs of the tsunami at Port Charles.
About this article
Cite this article
Borrero, J.C., Bell, R., Csato, C. et al. Observations, Effects and Real Time Assessment of the March 11, 2011 Tohoku-oki Tsunami in New Zealand. Pure Appl. Geophys. 170, 1229–1248 (2013). https://doi.org/10.1007/s00024-012-0492-6
Received:

Revised:

Accepted:

Published:

Issue Date:
Keywords
Tsunami

New Zealand

Japan

tide gauge

field survey

numerical modeling