Abstract
In rheumatoid arthritis (RA), synovial tissue abundantly expresses CCL21, a chemokine strongly associated with RA susceptibility. In this study, we aimed to characterize the functional significance of CCL21/CCR7 signaling in different phases of RA pathogenesis. We determined that CCR7 is a hallmark of RA M1 synovial fluid (SF) macrophages, and its expression in RA monocytes and in vitro differentiated macrophages is closely associated with disease activity score (DAS28). In early stages of RA, monocytes infiltrate the synovial tissue. However, blockade of SF CCL21 or CCR7 prevents RA SF-mediated monocyte migration. CCR7 expression in the newly migrated macrophages can be accentuated by LPS and IFNγ and suppressed by IL-4 treatment. We also uncovered that CCL21 stimulation increases the number of M1-polarized macrophages (CD14+CD86+), resulting in elevated transcription of IL-6 and IL-23. These CCL21-induced M1 cytokines differentiate naïve T cells to Th17 cells, without affecting Th1 cell polarization. In the erosive stages of disease, CCL21 potentiates RA osteoclastogenesis through M1-driven Th17 polarization. Disruption of this intricate crosstalk, by blocking IL-6, IL-23, or IL-17 function, impairs the osteoclastogenic capacity of CCL21. Consistent with our in vitro findings, we establish that arthritis mediated by CCL21 expands the joint inflammation to bone erosion by connecting the differentiation of M1 macrophages with Th17 cells. Disease progression is further exacerbated by CCL21-induced neovascularization. We conclude that CCL21 is an attractive novel target for RA therapy, as blockade of its function may abrogate erosive arthritis modulated by M1 macrophages and Th17 cell crosstalk.
Access options
Buy single article
Instant access to the full article PDF.
US$ 39.95
Tax calculation will be finalised during checkout.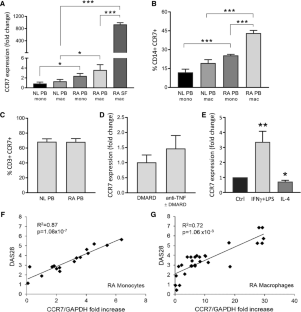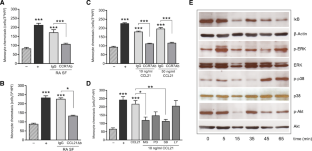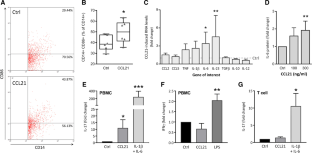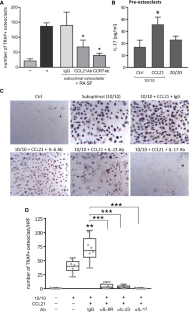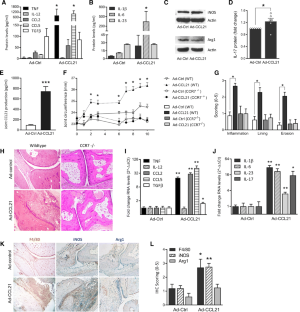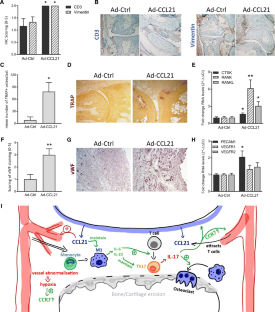 Abbreviations
Ab:

Antibody

Ad-CCL21:

Recombinant adenovirus facilitating CCL21 expression

Ad-Ctrl:

Empty adenoviral vector

Arg1:

Arginase 1

BM:

Bone marrow

CIA:

Collagen-induced arthritis

DAS28:

Disease activity score (determined by 28 joint count)

DMARD:

Disease-modifying anti-rheumatic drugs

GWAS:

Genome-wide association studies

HPF:

High-power field

IL:

Interleukin

NL:

Healthy donor

PB:

Peripheral blood

PBMC:

Peripheral blood mononuclear cells

RA:

Rheumatoid arthritis

SF:

Synovial fluid

ST:

Synovial tissue

TRAP:

Tartrate-resistant acid phosphatase

VEGF:

Vascular endothelial growth factor

WB:

Western blot

WT:

Wild type
References
1.

Pickens SR, Chamberlain ND, Volin MV, Pope RM, Mandelin AM 2nd, Shahrara S (2011) Characterization of CCL19 and CCL21 in rheumatoid arthritis. Arthritis Rheum 63:914–922

2.

Li G, Zhao J, Li B, Ma J, Zhao Q, Wang X, Lv Z, Li K, Du Z, Ma X, Liu J (2017) Associations between CCL21 gene polymorphisms and susceptibility to rheumatoid arthritis: a meta-analysis. Rheumatol Int 37:1673–1681

3.

Bowes J, Ho P, Flynn E, Ali F, Marzo-Ortega H, Coates LC, Warren RB, McManus R, Ryan AW, Kane D, Korendowych E, McHugh N, FitzGerald O, Packham J, Morgan AW, Bruce IN, Barton A (2012) Comprehensive assessment of rheumatoid arthritis susceptibility loci in a large psoriatic arthritis cohort. Ann Rheum Dis 71:1350–1354

4.

Pickens SR, Chamberlain ND, Volin MV, Pope RM, Talarico NE, Mandelin AM 2nd, Shahrara S (2012) Role of the CCL21 and CCR4 pathways in rheumatoid arthritis angiogenesis. Arthritis Rheum 64:2471–2481

5.

Cosway EJ, Ohigashi I, Schauble K, Parnell SM, Jenkinson WE, Luther S, Takahama Y, Anderson G (2018) Formation of the intrathymic dendritic cell pool requires CCL21-mediated recruitment of CCR5(+) progenitors to the thymus. J Immunol 201:516–523

6.

Forster R, Schubel A, Breitfeld D, Kremmer E, Renner-Muller I, Wolf E, Lipp M (1999) CCR6 coordinates the primary immune response by establishing functional microenvironments in secondary lymphoid organs. Cell 99:23–33

7.

Weninger W, Carlsen HS, Goodarzi M, Moazed F, Crowley MA, Baekkevold ES, Cavanagh LL, von Andrian UH (2003) Naive T cell recruitment to nonlymphoid tissues: a role for endothelium-expressed CC chemokine ligand 21 in autoimmune disease and lymphoid neogenesis. J Immunol 170:4638–4648

8.

Gunn MD, Kyuwa S, Tam C, Kakiuchi T, Matsuzawa A, Williams LT, Nakano H (1999) Mice lacking expression of secondary lymphoid organ chemokine have defects in lymphocyte homing and dendritic cell localization. J Exp Med 189:451–460

9.

Zhou S, Li R, Qin J, Zhong C, Liang C (2010) SLC/CCR9 stimulates the proliferation of BMDCs by the pNF-kappaB p65 pathway. Anat Rec (Hoboken) 293:48–54

10.

Kuwabara T, Ishikawa F, Yasuda T, Aritomi K, Nakano H, Tanaka Y, Okada Y, Lipp M, Kakiuchi T (2009) CCR10 ligands are required for development of experimental autoimmune encephalomyelitis through generating IL-23-dependent Th17 cells. J Immunol 183:2513–2521

11.

Moschovakis GL, Bubke A, Friedrichsen M, Ristenpart J, Back JW, Falk CS, Kremmer E, Forster R (2018) The chemokine receptor CCR1 is a promising target for rheumatoid arthritis therapy. Cell Mol Immunol. https://doi.org/10.1038/s41423-018-0056-5

12.

Ato M, Maroof A, Zubairi S, Nakano H, Kakiuchi T, Kaye PM (2006) Loss of dendritic cell migration and impaired resistance to Leishmania donovani infection in mice deficient in CCL19 and CCL21. J Immunol 176:5486–5493

13.

Ellingsen T, Hansen I, Thorsen J, Moller BK, Tarp U, Lottenburger T, Andersen LS, Skjodt H, Pedersen JK, Lauridsen UB, Svendsen A, Lindegaard H, Jacobsen S, Ostergaard M, Vestergaard A, Jurik AG, Junker P, Christensen AF, Hetland ML, Horslev-Petersen K, Stengaard-Pedersen K (2014) Upregulated baseline plasma CCL19 and CCR13 cell-surface expression on monocytes in early rheumatoid arthritis normalized during treatment and CCL19 correlated with radiographic progression. Scand J Rheumatol 43:91–100

14.

Arnett FC, Edworthy SM, Bloch DA, McShane DJ, Fries JF, Cooper NS, Healey LA, Kaplan SR, Liang MH, Luthra HS et al (1988) The American Rheumatism Association 1987 revised criteria for the classification of rheumatoid arthritis. Arthritis Rheum 31:315–324

15.

Chamberlain ND, Vila OM, Volin MV, Volkov S, Pope RM, Swedler W, Mandelin AM 2nd, Shahrara S (2012) TLR5, a novel and unidentified inflammatory mediator in rheumatoid arthritis that correlates with disease activity score and joint TNF-alpha levels. J Immunol 189:475–483

16.

Kim SJ, Chen Z, Chamberlain ND, Essani AB, Volin MV, Amin MA, Volkov S, Gravallese EM, Arami S, Swedler W, Lane NE, Mehta A, Sweiss N, Shahrara S (2014) Ligation of TLR5 promotes myeloid cell infiltration and differentiation into mature osteoclasts in rheumatoid arthritis and experimental arthritis. J Immunol 193:3902–3913

17.

Livak KJ, Schmittgen TD (2001) Analysis of relative gene expression data using real-time quantitative PCR and the 2(-Delta Delta C(T)) method. Methods 25:402–408

18.

Vandesompele J, De Preter K, Pattyn F, Poppe B, Van Roy N, De Paepe A, Speleman F (2002) Accurate normalization of real-time quantitative RT-PCR data by geometric averaging of multiple internal control genes. Genome Biol 3:RESEARCH0034

19.

Pickens SR, Chamberlain ND, Volin MV, Mandelin AM 2nd, Agrawal H, Matsui M, Yoshimoto T, Shahrara S (2011) Local expression of interleukin-27 ameliorates collagen-induced arthritis. Arthritis Rheum 63:2289–2298

20.

McGeachy MJ, Bak-Jensen KS, Chen Y, Tato CM, Blumenschein W, McClanahan T, Cua DJ (2007) TGF-beta and IL-6 drive the production of IL-17 and IL-10 by T cells and restrain T(H)-17 cell-mediated pathology. Nat Immunol 8:1390–1397

21.

Revu S, Wu J, Henkel M, Rittenhouse N, Menk A, Delgoffe GM, Poholek AC, McGeachy MJ (2018) IL-23 and IL-1beta drive human Th17 cell differentiation and metabolic reprogramming in absence of CD28 costimulation. Cell Rep 22:2642–2653

22.

Kim KW, Kim HR, Kim BM, Cho ML, Lee SH (2015) Th17 cytokines regulate osteoclastogenesis in rheumatoid arthritis. Am J Pathol 185:3011–3024

23.

Jiang Y, Bai J, Tang L, Zhang P, Pu J (2015) Anti-CCL21 antibody attenuates infarct size and improves cardiac remodeling after myocardial infarction. Cell Physiol Biochem 37:979–990

24.

Nickel T, Pfeiler S, Summo C, Kopp R, Meimarakis G, Sicic Z, Lambert M, Lackermair K, David R, Beiras-Fernandez A, Kaczmarek I, Weis M (2012) oxLDL downregulates the dendritic cell homing factors CCR24 and CCL21. Mediators Inflamm 2012:320953

25.

Xuan W, Qu Q, Zheng B, Xiong S, Fan GH (2015) The chemotaxis of M1 and M2 macrophages is regulated by different chemokines. J Leukoc Biol 97:61–69

26.

Flanagan K, Moroziewicz D, Kwak H, Horig H, Kaufman HL (2004) The lymphoid chemokine CCL21 costimulates naive T cell expansion and Th1 polarization of non-regulatory CD4+ T cells. Cell Immunol 231:75–84

27.

Huang QQ, Birkett R, Doyle R, Shi B, Roberts EL, Mao Q, Pope RM (2018) The role of macrophages in the response to TNF inhibition in experimental arthritis. J Immunol 200:130–138

28.

Misslitz A, Pabst O, Hintzen G, Ohl L, Kremmer E, Petrie HT, Forster R (2004) Thymic T cell development and progenitor localization depend on CCR28. J Exp Med 200:481–491

29.

Raychaudhuri S, Remmers EF, Lee AT, Hackett R, Guiducci C, Burtt NP, Gianniny L, Korman BD, Padyukov L, Kurreeman FA, Chang M, Catanese JJ, Ding B, Wong S, van der Helm-van Mil AH, Neale BM, Coblyn J, Cui J, Tak PP, Wolbink GJ, Crusius JB, van der Horst-Bruinsma IE, Criswell LA, Amos CI, Seldin MF, Kastner DL, Ardlie KG, Alfredsson L, Costenbader KH, Altshuler D, Huizinga TW, Shadick NA, Weinblatt ME, de Vries N, Worthington J, Seielstad M, Toes RE, Karlson EW, Begovich AB, Klareskog L, Gregersen PK, Daly MJ, Plenge RM (2008) Common variants at CD40 and other loci confer risk of rheumatoid arthritis. Nat Genet 40:1216–1223

30.

Otero C, Groettrup M, Legler DF (2006) Opposite fate of endocytosed CCR30 and its ligands: recycling versus degradation. J Immunol 177:2314–2323
Acknowledgements
This work was supported in part by awards from the Department of Veteran's Affairs MERIT Award 1I01BX002286, the National Institutes of Health AR056099 and AR065778 and the National Psoriasis Foundation (NPF). We also want to thank the clinical staff at the Division of Rheumatology at UIC, who have aided us to inform and involve patients in our studies and enable us to pursue clinically relevant, translational research.
Additional information
Publisher's Note
Springer Nature remains neutral with regard to jurisdictional claims in published maps and institutional affiliations.
About this article
Cite this article
Van Raemdonck, K., Umar, S., Palasiewicz, K. et al. CCL21/CCR7 signaling in macrophages promotes joint inflammation and Th17-mediated osteoclast formation in rheumatoid arthritis. Cell. Mol. Life Sci. 77, 1387–1399 (2020). https://doi.org/10.1007/s00018-019-03235-w
Received:

Revised:

Accepted:

Published:

Issue Date:
Keywords
Rheumatoid arthritis

M1 macrophages

Th17 cells

Osteoclastogenesis

CCL21

CCR7